Abstract
Background
Most authors believe the ACL does not spontaneously heal after a complete rupture. Although several studies have reported spontaneous healing of torn ACLs, it is difficult to determine its healing potential and whether patients will be able to return to sports activities.
Questions/purposes
We therefore asked whether (1) a complete ACL rupture in patients can spontaneously heal without the use of a specific rehabilitation program or bracing and (2) patients are able to return to their athletic activity after spontaneous ACL healing.
Patients and Methods
We retrospectively reviewed 14 patients with acute ACL injury established by physical examination and MRI (proximal third in eight patients and the midligament in six). Average age at injury was 31 years (range, 23–41 years). All patients were athletically active before injury. Surgery was indicated in all patients but for various reasons postponed. We obtained International Knee Documentation Committee scores, Lysholm-Gillquist scores, and MRI. The minimum followup was 25 months (mean, 30 months; range, 25–36 months).
Results
At last followup, the mean Lysholm-Gillquist score was 97. According to the International Knee Documentation Committee evaluation, 10 knees were normal and four nearly normal. All knees regained end point with a negative pivot shift test; MRI at followup showed an end-to-end continuous ACL with homogeneous signal. All patients returned to their former activity level. However, after the study period, two patients had a rerupture of the ACL (2.5 years after the first lesion).
Conclusions
Our observations indicate an acutely injured ACL may eventually spontaneously heal without using an extension brace, allowing return to athletic activity.
Level of Evidence
Level IV, therapeutic study. See Guidelines for Authors for a complete description of levels of evidence.
Access options
Buy single article
Instant access to the full article PDF.
USD 39.95
Price excludes VAT (USA)
Tax calculation will be finalised during checkout.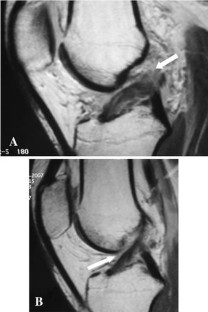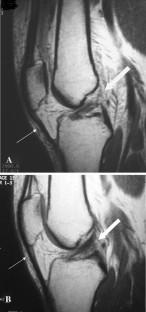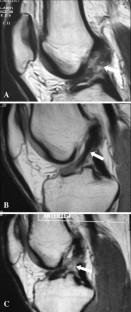 References
Andersson C, Odensten M, Good L, Gillquist J. Surgical or non-surgical treatment of acute rupture of the anterior cruciate ligament: a randomized study with long-term follow-up. J Bone Joint Surg Am. 1989;71:965–974.

Costa-Paz M, Muscolo DL, Ayerza M, Makino A, Aponte-Tinao L. Magnetic resonance imaging follow-up study of bone bruises associated with anterior cruciate ligament ruptures. Arthroscopy. 2001;17:445–449.

Deie M, Ochi M, Ikuta Y. High intrinsic healing potential of human anterior cruciate ligament. Acta Orthop Scand. 1995;66:28–32.

Fujimoto E, Sumen Y, Ochi M, Ikuta Y. Spontaneous healing of acute anterior cruciate ligament (ACL) injuries: conservative treatment using an extension block soft brace without anterior stabilization. Arch Orthop Trauma Surg. 2002;122:212–216.

Hefti FL, Kress A, Fasel J, Morscher EW. Healing of the transected anterior cruciate ligament in the rabbit. J Bone Joint Surg Am. 1991;73:373–383.

Ihara H, Miwa M, Deya K, Torisu K. MRI of anterior cruciate ligament healing. J Comput Assist Tomogr. 1996;20:317–321.

Irrgang JJ, Anderson AF, Boland AL, Harner CD, Kurosaka M, Neyret P, Richmond JC, Shelborne KD. Development and validation of the International Knee Documentation Committee Subjective Knee Form. Am J Sports Med. 2001;29:600–613.

Kurosaka M, Yoshiya S, Mizuno T, Mizuno K. Spontaneous healing of a tear of the anterior cruciate ligament: a report of two cases. J Bone Joint Surg Am. 1998;80:1200–1203.

Lysholm J, Gillquist J. Evaluation of knee ligament surgery results with special emphasis on use of a scoring scale. Am J Sports Med. 1982;10:150–154.

Malanga GA, Girardi J, Nadler SF. The spontaneous healing of a torn anterior cruciate ligament. Clin J Sport Med. 2001;11:118–120.

McDaniel WJ Jr, Dameron TB Jr. The untreated anterior cruciate ligament rupture. Clin Orthop Relat Res. 1983;172:158–163.

Noyes FR, Matthews DS, Mooar PA, Grood ES. The symptomatic anterior cruciate deficient knee. Part II. The results of rehabilitation, activity modification, and counseling on functional disability. J Bone Joint Surg Am. 1983;65:163–174.

O'Donoghue DH, Rockwood CA, Frank GR, Jack SC, Kenyon R. Repair of the anterior cruciate ligament in dogs. J Bone Joint Surg Am. 1966;48:503–519.

Robertson PL, Schweitzer ME, Bartolozzi AR, Ugoni A. Anterior cruciate ligament tears: evaluation of multiple signs with MR imaging. Radiology. 1994;193:829–834.

Sherman OH, Markolf KL, Ferkel RD. Measurement of anterior laxity in normal and anterior cruciate absent knees with two instrumented test devices. Clin Orthop Relat Res. 1987;215:156–161.

Tang Z, Yang L, Wang Y, Xue R, Zhang J, Huang W, Chen PC, Sung KL. Contributions of different intraarticular tissues to the acute phase elevation of synovial fluid MMP-2 following rat ACL rupture. J Orthop Res. 2009;27:243–248.

Tegner Y, Lysholm J. Rating systems in the evaluation of knee ligament injuries. Clin Orthop Relat Res. 1985;198:43–49.

Voloshin I, Bronstein RD, DeHaven KE. Spontaneous healing of a patellar tendon anterior cruciate ligament graft: a case report. Am J Sports Med. 2002;30:751–753.

Woo SL, Chan SS, Yamaji T. Biomechanics of knee ligament healing, repair and reconstruction. J Biomech. 1997:30:431–439.

Yoshida M, Fujii K. Differences in cellular properties and responses to growth factors between human ACL and MCL cells. J Orthop Sci. 1999;4:293–298.
Additional information
Each author certifies that he or she has no commercial associations (eg, consultancies, stock ownership, equity interest, patent/licensing arrangements, etc) that might pose a conflict of interest in connection with the submitted article.
Each author certifies that his or her institution approved the human protocol for this investigation that all investigations were conducted in conformity with ethical principles of research, and that informed consent for participation in the study was obtained.
About this article
Cite this article
Costa-Paz, M., Ayerza, M.A., Tanoira, I. et al. Spontaneous Healing in Complete ACL Ruptures: A Clinical and MRI Study. Clin Orthop Relat Res 470, 979–985 (2012). https://doi.org/10.1007/s11999-011-1933-8
Published:

Issue Date:

DOI: https://doi.org/10.1007/s11999-011-1933-8
Keywords