Abstract
Background
The two-incision approach to THA has been controversial, with some authors reporting its use is associated with a rapid recovery whereas others report no differences in outcomes and a higher risk of perioperative complications secondary to increased surgical complexity.
Questions/purposes
We therefore compared early postoperative variables including pain, length of stay, functional recovery, complications, and complexity of the mini-posterior and two-incision approaches to THA.
Patients and Methods
We prospectively enrolled 72 patients scheduled for THA and randomized them into two groups: mini-incision posterior approach and the two-incision approach. Preoperative teaching, anesthetic protocols, implants used, and rehabilitation pathways were identical for both groups. All variables were assessed at a maximum of 1 year postoperatively.
Results
All key outcomes were similar in the two groups: mean visual analog scale (VAS) scores for pain during the first 3 postoperative days and the first 6 weeks, total narcotic requirements in the hospital and during the first 6 weeks, mean length of stay (51 hours versus 48 hours), and mean Harris hip scores and SF-12 scores. Achievement of functional milestones was similar between the two groups. There was one reoperation in each group. Mean operative time was longer for patients in the two-incision group (98 minutes versus 77 minutes), however the accuracy of component positioning was similar.
Conclusions
We found no differences in perioperative outcomes between these two approaches for THA. Variables other than the surgical approach including perioperative protocols, patient expectations, and the patient's general health may have a greater effect on outcomes such as pain during the early postoperative period, functional recovery, and length of hospital stay. The use of small incisions for THA was safe as was a shortened hospital stay in selected patients.
Level of Evidence
Level I, therapeutic study. See the Guidelines for Authors for a complete description of levels of evidence.
This is a preview of subscription content,
to check access.
Access this article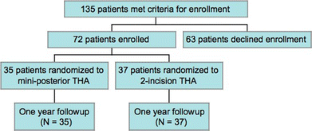 Similar content being viewed by others
References
Bal BS, Haltom D, Aleto T, Barrett M. Early complications of primary total hip replacement performed with a two-incision minimally invasive technique: surgical technique. J Bone Joint Surg Am. 2006;88(suppl 1 pt 2):221–233.

Berger RA. Total hip arthroplasty using the minimally invasive two-incision approach. Clin Orthop Relat Res. 2003;417:232–241.

Berger RA. The technique of minimally invasive total hip arthroplasty using the two-incision approach. Instr Course Lect. 2004;53:149–155.

Berger RA. A comprehensive approach to outpatient total hip arthroplasty. Am J Orthop (Belle Mead NJ). 2007;36(9 suppl):4–5.

Berger RA, Duwelius PJ. The two-incision minimally invasive total hip arthroplasty: technique and results. Orthop Clin North Am. 2004;35:163–172.

Berger RA, Jacobs JJ, Meneghini RM, Della Valle C, Paprosky W, Rosenberg AG. Rapid rehabilitation and recovery with minimally invasive total hip arthroplasty. Clin Orthop Relat Res. 2004;429:239–247.

Dorr LD, Maheshwari AV, Long WT, Wan Z, Sirianni LE. Early pain relief and function after posterior minimally invasive and conventional total hip arthroplasty: a prospective, randomized, blinded study. J Bone Joint Surg Am. 2007;89:1153–1160.

Duwelius PJ, Burkhart RL, Hayhurst JO, Moller H, Butler JB. Comparison of the 2-incision and mini-incision posterior total hip arthroplasty technique: a retrospective match-pair controlled study. J Arthroplasty. 2007;22:48–56.

Harris WH. Traumatic arthritis of the hip after dislocation and acetabular fractures: treatment by mold arthroplasty. An end-result study using a new method of result evaluation. J Bone Joint Surg Am. 1969;51:737–755.

Howell JR, Masri BA, Duncan CP. Minimally invasive versus standard incision anterolateral hip replacement: a comparative study. Orthop Clin North Am. 2004;35:153–162.

Landefeld CS, Cook EF, Flatley M, Weisberg M, Goldman L. Identification and preliminary validation of predictors of major bleeding in hospitalized patients starting anticoagulant therapy. Am J Med. 1987;82:703–713.

Lombardi AV Jr, Berend KR, Mallory TH, Dodds KL, Adams JB. Soft tissue and intra-articular injection of bupivacaine, epinephrine, and morphine has a beneficial effect after total knee arthroplasty. Clin Orthop Relat Res. 2004;428:125–130.

Martell JM, Pierson RH III, Jacobs JJ, Rosenberg AG, Maley M, Galante JO. Primary total hip reconstruction with a titanium fiber-coated prosthesis inserted without cement. J Bone Joint Surg Am. 1993;75:554–571.

Meneghini RM, Smits SA, Swinford RR, Bahamonde RE. A randomized, prospective study of 3 minimally invasive surgical approaches in total hip arthroplasty: comprehensive gait analysis. J Arthroplasty. 2008;23(6 suppl 1):68–73.

Ogonda L, Wilson R, Archbold P, Lawlor M, Humphreys P, O'Brien S, Beverland D. A minimal-incision technique in total hip arthroplasty does not improve early postoperative outcomes: a prospective, randomized, controlled trial. J Bone Joint Surg Am. 2005;87:701–710.

Ostendorf M, van Stel HF, Buskens E, Schrijvers AJ, Marting LN, Verbout AJ, Dhert WJ. Patient-reported outcome in total hip replacement: a comparison of five instruments of health status. J Bone Joint Surg Br. 2004;86:801–808.

Pagnano MW, Leone J, Lewallen DG, Hanssen AD. Two-incision THA had modest outcomes and some substantial complications. Clin Orthop Relat Res. 2005;441:86–90.

Pagnano MW, Trousdale RT, Meneghini RM, Hanssen AD. Slower recovery after two-incision than mini-posterior-incision total hip arthroplasty: a randomized clinical trial. J Bone Joint Surg Am. 2008;90:1000–1006.

Palutsis RS, Sheridan KC, Wasielewski RC. One surgeon's experience with the 2-incision technique for total hip arthroplasty. J Arthroplasty. 2010;25:71–75.

Parvizi J, Mui A, Purtill JJ, Sharkey PF, Hozack WJ, Rothman RH. Total joint arthroplasty: when do fatal or near-fatal complications occur? J Bone Joint Surg Am. 2007;89:27–32.

Pour AE, Parvizi J, Sharkey PF, Hozack WJ, Rothman RH. Minimally invasive hip arthroplasty: what role does patient preconditioning play? J Bone Joint Surg Am. 2007;89:1920–1927.

Sriwatanakul K, Kelvie W, Lasagna L, Carimlin JF, Weis OF, Mehta G. Studies with different types of visual analog scales for measurement of pain. Clin Pharmacol Ther. 1983;34:234–239.

Wenz JF, Gurkan I, Jibodh SR. Mini-incision total hip arthroplasty: a comparative assessment of perioperative outcomes. Orthopedics. 2002;25:1031–1043.

Woolson ST, Mow CS, Syquia JF, Lannin JV, Schurman DJ. Comparison of primary total hip replacements performed with a standard incision or a mini-incision. J Bone Joint Surg Am. 2004;86:1353–1358.
Additional information
This study was supported by a grant from Zimmer Inc (Warsaw, IN). Dr. Della Valle has performed consulting services for Zimmer within the past year and presently is a consultant for Smith and Nephew Inc (Memphis, TN), Biomet Inc (Warsaw, IN), and Kinamed Inc (Camarillo, CA). Dr. Sporer is a consultant for Zimmer.
Each author certifies that his or her institution approved the human protocol for this investigation, that all investigations were conducted in conformity with ethical principles of research, and that informed consent for participation in the study was obtained.
About this article
Cite this article
Della Valle, C.J., Dittle, E., Moric, M. et al. A Prospective Randomized Trial of Mini-incision Posterior and Two-incision Total Hip Arthroplasty. Clin Orthop Relat Res 468, 3348–3354 (2010). https://doi.org/10.1007/s11999-010-1491-5
Received:

Accepted:

Published:

Issue Date:

DOI: https://doi.org/10.1007/s11999-010-1491-5
Keywords