Introduction
Meniscal tears can cause considerable symptoms (pain, catching or locking, and effusions) and may subject the knee to premature degeneration of the joint. They also are one of the most common indications for an orthopaedic surgical procedure [3]. As such, although a tear of the meniscus is never life- or limb-threatening, its importance in orthopaedic surgery is undoubted.
Structure and Function
The word meniscus means "little moon" in Greek, a name evoked by its crescent shape (as seen from above). The menisci sit atop the medial and lateral plateaus of the tibia, contacting the rounded femoral condyles and distributing their weight across a broad surface area (Fig.
1
A). The increased contact area accordingly decreases pressure and focal stress. The menisci also absorb shock; and by acting as a doorjamb, stabilize the joint (Fig.
1
B).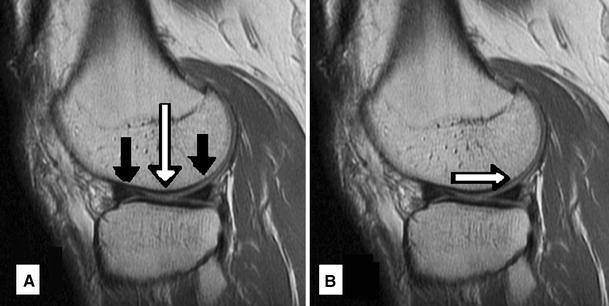 Keywords
Anterior Cruciate Ligament 
Meniscal Tear 
Young Athlete 
Meniscal Repair 
Tibial Plateau Fracture 
These keywords were added by machine and not by the authors. This process is experimental and the keywords may be updated as the learning algorithm improves.
Copyright information
© The Association of Bone and Joint Surgeons® 2010