Abstract
Previous projections of total joint replacement (TJR) volume have not quantified demand for TJR surgery in young patients (< 65 years old). We developed projections for demand of TJR for the young patient population in the United States. The Nationwide Inpatient Sample was used to identify primary and revision TJRs between 1993 and 2006, as a function of age, gender, race, and census region. Surgery prevalence was modeled using Poisson regression, allowing for different rates for each population subgroup over time. If the historical growth trajectory of joint replacement surgeries continues, demand for primary THA and TKA among patients less than 65 years old was projected to exceed 50% of THA and TKA patients of all ages by 2011 and 2016, respectively. Patients less than 65 years old were projected to exceed 50% of the revision TKA patient population by 2011. This study underscores the major contribution that young patients may play in the future demand for primary and revision TJR surgery.
Level of Evidence: Level II, prognostic study. See Guidelines for Authors for a complete description of levels of evidence.
Access options
Buy single article
Instant access to the full article PDF.
USD 39.95
Price excludes VAT (USA)
Tax calculation will be finalised during checkout.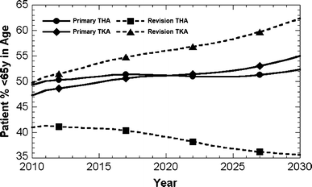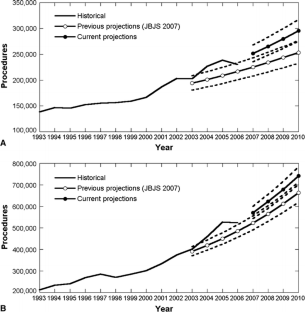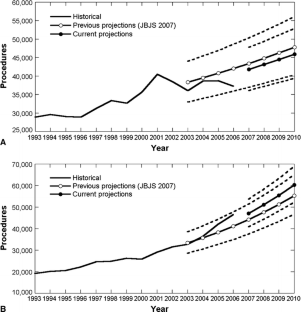 References
Bozic KJ, Morshed S, Silverstein MD, Rubash HE, Kahn JG. Use of cost-effectiveness analysis to evaluate new technologies in orthopaedics. The case of alternative bearing surfaces in total hip arthroplasty. J Bone Joint Surg Am. 2006;88:706–714.

Charnley J. Arthroplasty of the hip: A new operation. Lancet. 1961;I:1129–1132.

Houchens RL, Elixhauser A. Using the HCUP Nationwide Inpatient Sample to Estimate Trends (Updated for 1988–2004). http://www.hcup-us.ahrq.gov/reports/methods.jsp. Accessed 24 October, 2005.

Jain NB, Higgins LD, Ozumba D, Guller U, Cronin M, Pietrobon R, Katz JN. Trends in epidemiology of knee arthroplasty in the United States, 1990–2000. Arthritis Rheum. 2005;52:3928–3933.

Katz JN, Barrett J, Mahomed NN, Baron JA, Wright RJ, Losina E. Association between hospital and surgeon procedure volume and the outcomes of total knee replacement. J Bone Joint Surg Am. 2004;86:1909–1916.

Kurtz S, Ong K, Lau E, Mowat F, Halpern M. Projections of primary and revision hip and knee arthroplasty in the United States from 2005 to 2030. J Bone Joint Surg Am. 2007;89:780–785.

Kurtz SM, Mowat F, Ong K, Chan N, Lau E, Halpern M. Prevalence of primary and revision total hip and knee arthroplasty in the United States from 1990 through 2002. J Bone Joint Surg Am. 2005;87:1487–1497.

Malchau H, Herberts P, Eisler T, Garellick G, Soderman P. The Swedish Total Hip Replacement Register. J Bone Joint Surg Am. 2002;84 Suppl 2:2–20.

National Center for Health Statistics. U.S. Population Projections. http://www.census.gov/population/www/projections/stproj.html. Accessed 24 October, 2005.
Additional information
Each author certifies that he or she has no commercial associations (eg, consultancies, stock ownership, equity interest, patent/licensing arrangements, etc) that might pose a conflict of interest in connection with the submitted article.
About this article
Cite this article
Kurtz, S.M., Lau, E., Ong, K. et al. Future Young Patient Demand for Primary and Revision Joint Replacement: National Projections from 2010 to 2030. Clin Orthop Relat Res 467, 2606–2612 (2009). https://doi.org/10.1007/s11999-009-0834-6
Received:

Accepted:

Published:

Issue Date:

DOI: https://doi.org/10.1007/s11999-009-0834-6
Keywords
Total Knee Arthroplasty

Nationwide Inpatient Sample

Total Joint Replacement

Revision Total Knee Arthroplasty

Previous Projection