Abstract
Vascular function and angiogenesis are regulated by vascular endothelial growth factor-A (VEGF). The purpose of this preliminary study was to address the following questions: Is VEGF expression in the patellar tendon more prevalent in patients with patellar tendinopathy than in individuals with normal, pain-free patellar tendons? Which cell populations express VEGF in normal and tendinopathic tendon? Is there a difference in symptom duration between VEGF+ and VEGF− tendons? We collected patellar tendon tissue from 22 patients undergoing open débridement of the patellar tendon and from 10 patients undergoing intramedullary nailing of the tibia. VEGF expression was assessed immunohistochemically. Relevant inflammatory and repair cell types were immunolabeled. VEGF expression was absent from control tendons, but was present in a subset of patients with histopathological evidence of angiofibroblastic tendinosis. VEGF was expressed in the intimal layer of tendon vessels, but was absent in other cell types. Patients demonstrating VEGF expression in the patellar tendon had a shorter symptom duration (12 ± 7.8 months) than patients with no detectable VEGF (32.8 ± 23.5 months). VEGF may contribute to the vascular hyperplasia that is a cardinal feature of symptomatic tendinosis, particularly in cases with more recent onset.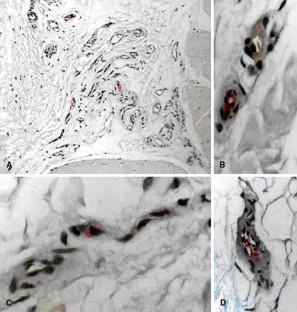 References
1.

Abraham D, Taghavi S, Riml P, et al. VEGF-A and -C but not -B mediate increased vascular permeability in preserved lung grafts. Transplantation. 2002;73:1703–1706.

2.

Alfredson H, Lorentzon M, Backman S, Backman A, Lerner UH. cDNA-arrays and real-time quantitative PCR techniques in the investigation of chronic Achilles tendinosis. J Orthop Res. 2003;21:970–975.

3.

Alfredson H, Ohberg L, Forsgren S. Is vasculo-neural ingrowth the cause of pain in chronic Achilles tendinosis? An investigation using ultrasonography and colour Doppler, immunohistochemistry, and diagnostic injections. Knee Surg Sports Traumatol Arthrosc. 2003;11:334–338.

4.

Alfredson H, Pietila T, Jonsson P, Lorentzon R. Heavy-load eccentric calf muscle training for the treatment of chronic Achilles tendinosis. Am J Sports Med. 1998;26:360–366.

5.

Andersson GB. Epidemiology of occupational neck, shoulder disorders. In: Gordon SL, Blair SJ, Fine LJ, eds. Repetitive Motion Disorders of the Upper Extremity. Bethesda, MD: American Academy of Orthopaedic Surgeons; 1994:31–42.

6.

Bahr R, Fossan B, Loken S, Engebretsen L. Surgical treatment compared with eccentric training for patellar tendinopathy (Jumper's Knee). A randomized, controlled trial. J Bone Joint Surg Am. 2006;88:1689–1698.

7.

Bisset L, Paungmali A, Vicenzino B, Beller E. A systematic review and meta-analysis of clinical trials on physical interventions for lateral epicondylalgia. Br J Sports Med. 2005;39:411–422; discussion 411–422.

8.

Boyer MI, Watson JT, Lou J, Manske PR, Gelberman RH, Cai SR. Quantitative variation in vascular endothelial growth factor mRNA expression during early flexor tendon healing: an investigation in a canine model. J Orthop Res. 2001;19:869–872.

9.

Budoff JE, Kraushaar BS, Ayala G. Flexor carpi ulnaris tendinopathy. J Hand Surg [Am]. 2005;30:125–129.

10.

Coleman BD, Khan KM, Maffulli N, Cook JL, Wark JD. Studies of surgical outcome after patellar tendinopathy: clinical significance of methodological deficiencies and guidelines for future studies. Victorian Institute of Sport Tendon Study Group. Scand J Med Sci Sports. 2000;10:2–11.

11.

Danielson P, Alfredson H, Forsgren S. Distribution of general (PGP 9.5) and sensory (substance P/CGRP) innervations in the human patellar tendon. Knee Surg Sports Traumatol Arthrosc. 2006;14:125–132.

12.

Danielson P, Alfredson H, Forsgren S. Studies on the importance of sympathetic innervation, adrenergic receptors, and a possible local catecholamine production in the development of patellar tendinopathy (tendinosis) in man. Microsc Res Tech. 2007;70:310–324.

13.

de Vos RJ, Weir A, Cobben LP, Tol JL. The value of power Doppler ultrasonography in Achilles tendinopathy: a prospective study. Am J Sports Med. 2007;35:1696–1701.

14.

Goh PP, Sze DM, Roufogalis BD. Molecular and cellular regulators of cancer angiogenesis. Curr Cancer Drug Targets. 2007;7:743–758.

15.

Hansson HA, Brandsten C, Lossing C, Petruson K. Transient expression of Insulin-like Growth Factor I immunoreactivity by vascular cells during angiogenesis. Exp Mol Path. 1989;50:125–138.

16.

Hardy B, Raiter A, Weiss C, Kaplan B, Tenenbaum A, Battler A. Angiogenesis induced by novel peptides selected from a phage display library by screening human vascular endothelial cells under different physiological conditions. Peptides. 2006;28:691–701.

17.

Jarvinen TA, Kannus P, Maffulli N, Khan KM. Achilles tendon disorders: etiology and epidemiology. Foot Ankle Clin. 2005;10:255–266.

18.

Jonsson P, Wahlstrom P, Ohberg L, Alfredson H. Eccentric training in chronic painful impingement syndrome of the shoulder: results of a pilot study. Knee Surg Sports Traumatol Arthrosc. 2006;14:76–81.

19.

Kannus P, Jozsa L. Histopathological changes preceding spontaneous rupture of a tendon. A controlled study of 891 patients. J Bone Joint Surg Am. 1991;73:1507–1525.

20.

Khan KM, Cook JL, Bonar F, Harcourt P, Astrom M. Histopathology of common tendinopathies. Update and implications for clinical management. Sports Med. 1999;27:393–408.

21.

Kraushaar BS, Nirschl RP. Tendinosis of the elbow (tennis elbow). Clinical features and findings of histological, immunohistochemical, and electron microscopy studies. J Bone Joint Surg Am. 1999;81:259–278.

22.

Lian O, Scott A, Engebretsen L, Bahr R, Duronio V, Khan K. Excessive apoptosis in patellar tendinopathy in athletes. Am J Sports Med. 2007;35:605–611.

23.

Lian OB, Engebretsen L, Bahr R. Prevalence of jumper's knee among elite athletes from different sports: a cross-sectional study. Am J Sports Med. 2005;33:561–567.

24.

Maffulli N, Wong J, Almekinders LC. Types and epidemiology of tendinopathy. Clin Sports Med. 2003;22:675–692.

25.

Martinez-Silvestrini JA, Newcomer KL, Gay RE, Schaefer MP, Kortebein P, Arendt KW. Chronic lateral epicondylitis: comparative effectiveness of a home exercise program including stretching alone versus stretching supplemented with eccentric or concentric strengthening. J Hand Ther. 2005;18:411–419, quiz 420.

26.

Matthews TJ, Hand GC, Rees JL, Athanasou NA, Carr AJ. Pathology of the torn rotator cuff tendon. Reduction in potential for repair as tear size increases. J Bone Joint Surg Br. 2006;88:489–495.

27.

Molloy T, Wang Y, Murrell G. The roles of growth factors in tendon and ligament healing. Sports Med. 2003;33:381–394.

28.

Nirschl RP. Patterns of failed healing in tendon injury. In: Leadbetter W, Buckwalter J, Gordon S, eds. Sports-Induced Inflammation: Clinical and Basic Science Concepts. Park Ridge, IL: American Academy of Orthopaedic Surgeons; 1990:577–585.

29.

Peers KH, Brys PP, Lysens RJ. Correlation between power Doppler ultrasonography and clinical severity in Achilles tendinopathy. Int Orthop. 2003;27:180–183.

30.

Perry SM, McIlhenny SE, Hoffman MC, Soslowsky LJ. Inflammatory and angiogenic mRNA levels are altered in a supraspinatus tendon overuse animal model. J Shoulder Elbow Surg. 2005;14:79S–83S.

31.

Petersen W, Varoga D, Zantop T, Hassenpflug J, Mentlein R, Pufe T. Cyclic strain influences the expression of the vascular endothelial growth factor (VEGF) and the hypoxia inducible factor 1 alpha (HIF-1alpha) in tendon fibroblasts. J Orthop Res. 2004;22:847–853.

32.

Pufe T, Petersen W, Tillmann B, Mentlein R. The angiogenic peptide vascular endothelial growth factor is expressed in foetal and ruptured tendons. Virchows Arch. 2001;439:579–585.

33.

Pufe T, Petersen WJ, Mentlein R, Tillmann BN. The role of vasculature and angiogenesis for the pathogenesis of degenerative tendons disease. Scand J Med Sci Sports. 2005;15:211–222.

34.

Rees JD, Wilson AM, Wolman RL. Current concepts in the management of tendon disorders. Rheumatology (Oxford). 2006;45:508–521.

35.

Ribatti D, Conconi MT, Nussdorfer GG. Nonclassic endogenous novel [corrected] regulators of angiogenesis. Pharmacol Rev. 2007;59:185–205.

36.

Rolf CG, Fu BS, Pau A, Wang W, Chan B. Increased cell proliferation and associated expression of PDGFRbeta causing hypercellularity in patellar tendinosis. Rheumatology (Oxford). 2001;40:256–261.

37.

Scott A, Khan KM, Cook J, Duronio V. Human tendon overuse pathology: histopathologic, biochemical findings. In: Woo SL, Arnoczky SP, Renstrom P, eds. Tendinopathy in Athletes. Malden, MA: Blackwell Publishing Ltd; 2007:69–84.

38.

Scott A, Lian O, Bahr R, Hart D, Duronio V. Elevated mast cell numbers in human patellar tendinosis: correlation with symptom duration and vascular hyperplasia Br J Sports Med. 2008 Mar 4 [Epub ahead of print].

39.

Scott A, Lian O, Roberts CR, Cook JL, Handley CJ, Bahr R, Samiric T, Ilic MZ, Parkinson J, Hart DA, Duronio V, Khan KM. Increased versican content is associated with tendinosis pathology in the patellar tendon of athletes with jumper's knee. Scand J Med Sci Sports. 2007 Dec 7 [Epub ahead of print].

40.

Stein V, Laprell H, Tinnemeyer S, Petersen W. Quantitative assessment of intravascular volume of the human Achilles tendon. Acta Orthop Scand. 2000;71:60–63.

41.

Tallon C, Coleman BD, Khan KM, Maffulli N. Outcome of surgery for chronic Achilles tendinopathy. A critical review. Am J Sports Med. 2001;29:315–320.

42.

Yamazaki Y, Morita T. Molecular and functional diversity of vascular endothelial growth factors. Mol Divers. 2006.

43.

Yoshikawa T, Tohyama H, Enomoto H, Matsumoto H, Toyama Y, Yasuda K. Expression of vascular endothelial growth factor and angiogenesis in patellar tendon grafts in the early phase after anterior cruciate ligament reconstruction. Knee Surg Sports Traumatol Arthrosc. 2006;14:804–810.

44.

Yoshikawa T, Tohyama H, Katsura T, Kondo E, Kotani Y, Matsumoto H, Toyama Y, Yasuda K. Effects of local administration of vascular endothelial growth factor on mechanical characteristics of the semitendinosus tendon graft after anterior cruciate ligament reconstruction in sheep. Am J Sports Med. 2006;34:1918–1925.

45.

Young MA, Cook JL, Purdam CR, Kiss ZS, Alfredson H. Eccentric decline squat protocol offers superior results at 12 months compared with traditional eccentric protocol for patellar tendinopathy in volleyball players. Br J Sports Med. 2005;39:102–105.

46.

Yuan J, Murrell GA, Wei AQ, Wang MX. Apoptosis in rotator cuff tendonopathy. J Orthop Res. 2002;20:1372–1379.

47.

Zanetti M, Metzdorf A, Kundert HP, et al. Achilles tendons: clinical relevance of neovascularization diagnosed with power Doppler US. Radiology. 2003;227:556–560.
Acknowledgments
We thank the Oslo Sports Trauma Research Center established at the Norwegian University of Sport and Physical Education through generous grants from the Royal Norwegian Ministry of Culture, the Norwegian Olympic Committee and Confederation of Sport, Norsk Tipping, and Pfizer. We thank Rafat Sobouti for assistance viewing tissue sections.
Additional information
Each author certifies that he or she has no commercial associations (eg, consultancies, stock ownership, equity interest, patent/licensing arrangements, etc) that might pose a conflict of interest in connection with the submitted article.
One of more of the authors received funding from the Canadian Institutes of Health Research (AS, DAH, VD), the Worker's Compensation Board of British Columbia (AS, VD), the Oslo Sports Trauma Research Center (OL, RB); one of the authors (AS) has received funding through a CIHR Post-Doctoral Fellowship; one of the authors (DAH) is the Calgary Foundation-Grace Glaum Professor in Arthritis Research and supported by IGH of CIHR; one of the authors (VD) receives funding through a Michael Smith Foundation for Health Research Senior Scholar fellowship.
Each author certifies that his or her institution has approved the human protocol for this investigation and that all investigations were conducted in conformity with ethical principles of research, and that informed consent for participation in the study was obtained.
About this article
Cite this article
Scott, A., Lian, Ø., Bahr, R. et al. VEGF Expression in Patellar Tendinopathy: A Preliminary Study. Clin Orthop Relat Res 466, 1598–1604 (2008). https://doi.org/10.1007/s11999-008-0272-x
Received:

Accepted:

Published:

Issue Date:
Keywords
Patellar Tendon

Vascular Endothelial Growth Factor

Patellar Tendinopathy

Rupture Achilles Tendon

Mast Cell Density