Abstract
In this article, the new zinc phthalocyanine (ZnPc)-based poly(vinyl alcohol)s (PVA-Pcs) are synthesized by copper(I)-catalyzed azide-alkyne cycloaddition click reaction (CuAAC) between azide side chain functionalized PVA (PVA-N3) and alkyne substituted ZnPc (Pc-Al), and characterized. The structure of PVA-Pcs and their intermediates are determined by a combination of Fourier-transform infrared (FTIR) and proton nuclear magnetic resonance (1H-NMR) spectroscopies. On the other hand, the effect of Pc-Al loading by mole (PVA-N3:Pc-Al = 10:1 and 10:2) on the wettability, thermal and antibacterial properties of achieved final products is investigated, utilizing water contact angle (WCA) measurements, thermogravimetric (TGA) and differential scanning calorimetry (DSC) analyses, and antibacterial activity tests, respectively. Based on the WCA, TGA, and DSC analyses of PVA-Pcs, it is found that utilizing a higher loading of Pc-Al in the CuAAC reaction medium enhances the WCA and thermal properties of resulted products. Furthermore, the antibacterial activity tests against both Gram negative bacteria (Escherichia coli and Salmonella typhimurium) and Gram positive bacteria (Staphylococcus aureus and Listeria monocytogenes) revealed the higher inhibition effect of PVA-Pcs compared to neat PVA, some prevalent antibiotics and control samples. Thus, PVA-Pcs are promising materials that can be used in different application areas requiring lower wettability and higher thermal and antibacterial properties.
Graphic abstract

Access options
Buy single article
Instant access to the full article PDF.
USD 39.95
Price excludes VAT (USA)
Tax calculation will be finalised during checkout.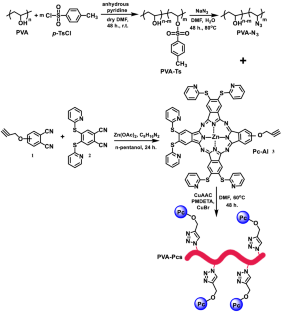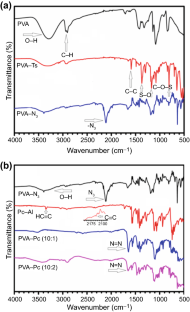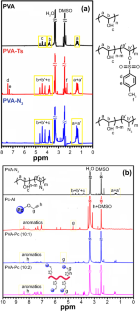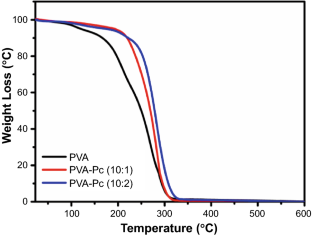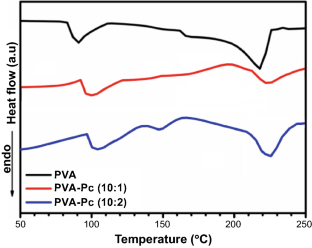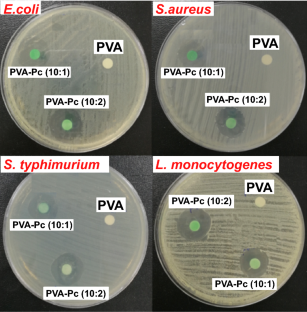 References
Chen, A, Peng, H, Blakey, I, Whittaker, AK, "Biocidal Polymers: A Mechanistic Overview." Polym. Rev., 57 276–310 (2017)

Acik, G, Altinkok, C, Olmez, H, Tasdelen, MA, "Antibacterial Film from Chlorinated Polypropylene via CuAAC Click Chemistry." Prog. Org. Coat., 125 73–78 (2018)

Liu, R, Chen, X, Falk, SP, Mowery, BP, Karlsson, AJ, Weisblum, B, Palecek, SP, Masters, KS, Gellman, SH, "Structure–Activity Relationships Among Antifungal Nylon-3 Polymers: Identification of Materials Active Against Drug-Resistant Strains of Candida albicans." J. Am. Chem. Soc., 136 4333–4342 (2014)

Stratton, TR, Applegate, BM, Youngblood, JP, "Effect of Steric Hindrance on the Properties of Antibacterial and Biocompatible Copolymers." Biomacromolecules, 12 50–56 (2010)

Onyari, JM, Huang, SJ, "Synthesis and Properties of Novel Polyvinyl Alcohol–Lactic Acid Gels." J. Appl. Polym. Sci., 113 2053–2061 (2009)

Kim, JO, Park, JK, Kim, JH, Jin, SG, Yong, CS, Li, DX, Choi, JY, Woo, JS, Yoo, BK, Lyoo, WS, "Development of Polyvinyl Alcohol–Sodium Alginate Gel-Matrix-Based Wound Dressing System Containing Nitrofurazone." Int. J. Pharm., 359 79–86 (2008)

Açik, G, Kamaci, M, Özata, B, Cansoy, CEÖ, "Effect of Polyvinyl Alcohol/Chitosan Blend Ratios on Morphological, Optical, and Thermal Properties of Electrospun Nanofibers." Turk. J. Chem., 43 137–149 (2019)

Arslan, M, Acik, G, Tasdelen, MA, "The Emerging Applications of Click Chemistry Reactions in Modification of Industrial Polymers." Polym. Chem., 10 3806–38021 (2019)

Acik, G, "Soybean Oil Modified Bio-based Poly(vinyl alcohol)s via Ring-Opening Polymerization." J. Polym. Environ., 27 2618–2623 (2019)

Carlotti, SJ, Giani-Beaune, O, Schué, F, "Characterization and Mechanical Properties of Water-Soluble Poly(vinyl alcohol) Grafted with Lactic Acid and Glycolic Acid." J. Appl. Polym. Sci., 80 142–147 (2001)

Acik, G, Karatavuk, AO, "Synthesis, Properties and Biodegradability of Cross-linked Amphiphilic Poly(vinyl acrylate)-Poly(tert-butyl acrylate)s by Photo-initiated Radical Polymerization." Eur. Polym. J., 127 109602 (2020)

Acik, G, Altinkok, C, Tasdelen, MA, "Synthesis and Characterization of Polypropylene-graft-poly(l-lactide) Copolymers by CuAAC Click Chemistry." J. Polym. Sci. Part A Polym. Chem., 56 2595–2601 (2018)

Acik, G, Cansoy, CE, Tasdelen, M, "Synthesis of Fluorinated Polypropylene Using CuAAC Click Chemistry." J. Appl. Polym. Sci., 136 47072 (2019)

Bicak, TC, Gicevičius, M, Gokoglan, TC, Yilmaz, G, Ramanavicius, A, Toppare, L, Yagci, Y, "Simultaneous and Sequential Synthesis of Polyaniline-g-poly(ethylene glycol) by Combination of Oxidative Polymerization and CuAAC Click Chemistry: A Water-Soluble Instant Response Glucose Biosensor Material." Macromolecules, 50 1824–1831 (2017)

Acik, G, Sey, E, Tasdelen, M, "Polypropylene-Based Graft Copolymers via CuAAC Click Chemistry." eXPRESS Polym. Lett., 12 418–428 (2018)

Uysal, N, Acik, G, Tasdelen, MA, "Soybean Oil Based Thermoset Networks via Photoinduced CuAAC Click Chemistry." Polym. Int., 66 999–1004 (2017)

Roy, A, Valderrama, MAM, Daujat, V, Ferji, K, Léonard, M, Durand, A, Babin, J, Six, J-L, "Stability of a Biodegradable Microcarrier Surface: Physically Adsorbed Versus Chemically Linked Shells." J. Mater. Chem. B, 6 5130–5143 (2018)

Altintas, O, Speros, JC, Bates, FS, Hillmyer, MA, "Straightforward Synthesis of Model Polystyrene-block-poly(vinyl alcohol) Diblock Polymers." Polym. Chem., 9 4243–4250 (2018)

Ossipov, DA, Hilborn, J, "Poly(vinyl alcohol)-Based Hydrogels Formed by "Click Chemistry"." Macromolecules, 39 1709–1718 (2006)

Boase, NR, Smith, ST, Masters, K-S, Hosokawa, K, Crowe, SB, Trapp, JV, "Xylenol Orange Functionalised Polymers to Overcome Diffusion in Fricke Gel Radiation Dosimeters." React. Funct. Polym., 132 81–88 (2018)

Chen, W, Achazi, K, Schade, B, Haag, R, "Charge-Conversional and Reduction-Sensitive Poly(vinyl alcohol) Nanogels for Enhanced Cell Uptake and Efficient Intracellular Doxorubicin Release." J. Control. Release, 205 15–24 (2015)

Ikeda, T, Tazuke, S, "Biologically Active Polycations: Antimicrobial Activities of Poly[trialkyl(vinylbenzyl)ammonium chloride]-Type Polycations." Die Makromolekulare Chemie Rapid Commun., 4 459–461 (1983)

Tiller, JC, Lee, SB, Lewis, K, Klibanov, AM, "Polymer Surfaces Derivatized with Poly(vinyl-N-hexylpyridinium) Kill Airborne and Waterborne Bacteria." Biotechnol. Bioeng., 79 465–471 (2002)

Nonaka, T, Noda, E, Kurihara, S, "Graft Copolymerization of Vinyl Monomers Bearing Positive Charges or Episulfide Groups onto Loofah Fibers and Their Antibacterial Activity." J. Appl. Polym. Sci., 77 1077–1086 (2000)

Yang, W, Owczarek, J, Fortunati, E, Kozanecki, M, Mazzaglia, A, Balestra, G, Kenny, J, Torre, L, Puglia, D, "Antioxidant and Antibacterial Lignin Nanoparticles in Polyvinyl Alcohol/Chitosan Films for Active Packaging." Ind. Crops Prod., 94 800–811 (2016)

Lai, Q, Quadir, MZ, Aguey-Zinsou, K-F, "LiBH4 Electronic Destabilization with Nickel(II) Phthalocyanine—Leading to a Reversible Hydrogen Storage System." ACS Appl. Energy Mater., 1 6824–6832 (2018)

Guo, C, Ran, J, Vasileff, A, Qiao, S-Z, "Rational Design of Electrocatalysts and Photo(electro)catalysts for Nitrogen Reduction to Ammonia (NH3) Under Ambient Conditions." Energy Environ. Sci., 11 45–56 (2018)

Li, X, Lee, D, Huang, JD, Yoon, J, "Phthalocyanine-Assembled Nanodots as Photosensitizers for Highly Efficient Type I Photoreactions in Photodynamic Therapy." Angew. Chem., 130 10033–10038 (2018)

Köksoy, B, Orman, EB, Kuruca, H, Bulut, M, Durmuş, M, Özkaya, AR, "Mono and Double-Decker Lutetium Phthalocyanines Bearing Iodine Groups: Electrochemical and Electrochromic Properties." J. Electrochem. Soc., 163 H927–H936 (2016)

Basova, TV, Mikhaleva, NS, Hassan, AK, Kiselev, VG, "Thin Films of Fluorinated 3d-Metal Phthalocyanines as Chemical Sensors of Ammonia: An Optical Spectroscopy Study." Sens. Actuators B Chem., 227 634–642 (2016)

Kantar, GK, Menteşe, E, Beriş, FŞ, Şaşmaz, S, Kahveci, B, "Synthesis and Antimicrobial Activity of Some New Triazole Bridged Benzimidazole Substituted Phthalonitrile and Phthalocyanines." Rev. Roum. Chim., 63 59–65 (2018)

Cid, JJ, García-Iglesias, M, Yum, JH, Forneli, A, Albero, J, Martínez-Ferrero, E, Vazquez, P, Grätzel, M, Nazeeruddin, MK, Palomares, E, "Structure–Function Relationships in Unsymmetrical Zinc Phthalocyanines for Dye-Sensitized Solar Cells." Chem. Eur. J., 15 5130–5137 (2009)

de la Torre, G, Blau, W, Torres, T, "A Survey on the Functionalization of Single-Walled Nanotubes. The Chemical Attachment of Phthalocyanine Moieties." Nanotechnology, 14 765 (2003)

Chen, X, Salmon, I, Thaddeus, R, McGrath, DV, "Asymmetric Phthalocyanine Synthesis by ROMP-Capture-Release." Org. Lett., 11 2061–2064 (2009)

Hammer, RP, Owens, CV, Hwang, S-H, Sayes, CM, Soper, SA, "Asymmetrical, Water-Soluble Phthalocyanine Dyes for Covalent Labeling of Oligonucleotides." Bioconj. Chem., 13 1244–1252 (2002)

Campidelli, S, Ballesteros, B, Filoramo, A, Da Díaz, D, de la Torre, G, Torres, T, Rahman, GA, Ehli, C, Kiessling, D, Werner, F, "Facile Decoration of Functionalized Single-Wall Carbon Nanotubes with Phthalocyanines via "Click Chemistry"." J. Am. Chem. Soc., 130 11503–11509 (2008)

Bottari, G, Díaz, DD, Torres, T, "Alkynyl-Substituted Phthalocyanines: Versatile Building Blocks for Molecular Materials Synthesis." J. Porphyrins Phthalocyanines, 10 1083–1100 (2006)

Armarego, W, Perrin, D, Purification of Laboratory Chemicals, Vol. 102, pp. 102–103. Pergamon Press, Oxford (1980)

Gürol, İ, Gümüş, G, Musluoğlu, E, Arslan, Y, Ahsen, V, "Synthesis and Characterization of O-and S-Bridged Perfluoroalkylated Metal-Free and Zinc Phthalocyanines." J. Porphyrins Phthalocyanines, 17 555–563 (2013)

Wöhrle, D, Eskes, M, Shigehara, K, Yamada, A, "A Simple Synthesis of 4,5-Disubstituted 1,2-Dicyanobenzenes and 2,3,9,10,16,17,23,24-Octasubstituted Phthalocyanines." Synthesis, 1993 194–196 (1993)

Durmuş, M, Yaman, H, Göl, C, Ahsen, V, Nyokong, T, "Water-Soluble Quaternized Mercaptopyridine-Substituted Zinc-Phthalocyanines: Synthesis, Photophysical, Photochemical and Bovine Serum Albumin Binding Properties." Dyes Pigments, 91 153–163 (2011)

Kanat, Z, Dinçer, H, "The Synthesis and Characterization of Nonperipherally Tetra Terminal Alkynyl Substituted Phthalocyanines and Glycoconjugation via the Click Reaction." Dalton Trans., 43 8654–8663 (2014)

Gacal, BN, Koz, B, Gacal, B, Kiskan, B, Erdogan, M, Yagci, Y, "Pyrene Functional Poly(vinyl alcohol) by "Click" Chemistry." J. Polym. Sci. Part A Polym. Chem., 47 1317–1326 (2009)

Crispim, EG, Piai, JF, Schüquel, IT, Rubira, AF, Muniz, EC, "Functionalization of Poly(vinyl alcohol) by Addition of Methacryloyl Groups: Characterization by FTIR and NMR and Optimization of Reaction Conditions by RSM." e-Polymers, 6 (2006)

Knall, A-C, Hollauf, M, Saf, R, Slugovc, C, "A Trifunctional Linker Suitable for Conducting Three Orthogonal Click Chemistries in One Pot." Org. Biomol. Chem., 14 10576–10580 (2016)

Castelaín, M, Martínez, G, Marco, C, Ellis, G, Salavagione, HJ, "Effect of Click-Chemistry Approaches for Graphene Modification on the Electrical, Thermal, and Mechanical Properties of Polyethylene/Graphene Nanocomposites." Macromolecules, 46 8980–8987 (2013)

Pawlak, M, Mistlberger, G, Bakker, E, "In Situ Surface Functionalization of Plasticized Poly(vinyl chloride) Membranes by 'Click Chemistry'." J. Mater. Chem., 22 12796–12801 (2012)

Li, M, Khoshdel, E, Haddleton, DM, "Synthesis of Water Soluble PEGylated (Copper) Phthalocyanines via Mitsunobu Reaction and Cu(I)-catalysed Azide–alkyne Cycloaddition (CuAAC) "Click" Chemistry." Polym. Chem., 4 4405–4411 (2013)

Awada, H, Daneault, C, "Chemical Modification of Poly(vinyl alcohol) in Water." Appl. Sci., 5 840–850 (2015)

Korbag, I, Mohamed Saleh, S, "Studies on the Formation of Intermolecular Interactions and Structural Characterization of Polyvinyl Alcohol/Lignin Film." Int. J. Environ. Stud., 73 226–235 (2016)

Kim, JH, Shin, DS, Han, MH, Kwon, OW, Lee, HK, Lee, SG, Ghim, HD, Park, JM, Han, SS, Noh, SK, "Surface Free Energy Analysis of Poly(vinyl alcohol) Films Having Various Molecular Parameters." J. Appl. Polym. Sci., 105 424–428 (2007)

Nyamu, SN, Ombaka, L, Masika, E, Ng'ang'a, M, "Antimicrobial Photodynamic Activity of Phthalocyanine Derivatives." Adv. Chem., 2018 1–8 (2018)

Hung, HC, Jain, P, Zhang, P, Sun, F, Sinclair, A, Bai, T, Li, B, Wu, K, Tsao, C, Liu, EJ, "A Coating-Free Nonfouling Polymeric Elastomer." Adv. Mater., 29 1700617 (2017)

Saraei, M, Zarrini, G, Rajabpour, P, "Synthesis, Characterization and Polymerization of a Novel Acrylate Monomer Containing Both 4H-Pyran-4-one and 1,2,3-Triazole Moiety and Evaluation of Their Antibacterial Activity." Iran. Chem. Commun., 6 271–279 (2018)

Acik, G, "Study on the Synthesis and Characterization of Antibacterial Polystyrenes." J. Turk. Chem. Soc. Sect. A Chem., 6 245–252 (2019)

Hirayama, M, "The Antimicrobial Activity, Hydrophobicity and Toxicity of Sulfonium Compounds, and Their Relationship." Biocontrol Sci., 16 23–31 (2011)

Muñoz-Bonilla, A, López, D, Fernández-García, M, "Providing Antibacterial Activity to Poly(2-hydroxy ethyl methacrylate) by Copolymerization with a Methacrylic Thiazolium Derivative." Int. J. Mol. Sci., 19 4120 (2018)
Funding
There was no funding for this study.
Ethics declarations
Conflict of interest
The authors declare that they have no conflict of interest.
Additional information
Publisher's Note
Springer Nature remains neutral with regard to jurisdictional claims in published maps and institutional affiliations.
About this article
Cite this article
Gurol, I., Altinkok, C., Agel, E. et al. Phthalocyanine functionalized poly(vinyl alcohol)s via CuAAC click chemistry and their antibacterial properties. J Coat Technol Res 17, 1587–1596 (2020). https://doi.org/10.1007/s11998-020-00363-y
Published:

Issue Date:

DOI: https://doi.org/10.1007/s11998-020-00363-y
Keywords