Abstract
We present a feasible methodology to prepare nonwetting surfaces from natural minerals. Various ranges of silanes were used for the surface grafting, and the best customization was achieved by monochlorosilane. Water affinity analysis of surface functionalized diatomaceous earth was the key aspect of loading tunable wettability on the particle surface. Covalent attachment was confirmed via X-ray photoelectron spectroscopy (XPS), while thermogravimetric analysis, nitrogen adsorption isotherms, and contact angle measurements were used for the evaluation of grafting density and other fundamental features of hydrophobic particles. Diatomaceous earth was chosen as a prototype to develop an efficient strategy for surface modification which can be apposite to another natural particle, the so-called talc, which represents dichotomic performance to water. The present study paves the way for a new approach that can be employed to any proper inherent texture for the production of superhydrophobic powders.
This is a preview of subscription content, log in to check access.
Access options
Buy single article
Instant access to the full article PDF.
US$ 39.95
Price includes VAT for USA
Subscribe to journal
Immediate online access to all issues from 2019. Subscription will auto renew annually.
US$ 99
This is the net price. Taxes to be calculated in checkout.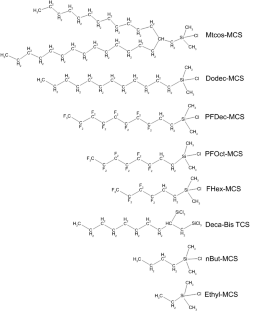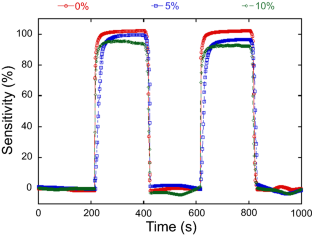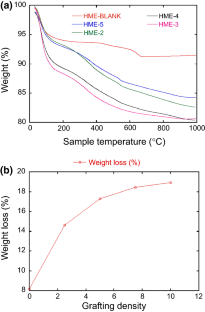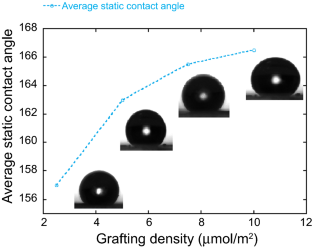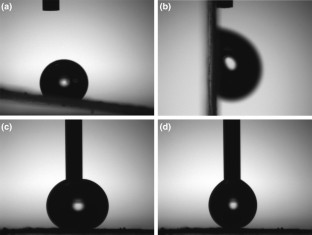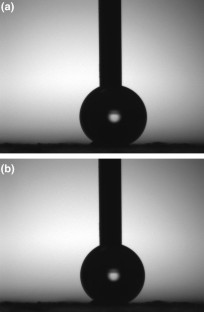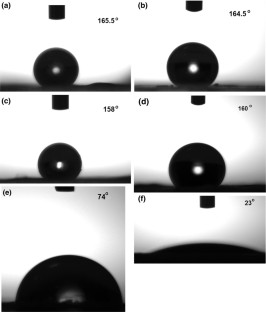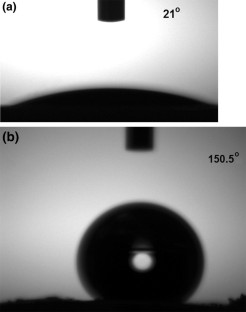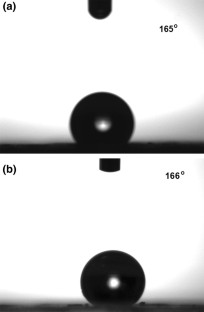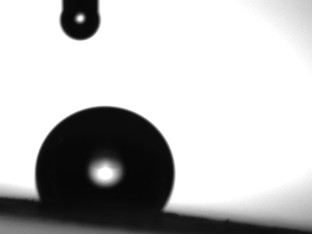 References
1.

Zhang, X, Shi, F, Niu, J, Jiang, YG, Wang, ZQ, "Superhydrophobic Surfaces: from Structural Control to Functional Application." J. Mater. Chem., 18 (6) 621–633 (2008)

2.

Gao, LC, McCarthy, TJ, Zhang, X, "Wetting and Superhydrophobicity." Langmuir, 25 (24) 14100–14104 (2009)

3.

Roach, P, Shirtcliffe, NJ, Newton, MI, "Progess in Superhydrophobic Surface Development." Soft Matter., 4 (2) 224–240 (2008)

4.

Feng, XJ, Jiang, L, "Design and Creation of Superwetting/Antiwetting Surfaces." Adv. Mater., 18 (23) 3063–3078 (2006)

5.

Nosonovsky, M, Bhushan, B, "Superhydrophobic Surfaces and Emerging Applications: Non-adhesion, Energy, Green Engineering." Curr. Opin. Colloid Interface Sci., 14 (4) 270–280 (2009)

6.

Chhatre, SS, Choi, W, Tuteja, A, Park, KC, Mabry, JM, McKinley, GH, Cohen, RE, "Scale Dependence of Omniphobic Mesh Surfaces." Langmuir, 26 (6) 4027–4035 (2010)

7.

Campos, R, Guenthner, AJ, Haddad, TS, Mabry, JM, "Fluoroalkyl-Functionalized Silica Particles: Synthesis, Characterization, and Wetting Characteristics." Langmuir, 27 (16) 10206–10215 (2011)

8.

Polizos, G, Winter, K, Lance, MJ, Meyer, HM, Armstrong, BL, Schaeffer, DA, Simpson, JT, Hunter, SR, Datskos, PG, "Scalable Superhydrophobic Coatings Based on Fluorinated Diatomaceous Earth: Abrasion Resistance Versus Particle Geometry." Appl. Surf. Sci., 292 563–569 (2014)

9.

Simpson, JT, D'Urso, BR, "Superhydrophobic Diatomaceous Earth." Google Patents, 2012

10.

Ebert, D, Bhushan, B, "Transparent, Superhydrophobic, and Wear-Resistant Coatings on Glass and Polymer Substrates Using SiO2, ZnO, and ITO Nanoparticles." Langmuir, 28 (31) 11391–11399 (2012)

11.

Holmberg, K, Jonsson, B, Kronberg, B, Lindman, B, Surfactants and Polymers in Aqueous Solution. Wiley (2002)

12.

Ogihara, H, Xie, J, Okagaki, J, Saji, T, "Simple Method for Preparing Superhydrophobic Paper: Spray-Deposited Hydrophobic Silica Nanoparticle Coatings Exhibit High Water-Repellency and Transparency." Langmuir, 28 (10) 4605–4608 (2012)

13.

Guo, M, Ding, B, Li, XH, Wang, XL, Yu, JY, Wang, MR, "Amphiphobic Nanofibrous Silica Mats with Flexible and High-Heat-Resistant Properties." J. Phys. Chem. C, 114 (2) 916–921 (2010)

14.

Kumar, RTR, Mogensen, KB, Boggild, P, "Simple Approach to Superamphiphobic Overhanging Silicon Nanostructures." J. Phys. Chem. C, 114 (7) 2936–2940 (2010)

15.

Li, HJ, Wang, XB, Song, YL, Liu, YQ, Li, QS, Jiang, L, Zhu, DB, "Super-'Amphiphobic' Aligned Carbon Nanotube Films." Angew. Chem.-Int. Ed., 40 (9) 1743–1746 (2001)

16.

Darmanin, T, Guittard, F, "One-pot Method for Build-up Nanoporous Super Oil-Repellent Films." J. Colloid Interface Sci., 335 (1) 146–149 (2009)

17.

Hsieh, CT, Wu, FL, Chen, WY, "Superhydrophobicity and Superoleophobicity from Hierarchical Silica Sphere Stacking Layers." Mater. Chem. Phys., 121 (1–2) 14–21 (2010)

18.

Guo, ZG, Liu, WM, Su, BL, "Superhydrophobic Surfaces: From Natural to Biomimetic to Functional." J. Colloid Interface Sci., 353 (2) 335–355 (2011)

19.

Neinhuis, C, Barthlott, W, "Characterization and Distribution of Water-Repellent, Self-cleaning Plant Surfaces." Ann. Bot., 79 (6) 667–677 (1997)

20.

Barthlott, W, Neinhuis, C, "Purity of the Sacred Lotus, or Escape from Contamination in Biological Surfaces." Planta, 202 (1) 1–8 (1997)

21.

Oliveira, NM, Reis, RL, Mano, JF, "Superhydrophobic Surfaces Engineered Using Diatomaceous Earth." ACS Appl. Mater. Interfaces, 5 (10) 4202–4208 (2013)

22.

Buszewski, B, Jezierska, M, Welniak, M, Berek, D, "Survey and Trends in the Preparation of Chemically Bonded Silica Phases for Liquid Chromatographic Analysis." HRC-J. High Resolut. Chromatogr., 21 (5) 267–281 (1998)

23.

Sayari, A, Hamoudi, S, "Periodic Mesoporous Silica-Based Organic—Inorganic Nanocomposite Materials." Chem. Mater., 13 (10) 3151–3168 (2001)

24.

Zhang, W, "Fluorocarbon Stationary Phases for Liquid Chromatography Applications." J. Fluor. Chem., 129 (10) 910–919 (2008)

25.

Pickering, J, Patent 7,252,885, Aug 2007

26.

Coggio, W, Patent 7,473,462, Jan 2009

27.

Fields, JT, Garton, A, Poliks, MD, "Fluoroalkylsilanes in Silica/Fluoropolymer Composites." Polym. Compos., 17 (2) 242–250 (1996)

28.

Berendsen, GE, Pikaart, KA, Galan, LD, Olieman, C, "(Heptadecafluorodecyl)Dimethylsilyl Bonded Phase for Reversed-Phase Liquid-Chromatography." Anal. Chem., 52 (12) 1990–1993 (1980)

29.

Roshchina, TM, Shoniya, NK, Lagutova, MS, Nikol'skaya, AB, Borovkov, VY, Kustov, LM, "Adsorption of water, diethyl ether, and acetonitrile on silicas with grafted perfluorohexyl coatings." Rus. J. Phys. Chem. A, 83 (2) 290–297 (2009)

30.

Monde, T, Nakayama, N, Yano, K, Yoko, T, Konakahara, T, "Adsorption Characteristics of Silica Gels Treated with Fluorinated Silylation Agents." J. Colloid Interface Sci., 185 (1) 111–118 (1997)

31.

Kamiusuki, T, Monde, T, Yano, K, Yoko, T, Konakahara, T, "Preparation of Branched-Polyfluoroalkylsilane-Coated Silica Gel Columns and their HPLC Separation Characteristics." Chromatographia, 49 (11–12) 649–656 (1999)

32.

Bravo, J, Zhai, L, Wu, Z, Cohen, RE, Rubner, MF, "Transparent Superhydrophobic Films Based on Silica Nanoparticles." Langmuir, 23 (13) 7293–7298 (2007)

33.

Xue, L, Li, J, Fu, J, Han, Y, "Super-hydrophobicity of silica nanoparticles modified with vinyl groups." Colloids Surf. A Physicochem. Eng. Aspects, 338 (1) 15–19 (2009)

34.

Sheen, YC, Huang, YC, Liao, CS, Chou, HY, Chang, FC, "New Approach to Fabricate an Extremely Super-Amphiphobic Surface Based on Fluorinated Silica Nanoparticles." J. Polym. Sci. Part B-Polym. Phys., 46 (18) 1984–1990 (2008)

35.

Garcia, N, Benito, E, Guzman, J, Tiemblo, P, "Use of p-Toluenesulfonic Acid for the Controlled Grafting of Alkoxysilanes Onto Silanol Containing Surfaces: Preparation of Tunable Hydrophilic, Hydrophobic, and Super-Hydrophobic Silica." J. Am. Chem. Soc., 129 (16) 5052–5060 (2007)

36.

Iler, RK, The Chemistry of Silica. Wiley, New York, 1979

37.

Yang, W, Lopez, PJ, Rosengarten, G, "Diatoms: Self Assembled Silica Nanostructures, and Templates for Bio/Chemical Sensors and Biomimetic Membranes." Analyst, 136 (1) 42–53 (2011)

38.

Rabosky, DL, Sorhannus, U, "Diversity Dynamics of Marine Planktonic Diatoms Across the Cenozoic." Nature, 457 (7226) 183–186 (2009)

39.

Begum, G, Rana, RK, Singh, S, Satyanarayana, L, "Bioinspired Silicification of Functional Materials: Fluorescent Monodisperse Mesostructure Silica Nanospheres." Chem. Mater., 22 (2) 551–556 (2010)

40.

Fei, B, Hu, ZG, Lu, HF, Xin, JH, "Preparation of a Panoscopic Mimic Diatom from a Silicon Compound." Small, 3 (11) 1921–1926 (2007)

41.

Greenwood, P, "Surface Modifications and Applications of Aqueous Silica Sols." Chalmers University of Technology (2010)

42.

Liu, L, Ye, X, Wu, K, Han, R, Zhou, Z, Cui, T, "Humidity Sensitivity of Multi-walled Carbon Nanotube Networks Deposited by Dielectrophoresis." Sensors, 9 (3) 1714–1721 (2009)

43.

Kazakevich, YV, Fadeev, AY, "Adsorption Characterization of Oligo (Dimethylsiloxane)-Modified Silicas: An Example of Highly Hydrophobic Surfaces with Non-Aliphatic Architecture." Langmuir, 18 (8) 3117–3122 (2002)

44.

Nikoobakht, B, El-Sayed, MA, "Evidence for Bilayer Assembly of Cationic Surfactants on the Surface of Gold Nanorods." Langmuir, 17 (20) 6368–6374 (2001)

45.

Wang, Q, Baker, GA, Baker, SN, Colón, LA, "Surface Confined Ionic Liquid as a Stationary Phase for HPLC." Analyst, 131 (9) 1000–1005 (2006)

46.

Thomas, MM, Clouse, JA, "Thermal Analysis of Compounds Adsorbed on Low-Surface-area Solids: Part 1. Measurement and Characterization by TGA." Thermochim. Acta, 140 245–251 (1989)

47.

Gao, L, McCarthy, TJ, "Ionic Liquid Marbles." Langmuir, 23 (21) 10445–10447 (2007)

48.

Aussillous, P, Quere, D, "Liquid Marbles." Nature, 411 (6840) 924–927 (2001)

49.

Tripp, C, Veregin, R, Hair, M, "Effect of Fluoroalkyl Substituents on the Reaction of Alkylchlorosilanes with Silica Surfaces." Langmuir, 9 (12) 3518–3522 (1993)

50.

Fadeev, AY, Kazakevich, YV, "Covalently Attached Monolayers of Oligo (Dimethylsiloxane) s on Silica: a Siloxane Chemistry Approach for Surface Modification." Langmuir, 18 (7) 2665–2672 (2002)

51.

Hair, M, Tripp, C, "Alkylchlorosilane Reactions at the Silica Surface." Colloids Surf. A Physicochem. Eng. Aspects, 105 (1) 95–103 (1995)

52.

Blitz, JP, Murthy, RS, Leyden, DE, "Studies of Silylation of Cab-O-Sil with Methoxymethylsilanes by Diffuse Reflectance FTIR Spectroscopy." J. Colloid Interface Sci., 121 (1) 63–69 (1988)

53.

Xu, B, Vermeulen, N, "Preparation of Wall-Coated Open-Tubular Capillary Columns for Gas Chromatography." J. Chromatogr. A, 445 1–28 (1988)

54.

Fadeev, AY, McCarthy, TJ, "Self-Assembly is Not the Only Reaction Possible Between Alkyltrichlorosilanes and Surfaces: Monomolecular and Oligomeric Covalently Attached Layers of Dichloro-and Trichloroalkylsilanes on Silicon." Langmuir, 16 (18) 7268–7274 (2000)

55.

Conder, JM, Hoke, RA, Wolf, WD, Russell, MH, Buck, RC, "Are PFCAs Bioaccumulative? A Critical Review and Comparison with Regulatory Criteria and Persistent Lipophilic Compounds." Environ. Sci. Technol., 42 (4) 995–1003 (2008)

56.

Houde, M, Martin, JW, Letcher, RJ, Solomon, KR, Muir, DC, "Biological Monitoring of Polyfluoroalkyl Substances: A Review." Environ. Sci. Technol., 40 (11) 3463–3473 (2006)

57.

Kudo, N, Kawashima, Y, "Toxicity and Toxicokinetics of Perfluorooctanoic Acid in Humans and Animals." J. Toxicol. Sci., 28 (2) 49–57 (2003)

58.

Giesy, JP, Kannan, K, "Global Distribution of Perfluorooctane Sulfonate in Wildlife." Environ. Sci. Technol., 35 (7) 1339–1342 (2001)

59.

Darmanin, T, Taffin de Givenchy, E, Amigoni, S, Guittard, F, "Hydrocarbon Versus Fluorocarbon in the Electrodeposition of Superhydrophobic Polymer Films." Langmuir, 26 (22) 17596–17602 (2010)

60.

Rotenberg, B, Patel, AJ, Chandler, D, "Molecular Explanation for Why Talc Surfaces Can Be Both Hydrophilic and Hydrophobic." J. Am. Chem. Soc., 133 (50) 20521–20527 (2011)

61.

Marmur, A, "Wetting on Hydrophobic Rough Surfaces: To Be Heterogeneous or Not To Be?" Langmuir, 19 (20) 8343–8348 (2003)
Acknowledgment
We gratefully acknowledge the Izmir Katip Celebi University, Scientific Research Foundation for financial support of this study.
Authors' contribution
The manuscript was written through contributions of all authors. All authors have given approval to the final version of the manuscript.
Electronic supplementary material
Below is the link to the electronic supplementary material.
Supplementary material 2 (MP4 438 kb)
Supplementary material 3 (MP4 379 kb)
Supplementary material 4 (MP4 51 kb)
About this article
Cite this article
Alptekin, H., Arkan, E., Özbek, C. et al. Water affinity guided tunable superhydrophobicity and optimized wettability of selected natural minerals. J Coat Technol Res 16, 199–211 (2019). https://doi.org/10.1007/s11998-018-0115-y
Keywords
Water affinity

Tunable wettability

Superhydrophobic minerals

Surface grafting

Diatomaceous earth