Abstract
To eliminate and prevent the formation of phototrophic biofilms on painted walls, chemicals are added to paints. These chemicals, in general, also have toxic effects on the environment. Plants synthesize secondary metabolites which have antimicrobial properties and that may be a sustainable alternative to traditional biocides. In this work, algal species isolated from biofilms formed on deteriorated painted surfaces were taxonomically identified. Observations with the optical microscope revealed the presence of mixed biofilms composed of algae belonging to the Cyanophyta, Chlorophyta, and Streptophyta divisions. The algaecide effect of natural compounds of vegetal origin such as anisole, eugenol, guaiacol, and thymol was evaluated by the microatmosphere technique. Growth inhibition of phototrophic organisms was obtained with thymol in all the concentrations used. Eugenol and guaiacol showed a total growth inhibition at the highest concentration assayed (300 μmol cm−2) and a decrease in growth at 40 μmol cm−2, while anisole did not exert any inhibitory action at the assayed concentrations. Due to these results, eugenol, thymol, and guaiacol were incorporated in an exterior waterborne paint at a concentration of 2%. Samples painted with these formulations were not colonized by algae, indicating that these compounds could be used as biocides in paint formulations.
Access options
Buy single article
Instant access to the full article PDF.
US$ 39.95
Tax calculation will be finalised during checkout.
Subscribe to journal
Immediate online access to all issues from 2019. Subscription will auto renew annually.
US$ 79
Tax calculation will be finalised during checkout.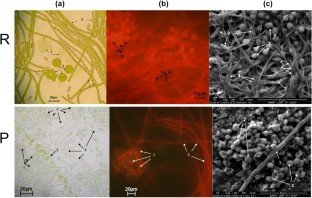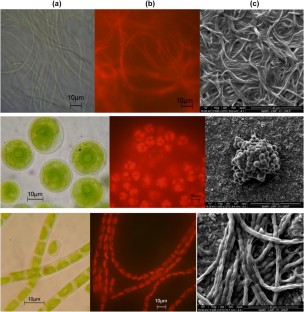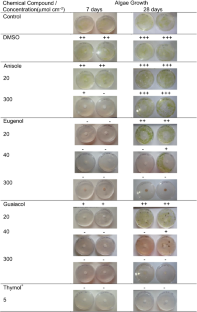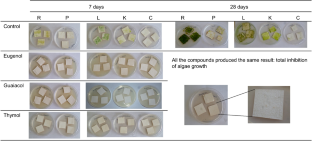 References
1.

Gaylarde, PM, Gaylarde, CC, "Algae and Cyanobacteria on Painted Buildings in Latin America." Int. Biodeter. Biodegrad., 46 93–97 (2000)

2.

Gaylarde, CC, Morton, LHG, Loh, K, Shirakawa, MA, "Biodeterioration of External Architectural Paint Films—A Review." Int. Biodeterior. Biodegrad., 65 1189–1198 (2011)

3.

O'Neill, TB, "Succession and Interrelationships of Microorganisms on Painted Surfaces." Int. Biodeterior., 24 373–379 (1988)

4.

Barberousse, H, Lombardo, RJ, Tell, G, Couté, A, "Factors Involved in the Colonisation of Building Façades by Algae and Cyanobacteria in France." Biofouling, 22 69–77 (2006)

5.

Gómez de Saravia, S, Battistoni, P, Guiamet, P, "Phototrophic Biofilms on Exterior Brick Substrate." Res. Rev. BioSci., 11 (2) 10 (2016)

6.

Bold, H, Wynne, M, Introduction to the Algae. Prentice Hall Inc, Upper Saddle River (1978)

7.

Saiz-Jimenez, C, "Biodeterioration vs Biodegradation: the Role of Microorganisms in the Removal of Pollutants Deposited on Historic Buildings." Int. Biodeterior. Biodegrad., 40 225–232 (1997)

8.

Sasso, S, Miller, AZ, Rogerio-Candelera, MA, Cubero, B, Coutinho, ML, Scrano, L, Bufo, S, "Potential of Natural Biocides for Biocontrolling Phototrophic Colonization on Limestone." Int. Biodeterior. Biodegrad., 107 102–110 (2016)

9.

Cappitelli, F, Salvadori, O, Albanese, D, Villa, F, Sorlini, C, "Cyanobacteria Cause Black Staining of the National Museum of the American Indian Building (Washington, DC, USA)." Biofouling, 28 257–266 (2012)

10.

Burkhardt, M, Zuleeg, S, Vonbank, R, Schmid, P, Hean, S, Lamani, X, Bester, K, Boller, M, "Leaching of Additives from Construction Materials to Urban Storm Water Runoff." Wat. Sci. Technol., 63 1974–1982 (2011)

11.

Bollmann, U, Vollertsen, J, Carmeliet, J, Bester, K, "Dynamics of Biocide Emissions from Buildings in a Suburban Stormwater Catchment—Concentrations, Mass Loads and Emission Processes." Wat. Res., 56 66–76 (2014)

12.

Burkhardt, M, Kupper, T, Hean, S, Haag, R, Schmid, P, Kohler, M, Boller, M, "Biocides Used in Building Materials and Their Leaching Behavior to Sewer Systems." Wat. Sci. Technol., 56 63–67 (2007)

13.

Jančula, D, Maršalek, B, "Critical Review of Actually Available Chemical Compounds for Prevention and Management of Cyanobacterial Blooms." Chemosphere, 85 1415–1422 (2011)

14.

Borrego, S, Gómez de Saravia, S, Valdes, O, Vivar, I, Battistoni, P, Guiamet, P, "Biocidal Activity of Two Essential Oils on Fungi that Cause Degradation of Paper Documents." IJCS, 7 369–380 (2016)

15.

Shao, J, Li, R, Lepo, JE, Gu, J, "Potential for Control of Harmful Cyanobacterial Blooms Using Biologically Derived Substances: Problems and Prospects." J. Environ. Manag., 125 149–155 (2013)

16.

Cimanga, K, Kambu, K, Tona, L, Apers, S, Bruyne, T, Hermans, N, Totte, J, Pieters, L, Vlietinck, A, "Correlation Between Chemical Composition and Antibacterial Activity of Essential Oils of Some Aromatic Medicinal Plants Growing in the Democratic Republic of Congo." J. Ethnopharmacol., 79 213–220 (2002)

17.

Dalleau, S, Cateau, E, Berges, T, Berjeaud, J, Imbert, C, "In Vitro Activity of Terpenes Against Candida Biofilms." Int. J. Antimicrob. Agents, 6 572–576 (2008)

18.

Rojo, L, Barcenilla, J, Vázquez, B, González, R, San Román, J, "Intrinsically Antibacterial Materials Based on Polymeric Derivatives of Eugenol for Biomedical Applications." Biomacromolecules, 9 2530–2535 (2008)

19.

Liu, H, Lepoittevin, B, Roddier, C, Guerineau, V, Bech, L, Herry, J, Bellon-Fontaine, M, Roger, P, "Facile Synthesis and Promising Antibacterial Properties of a New Guaiacol-Based Polymer." Polymer, 52 1908–1916 (2011)

20.

Wattanasatcha, A, Rengpipat, S, Wanichwecharungruang, S, "Thymol Nanospheres as an Effective Anti-bacterial Agent." Int. J. Pharmacol., 434 360–365 (2012)

21.

Pérez, M, García, M, Blustein, G, "Evaluation of Low Copper Content Antifouling Paints Containing Natural Phenolic Compounds as Bioactive Additives." Mar. Environ. Res., 109 177–184 (2015)

22.

Rippka, R, Deruelles, J, Waterbury, JB, Herdman, M, Stanier, RY, "Generic Assignments, Strain Histories and Properties of Pure Cultures of Cyanobacteria." J. Gen. Microbiol., 111 1–61 (1979)

23.

Komárek, J, Fott, B, "Chlorophyceae, Ordnung Chlorococcales". In: Elster H.-J-, Ohle W. (eds.) Die Binnengewässer. Band 16, 7 Teil, 1 Hälfte. Schweizerbart'sche Verlagsbuchhandlung, Stuttgart (1983)

24.

Komárek, J, Anagnostidis, K, "Cyanoprokaryota Part 1 Chroococcales." In: Ettl, H, Gärtner, G, Heynig H, Mollehauer (eds.) Süβwasserflora von Mitteleuropa 19/1. G. Fischer. Jena, Stuttgart, Lübeck, Ulm (2000).

25.

Komárek, J, Anagnostidis, K, "Cyanoprokaryota Part 2 Oscillatoriales." In: Büdel, B, Krienitz, L, Gärtner, G, Schagerl, M (eds.) Süβwasserflora von Mitteleuropa 19/2. Elsevier, München (2005).

26.

Delespaul, Q, de Billerbeck, VG, Roques, CG, Michel, G, Marquier-Viñuales, C, Bessière, JM, "The Antifungal Activity of Essential Oils as Determined by Different Screening Methods." JEOR, 12 256–266 (2000)

27.

Zucconi, L, Gagliardi, M, Isola, D, Onofri, S, Andaloro, MC, Pelosi, C, Pogliani, P, Selbmann, L, "Biodeterioration Agents Dwelling in or on the Wall Paintings of the Holy Saviour's Cave (Vallerano, Italy)." Int. Biodeterior. Biodegrad., 70 40–46 (2012)

28.

Kordali, S, Cakir, A, Ozer, H, Cakmakci, R, Esdek, M, Mete, E, "Antifungal, Phytotoxic and Insecticidal Properties of Essential Oil Isolated from Turkish Origanum acutidens and Its Three Components, Carvacrol, Thymol and p-Cymene." Biores. Technol., 99 8788–8795 (2008)

29.

Trombetta, D, Castelli, F, Sarpietro, MG, Venuti, V, Cristani, M, Daniele, C, Saija, A, Mazzanti, G, Bisignano, G, "Mechanisms of Antibacterial Action of Three Monoterpenes." Antimicrob. Agents Chemother., 49 2474–2478 (2005)

30.

Nanasombat, S, Lohasupthawee, P, "Antibacterial Activity of Crude Ethanolic Extracts and Essential Oils of Spices Against Salmonella and Other Enterobacteria." KMITL-STJ, 5 527–538 (2005)

31.

Louie, G, Baiga, T, Bowman, M, Koeduka, T, Taylor, J, Spassova, S, Pichersky, E, Noel, J, "Structure and Reaction Mechanism of Basil Eugenol Synthase." PLoS ONE, 2 e993 (2007)

32.

Darvishi, E, Omidi, M, Bushehri, A, Golshani, A, Smith, M, "The Antifungal Eugenol Perturbs Dual Aromatic and Branched-Chain Amino Acid Permeases in the Cytoplasmic Membrane of Yeast." PLoS ONE, 8 e76028 (2013)

33.

Tang, KH, Wee, YC, Ho, KK, "Laboratory Evaluation of Biocides for the Control of Trentepohlia odorata." Int. Biodeterior., 21 5–10 (1985)

34.

Rana, IS, Rana, AS, Rajak, RC, "Evaluation of Antifungal Activity in Essential Oil of the Syzygium aromaticum (L.) by Extraction, Purification and Analysis of Its Main Component Eugenol." Braz. J. Microbiol., 42 1269–1277 (2011)

35.

Sand, W, "Microbial Mechanisms of Deterioration of Inorganic Substrates—A General Mechanistic Overview." Int. Biodeterior. Biodegrad., 40 183–190 (1997)

36.

Morton, LHG, Gaylarde, CC, "Deteriogenic Biofilms on Buildings and Their Control." Biofouling, 14 59–74 (1999)

37.

Allsopp D, Seal K, Gaylarde C, "Introduction to Biodeterioration," Chap. 3. 261. In: Biodeterioration of Refined and Processed Materials: Paints, second ed., vol 262, pp. 78–85. Cambridge University Press, Cambridge (2004).

38.

Kappock PS, "Biocides: Wet State and Dry Film." Chap. 8. In: Florio, JJ, Miller, DJ (eds.) Handbook of Coating Additives, p. 271. Marcel Dekker, New York (2004).
Acknowledgments
The authors are grateful to the National University of La Plata Project 11/I201, CONICET PIP No. 00314 and CICBA 833/14 for the Grants received to finance this work.
About this article
Cite this article
Gómez de Saravia, S.G., Rastelli, S.E., Blustein, G. et al. Natural compounds as potential algaecides for waterborne paints. J Coat Technol Res 15, 1191–1200 (2018). https://doi.org/10.1007/s11998-018-0099-7
Keywords
Natural organic compounds

Biocide

Algaecide

Waterborne paint

Phototrophic biofilm