Improving the wettability and antiprotein adsorption property of PDMS by swelling–deswelling approach
Abstract
In order to improve the wettability and antiprotein adsorption property of PDMS, heptamethyltrisiloxane (a well-known superspreader) was coated onto the PDMS substrates by a swelling–deswelling process. PDMS films were first immersed in heptamethyltrisiloxane solution mixtures to coat heptamethyltrisiloxane onto PDMS. During the deswelling process, the hydrophobic siloxane group of the superspreader heptamethyltrisiloxane was trapped in the PDMS matrix, while the hydrophilic group EO was exposed to the surface. In this manner, heptamethyltrisiloxane was finally coated on the PDMS surface via swelling–deswelling process. Contact angle measurements, optical property analyses, X-ray photoelectron spectroscopy, and atomic force microscopy were used to confirm that durable hydrophilic and transparent PDMS surfaces were successfully obtained. The PDMS surface wettability could be adjusted by tuning the solubility parameters of the solution mixture. Additionally, antiprotein adsorption property was investigated and the result indicated the heptamethyltrisiloxane was tethered onto the PDMS surface. The swelling–deswelling method can be applied for the modification of other crosslinked polymers to obtain antifouling surfaces and functional materials for biomedical applications.
Graphical abstract
A superspreading surfactant (Silwet-L77) was coated onto the PDMS surface by the swelling–deswelling process, to improve its hydrophilicity and antiprotein adsorption properties.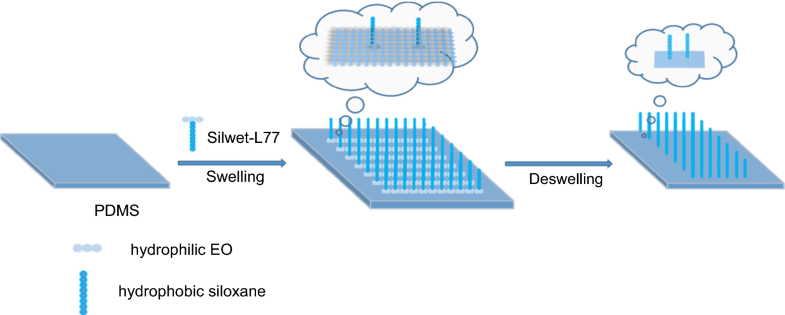 Keywords
Heptamethyltrisiloxane 
Surfactant modification 
Polydimethylsiloxane 
Swelling–deswelling process 
Notes
Acknowledgments
This work was supported by the National Natural Science Foundation of China (NSFC) with Grant Number 21174029, the Industry Academia Cooperation Innovation Fund of Jiangsu Province with grant number BY2014127-07, the Project Funded by the Priority Academic Program Development of Jiangsu Higher Education Institutions (PAPD) and the Fundamental Research Funds for the Central Universities with Grant Number 2242016K41020.
Conflict of interest
The authors declare that they have no conflict of interest.
Copyright information
© American Coatings Association 2019