Abstract
Styrene-acrylic resin encapsulated C.I. Pigment Yellow 17 (PY17) and charge control agent (CCA) multicomponent composite particles were prepared by mini-emulsion polymerization. The characterization results of transmission electron microscopy, Fourier transform infrared spectroscopy, thermogravimetric analysis, and centrifugal sedimentation experiments all verified the encapsulation of PY17 and CCA. The effect of PY17 and CCA dosages on the morphology of multicomponent particles and influence of compound emulsifier dosage on the emulsion stability and the dispersity of latex particles were studied. When the mass fractions of monomers, PY17, CCA, and compound emulsifiers relative to deionized water were 5, 0.4, 0.1, and 0.375%, respectively, the emulsion showed excellent stability; meanwhile, the latex particles had a clear core–shell structure and the best dispersity. The average size of the multicomponent particles changed slightly with the different dosages of PY17, CCA, and compound emulsifiers. Colorimetric analysis of the samples indicated that encapsulation of PY17 may lead to a decrease in yellow value b* but had little effect on its tinctorial strength.
Access options
Buy single article
Instant access to the full article PDF.
USD 39.95
Price excludes VAT (USA)
Tax calculation will be finalised during checkout.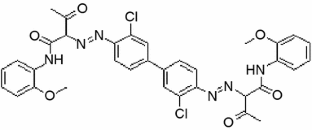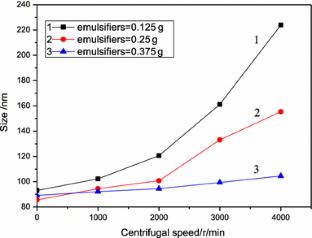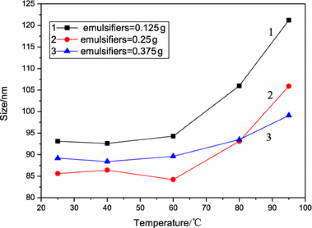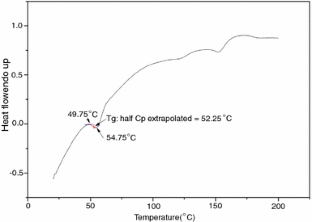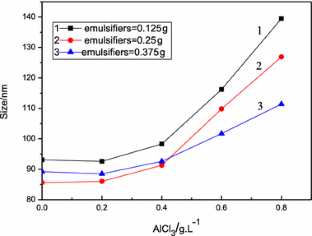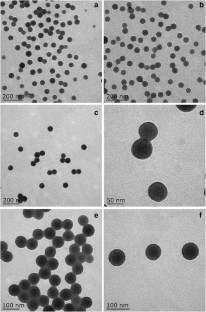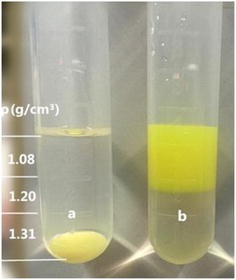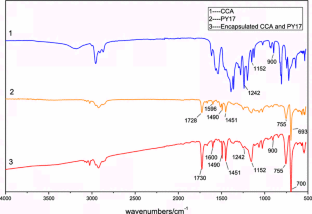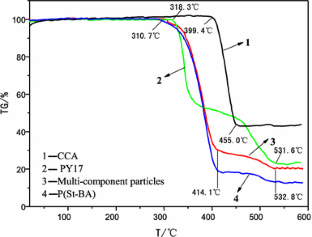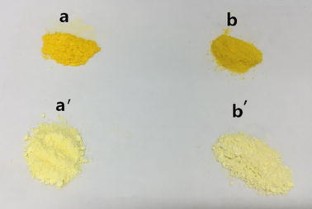 References
Fu, SH, Ding, L, Xu, CH, Wang, CX, "Properties of Copper Phthalocyanine Blue Encapsulated with a Copolymer of Styrene and Maleic Acid." J. Appl. Polym. Sci., 117 (1) 211–215 (2010)

Yuan, J, Xing, W, Gu, G, Wu, L, "The Properties of Organic Pigment Encapsulated with Nano-Silica via Layer-by-Layer Assembly Technique." Dyes Pigments, 76 (2) 463–469 (2008)

Wu, HX, Gao, G, Zhang, Y, Guo, SW, "Coating Organic Pigment Particles with Hydrous Alumina Through Direct Precipitation." Dyes Pigments, 92 (1) 548–553 (2011)

Qi, DM, Cao, ZH, Ulrich, Z, "Recent Advances in the Preparation of Hybrid Nano-Particles in Miniemulsions." Adv. Colloid Interfaces, 211 47–62 (2014)

Fu, SH, Xu, CH, He, C, "Effects of Process Conditions on Properties of Nanoscale Organic Pigment Encapsulated by Poly (Styrene-Maleic Acid) Dispersion." J. Dispers. Sci. Technol., 31 (5) 617–621 (2010)

Zaragoza-Contreras, EA, Lozano-Rodríguez, ED, Román-Aguirre, M, Antunez-Flores, W, Hernández-Escobar, CA, Flores-Gallardo, SG, Aguilar-Elguezabal, A, "Evidence of Multi-Walled Carbon Nanotube Fragmentation Induced by Sonication During Nanotube Encapsulation via Bulk-Suspension Polymerization." Micron, 40 (5) 621–627 (2009)

Landfester, K, Weiss, CK, "Encapsulation by Miniemulsion Polymerization." Adv. Polym. Sci., 229 1–49 (2010)

Li, HQ, Ren, XK, Lai, XJ, Zeng, XR, "Kinetics and Effect of Surfactant and Cosurfactant on Miniemulsion Polymerization of Acrylate Monomers." J. Coat. Technol. Res., 11 (6) 959–966 (2014)

Lelu, S, Novat, C, Graillat, C, Guyot, A, Bourgeat-Lami, E, "Encapsulation of an Organic Phthalocyanine Blue Pigment into Polystyrene Latex Particles Using a Miniemulsion Polymerization Process." Polym. Int., 52 (4) 542–547 (2003)

Steiert, N, Landfester, K, "Encapsulation of Organic Pigment Particles via Miniemulsion Polymerization." Macromol. Mater. Eng., 292 (10–11) 1111–1125 (2007)

Fu, SH, Xu, CH, Du, CS, Tian, AL, Zhang, MJ, "Encapsulation of C.I. Pigment Blue 15:3 Using a Polymerizable Dispersant via Emulsion Polymerization." Colloids Surf. A. Physicochem. Eng. Asp., 384 (1) 68–74 (2011)

Fu, SH, Du, CS, Zhang, MJ, Tian, AL, Zhang, X, "Preparation and Properties of Polymer-Encapsulated Phthalocyanine Blue Pigment via Emulsion Polymerization." Prog. Org. Coat., 73 (2) 149–154 (2012)

El-sayed, GM, Kamel, MM, Morsy, NS, Taher, FA, "Encapsulation of Nano Disperse Red 60 via Modified Miniemulsion Polymerization. I. Preparation and Characterization." J. Appl. Polym. Sci., 125 (2) 1318–1329 (2012)

Tiarks, F, Landfester, K, Antonietti, M, "Encapsulation of Carbon Black by Miniemulsion Polymerization." Macromol. Chem. Phys., 202 (1) 51–60 (2001)

Nguyen, D, Zondanos, HS, Farrugia, JM, Serelis, AK, Such, CH, Hawkett, BS, "Pigment Encapsulation by Emulsion Polymerization Using Macro-RAFT Copolymers." Langmuir, 24 (5) 2140–2150 (2008)

Meng, XW, Wen, T, Qiang, L, Ren, J, Tang, FQ, "Luminescent Electrophoretic Particles via Miniemulsion Polymerization for Night-Vision Electrophoretic Displays." ACS Appl. Mater. Interfaces, 5 (9) 3638–3642 (2013)

Hakeim, OA, Diab, HA, Adams, J, "Preparation and Characterization of UV Curable-Encapsulated Phthalocyanine Blue Pigment." Prog. Org. Coat., 84 70–78 (2015)

Hofmeister, I, Landfester, K, Taden, A, "Formation of Polymer Nanocapsules with High Diffusion-Barrier Properties and Prediction of Encapsulation Efficiency." Angew. Chem. Int. Ed., 54 (1) 327–330 (2015)

Guan, Y, Tawiah, B, Zhang, LP, Du, CS, Fu, SH, "Preparation of UV-Cured Pigment/Latex Dispersion for Textile Inkjet Printing." Colloids. Surf. A. Physicochem. Eng. Asp., 462 90–98 (2014)

Kiil, S, "Mathematical Modeling of Pigment Dispersion Taking into Account the Full Agglomerate Particle Size Distribution." J. Coat. Technol. Res., 14 (1) 69–84 (2017)

Liu, CL, Ye, MQ, Han, AJ, Li, J, "Structural Analysis and Characterization of Doped Spinel Co2−x MxTiO4 (M = Mg2+, Mn2+, Ni2+, Cu2+ and Zn2+) Coated Mica Composite Pigments." Ceram. Int., 41 (4) 5537–5546 (2015)

Housaindokht, MR, Pour, AN, "Study the Effect of HLB of Surfactant on Particle Size Distribution of Hematite Nanoparticles Prepared via the Reverse Microemulsion." Solid State Sci., 14 (5) 622–625 (2012)

Han, P, Chen, CH, Huo, XL, Zhang, WY, Jiang, WF, Lu, XG, Liang, GY, "Synthesis and Optical Properties of Magnetically Responsive Fe3O4/PVP/SiO2 Colloidal Photonic Crystals." Appl. Phys., 6 (4) 54–62 (2016)

Lotya, M, Rakovich, A, Donegan, JF, Coleman, JN, "Measuring the Lateral Size of Liquid-Exfoliated Nanosheets with Dynamic Light Scattering." Nanotechnology, 24 (26) 265703 (2013)

Burgos, N, Martino, VP, Jiménez, A, "Characterization and Ageing Study of Poly(Lactic Acid) Films Plasticized with Oligomeric Lactic Acid." Polym. Degrad. Stab., 98 (2) 651–658 (2013)

Neumann, B, Vincent, B, Krustev, R, Müller, HJ, "Stability of Various Silicone Oil/Water Emulsion Films as a Function of Surfactant and Salt Concentration." Langmuir, 20 (11) 4336–4344 (2004)

Yu, W, Hu, C, Liu, H, Qu, J, "Effect of Dosage Strategy on Al-Humic Flocs Growth and Re-Growth." Colloids Surf. A. Physicochem. Eng. Asp., 404 106–111 (2012)
Acknowledgments
This work was supported by a program funded by the Priority Academic Program Development of Jiangsu Higher Education Institutions (PAPD).
About this article
Cite this article
Ding, Y., Ye, M., Han, A. et al. Preparation and characterization of styrene-acrylic resin encapsulated C.I. Pigment Yellow 17 and charge control agent multicomponent particles. J Coat Technol Res 15, 315–324 (2018). https://doi.org/10.1007/s11998-017-9980-z
Published:

Issue Date:

DOI: https://doi.org/10.1007/s11998-017-9980-z
Keywords
Color toner

Mini-emulsion polymerization

Multicomponent composite

Core–shell structure

Composite particles