Abstract
Wettability and bonding quality of exterior coatings on fast-growing wood surfaces were studied. Samples of air-dried flat-grained (tangential surface) and edge-grained (radial surface) pattern of jabon (Anthocephalus cadamba) and sengon (Paraserianthes falcataria) woods were used. Before application of exterior coatings, the surfaces of the lumber samples were sanded. To provide wood surfaces with various degrees of roughness, abrasive papers of 120, 240, and 360 grits were used for the surface preparation. The wettability of two exterior coatings (water-based acrylic and oil-based alkyd varnishes) on the sanded wood surfaces was measured using a sessile drop contact angle method. The Shi and Gardner (S/G) model was used to evaluate and compare the wettability of the surface coatings on the wood. The sanded wood samples were coated with the two coatings (two layers each). Bonding quality of the coating layers was measured using a crosscut tape test method. Experimental results show that constant contact angle change rate (K value) of the S/G model decreased as the grit number of abrasive paper increased. This indicates that the wettability decreased as the roughness of the surface decreased (surface becomes smoother). There was no evidence of differences in wettability between tangential and radial wood surfaces. The oil-based alkyd coating generated better wettability compared to the water-based acrylic. The crosscut tests showed that the bonding quality of the coating films on both jabon and sengon wood decreased as the surface became smoother. The sengon wood compared to jabon wood provided better coating wettability and bonding quality. Wettability in terms of the K values was a good indication for determining the bonding quality of the two varnish layers.
This is a preview of subscription content,
to check access.
Access this article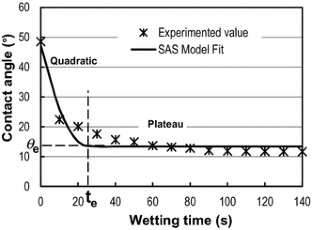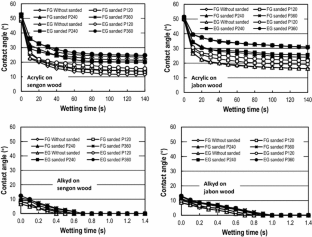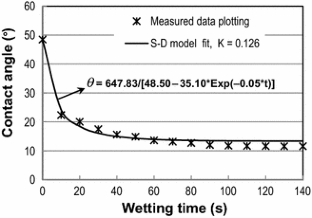 References
Krisnawati, H, Varis, E, Kallio, M, Kanninen, M, Paraserianthes falcataria L. Nielsen: Ecology, Silviculture and Productivity. CIFOR, Bogor (2011)

Darmawan, W, Rahayu, I, Nandika, D, Marchal, R, "Determination of Juvenile and Mature Transition Ring for Fast Growing Sengon and Jabon Wood." J. Indian Acad. Wood Sci., 10 (1) 39–47 (2013)

Darmawan, W, Nandika, D, Massijaya, Y, Kabe, A, Rahayu, I, Denaud, L, Ozarska, B, "Lathe Check Characteristics of Fast Growing Sengon Veneers and Their Effects on LVL Glue-Bond and Bending Strength." J. Mater. Process. Technol., 215 181–188 (2015)

Richter, K, Feist, WC, Knaebe, MT, "The Effect of Surface Roughness on the Performance of Finishes." For. Prod. J., 45 7–8 (1994)

Ghofrani, M, Mirkhandouzi, FZ, Ashori, A, "Effects of Extractives Removal on the Performance of Clear Varnish Coatings on Boards." J. Compos. Mater., 50 3019–3024 (2016)

Qin, Z, Zhang, Q, Gao, Q, Zhang, S, Li, J, "Surface Free Energy and Dynamic Wettability of Differently Machined Poplar Woods." BioResources, 9 (2) 3088–3103 (2014)

Gardner, DJ, Generalla, NC, Gunnells, DW, Wolcott, MP, "Dynamic Wettability of Wood." Langmuir, 7 (11) 2498–2502 (1991)

Gindl, M, Reiterer, A, Sinn, G, Stanzl-Tschegg, SE, "Effects of Surface Ageing on Wettability, Surface Chemistry, and Adhesion of Wood." Holz Als Roh-und Werkstoff, 62 (4) 273–280 (2004)

Santoni, I, Pizzo, B, "Effect of Surface Conditions Related to Machining and Air Exposure on Wettability of Different Mediterranean Wood Species." Int. J. Adhes. Adhes., 31 (7) 743–753 (2011)

Wang, S, Zhang, Y, Xing, C, "Effect of Drying Method on the Surface Wettability of Wood Strands." Holz als Roh- und Werkstoff, 65 (6) 437–442 (2007)

Hakkou, M, Pétrissans, M, Zoulalian, A, Gérardin, P, "Investigation of Wood Wettability Changes During Heat Treatment on the Basis of Chemical Analysis." Polym. Degrad. Stab., 89 (1) 1–5 (2005)

Sonmez, A, Budakci, M, Bayram, M, "Effect of Wood Moisture Content on Adhesion of Varnish Coatings." Sci. Res. Essay, 4 (12) 1432–1437 (2009)

Yuan, Y, Lee, TR, "Contact Angle and Wetting Properties." Surf. Sci. Tech., 51 3–34 (2013)

Gavrilovic-Grmusa, I, Dunky, M, Miljkovic, J, Djiporovic, M, "Influence of the Viscosity of UF Resins on the Radial and Tangential Penetration into Poplar Wood and the Shear Strength of Adhesive Joints." Holzforschung, 66 (7) 849–856 (2012)

Maldas, DC, Kamdem, DP, "Surface Tension and Wettability of CCA-Treated Red Maple." Wood Fiber Sci., 30 (4) 368–373 (1998)

Nussbaum, RM, "Natural Surface Inactivation of Scots Pine and Norway Spruce Evaluated by Contact Angle Measurements." Holz als Roh-und Werkstoff, 57 (6) 419–424 (1999)

Shi, SQ, Gardner, DJ, "Dynamic Adhesive Wettability of Wood." Wood Fiber Sci., 33 (1) 58–68 (2001)

Buyuksari, U, Akbulut, T, Guler, C, As, N, "Wettability and Surface Roughness of Natural and Plantation-Grown Narrow-Leaved Ash (Fraxinus angustifolia Vahl.) Wood." BioResources, 6 (4) 4721–4730 (2011)

Qin, Z, Zhang, Q, Gao, Q, Zhang, S, Li, J, "Wettability of Sanded and Aged Fast-Growing Poplar Wood Surface: II Dynamic Wetting Models." BioResources, 9 (4) 7176–7188 (2014)

Mehmet, A, Korkut, S, Çamlibel, O, Candan, Z, Akbulut, T, "Wettability and Surface Roughness Characteristics of Medium Density Fiberboard Panels from Rhododendron (Rhododendron ponticum) Biomass." Maderas Ciencia y Tecnología, 14 (2) 185–193 (2012)

Unsal, O, Candan, Z, Korkut, S, "Wettability and Roughness Characteristics of Modified Wood Boards Using a Hot-Press." Ind. Crops Prod., 34 1455–1457 (2011)

Budhe, S, Ghumatkar, A, Birajdar, N, Banea, MD, "Effect of Surface Roughness Using Different Adherend Materials on the Adhesive Bond Strength." Appl. Adhes. Sci., 3 2–10 (2015)

SAS Institute, "SAS/STAT 9.1 User's Guide, 1st ed." SAS Institute Inc., Cary, NC, USA, 2004

XLSTAT Addinsoft, "A Complete Statistical Add-In for Microsoft Excel." Addinsoft, NY, USA, 2007

ASTM, "ASTM D 3359-97: Standard Test Methods for Measuring Adhesion by Tape Test." American Society for Testing and Materials, Philadelphia, 1997

Beetsma, J, "Alkyd Emulsion Paints: Properties, Challenges and Solutions." Pigment Resin Technol., 27 (1) 12–19 (1998)

Arnold, M, "Effects of Planing and Sanding on Wood Surface Properties and Coating Performance." Surf. Coat. Int., 94 (5) 170–176 (2011)

Amorim, MRS, Ribeiro, PG, Martins, SA, Menezzi, D, Soares, CH, Souza, MRD, "Surface Wettability and Roughness of 11 Amazonian Tropical Hardwoods." Floresta e Ambiente, 20 (1) 99–109 (2013)

Rolleri, A, Roffael, E, "Surface Roughness of Uncoated Particleboards and its Relation with the Raw Material, Adhesive and Climatic Conditions." Eur. J. Wood Prod., 68 (4) 369–372 (2010)

Vitosytö, J, Ukvalbergienö, K, Keturakis, G, "The Effects of Surface Roughness on Bonding Quality of Coated Ash (Fraxinus excelsior L.) and Birch (Betula L.)." Mater. Sci. (Medžiagotyra), 18 (4) 347–351 (2012)

Martawijya, A, Kartasujana, I, Kadir, K, Prawira, S, Atlas Kayu Indonesia. For. Prod. Res. Inst., Bogor (2005)

Fajriani, E, Ruelle, J, Dlouha, J, Fournier, M, Hadi, YS, Darmawan, W, "Radial Variation of Wood Properties of Sengon (Paraserianthes falcataria) and Jabon (Anthocephalus cadamba)." J. Indian Acad. Wood Sci., 10 (2) 110–117 (2013)

Meijer, MD, Militz, H, "Moisture Transport in Coated Wood. Part 2: Influence of Coating Type, Film Thickness, Wood Species, Temperature and Moisture Gradient on Kinetics of Sorption and Dimensional Change." Holz als Roh-und Werkstoff, 58 467–475 (2001)

Ozdemir, T, Hiziroglu, S, "Evaluation of Surface Quality and Bonding Quality of Treated Solid Wood." J. Mater. Process. Technol., 186 311–314 (2007)

Kaygin, B, Akgun, E, "Comparison of Conventional Varnishes with Nanolacke UV Varnish with Respect to Hardness and Adhesion Durability." Int. J. Mol. Sci., 9 476–485 (2008)
Acknowledgments
The authors thank the Directorate for Research and Community Service of the Ministry of RISTEK DIKTI (079/SP2H/LT/DRPM/II/2016) for the Republic of Indonesia for the research grant.
About this article
Cite this article
Darmawan, W., Nandika, D., Noviyanti, E. et al. Wettability and bonding quality of exterior coatings on jabon and sengon wood surfaces. J Coat Technol Res 15, 95–104 (2018). https://doi.org/10.1007/s11998-017-9954-1
Published:

Issue Date:

DOI: https://doi.org/10.1007/s11998-017-9954-1
Keywords