Abstract
Conductive yarns and coatings are necessary for a broad variety of smart textile applications, such as sensors, data transmission lines, or heated fabrics. The main problems of such conductive textile elements are abrasion and washing resistance. Since different findings with respect to these properties are reported in the literature for similar coatings, the required optimization is impeded. In a recent study, the washing resistance of different graphite–polyurethane coatings with graphite contents between 25% and 33% on cotton, linen, viscose, and polyester woven fabrics was compared, using two different graphite particle sizes on diverse textile substrates. It was found that not only the graphite particle dimensions and graphite concentration strongly influence the longevity of the coatings, but also the textile substrates which were coated with the conductive mass. This means that conductive coatings cannot be optimized without knowledge of the planned application.
This is a preview of subscription content, log in to check access.
Access options
Buy single article
Instant access to the full article PDF.
US$ 39.95
Price includes VAT for USA
Subscribe to journal
Immediate online access to all issues from 2019. Subscription will auto renew annually.
US$ 99
This is the net price. Taxes to be calculated in checkout.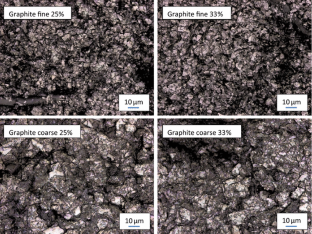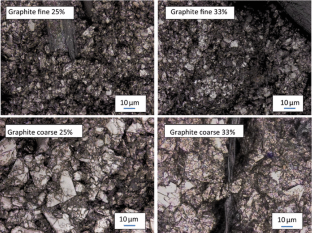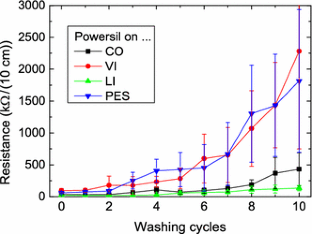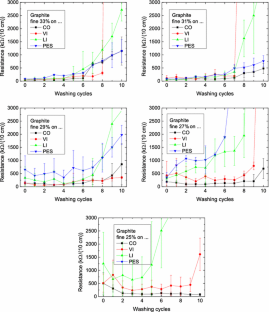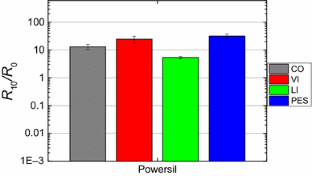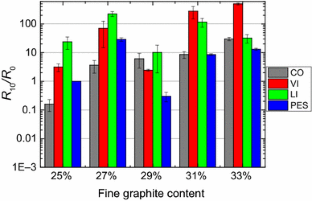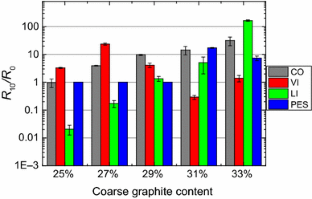 References
1.

Kuhn, HH, Child, AD, "Electrically Conducting Textiles." In: Skotheim, TA, Elsenbauer, RL, Reynolds, JR (eds.) Handbook of Conducting Polymers, pp. 993–1013. Marcel Dekker, New York (1998)

2.

Kirstein, T, Cottet, D, Grzyb, J, Tröster, G, "Textiles for Signal Transmission in Wearables." Proc. ACM of First Workshop on Electronic Textiles, San Jose/California, 2002

3.

Lesnikowski, J, "Textile Transmission Lines in the Modern Textronic Clothes." Fibres Text. East. Eur., 19 89–93 (2011)

4.

Locher, I, Klemm, M, Kirstein, T, Tröster, G, "Design and Characterization of Purely Textile Patch Antennas." IEEE Trans. Adv. Packag., 29 777–788 (2006)

5.

Hertleer, C, Grabowska, M, van Langenhove, L, Catrysse, M, Hermans, B, Puers, R, Kalmar, A, van Egmond, H, Matthys, D, "The Use of Electroconductive Textile Material for the Development of a Smart Suit." 4th AUTEX Conference, Roubaix, 2004

6.

Mühlsteff, J, Such, O, Schmidt, R, Perkuhn, M, Reiter, H, Lauter, J, Thijs, J, Musch, G, Harris, M, "Wearable Approach for Continuous ECG and Activity Patient-Monitoring." Proc. 26th Ann. Int. IEEE EMBS Conference, pp. 2184–2187, 2004

7.

Coosemans, J, Hermans, B, Puers, R, "Integrating Wireless ECG Monitoring in Textiles." Sens. Actuators A, 130–131 48–53 (2006)

8.

Pacelli, M, Loriga, G, Taccini, N, Paradiso, R, "Sensing Fabrics for Monitoring Physiological and Biomechanical Variables: E-Textile Solutions." Proc. 3rd IEEE-EMBS Int. Summer School Symp. Med. Dev. Biosens., 1–4, 2006

9.

Habetha, J, "The MyHeart Project—Fighting Cardiovascular Diseases by Prevention and Early Diagnosis." Proc. 28th Ann. Int. IEEE EMBS Conference, 6746–6749, 2006

10.

Luprano, J, Sola, J, Dasen, S, Koller, JM, Chetelat, O, "Combination of Body Sensor Networks and On-Body Signal Processing Algorithms: The Practical Case of MyHeart Project", Proc. Int. Workshop Wearable Implantable Body Sens. Netw., 76–79, 2006

11.

Luprano, J, "European Projects on Smart Fabrics, Interactive Textiles: Sharing Opportunities and Challenges." Workshop Wearable Technol. Intel. Textiles, Helsinki/Finland, 2006

12.

Weber, JL, Porotte, F, "Medical Remote Monitoring with Clothes." Int. Workshop on PHealth, Luzern/Switzerland, 2006

13.

Kim, S, Leonhardt, S, Zimmermann, N, Kranen, P, Kensche, D, Müller, E, Quix, C, "Influence of Contact Pressure and Moisture on the Signal Quality of a Newly Developed Textile ECG Sensors Shirt." Proc. of the 5th International Workshop on Wearable and Implantable Body Sensor Networks, Hong Kong/China, 2008

14.

Xu, PJ, Zhang, H, Tao, XM, "Textile-Structured Electrodes for Electrocardiogram." Text. Prog., 40 183–213 (2008)

15.

Silva, M, Catarino, A, Carvalho, H, Rocha, A, Monteiro, J, Montagna, G, "Textile Sensors for ECG and Respiratory Frequency on Swimsuits." Intelligent Textiles and Mass Customization International Conference, pp. 301–310, Casablanca/Morocco, 2009

16.

Aumann, A, Trummer, S, Brücken, A, Ehrmann, A, Büsgen, A, "Conceptual Design of a Sensory Shirt for Fire-Fighters." Text. Res. J., 84 1661–1665 (2014)

17.

Tillmanns, A, Heimlich, F, Brücken, A, Weber, MO, "Weft Knitted Spacer Fabrics as Pressure Sensors." Tech. Text., 52 E207 (2009)

18.

Meyer, J, Arnrich, B, Schumm, J, Tröster, G, "Design and Modeling of a Textile Pressure Sensor for Sitting Posture Classification." IEEE Sens. J., 10 1391–1398 (2010)

19.

Farringdon, J, Moore, AJ, Tilbury, N, Church, J, Biemond, PD, "Wearable Sensor Badge and Sensor Jacket for Context Awareness." The Third International Symposium on Wearable Computers, pp. 107–113, 1999

20.

Catrysse, M, Puers, R, Hertleer, C, van Langenhove, L, van Egmond, H, Matthys, D, "Towards the Integration of Textile Sensors in a Wireless Monitoring Suit." Sens. Actuators A, 114 302–311 (2004)

21.

Zhang, H, Tao, X, Yu, T, Wang, S, "Conductive Knitted Fabric as Large-Strain Gauge Under High Temperature." Sens. Actuators A Phys., 126 129–140 (2006)

22.

Zieba, J, Frydrysiak, M, "Textronics—Electrical and Electronic Textiles. Sensors for Breathing Frequency Measurement." Fibers Text. East. Eur., 14 43–48 (2006)

23.

Ehrmann, A, Heimlich, F, Brücken, A, Weber, MO, Haug, R, "Suitability of Knitted Fabrics as Elongation Sensors Subject to Structure, Stitch Dimension and Elongation Direction." Text. Res. J., 84 2006–2012 (2014)

24.

Atalay, O, Kennon, WR, "Knitted Strain Sensors: Impact of Design Parameters on Sensing Properties." Sensors, 14 4712–4730 (2014)

25.

Shi, MJ, Yang, C, Song, XF, Liu, J, Zhao, LP, Zhang, P, Gao, L, "Stretchable Wire-Shaped Supercapacitors with High Energy Density for Size-Adjustable Wearable Electronics." Chem. Eng. J., 322 538–545 (2017)

26.

Babaahmadi, V, Montazer, M, Gao, W, "Low Temperature Welding of Graphene on PET with Silver Nanoparticles Producing Higher Durable Electro-Conductive Fabric." Carbon, 118 443–451 (2017)

27.

Li, XT, Hua, T, Xu, BG, "Electromechanical Properties of a Yarn Strain Sensor with Graphene-Sheath/Polyurethane-Core." Carbon, 118 686–698 (2017)

28.

Cao, JL, Wang, CX, "Multifunctional Surface Modification of Silk Fabric Via Graphene Oxide Repeatedly Coating and Chemical Reduction Method." Appl. Surf. Sci., 405 380–388 (2017)

29.

Choi, CM, Kwon, SN, Na, SI, "Conductive PEDOT:PSS-Coated Poly-Paraphenylene Terephthalamide Thread for Highly Durable Electronic Textiles." J. Ind. Eng. Ind., 50 155–161 (2017)

30.

Tadesse, MG, Loghin, C, Chen, Y, Wang, LC, Catalin, D, Nierstrasz, V, "Effect of Liquid Immersion of PEDOT: PSS-Coated Polyester Fabric on Surface Resistance and Wettability." Smart Mater. Struct., 26(6) 065016 (2017)

31.

Alamer, FA, "A Simple Method for Fabricating Highly Electrically Conductive Cotton Fabric Without Metals or Nanoparticles, Using PEDOT:PSS." J. Alloys Compd., 702 266–273 (2017)

32.

Schäl, P, Grimmelsmann, N, Juhász Junger, I, Ehrmann, A, "Examination of Conductive Polymer Coatings under Mechanical and Chemical Stress." Proceed. International Detergency Conf., Düsseldorf/Germany, April 2017

33.

de Oliveira, CRS, Batistella, MA, Guelli Ulson de Souza, SMA, Ulso de Souza, AA, "Development of Flexible Sensors Using Knit Fabrics with Conductive Polyaniline Coating and Graphite Electrodes." J. Appl. Polym. Sci., 134 (18) 44785 (2017)

34.

Topp, K, Haase, H, Degen, C, Illing, G, Mahltig, B, "Coatings with Metallic Effect Pigments for Antimicrobial and Conductive Coating of Textiles with Electromagnetic Shielding Properties." J. Coat. Technol. Res., 11 (6) 943–957 (2014)

35.

Mahltig, B, Zhang, J, Wu, L, Darko, D, Wendt, M, Lempa, E, Rabe, M, Haase, H, "Effect Pigments for Textile Coating: A Review of the Broad Range of Advantageous Functionalization." J. Coat. Technol. Res., 14 (1) 35–55 (2017)
About this article
Cite this article
Schäl, P., Juhász Junger, I., Grimmelsmann, N. et al. Development of graphite-based conductive textile coatings. J Coat Technol Res 15, 875–883 (2018). https://doi.org/10.1007/s11998-017-0024-5
Keywords
Conductive coating

Graphite

Polyurethane

Washing resistance