Abstract
Polyamic acid (PAA, a precursor of polyimide) was synthesized from 4,4′-oxydiphthalic anhydride and 4,4′-oxydianiline. PAA, dissolved in dimethylsulfoxide (DMSO), was precipitated into colloidal particles after its injection into acetone. The resulting particle size distribution was found to depend on aging time of PAA solutions, their concentration, and the manner in which the solutions were mixed with acetone. PAA particles of any size down to 10 nm appeared to be achievable by decreasing the acetone/DMSO ratio. Particles in DMSO/acetone suspensions were found to have a significant negative zeta potential. Therefore, there was no need to add organic bases to form PAA anions, in contrast to all previously published studies on the PAA electrodeposition. EPD was performed onto porous stainless-steel or alumina disks, which are suitable supports (reinforcements) for membranes. The slow evaporation of DMSO residue yielded dried polymer layers, comprised of 50–100 nm PAA globules. The outer surface of layers was usually covered with a very thin, continuous PAA skin. Such supported PAA layers—after a simple imidization step via a heat treatment—could be applied as thermally resistant membranes for gas separation.
This is a preview of subscription content, log in to check access.
Access options
Buy single article
Instant access to the full article PDF.
US$ 39.95
Price includes VAT for USA
Subscribe to journal
Immediate online access to all issues from 2019. Subscription will auto renew annually.
US$ 99
This is the net price. Taxes to be calculated in checkout.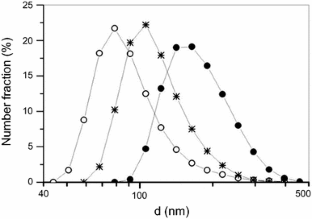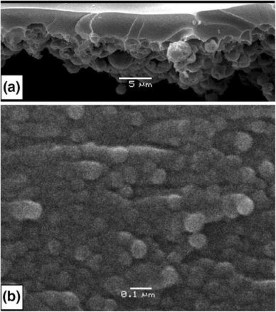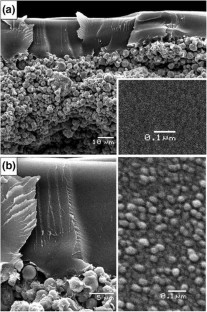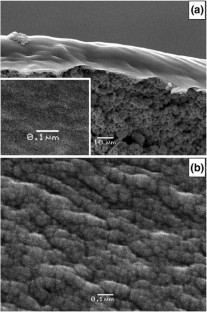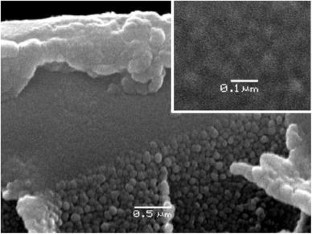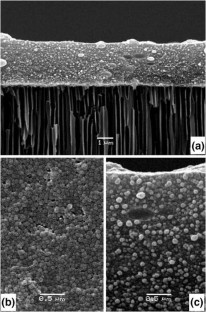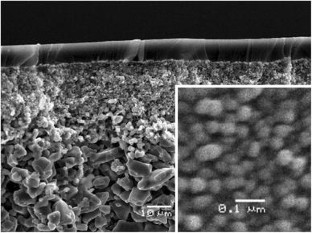 References
1.

Assa, J, Spassova, E, Karamancheva, I, Dimitrova, T, Rangelov, N, Danev, G, "Thin Polyimide Layers—Preparation and Properties." Vacuum, 51 185–188 (1998)

2.

Ha, Y, Choi, M-C, Jo, N, Kim, I, Ha, C-S, Han, D, Han, S, Han, M, "Polyimide Multilayer Thin Films Prepared via Spin Coating from Poly(Amic Acid) and Poly(Amic Acid) Ammonium Salt." Macromol. Res., 16 725–733 (2008)

3.

Duggal, AR, Rogers, JA, Nelson, KA, "Real-Time Optical Characterization of Surface Acoustic Modes of Polyimide Thin-Film Coatings." J. Appl. Phys., 72 2823–2839 (1992)

4.

Niwa, M, Kawakami, H, Kanamori, T, Shinbo, T, Kaito, A, Nagaoka, S, "Gas Separation of Asymmetric 6FDA Polyimide Membrane with Oriented Surface Skin Layer." Macromolecules, 34 9039–9044 (2001)

5.

Frycova, M, Sysel, P, Kocirik, M, Brabec, L, Hrabanek, P, Prokopova, O, Bernauer, B, Zikanova, A, "Mixed Matrix Membranes Based on 3-Aminopropyltriethoxysilane Endcapped Polyimides and Silicalite-1." J. Appl. Polym. Sci., 124 E233–E240 (2012)

6.

Cai, D, Su, J, Huang, M, Liu, Y, Wang, J, Dai, L, "Synthesis, Characterization and Hydrolytic Stability of Poly (Amic Acid) Ammonium Salt." Polym. Degrad. Stab., 96 2174–2180 (2011)

7.

Phillips, DC, "Electrolytically Formed Polyimide Films and Coatings: I. Electrodeposition from Colloidal Dispersions." J. Electrochem. Soc., 119 1645–1649 (1972)

8.

Alvino, WM, Scala, LC, "Electrodeposition of Polymers from Nonaqueous Systems. I. Polyimides: Some Deposition Parameters." J. Appl. Polym. Sci., 27 341–351 (1982)

9.

Alvino, WM, Fuller, TJ, Scala, LC, "Electrophoretic Deposition of Polymers. II. Polyimides: A Coulombic Study." J. Appl. Polym. Sci., 28 267–282 (1983)

10.

Uebner, M, Ng, KM, "Electrodeposition of Polyimides from Nonaqueous Emulsions." J. Appl. Polym. Sci., 36 1525–1540 (1988)

11.

Yang, C-P, Chen, Y-H, "Studies on the Electrodeposition of Polyimides." Die Angew. Makromol. Chemie., 160 91–106 (1988)

12.

Buchwalter, SL, "Electrophoretic Deposition of Polyimides: Electrocoating on the Cathode." In: Lupinski, JH, Moore, RS (eds.) Polymeric Materials for Electronics Packaging and Interconnection, pp. 154–167. ACS Symposium Series, Washington (1989)

13.

Iroh, JO, Yuan, W, "Surface Properties of Carbon Fibres Modified by Electrodeposition of Polyamic Acid." Polymer (Guildf)., 37 4197–4203 (1996)

14.

Chen, Y, Iroh, JO, "Electrodeposition of BTDA-ODA-PDA Polyamic Acid Coatings on Carbon Fibers from Nonaqueous Emulsions." Polym. Eng. Sci., 39 699–707 (1999)

15.

He, S, Zhang, S, Lu, C, Wu, G, Yang, Y, An, F, Guo, J, Li, H, "Polyimide Nano-Coating on Carbon Fibers by Electrophoretic Deposition." Colloids Surf. A Physicochem. Eng. Asp., 381 118–122 (2011)

16.

Wang, C-A, Long, B, Lin, W, Huang, Y, Sun, J, "Poly(Amic Acid)–Clay Nacrelike Composites Prepared by Electrophoretic Deposition." J. Mater. Res., 23 1706–1712 (2008)

17.

Ding, F, Tong, Y, Luo, X, Guan, H, Hu, B, "Preparation, Characterization, and Properties of Polyamic Acid Nano-Emulsion." Polym. Adv. Technol., 22 2633–2637 (2011)

18.

Xiong, JY, Liu, XY, Chen, SB, Chung, TS, "Surfactant Free Fabrication of Polyimide Nanoparticles." Appl. Phys. Lett., 85 5733–5735 (2004)

19.

Lin, T, Stickney, KW, Rogers, M, Riffle, JS, McGrath, JE, Marand, H, Yu, TH, Davis, RM, "Preparation of Submicrometre Polyimide Particles by Precipitation from Solution." Polymer (Guildf)., 34 772–777 (1993)

20.

Kim, JH, Min, BR, Won, J, Park, HC, Kang, YS, "Phase Behavior and Mechanism of Membrane Formation for Polyimide/DMSO/Water System." J. Membr. Sci., 187 47–55 (2001)

21.

Syal, V, Chauhan, S, Kumari, U, "Ultrasonic Velocity of Binary Mixtures of Acetone and Dioxane with Dimethylsulphoxide as One Component." Indian J. Pure Appl. Phys., 43 844–848 (2005)

22.

Ke, F, Song, N, Liang, D, Xu, H, "A Method to Break Charge Transfer Complex of Polyimide: A Study on Solution Behavior." J. Appl. Polym. Sci., 127 797–803 (2013)

23.

Magarik, SY, "Macromolecules of Polyamic Acids and Polyimides." In: Bessonov, MI, Zubkov, VA (eds.) Polyamic Acids and Polyimides: Synthesis, Transformations, and Structure, pp. 281–362. CRC Press, Boca Raton (1993)

24.

Anthamatten, M, Letts, SA, Cook, RC, "Controlling Surface Roughness in Vapor-Deposited Poly (Amic Acid) Films by Solvent-Vapor Exposure." Langmuir., 20 6288–6296 (2004)

25.

Ogura, T, Saito, Y, Higashihara, T, Ueda, M, "Formation of Spherical Nanoparticles in Poly(Amic Acid) Films." Polym. Chem., 3 2165–2169 (2012)

26.

Lee, H, Won, J, Park, H, Lee, H, Kang, Y, "Effect of Poly (Amic Acid) Imidization on Solution Characteristics and Membrane Morphology." J. Membr. Sci., 178 35–41 (2000)

27.

Luo, Y, Li, B, Liang, L, Tan, B, "Synthesis of Cost-Effective Porous Polyimides and Their Gas Storage Properties." Chem. Commun. (Camb), 47 7704–7706 (2011)
Electronic supplementary material
Below is the link to the electronic supplementary material.
About this article
Cite this article
Brabec, L., Sysel, P., Plsek, J. et al. Polyamic acid: nanoprecipitation and electrophoretic deposition on porous supports. J Coat Technol Res 15, 489–496 (2018). https://doi.org/10.1007/s11998-017-0004-9
Keywords
Dimethylsulfoxide

EPD

Polyimide

Precipitation

Zeta potential