Abstract
There are many instances in the literature of nanocellulose-thermoplastic composites, but there are few studies on coatings reinforced by cellulose nanocrystals (CNCs). The overall objective of this research was to develop organic nanoparticles-reinforced UV-water-based coatings for wood applications and to study the effect, mainly on wear properties, of the final composite coatings. CNC was mixed in the varnishes to improve the mechanical properties of the coatings. One of the key aspects in the technology of nanocomposites remains the dispersion of the nanoparticles within the matrix as well as its affinity with the matrix. To quantify the dispersion, efficient methods of characterization are needed in order to reveal the nanosized particles. In this article, a novel characterization method based on atomic force microscopy was employed to characterize such nanocomposite coatings, by measuring surface nanoroughness, which is clearly correlated with quality of dispersion and mechanical properties. CNC was modified by either alkyl quaternary ammonium bromides or acryloyl chloride. The mechanical properties (abrasion and scratch resistances, hardness and adhesion) were analyzed and compared to the reference varnish without nanoparticles. The modified CNC addition in UV-water-based coatings results in an approximately 30–40% increase in wear resistance (abrasion and scratch), without any loss of appearance.
Access options
Buy single article
Instant access to the full article PDF.
US$ 39.95
Tax calculation will be finalised during checkout.
Subscribe to journal
Immediate online access to all issues from 2019. Subscription will auto renew annually.
US$ 79
Tax calculation will be finalised during checkout.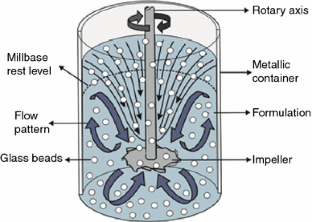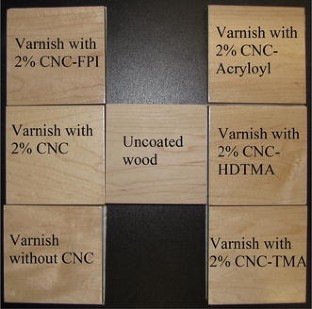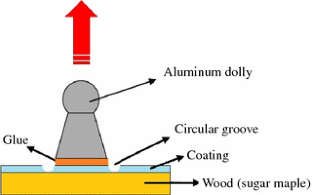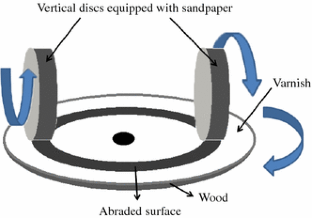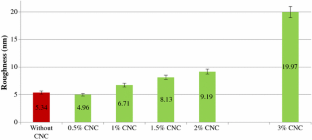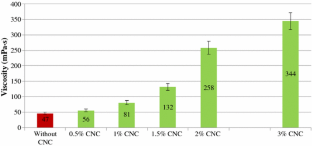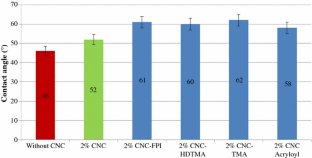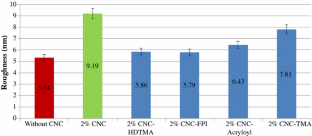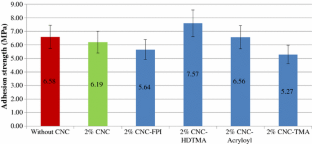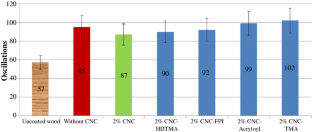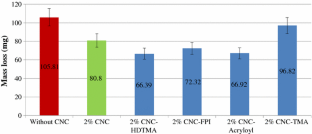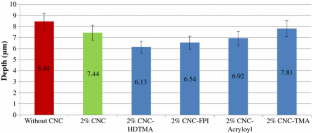 References
1.

Decker, C, Masson, F, Schwalm, R, "How to Speed Up the UV Curing of Water-Based acrylic Coatings." J. Coat. Technol. Res., 1 (2) 127–136 (2004)

2.

Liptakova, E, Kudela, J, Sarvas, J, "Study of the System Wood-Coating Material—I. Wood-Liquid Coating Material." Holzforschung, 54 (2) 189–196 (2000)

3.

Tauber, A, Scherzer, T, Mehnert, R, "UV Curing of Aqueous Polyurethane Acrylate Dispersions. A Comparative Study by Real-Time FTIR Spectroscopy and Pilot Scale Curing." J. Coat. Technol., 72 (911) 51–60 (2000)

4.

Landry, V, Blanchet, P, Riedl, B, "Mechanical and Optical Properties of Clay-Based Nanocomposites Coatings for Wood Flooring." Prog. Org. Coat., 67 (4) 381–388 (2010)

5.

Sow, C, Riedl, B, Blanchet, P, "UV-Waterborne Polyurethane-Acrylate Nanocomposite Coatings Containing Alumina and Silica Nanoparticles for Wood: Mechanical, Optical, and Thermal Properties Assessment." J. Coat. Technol. Res., 8 (2) 211–221 (2011)

6.

Bautista, Y, Gonzalez, J, Gilabert, J, Ibáñez, MJ, Sanz, V, "Correlation Between the Wear Resistance, and the Scratch Resistance, for Nanocomposite Coatings." Prog. Org. Coat., 70 (4) 178–185 (2011)

7.

Bauer, F, Glasel, HJ, Decker, U, Ernst, H, Freyer, A, Hartmann, E, Sauerland, V, Mehnert, R, "Trialkoxysilane Grafting onto Nanoparticles for the Preparation of Clear Coat Polyacrylate Systems with Excellent Scratch Performance." Prog. Org. Coat., 47 (2) 147–153 (2003)

8.

Bauer, F, Ernst, H, Hirsch, D, Naumov, S, Pelzing, M, Sauerland, V, Mehnert, R, "Preparation of Scratch and Abrasion Resistant Polymeric Nanocomposites by Monomer Grafting onto Nanoparticles, 5." Macromol. Chem. Phys., 205 (12) 1587–1593 (2004)

9.

Bauer, F, Flyunt, R, Czihal, K, Buchmeiser, MR, Langguth, H, Mehnert, R, "Nano/Micro Particle Hybrid Composites for Scratch and Abrasion Resistant Polyacrylate Coatings." Macromol. Mater. Eng., 291 (5) 493–498 (2006)

10.

Miao, CW, Hamad, WY, "Cellulose Reinforced Polymer Composites and Nanocomposites: A Critical Review." Cellulose, 20 (5) 2221–2262 (2013)

11.

Poaty, B, Vardanyan, V, Wilczak, L, Chauve, G, Riedl, B, "Modification of Cellulose Nanocrystals as Reinforcement Derivatives for Wood Coatings." Prog. Org. Coat., 77 (4) 813–820 (2014)

12.

Revol, JF, Bradford, H, Giasson, J, Marchessault, RH, Gray, DG, "Helicoidal Self-Ordering of Cellulose Microfibrils in Aqueous Suspension." Int. J. Biol. Macromol., 14 (3) 170–172 (1992)

13.

Fleming, K, Gray, DG, Matthews, S, "Cellulose Crystallites." Chemistry, 7 (9) 1831–1835 (2001)

14.

Helbert, W, Cavaille, JY, Dufresne, A, "Thermoplastic Nanocomposites Filled with Wheat Straw Cellulose Whiskers. 1. Processing and Mechanical Behavior." Polym. Compos., 17 (4) 604–611 (1996)

15.

Revol, JF, Godbout, L, Dong, XM, Gray, DG, Chanzy, H, Maret, G, "Chiral Nematic Suspensions of Cellulose Crystallites—Phase-Separation and Magnetic-Field Orientation." Liquid Crystals, 16 (1) 127–134 (1994)

16.

Dong, XM, Revol, JF, Gray, DG, "Effect of Microcrystallite Preparation Conditions on the Formation of Colloid Crystals of Cellulose." Cellulose, 5 (1) 19–32 (1998)

17.

Heux, L, Dinand, E, Vignon, MR, "Structural Aspects in Ultrathin Cellulose Microfibrils Followed by C-13 CP-MAS NMR." Carbohydr. Polym., 40 (2) 115–124 (1999)

18.

Sugiyama, J, Chanzy, H, Revol, JF, "On the Polarity of Cellulose in the Cell-Wall of Valonia." Planta, 193 (2) 260–265 (1994)

19.

Favier, V, Chanzy, H, Cavaille, JY, "Polymer Nanocomposites Reinforced by Cellulose Whiskers." Macromolecules, 28 (18) 6365–6367 (1995)

20.

Bauer, F, Mehnert, R, "UV Curable Acrylate Nanocomposites: Properties and Applications." J. Polym. Res., 12 (6) 483–491 (2005)

21.

Farrokhpay, S, "Application of Spectroscopy and Microscopy Techniques in Surface Coatings Evaluation: A Review." Appl. Spectrosc. Rev., 47 (3) 233–243 (2012)

22.

Thometzek, P, Ludwig, A, Karbach, A, Kohler, K, "Effects of Morphology and Surface Treatment of Inorganic Pigments on Waterborne Coating Properties." Prog. Org. Coat., 36 (4) 201–209 (1999)

23.

Vardanyan, V, Poaty, B, Chauve, G, Landry, V, Galstian, T, Riedl, B, "Wear Resistance of UV-Curable of Wood Water-Based Coatings with Added Cellulose Nanocrystals." In: Aliofkhazraei, M (ed.) Anti-Abrasive Nanocoatings: Current and Future Applications, 2014. http://www.amazon.fr/Anti-Abrasive-Nanocoatings-Current-Future-Applications/dp/0857092111

24.

Beck, S, Bouchard, J, Berry, R, "Controlling the Reflection Wavelength of Iridescent Solid Films of Nanocrystalline Cellulose." Biomacromolecules, 12 (1) 167–172 (2011)

25.

Nypelo, T, Osterberg, M, Zu, XJ, Laine, J, "Preparation of Ultrathin Coating Layers Using Surface Modified Silica Nanoparticles." Colloids Surf. A, 392 (1) 313–321 (2011)

26.

Bibette, J, Leal-Calderon, F, Schmitt, V, Poulin, P, "Introduction." In: Emulsion Science—Basic Principles. An Overview, Vol. 181, pp. 1–4. Springer, Berlin, 2002

27.

Tigges, B, Moller, M, Weichold, O, "ZnO Nanoparticle-Containing Emulsions for Transparent, Hydrophobic UV-Absorbent Films." J. Colloid Interface Sci., 345 (1) 41–45 (2010)

28.

Nobel, ML, Picken, SJ, Mendes, E, "Waterborne Nanocomposite Resins for Automotive Coating Applications." Prog. Org. Coat., 58 (2–3) 96–104 (2007)

29.

Sow, C, "Revêtements Nanocomposites UV-Aqueux pour le bois à usage intérieur." Ph.D. thesis, Université Laval, 2010
Acknowledgments
Thanks to the Fonds de Recherche Nature et Technologie du Québec, the Conseil de Recherches en Sciences Naturelles et Génie du Canada, and Arboranano for funding this research as well as FPInnovations' pilot plant for the production of CNC.
About this article
Cite this article
Vardanyan, V., Poaty, B., Chauve, G. et al. Mechanical properties of UV-waterborne varnishes reinforced by cellulose nanocrystals. J Coat Technol Res 11, 841–852 (2014). https://doi.org/10.1007/s11998-014-9598-3
Keywords
Cellulose nanocrystals

CNC

Coating

Dispersion

Surface modification

Mechanical properties

Wear resistance