Abstract
A soluble copolymer from aniline and o-toluidine [poly(aniline-co-o-toluidine)] was synthesized by chemical oxidative copolymerization using ammonium persulphate as an oxidant in hydrochloride aqueous medium. The resultant copolymer was characterized by Fourier Transform Infrared (FTIR) spectroscopy and chemically deposited on mild steel specimens using N-methyl-2-pyrrolidone (NMP) as solvent via solution evaporation method. The anticorrosive properties of copolymer coating was investigated in major corrosive environments, such as 0.1 M HCl, 5% NaCl solution, artificial seawater, distilled water and open atmosphere by conducting various corrosion tests which include: immersion test, open circuit potential (OCP) measurements, potentiodynamic polarization measurements and atmospheric exposure test. The corrosion performance of copolymer coating was also compared separately with polyaniline (PANi) and poly(o-toluidine) (POT) homopolymer coatings. The surface morphologies of polymer coatings were evaluated using scanning electron microscopy (SEM). The synthesized copolymer exhibited excellent protection against mild steel corrosion; the protection efficiency being in the range of 78–94% after 30 days of immersion. The corrosion performance of copolymer in 5% NaCl and artificial seawater was comparable, which was only marginally better than in 0.1 M HCl. In general, the performance of copolymer coating was found to be better than that of homopolymer coatings.
Access options
Buy single article
Instant access to the full article PDF.
USD 39.95
Price excludes VAT (USA)
Tax calculation will be finalised during checkout.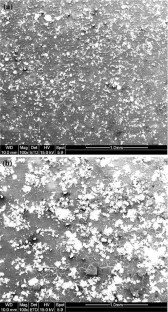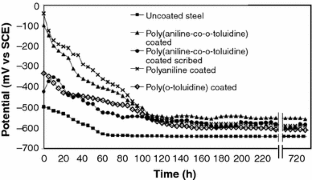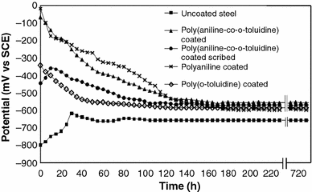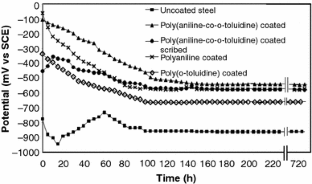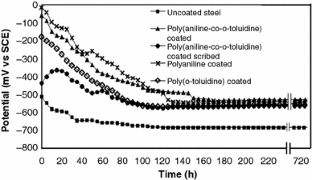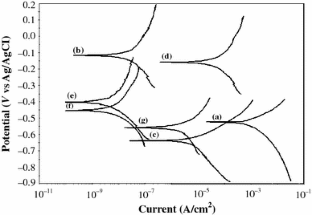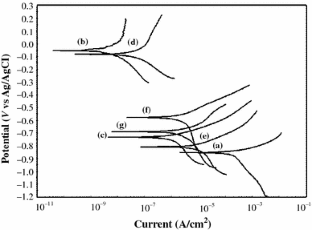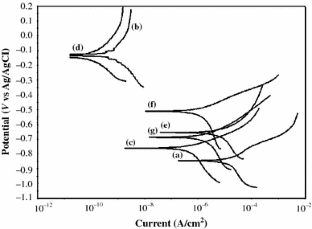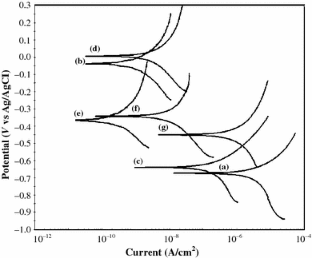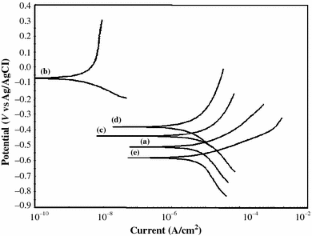 References
Lu, WK, Basak, S, Elsenbaumer, RL, "Corrosion Inhibition of Metals by Conductive Polymer." In: Skotheim, TA, Elsenbaumer, R, Reynolds, JR (eds.) Handbook of Conducting Polymers, pp. 881–920. M. Dekker (1998)

Tan, CK, Blackwood, DJ, "Corrosion Protection by Multilayered Conducting Polymer Coatings." Corros. Sci., 45 545–557 (2003)

Borole, DD, Kapadi, UR, Mahulikar, PP, Hundiwale, DG, "Electrochemical Synthesis and Characterization of Conducting Copolymer: Poly(aniline-co-o-toluidine)." Mater. Lett., 60 2447–2452 (2006)

Roy, BC, Gupta, MD, Ray, JK, "Studies on Conducting Polymers. 1. Aniline-Initiated Polymerization of Nitroanilines." Macromolecules, 28 1727–1732 (1995)

Ivanvo, S, Mokreva, P, Tsakova, V, Terlemezyan, L, "Electrochemical and Surface Structural Characterization of Chemically and Electrochemically Synthesized Polymer Layers—A Comparison." Thin Solid Films, 441 44–49 (2003)

Ahmad, N, MacDiarmid, AG, "Inhibition of Corrosion of Steels with the Exploitation of Conducting Polymer." Synth. Met., 78 103–108 (1996)

Kraljic, M, Mandic, Z, Duic, L, "Inhibition of Steel Corrosion by Polyaniline Coatings." Corros. Sci., 45 181–198 (2003)

Tallman, DE, Spinks, GM, Dominis, A, Wallace, GG, "Electro Active Conducting Polymers for Corrosion Control-Part-2 Ferrous Metals." J. Solid State Electrochem., 6 85–100 (2002)

Motheo, AJ, Pantoja, MF, Venancio, EC, "Effect of Monomer ratio in the Electrochemical Synthesis of Poly(aniline-co-o-methoxyaniline)." Solid. State. Ionics, 171 91–98 (2004)

Hur, E, Berket, G, Sahin, Y, "Anti-Corrosive Properties of Polyaniline, Poly(2-toluidine) and Poly(aniline-co-2-toluidine) Coatings on Stainless Steel." Curr. Appl. Phys., 7 597–604 (2007)

Shinde, V, Sainkar, SR, Patil, PP, "Corrosion Protective Poly(o-toluidine) Coatings on Copper." Corros. Sci., 47 1352–1369 (2005)

Yalcinkaya, S, Tuken, T, Yazici, B, Ebril, M, "Electrochemical Synthesis and Corrosion Performance of Poly(pyrrole-co-o-anisidine)." Prog. Org. Coat., 62 236–244 (2008)

Kuo, CT, Weng, SZ, Huang, RL, "Field-Effect Transistors of Polyaniline and Poly(2-alkylaniline) Thin Films as Semiconductor." Synth. Met., 88 101–107 (1997)

Wang, YZ, Joo, J, Hsu, CH, Pouget, JP, Epstein, AJ, "Charge Transport of Hydrochloric Acid Doped Polyaniline and Poly(o-toluidine) Fibers." Macromolecules, 27 5826–5871 (1994)

Wei, Y, Focke, WW, Wnek, GE, Ray, A, Mac-Diarmid, AG, "Synthesis and Electrochemistry of Alkyl Ring-Substituted Polyanilines." J. Phys. Chem., 93 495–499 (1989)

Leclerc, M, Guay, J, Dao, LH, "Synthesis and Characterization of Poly(alkyl anilines)." Macromolecules, 22 649–653 (1989)

Kumar, D, "Synthesis and Characterization of Poly(aniline-co-o-toluidine) Copolymer." Synth. Met., 114 369–372 (2000)

Li, XG, Huang, MR, Gu, GF, Qiu, W, Lu, JY, "Actual air Separation Through Poly(aniline-co-o-toluidine)/Ethyl Cellulose Blend Thin-Film Composite Membranes." J. Appl. Polym. Sci., 75 458–463 (2000)

Li, XG, Huang, MR, Yang, Y, "Synthesis and Characterization of Poly(aniline-co-xylidine)s." Polym. J., 32 348–353 (2000)

Huang, MR, Li, XG, Yang, YL, Wang, XS, Yan, D, "Oxidative Copolymers of Aniline with o-Toluidine: Their Structure and Thermal Properties." J. Appl. Polym. Sci., 81 1838–1847 (2001)

Vera, R, Schrebler, R, Cury, P, Del, RR, Romero, H, "Corrosion Protection of Carbon Steel and Copper by Polyaniline and Poly(o-methoxyaniline) Films in Sodium Chloride Medium: Electrochemical and Morphological Study." J. Appl. Electrochem., 37 519–525 (2007)

Ansari, R, Alikhani, AH, "Application of Polyaniline/Nylon Composites Coating for Corrosion Protection of Steel." J. Coat. Technol. Res., 6 (2) 221–227 (2009)

Ichinohe, D, Muranaka, T, Sasaki, T, Kobayashi, M, Kise, H, "Oxidative Polymerization of Phenylenediamines Catalyzed by Horseradish Peroxidise." J. Polym. Sci, Part A: Polym. Chem., 36 2593–2600 (1998)

Kang, ET, Neoh, KG, Tan, KL, "Polyaniline: A Polymer with Many Interesting Redox States." Prog. Polym. Sci., 23 277–324 (1998)

Schauer, T, Joos, A, Dulog, L, Eisenbach, CD, "Protection of Iron Against Corrosion with Polyaniline Primer." Prog. Org. Coat., 33 20–27 (1998)

Lu, WK, Elsenbaumer, RL, Wessling, B, "Corrosion Protection of Mild Steel by Coatings Containing Polyaniline." Synth. Met., 71 2163–2166 (1995)

Pud, AA, Shapoval, GS, Kamarchik, P, Ogurtsov, NA, Gromovaya, VF, Mayronyuk, IE, Konstur, YV, "Electrochemical Behaviour Of Mild Steel Coated by Polyaniline Doped with Organic Sulphonic Acids." Synth. Met., 107 111–115 (1999)
About this article
Cite this article
Mobin, M., Tanveer, N. Corrosion performance of chemically synthesized poly(aniline-co-o-toluidine) copolymer coating on mild steel. J Coat Technol Res 9, 27–38 (2012). https://doi.org/10.1007/s11998-011-9328-z
Published:

Issue Date:

DOI: https://doi.org/10.1007/s11998-011-9328-z
Keywords
Poly(aniline-co-o-toluidine)

Mild steel

Oxidative copolymerization

Immersion test