Abstract
The use of Intelligent Assistive Technology (IAT) in dementia care opens the prospects of reducing the global burden of dementia and enabling novel opportunities to improve the lives of dementia patients. However, with current adoption rates being reportedly low, the potential of IATs might remain under-expressed as long as the reasons for suboptimal adoption remain unaddressed. Among these, ethical and social considerations are critical. This article reviews the spectrum of IATs for dementia and investigates the prevalence of ethical considerations in the design of current IATs. Our screening shows that a significant portion of current IATs is designed in the absence of explicit ethical considerations. These results suggest that the lack of ethical consideration might be a codeterminant of current structural limitations in the translation of IATs from designing labs to bedside. Based on these data, we call for a coordinated effort to proactively incorporate ethical considerations early in the design and development of new products.
This is a preview of subscription content, log in to check access.
Access options
Buy single article
Instant access to the full article PDF.
US$ 39.95
Tax calculation will be finalised during checkout.
Subscribe to journal
Immediate online access to all issues from 2019. Subscription will auto renew annually.
US$ 79
Tax calculation will be finalised during checkout.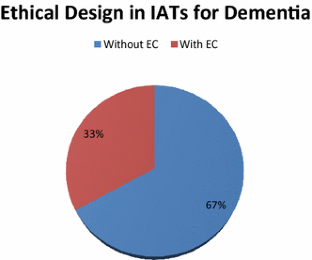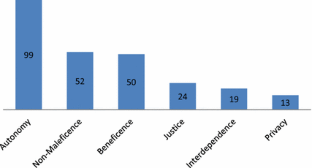 References
Adlam, T., Faulkner, R., Orpwood, R., Jones, K., Macijauskiene, J., & Budraitiene, A. (2004). The installation and support of internationally distributed equipment for people with dementia. IEEE Transactions on Information Technology in Biomedicine, 8(3), 253–257. doi:10.1109/TITB.2004.834393.

Agich, G. J. (1993). Autonomy and long-term care. Oxford: Oxford University Press.

Al Ameen, M., Liu, J., & Kwak, K. (2012). Security and privacy issues in wireless sensor networks for healthcare applications. Journal of Medical Systems, 36(1), 93–101.

AlMazrua, H., Al-Wabil, A., Al-Muhanna, H., & Al-Wabil, R. (2013). Technology for psychosocial interventions for individuals with Alzheimer's: Reminiscence therapy and monitoring progressive decline of cognitive abilities. In Science and information conference (SAI), 2013, 7–9 Oct. 2013 (pp. 171–175).

Alzheimer's Association. (2016). 2016 Alzheimer's disease facts and figures. Alzheimer's & Dementia, 12(4), 459–509.

Attarwala, A., Munteanu, C., & Baecker, R. (2013). An accessible, large-print, listening and talking e-book to support families reading together. In 15th international conference on human-computer interaction with mobile devices and services, MobileHCI 2013, Munich, (pp. 440–443). doi:10.1145/2493190.2494658.

Au, L. K., Wu, W. H., Batalin, M. A., Stathopoulos, T., & Kaiser, W. J. (2008) Demonstration of active guidance with SmartCane. In International conference on information processing in sensor networks, 2008. IPSN '08., 22–24 April 2008 (pp. 537–538). doi:10.1109/IPSN.2008.52.

Beauchamp, T. L., & Childress, J. F. (2001). Principles of biomedical ethics. New York: Oxford University Press.

Bharucha, A. J., Anand, V., Forlizzi, J., Dew, M. A., Reynolds, C. F., III, Stevens, S., & Wactlar, H. (2009). Intelligent assistive technology applications to dementia care: current capabilities, limitations, and future challenges. American Journal of Geriatric Psychiatry, 17(2), 88–104. doi:10.1097/JGP.0b013e318187dde5.

Boise, L., Wild, K., Mattek, N., Ruhl, M., Dodge, H. H., & Kaye, J. (2013). Willingness of older adults to share data and privacy concerns after exposure to unobtrusive in-home monitoring. Gerontechnology: International Journal on the Fundamental Aspects of Technology to Serve the Ageing Society, 11(3), 428–435. doi:10.4017/gt.2013.11.3.001.00.

Branch, W., Jr. (2015). A piece of my mind. The ethics of patient care. JAMA, 313(14), 1421.

Bruno, B., Mastrogiovanni, F., Sgorbissa, A., & IEEE. (2014). A public domain dataset for ADL recognition using wrist-placed accelerometers. In 2014 23rd IEEE international symposium on robot and human interactive communication (pp. 738–743, IEEE Ro-Man).

Cavallo, F., Aquilano, M., & Arvati, M. (2015). An ambient assisted living approach in designing domiciliary services combined with innovative technologies for patients with alzheimer's disease: A case study. [Article]. American Journal of Alzheimer's Disease and Other Dementias, 30(1), 69–77. doi:10.1177/1533317514539724.

Centers for Disease Control and Prevention (CDC) (2013). Healthy places terminology. https://www.cdc.gov/healthyplaces/terminology.htm.

Compano, R. (2009). Future ICTs for active ageing: Brain-machine and brain-computer interfaces. In M. Cabrera & N. Malanowski (Eds.), Information and communication technologies for active ageing: Opportunities and challenges for the European Union (Vol. 23, pp. 235–252)., Assistive technology research series Amsterdam: IOS Press.

Cortés, U., Martínez-Velasco, A., Barrué, C., Martín, E. X., Campana, F., Annicchiarico, R., & Caltagirone, C. (2008). Towards an intelligent service to elders mobility using the i-Walker. In 2008 AAAI fall symposium, Arlington, VA, (Vol. FS-08-02, pp. 32–38).

Deng, B. (2015). The robot's dilemma. Nature, 523(7558), 24–26.

DESA, U. (2015). World population prospects: The 2015 revision, key findings and advance tables. Working PaperNo.

Fardoun, H. M., Mashat, A. A., & Ramirez Castillo, J. (2015). Recognition of familiar people with a mobile cloud architecture for Alzheimer patients. Disability and Rehabilitation. doi:10.3109/09638288.2015.1025992.

Felzmann, H., Murphy, K., Casey, D., & Beyan, O. (2015). Robot-assisted care for elderly with dementia: is there a potential for genuine end-user empowerment. In 10th ACM/IEEE international conference on human–robot interaction.

Feng, P. (2000). Rethinking technology, revitalizing ethics: Overcoming barriers to ethical design. Science and Engineering Ethics, 6(2), 207–220. doi:10.1007/s11948-000-0049-4.

Ferrucci, R., Ruggiero, F., Vergari, M., Mameli, F., Colangelo, F., Arighi, A., Scarpini, E., & Priori, A. (2016). ID 303–Transcranial direct current stimulation (tDCS) in patients with frontotemporal dementia. Clinical Neurophysiology, 127(3), e100.

Friedman, B., Kahn, P., & Borning, A. (2002). Value sensitive design: Theory and methods. University of Washington technical report, 02-12.

Friedman, B., Kahn Jr, P. H., Borning, A., & Huldtgren, A. (2013). Value sensitive design and information systems. In Early engagement and new technologies: Opening up the laboratory (pp. 55–95). Springer.

George, T., George, K. S., & Sivanandan, K. S. (2011). Sensing, processing and application of EMG signals for HAL (Hybrid Assistive Limb). In International conference on sustainable energy and intelligent systems (SEISCON 2011), 20–22 July 2011 (pp. 749–753). doi:10.1049/cp.2011.0463.

Giokas, K., Anastasiou, A., Tsirmpas, C., Koutsouri, G., Koutsouris, D., & Iliopoulou, D. (2014). Smart adaptable system for older adults' daily life activities management—The ABLE platform. In 2014 36th annual international conference of the IEEE engineering in medicine and biology society (pp. 5816–5819).

Gómez-Sebastià, I., Moreno, J., Álvarez-Napagao, S., Garcia-Gasulla, D., Barrué, C., & Cortés, U. (2016). Situated agents and humans in social interaction for elderly healthcare: From Coaalas to AVICENA. Journal of Medical Systems, 40(2), 1–20. doi:10.1007/s10916-015-0371-7.

Gross, H. (1971). Privacy and autonomy. Nomos XIII: Privacy, 169, 81.

Grossi, F., Bianchi, V., Matrella, G., De Munari, I., & Ciampolini, P. (2014). Senior-friendly kitchen activity: The FOOD project. [Conference paper]. Gerontechnology, 13(2), 200, doi:10.4017/gt.2014.13.02.349.00.

Group, W. Q. (1995). The World Health Organization quality of life assessment (WHOQOL): position paper from the World Health Organization. Social Science and Medicine, 41, 1403–1409.

Güttler, J., Georgoulas, C., Linner, T., & Bock, T. (2015). Towards a future robotic home environment: A survey. [Review]. Gerontology, 61(3), 268–280. doi:10.1159/000363698.

Heijkers, J., Rietsema, J., De Witte, L., Hagedoren, E., & Van Leeuwen, R. (2013). Supporting autonomy in the aging population by using an accessible information system on comfort products and assistive technology. In P. Encarnacao, L. Azevedo, G. J. Gelderblom, A. Newell, & N. E. Mathiassen (Eds.), Assistive technology research series (Vol. 33, pp. 917–923). Amsterdam: IOS Press.

How, T.-V., Wang, R. H., & Mihailidis, A. (2013). Evaluation of an intelligent wheelchair system for older adults with cognitive impairments. Journal of Neuroengineering and Rehabilitation. doi:10.1186/1743-0003-10-90.

Ienca, M., Fabrice, J., Elger, B., Caon, M., Pappagallo, A. S., Kressig, R. W., & Wangmo, T. (2017). Intelligent assistive technology for Alzheimer's disease and other dementias: A systematic review. Journal of Alzheimer's Disease, 56(4), 1301–1340. doi:10.3233/jad-161037.

Ienca, M., & Haselager, P. (2016). Hacking the brain: Brain–computer interfacing technology and the ethics of neurosecurity. Ethics and Information Technology, 18, 1–13.

Ienca, M., Jotterand, F., Vică, C., & Elger, B. (2016). Social and assistive robotics in dementia care: Ethical recommendations for research and practice. International Journal of Social Robotics, 8, 1–9.

Inoue, T., Nihei, M., Narita, T., Onoda, M., Ishiwata, R., Mamiya, I., Shino, M., Kojima, H., Ohnaka, S., Fujita, S., & Kamata, M. (2012). Field-based development of an information support robot for persons with dementia. Technology and Disability, 24(4), 263–271. doi:10.3233/TAD-120357.

Johnson, D. O., Cuijpers, R. H., Juola, J. F., Torta, E., Simonov, M., Frisiello, A., Bazzani, M., Yan, W., Weber, C., Wermter, S., Meins, N., Oberzaucher, J., & Panek, P. (2014). Socially assistive robots: A comprehensive approach to extending independent living. International Journal of Social Robotics, 6(2), 195–211. doi:10.1007/s12369-013-0217-8.

Koontz, L. (2013). Information privacy in the evolving healthcare environment. Chicago: HIMSS Publishing.

Kyriazakos, S., Mihaylov, M., Anggorojati, B., Mihovska, A., Craciunescu, R., Fratu, O., & Prasad, R. (2016). eWALL: An intelligent caring home environment offering personalized context-aware applications based on advanced sensing. Wireless Personal Communications, 87(3), 1093–1111. doi:10.1007/s11277-015-2779-2.

Larizza, M. F., Zukerman, I., Bohnert, F., Busija, L., Bentley, S. A., Russell, R. A., & Rees, G. (2014). In-home monitoring of older adults with vision impairment: Exploring patients', caregivers' and professionals' views. Journal of the American Medical Informatics Association, 21(1), 56–63. doi:10.1136/amiajnl-2012-001586.

Laurie, G. (2014). Recognizing the right not to know: Conceptual, professional, and legal implications. The Journal of Law, Medicine & Ethics, 42(1), 53–63.

Lebec, O., Ben Ghezala, M. W., Leynart, V., Laffont, I., Fattal, C., Devilliers, L., Chastagnol, C., Martin, J. C., Mezouar, Y., Korrapatti, H., & Dupourque, V. (2013). High level functions for the intuitive use of an assistive robot. In 2013 IEEE 13th international conference on rehabilitation robotics, ICORR 2013, Seattle, WA. doi:10.1109/ICORR.2013.6650374.

Lee, T.-S., Goh, S. J. A., Quek, S. Y., Guan, C., Cheung, Y. B., & Krishnan, K. R. (2013). Efficacy and usability of a brain-computer interface system in improving cognition in the elderly. Alzheimer's & Dementia: The Journal of the Alzheimer's Association, 9(4), P296.

Lee, J. J., Seo, K. H., Oh, C., & Bien, Z. Z. (2007). Development of a future intelligent sweet home for the disabled. Artificial Life and Robotics, 11(1), 8–12. doi:10.1007/s10015-006-0417-5.

Magnusson, L., & Hanson, E. J. (2003). Ethical issues arising from a research, technology and development project to support frail older people and their family carers at home. Health and Social Care in the Community, 11(5), 431–439.

Mahoney, D. F., Purtilo, R. B., Webbe, F. M., Alwan, M., Bharucha, A. J., Adlam, T. D., Jimison, H. B., Turner, B., & Becker, S. A. (2007). In-home monitoring of persons with dementia: Ethical guidelines for technology research and development. Alzheimer's & Dementia, 3(3), 217–226.

Marmor, A. (2015). What is the right to privacy? Philosophy & Public Affairs, 43(1), 3–26.

Martin, S., Augusto, J. C., McCullagh, P., Carswell, W., Zheng, H., Wang, H., Wallace, J., & Mulvenna, M. (2013). Participatory research to design a novel telehealth system to support the night-time needs of people with dementia: NOCTURNAL. International Journal of Environmental Research and Public Health, 10(12), 6764–6782. doi:10.3390/ijerph10126764.

Martinez, R., Lopez de Ipina, K., Irigoyen, E., Asla, N., Garay, N., Ezeiza, A., & Fajardo, I. (2010). Emotion elicitation oriented to the development of a human emotion management system for people with intellectual disabilities. In Y. Demazeau, F. Dignum, J. M. Corchado, J. Bajo, R. Corchuelo, E. Corchado, F. Fernández-Riverola, V. Julián, P. Pawlewski, A. Campbell, & R. Martínez (Eds.), Trends in practical applications of agents and multiagent systems (Vol. 71, pp. 689–696). Advances in intelligent and soft computing.

Marzanski, M. (2000). Would you like to know what is wrong with you? On telling the truth to patients with dementia. Journal of Medical Ethics, 26(2), 108–113.

Mégret, R., Dovgalecs, V., Wannous, H., Karaman, S., Benois-Pineau, J., El Khoury, E., Pinquier, J., Joly, P., André-Obrecht, R., Gaëstel, Y., & Dartigues, J. F. (2010). The IMMED project: Wearable video monitoring of people with age dementia. In Proceedings of the 18th ACM international conference on multimedia (pp. 1299–1302). ACM.

Meiland, F., Droes, R.-M., & Savenstedt, S. (2010). Measuring the Impact of Cognitive Prosthetics on the Daily Life of People with Dementia and Their Carers. In M. D. Mulvenna, & C. D. Nugent (Eds.), Supporting people with dementia using pervasive health technologies (pp. 207–220), Advanced information and knowledge processing.

Meininger, H. P. (2001). Autonomy and professional responsibility in care for persons with intellectual disabilities. Nursing Philosophy, 2(3), 240–250. doi:10.1046/j.1466-769X.2000.00065.x.

Mihailidis, A., Barbenel, J. C., & Fernie, G. (2004). The efficacy of an intelligent cognitive orthosis to facilitate handwashing by persons with moderate to severe dementia. Neuropsychological Rehabilitation, 14(1–2), 135–171.

Mihailidis, A., Elinas, P., Boger, J., & Hoey, J. (2007). An intelligent powered wheelchair to enable mobility of cognitively impaired older adults: An anticollision system. IEEE Transactions on Neural Systems and Rehabilitation Engineering, 15(1), 136–143. doi:10.1109/tnsre.2007.891385.

Mihailidis, A., Fernie, G. R., & Barbenel, J. C. (2001). The use of artificial intelligence in the design of an intelligent cognitive orthosis for people with dementia. Assistive Technology, 13(1), 23–39.

Mitseva, A., Peterson, C. B., Karamberi, C., Oikonomou, L. C., Ballis, A. V., Giannakakos, C.,  & Dafoulas, G. E. (2012). Gerontechnology: Providing a helping hand when caring for cognitively impaired older adults-intermediate results from a controlled study on the satisfaction and acceptance of informal caregivers. Current Gerontology and Geriatrics Research. doi:10.1155/2012/401705.

Moher, D., Liberati, A., Tetzlaff, J., & Altman, D. G. (2009). Preferred reporting items for systematic reviews and meta-analyses: The PRISMA statement. Annals of Internal Medicine, 151(4), 264–269.

Money, A. G., Lines, L., Fernando, S., & Elliman, A. D. (2011). e-Government online forms: Design guidelines for older adults in Europe. Universal Access in the Information Society, 10(1), 1–16. doi:10.1007/s10209-010-0191-y.

Moore, P., Xhafa, F., Barolli, L., & Thomas, A. (2013). Monitoring and detection of agitation in dementia: Towards real-time and big-data solutions. In Eighth International Conference on P2P, parallel, grid, cloud and internet computing (3PGCIC), 2013, 28–30 Oct. 2013 (pp. 128–135). doi:10.1109/3PGCIC.2013.26.

Mordoch, E., Osterreicher, A., Guse, L., Roger, K., & Thompson, G. (2013). Use of social commitment robots in the care of elderly people with dementia: A literature review. Maturitas, 74(1), 14–20.

Moreno, J., Cortés, U., Garcia-Gasulla, D., Gómez-Sebastià, I., & Alvarez-Napagao, S. (2013). Applying coaalas to spider. In K. Gibert, V. Botti, & R. Reig-Bolano (Eds.), Frontiers in artificial intelligence and applications (Vol. 256, pp. 326–335). Amsterdam: IOS Press.

Morris, A., Donamukkala, R., Kapuria, A., Steinfeld, A., Matthews, J. T., Dunbar-Jacob, J., & Thrun, S. (2003). A robotic walker that provides guidance. In 2003 Proceedings IEEE international conference on robotics and automation (Vols. 1–3, pp. 25–30).

Mulvenna, M., Hutton, A., Coates, V., Martin, S., Todd, S., Bond, R., & Moorhead, A.  (2017). Views of caregivers on the ethics of assistive technology used for home surveillance of people living with dementia. Neuroethics. doi:10.1007/s12152-017-9305-z.

Murua, A., Gonzalez, I., & Gomez-Martinez, E. (2011). Cloud-based assistive technology services. In 2011 Federated conference on computer science and information systems.

Nestorov, N., Stone, E., Lehane, P., & Eibrand, R. (2014a) Aspects of socially assistive robots design for dementia care. In 2014 IEEE 27th international symposium on computer-based medical systems (CBMS), 27–29 May 2014 (pp. 396–400). doi:10.1109/CBMS.2014.16.

Nestorov, N., Stone, E., Lehane, P., Eibrand, R., & IEEE (2014b). Aspects of socially assistive robots design for dementia care. In 2014 IEEE 27th international symposium on computer-based medical systems (pp. 396–400).

Nomura, T., Suzuki, T., Kanda, T., Han, J., Shin, N., Burke, J., & Kato, K. (2008). What people assume about humanoid and animal-type robots: Cross-cultural analysis between Japan, Korea, and the United States. International Journal of Humanoid Robotics, 5(01), 25–46.

Novitzky, P., Smeaton, A. F., Chen, C., Irving, K., Jacquemard, T., O'Brolcháin, F., O'Mathúna, D., & Gordijn, B. (2015). A review of contemporary work on the ethics of ambient assisted living technologies for people with dementia. Science and Engineering Ethics, 21(3), 707–765.

Pellegrino, E. D., & Thomasma, D. C. (1988). For the patient's good: The restoration of beneficence in health care (1st ed.). Oxford: Oxford University Press.

Perry, J., Beyer, S., & Holm, S. (2009). Assistive technology, telecare and people with intellectual disabilities: Ethical considerations. Journal of Medical Ethics, 35(2), 81–86.

Persson, I., & Savulescu, J. (2012). Unfit for the future: The need for moral enhancement. Oxford: OUP.

Pollack, M. E. (2007). Intelligent assistive technology: The present and the future. In C. Conati, K. McCoy, & G. Paliouras (Eds.), User modeling 2007, proceedings (Vol. 4511, pp. 5–6) Lecture notes in artificial intelligence.

Prince, M. J. (2015). World Alzheimer Report 2015: the global impact of dementia: an analysis of prevalence, incidence, cost and trends.

Rashidi, P., & Mihailidis, A. (2013). A survey on ambient-assisted living tools for older adults. IEEE Journal of Biomedical and Health Informatics, 17(3), 579–590.

Rindfleisch, T. C. (1997). Privacy, information technology, and health care. Communications of the ACM, 40(8), 92–100.

Roy, P. C., Al Haider, N., Van Woensel, W., Ahmad, A. M., & Abidi, S. S. R. (2014) Towards guideline compliant clinical decision support system integration in smart and mobile environments: Formalizing and using clinical guidelines for diagnosing sleep apnea. In 28th AAAI conference on artificial intelligence, AAAI 2014, 2014 (Vol. WS, pp. 38–43). AI Access Foundation

Savulescu, J. (2007). In defence of procreative beneficence. Journal of Medical Ethics, 33(5), 284–288.

Sifford, K. S., & Bharucha, A. (2010). Benefits and challenges of electronic surveillance in nursing home research. Research in Gerontological Nursing, 3(1), 5–10.

Stilgoe, J., Owen, R., & Macnaghten, P. (2013). Developing a framework for responsible innovation. Research Policy, 42(9), 1568–1580.

Tinker, A., Wright, F., & McCreadie, C. (1999). With respect to old age Long term care-rights and responsibilities; alternative models of care for older people; research (Vol. 2). London: The Stationery Office Ltd.

Tung, J., Snyder, H., Hoey, J., Mihailidis, A., Carrillo, M., & Favela, J. (2013). Everyday patient-care technologies for Alzheimer's disease. IEEE Pervasive Computing, 12(4), 80–83. doi:10.1109/MPRV.2013.63.

Vaismoradi, M., Turunen, H., & Bondas, T. (2013). Content analysis and thematic analysis: Implications for conducting a qualitative descriptive study. Nursing & Health Sciences, 15(3), 398–405.

Van den Hoven, J. (2005). Design for values and values for design. Information Age, 4, 4–7.

Varelius, J. (2006). The value of autonomy in medical ethics. Medicine, Health Care and Philosophy, 9(3), 377–388.

Vergados, D. D. (2010). Service personalization for assistive living in a mobile ambient healthcare-networked environment. Personal and Ubiquitous Computing, 14(6), 575–590. doi:10.1007/s00779-009-0278-8.

Wacks, R. (2015). Privacy: A very short introduction. Oxford: OUP.

World Health Organization. (2010). Medical devices: Managing the mismatch: An outcome of the priority medical devices project. Geneva: World Health Organization.

Wu, Y. H., Fassert, C., & Rigaud, A. S. (2012). Designing robots for the elderly: Appearance issue and beyond. Archives of Gerontology and Geriatrics, 54(1), 121–126. doi:10.1016/j.archger.2011.02.003.

Wu, Y. H., Wrobel, J., Cornuet, M., Kerhervé, H., Damnée, S., & Rrigaud, A. S. (2014). Acceptance of an assistive robot in older adults: A mixed-method study of human-robot interaction over a 1-month period in the living lab setting. Clinical Interventions in Aging, 9, 801–811. doi:10.2147/CIA.S56435.

Yamagata, C., Kowtko, M., Coppola, J. F., & Joyce, S. (2013) Mobile app development and usability research to help dementia and Alzheimer patients. In Systems, applications and technology conference (LISAT), 2013 IEEE Long Island, 3–3 May 2013 2013 (pp. 1–6). doi:10.1109/LISAT.2013.6578252.

Zsiga, K., Edelmayer, G., Rumeau, P., Peter, O., Toth, A., & Fazekas, G. (2013). Home care robot for socially supporting the elderly: Focus group studies in three European countries to screen user attitudes and requirements. International Journal of Rehabilitation Research, 36(4), 375–378. doi:10.1097/MRR.0b013e3283643d26.

Zwijsen, S. A., Niemeijer, A. R., & Hertogh, C. M. P. M. (2011). Ethics of using assistive technology in the care for community-dwelling elderly people: An overview of the literature. Aging & Mental Health, 15(4), 419–427. doi:10.1080/13607863.2010.543662.
Ethics declarations
Conflicts of interest
The authors declare no conflict of interest.
About this article
Cite this article
Ienca, M., Wangmo, T., Jotterand, F. et al. Ethical Design of Intelligent Assistive Technologies for Dementia: A Descriptive Review. Sci Eng Ethics 24, 1035–1055 (2018). https://doi.org/10.1007/s11948-017-9976-1
Received:

Accepted:

Published:

Issue Date:
Keywords
Assistive technology

Dementia

Ethical design

User-centered

Neurotechnology

Artificial intelligence

Proactive ethics