Abstract
Little is known about research misconduct within industry and how it compares to universities, even though a lot of biomedical research is performed by–or in collaboration with–commercial entities. Therefore, we sent an e-mail invitation to participate in an anonymous computer-based survey to all university researchers having received a biomedical research grant or scholarship from one of the two national academic research funders of Belgium between 2010 and 2014, and to researchers working in large biomedical companies or spin-offs in Belgium. The validated survey included questions about various types of research misconduct committed by respondents themselves and observed among their colleagues in the last three years. Prevalences of misconduct were compared between university and industry respondents using binary logistic regression models, with adjustments for relevant personal characteristics, and with significance being accepted for p < 0.01. The survey was sent to 1766 people within universities and an estimated 255 people from industry. Response rates were 43 (767/1766) and 48% (123/255), and usable information was available for 617 and 100 respondents, respectively. In general, research misconduct was less likely to be reported by industry respondents compared to university respondents. Significant differences were apparent for one admitted action (gift authorship) and three observed actions (plagiarism, gift authorship, and circumventing animal-subjects research requirements), always with lower prevalences for industry compared to universities, except for plagiarism. This survey, based on anonymous self-report, shows that research misconduct occurs to a substantial degree among biomedical researchers from both industry and universities.
This is a preview of subscription content, log in to check access.
Access options
Buy single article
Instant access to the full article PDF.
US$ 39.95
Price includes VAT for USA
Subscribe to journal
Immediate online access to all issues from 2019. Subscription will auto renew annually.
US$ 99
This is the net price. Taxes to be calculated in checkout.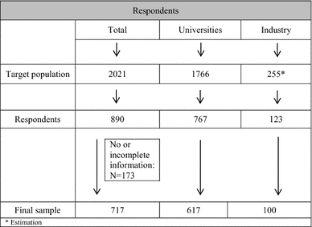 References
Anderson, M. S., Horn, A. S., Risbey, K. R., Ronning, E. A., De Vries, R., & Martinson, B. C. (2007). What do mentoring and training in the responsible conduct of research have to do with scientists' misbehavior? Findings from a National Survey of NIH-funded scientists. Academic Medicine, 82, 853–860.

BrusselsLifetech: http://lifetechbrussels.com/.

DeAngelis, C. D., & Fontanarosa, P. B. (2008). Impugning the integrity of medical science: The adverse effects of industry influence. JAMA, 299, 1833–1835.

Fanelli, D. (2009). How many scientists fabricate and falsify research? A systematic review and meta-analysis of survey data. PLoS ONE, 4, e5738.

FlandersBio: http://flandersbio.be/.

Fonds de la Recherche Scientifique (FNRS): http://www.frs-fnrs.be/.

Godecharle, S., Nemery, B., & Dierickx, K. (2013a). Guidance on research integrity: No union in Europe. Lancet, 381, 1097–1098.

Godecharle, S., Nemery, B., & Dierickx, K. (2013b). Integrity training: Conflicting practices. Science, 340, 1403.

Godecharle, S., Nemery, B., & Dierickx, K. (2014). Heterogeneity in European research integrity guidance: Relying on values or norms? JERHRE, 9, 1–12.

Goldacre, B. (2012). Bad pharma: how drug companies mislead doctors and harm patients. London: Harper Collins UK.

Hvistendahl, M. (2013). Corruption and research fraud send big chill through big pharma in China. Science, 341, 445–446.

Kornfeld, D. (2012). Perspective: Research misconduct: The search for a remedy. Academic Medicine, 87, 877–882.

Krimsky, S. (2004). Science in the private interest. has the lure of profits corrupted biomedical research?. Lanham: Rowman & Littlefield Publishers.

Lexchin, J., Bero, L. A., Djulbegovic, B., & Clark, O. (2003). Pharmaceutical industry sponsorship and research outcome and quality: Systematic review. BMJ, 326, 1167–1170.

Martinson, B. C., Anderson, M. S., & De Vries, R. (2005). Scientists behaving badly. Nature, 435, 737–738.

Pharma.be: http://pharma.be/nl/.

Polit, D. F., Beck, C. T., & Owen, S. V. (2007). Is the CVI an acceptable indicator of content validity? Appraisal and recommendations. Research in Nursing & Health, 30, 459–467.

Prinz, F., Schlange, T., & Asadullah, K. (2011). Believe it or not: how much can we rely on published data on potential drug targets? Nature reviews Drug discovery, 10, 712.

Pupovac, V., & Fanelli, D. (2015). Scientists admitting to plagiarism: A meta-analysis of surveys. Science and Engineering Ethics, 21(5), 1331–1352.

Research Foundation—Flanders (FWO): http://www.fwo.be/en/.

Rosenbaum, L. (2015a). Conflicts of Interest: Reconnecting the Dots—Reinterpreting Industry-Physician Relations. New England Journal of Medicine, 372, 1860–1864.

Rosenbaum, L. (2015b). Conflicts of interest: beyond moral outrage—Weighing the trade-offs of COI regulation. New England Journal of Medicine, 372, 2064–2068.

Rubin, D. B. (1987). Multiple imputation for nonresponse in surveys. New York: John Wiley and Sons.

Smith, R. (2005). Medical journals are an extension of the marketing arm of pharmaceutical companies. PLoS Medicine, 2, e138.

Stossel, T. P. (2005). Regulating academic—Industrial research relationships—Solving problems or stifling progress. New England Journal of Medicine, 353, 1060–1065.

Stroebe, W., Postmes, T., & Spears, R. (2012). Scientific misconduct and the myth of self-correction in science. Perspectives on Psychological Science, 7, 670–688.

Tavare, A. (2012). Scientific misconduct is worryingly prevalent in the UK, shows BMJ survey. BMJ, 344, e377. doi:10.1136/bmj.e377.

Titus, S. L., Wells, J. A., & Rhoades, L. J. (2008). Repairing research integrity. Nature, 453, 980–982.

Van Buuren, S. (2007). multiple imputation of discrete and continuous data by fully conditional specification. Statistical Methods in Medical Research, 16, 219–242.

Watts, L. L., et al. (2016). Are ethics training programs improving? A meta-analytic review of past and present ethics instruction in the sciences. Ethics & Behavior, 27, 351–384. doi:10.1080/10508422.2016.1182025.

Wood, A. M., White, I. R., & Royston, P. (2008). How should variable selection be performed with multiply imputed data? Statistics in Medicine, 27, 3227–3246.
Acknowledgements
This research was funded by Research Foundation—Flanders (Fonds Wetenschappelijk Onderzoek–Vlaanderen) Ph.D. Fellowship: 11U8214 N. We thank Dr. de Vries one of the authors of the original USA survey11 for helping in the process of updating and processing.
Funding
This research was funded by Research Foundation—Flanders (Fonds Wetenschappelijk Onderzoek–Vlaanderen), Ph.D. Fellowship: 11U8214 N.
Ethics declarations
Conflict of interest
The authors declare that they have no conflict of interest.
Electronic Supplementary Material
Below is the link to the electronic supplementary material.
About this article
Cite this article
Godecharle, S., Fieuws, S., Nemery, B. et al. Scientists Still Behaving Badly? A Survey Within Industry and Universities. Sci Eng Ethics 24, 1697–1717 (2018). https://doi.org/10.1007/s11948-017-9957-4
Received:

Accepted:

Published:

Issue Date:
Keywords
Research integrity

Research misconduct

Industry

Universities