Abstract
Health Wearable Devices enhance the quality of life, promote positive lifestyle changes and save time and money in medical appointments. However, Wearable Devices store large amounts of personal information that is accessed by third parties without user consent. This creates ethical issues regarding privacy, security and informed consent. This paper aims to demonstrate users' ethical perceptions of the use of Wearable Devices in the health sector. The impact of ethics is determined by an online survey which was conducted from patients and users with random female and male division. Results from this survey demonstrate that Wearable Device users are highly concerned regarding privacy issues and consider informed consent as "very important" when sharing information with third parties. However, users do not appear to relate privacy issues with informed consent. Additionally, users expressed the need for having shorter privacy policies that are easier to read, a more understandable informed consent form that involves regulatory authorities and there should be legal consequences the violation or misuse of health information provided to Wearable Devices. The survey results present an ethical framework that will enhance the ethical development of Wearable Technology.
Access options
Buy single article
Instant access to the full article PDF.
US$ 39.95
Tax calculation will be finalised during checkout.
Subscribe to journal
Immediate online access to all issues from 2019. Subscription will auto renew annually.
US$ 79
Tax calculation will be finalised during checkout.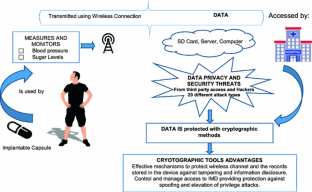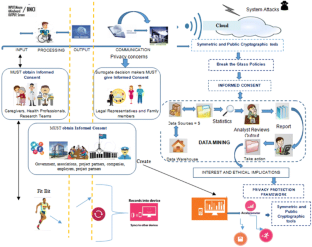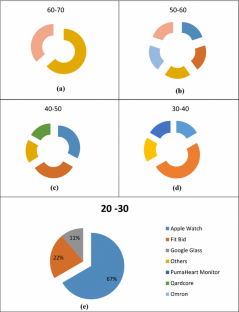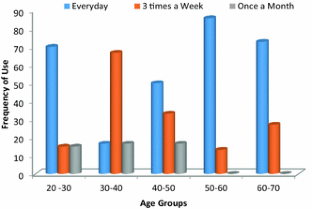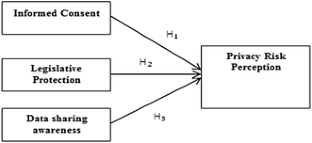 References
Bjorn, H. (2013). Ethical challenges with welfare technology: A review of the literature. Science and Engineering Ethics, 19, 389–406.

Camaraa, C. L. (2015). Security and privacy issues in implanfigure wearable device: A comprehensive survey. Journal of Biomedical Informatics, 271–289.

Carmichael, C. (2014). BNCI systems as a potential assistive technology: Ethical issues and participatory research in the BrainAble project. Disability and Rehabilitation: Assistive Technology, 9, 41–47.

Chana, M. (2012). Current status and future challenges. Artificial Intelligence in Medicine, 56, 137–156.

Colclasure, S. (2014). Bid data requires a renewal of policies. Privacy Journal, 2–5.

Itani, W., Kayssi, A. (2012). Security and privacy in body sensor networks: Challenges, solutions and research directions. In E-Healthcare Systems and Wireless Communications: Current and Future Challenges (pp. 100–127). Information Science References.

Jacquemard, T. (2014). Challenges and opportunities of lifelof tecnologies: A literature review and critical analysis. Science and Engineering, 20, 379–409.

Kanjo, E., & Al-Husain, L. (2015). Emotions in context: Examining pervasive affective sensing systems, applications, and analyses. Personal and Ubiquitous Computing, 19, 1197–1212.

Kapadial, A. (2014). Virtual walls: Protecting digital privacy in pervasive enviroments. Computer Science Journal, 234–256.

Kotsios, A. (2015). Privacy in an augmented reality. International Journal of Law and Information Technology, 23, 157–185.

Novitzky, P. (2014). Challenges and opportunities of lifelog technologies: A literature review and critical analysis. Science and Engineering, 20, 379–409.

Page, T. (2015a). Privacy issues surrounding wearable technology. I-Manager's Journal on Information Technology, 4, 1–16.

Page, T. (2015b). A Forecast of the Adoption of Wearable technology. International Journal of Technology Diffusion, 6, 12–29.

Safavi, S. (2014). Conecptual privacy framework for health information on wearable devices. Plus One, 9, 9–12.

Spring, H. R. (2009). Improving caregivers' well-being by using technology to manage nighttime activity in persons with dementia. Research in Gerontological Nursing, 2, 39–48.

Wagemakers, S., & Van Zoonen, L. (2014). Giving meaning to RFID and cochlear implants. IEEE Technology and Society Magazine, 33, 73–80.

Williams, L. (2010). Wireless mobile medical devices. In Electrical and Computer Engineering Design Handbook (pp. 1–20).

Wu, F. (2013). Security analysis and improvement of a privacy authentication scheme for telecare medical information systems. Journal of Medical Systems, 4, 56–67.

Yeslam, A.-S. (2015). The use of data mining by private health insurance copmanies and customer's privacy. Bioethics and Information technology, 24, 281–292.
Acknowledgements
We are grateful to Mrs. Katherine Bell from Faculty of Business, Justice and Behavioral Sciences and Angelika Maag from the study center for proof reading and making corrections to this article. Without their support, it would have not been possible to submit this in the current form.
Appendix: Hypothesis Questions
Appendix: Hypothesis Questions
Informed Consent
1.

I believe it is important to sign an informed consent agreement before using a wearable devices.

2.

Informed consent from users of wearable devices is an important ethical and legal obligation.

3.

Informed consent forms for wearable devices should be in plain language.

4.

I should be informed of the risks involved in sharing my personal information with non-authorized third parties when using a wearable device.

5.

It is not ethical for companies to share my personal information without my consent.
Legislative Protection
1.

I believe that Legislative Protection would protect me from the misuse of my personal health data.

2.

Violation of the health information that I have provided to wearable devices should be able to be addressed via legal means.

3.

I believe that the practices of how wearable device providers collect, use, and protect my private health information should be governed and interpreted.

4.

I believe that anyone use my personal information should ask your permission before using it.
Data Sharing Awareness
1.

I feel comfortable with the type of health information the wearable device collects from me.

2.

I believe that the wearable device is designed in a way that protects your privacy and data.

3.

The health information that is collected by the wearable device is very sensitive to me.

4.

There is too much uncertainty associated with giving my personal health information to vendors providing wearable devices.

5.

There is a high potential for loss associated with disclosing my personal health information to vendors providing wearable devices.

6.

If my health data was unknowingly shared with third party via the app I would be upset.
Privacy Risk Perception (Dependent Variable) Findings
1.

Self-responsibility of wearable technology users plays an important role in privacy matters.

2.

Risks and benefits, and their associated uncertainties in the wearable devices were also commonly not included in the informed consent.

3.

People with limited English proficiency have difficulties in reading level of informed consent documents and that can leads to a risk.

4.

Simplifying Informed Consent Forms May Improve user Satisfaction and reduce the privacy risk perception.

5.

Privacy is the most common open-ended risks associated with owning a wearable device.
Being unaware is a most common open-ended risks associated with owning a wearable device.
About this article
Cite this article
Segura Anaya, L.H., Alsadoon, A., Costadopoulos, N. et al. Ethical Implications of User Perceptions of Wearable Devices. Sci Eng Ethics 24, 1–28 (2018). https://doi.org/10.1007/s11948-017-9872-8
Received:

Accepted:

Published:

Issue Date:
Keywords
Wearable devices

Privacy

Informed consent

Users

Patients

Security

Health