Abstract
In recent years, identity theft has been growing in the academic world. Cybercriminals create fake profiles for prominent scientists in attempts to manipulate the review and publishing process. Without permission, some fraudulent journals use the names of standout researchers on their editorial boards in the effort to look legitimate. This opinion piece, highlights some of the usual types of identity theft and their role in spreading junk science. Some general guidelines that editors and researchers can use against such attacks are presented.
This is a preview of subscription content, log in to check access.
Access options
Buy single article
Instant access to the full article PDF.
US$ 39.95
Price includes VAT for USA
Subscribe to journal
Immediate online access to all issues from 2019. Subscription will auto renew annually.
US$ 99
This is the net price. Taxes to be calculated in checkout.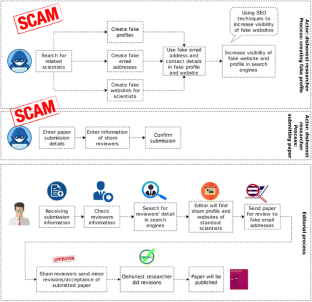 References
Beall, J. (2016). Dangerous predatory publishers threaten medical research. Journal of Korean Medical Science, 31(10), 1511–1513. doi:10.3346/jkms.2016.31.10.1511.

Dadkhah, M., & Bianciardi, G. (2016). Hackers Spy Scientists. Indian Pediatrics, 53(11), 1027.

Dadkhah, M., Borchardt, G., & Lagzian, M. (2016). Do you ignore information security in your journal website? Science and Engineering Ethics. doi:10.1007/s11948-016-9849-z.

Haug, C. J. (2015). Peer-review fraud-hacking the scientific publication process. New England Journal of Medicine, 373(25), 2393–2395. doi:10.1056/NEJMp1512330.

Mercuri, R. T. (2006). Scoping identity theft. Communications of the ACM, 49(5), 17–21. doi:10.1145/1125944.1125961.

Nelson, B. (2016). Rise of the predators: Business is booming in the murky global market of suspect and sham publishers and journals. Cancer Cytopathology, 124(4), 227–228. doi:10.1002/cncy.21717.

Steen, R. G. (2011). Retractions in the scientific literature: Is the incidence of research fraud increasing? Journal of Medical Ethics, 37(4), 249–253. doi:10.1136/jme.2010.040923.
Ethics declarations
Conflict of Interest
The authors declare no conflict of interest.
About this article
Cite this article
Dadkhah, M., Lagzian, M. & Borchardt, G. Identity Theft in the Academic World Leads to Junk Science. Sci Eng Ethics 24, 287–290 (2018). https://doi.org/10.1007/s11948-016-9867-x
Received:

Accepted:

Published:

Issue Date:
Keywords
Junk science

Identity theft

Fake peer review

Academic misconduct