Abstract
Article retraction in research is rising, yet retracted articles continue to be cited at a disturbing rate. This paper presents an analysis of recent retraction patterns, with a unique emphasis on the role author self-cites play, to assist the scientific community in creating counter-strategies. This was accomplished by examining the following: (1) A categorization of retracted articles more complete than previously published work. (2) The relationship between citation counts and after-retraction self-cites from the authors of the work, and the distribution of self-cites across our retraction categories. (3) The distribution of retractions written by both the author and the editor across our retraction categories. (4) The trends for seven of our nine defined retraction categories over a 6-year period. (5) The average journal impact factor by category, and the relationship between impact factor, author self-cites, and overall citations. Our findings indicate new reasons for retractions have emerged in recent years, and more editors are penning retractions. The rates of increase for retraction varies by category, and there is statistically significant difference of average impact factor between many categories. 18 % of authors self-cite retracted work post retraction with only 10 % of those authors also citing the retraction notice. Further, there is a positive correlation between self-cites and after retraction citations.
This is a preview of subscription content, log in to check access.
Access options
Buy single article
Instant access to the full article PDF.
US$ 39.95
Price includes VAT for USA
Subscribe to journal
Immediate online access to all issues from 2019. Subscription will auto renew annually.
US$ 99
This is the net price. Taxes to be calculated in checkout.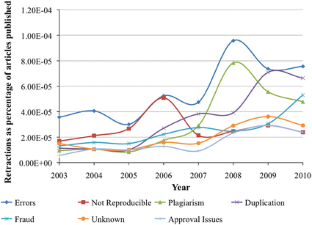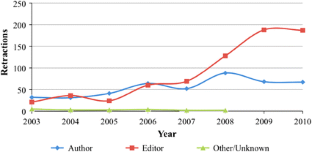 References
Broadus, R. N. (1983). An Investigation of the validity of bibliographic citations. Journal of the American Society for Information Science, 34(2), 132–135. doi:10.1002/asi.4630340206.

Campanario, J. (2000). Fraud: Retracted articles are still being cited. Nature, 408(6810), 288.

Cokol, M., Ozbay, F., & Rodriguez-Esteban, R. (2008). Retraction rates are on the rise. EMBO Reports, 9(1), 2. doi:10.1038/sj.embor.7401143.

Couzin, J., & Unger, K. (2006). Cleaning up the paper trail. Science, 312(5770), 38–43. doi:10.1126/science.312.5770.38.

Fang, F. C., Steen, R. G., & Casadevall, A. (2012). Misconduct accounts for the majority of retracted scientific publications. Proceedings of the National Academy of Sciences, 109(42), 17028–17033. doi:10.1073/pnas.1212247109.

Franzen, M., Rodder, S., & Weingart, P. (2007). Fraud: Causes and culprits as perceived by science and the media. EMBO Reports, 8(1), 3–7. doi:10.1038/sj.embor.7400884.

Friedman, P. J. (1990). Correcting the literature following fraudulent publication. JAMA: TheJournal of the American Medical Association, 263(10), 1416.

Neale, A. V., Dailey, R. K., & Abrams, J. (2009). Analysis of citations to biomedical articles affected by scientific misconduct. Science and Engineering Ethics, 16(2), 251–261. doi:10.1007/s11948-009-9151-4.

Redman, B. K., Yarandi, H. N., & Merz, J. F. (2008). Empirical developments in retraction. Journal of Medical Ethics, 34(11), 807–809. doi:10.1136/jme.2007.023069.

Simkin, M., & Roychowdhury, V. (2006). Do you sincerely want to be cited? Or: Read before you cite. Significance, 3(4), 179–181. doi:10.1111/j.1740-9713.2006.00202.x.

Sox, H. C., & Rennie, D. (2006). Research misconduct, retraction, and cleansing the medical literature: Lessons from the Poehlman case. Annals of Internal Medicine, 144(8), 609.

Steen, R. G. (2011). Retractions in the scientific literature: Is the incidence of research fraud increasing? Journal of Medical Ethics, 37(4), 249–253. doi:10.1136/jme.2010.040923.

Unger, K., & Couzin, J. (2006). Even retracted papers endure. Science, 312(5770), 40–41. doi:10.1126/science.312.5770.40.

Wager, E., Barbour, V., Yentis, S., Kleinert, S., et al. (2009). Retractions: Guidance from the Committee on Publication Ethics (COPE). Maturitas, 64(4), 201–203.

Wager, E., & Williams, P. (2011). Why and how do journals retract articles? An Analysis of medline retractions 1988–2008. Journal of Medical Ethics. doi:10.1136/jme.2010.040964. http://www.ncbi.nlm.nih.gov/pubmed/21486985.

Zitt, M., Ramanana-Rahary, S., & Bassecoulard, E. (2005). Relativity of citation performance and excellence measures: From cross-field to cross-scale effects of field-normalisation. Scientometrics, 63(2), 373–401. doi:10.1007/s11192-005-0218-y.
Acknowledgments
This publication was supported in part by Grant Number UL1RR024979 from the National Center for Research Resources (NCRR), a part of the National Institutes of Health (NIH). Its contents are solely the responsibility of the authors and do not necessarily represent the views of the CTSA or NIH. We also thank Todd Papke for his comments on this work.
About this article
Cite this article
Madlock-Brown, C.R., Eichmann, D. The (lack of) Impact of Retraction on Citation Networks. Sci Eng Ethics 21, 127–137 (2015). https://doi.org/10.1007/s11948-014-9532-1
Received:

Accepted:

Published:

Issue Date:
Keywords
Scientific misconduct

Publication ethics

Citation networks

Retractions