Abstract
This work identified new treatments to develop red raspberries for baking applications for better consumer appeal. Fresh or frozen fruits are often incorporated in baked products such as muffins and pies. These baked products are very popular due to their fresh, fruity flavor. Raspberries are used as an ingredient in many foods due to their delicious flavor. However, the incorporation of red frozen raspberries turns the baked product red due to syneresis during baking. In this study, we developed baking-stable red raspberries to minimize syneresis during baking. We applied three treatments to the red raspberries: vacuum impregnation with low methoxyl pectin and calcium chloride at 20 °C and a vacuum level of 50.8 kPa, for 7 min; partial dehydration using hot air at a dry bulb temperature of 65 °C until the final water content of 0.65 g H2O/g fruit was reached; and edible coatings at different concentrations. Treated berries were stored in a freezer at − 35 °C for 2 months. We determined the mechanical properties, drip loss, and visual integrity of the frozen-thawed red raspberries before baking to select appropriate coatings. Raspberry muffins were then baked to 204 °C for 20 min. We determined the syneresis from the baked fruit using an image analyzer. Findings indicate that sodium alginate coating on red raspberries at 0.4% (w/v) resulted in minimal syneresis in baked muffins at 13.9%, while commercially frozen raspberries showed syneresis at 62.9%. The maximum force (FM) and gradient (GC) values as firmness indicators were improved from control berries (7.45 N and 2.06 N/mm, respectively) to treated berries (21.16 N and 7.06 N/mm, respectively).
Access options
Buy single article
Instant access to the full article PDF.
USD 39.95
Price excludes VAT (USA)
Tax calculation will be finalised during checkout.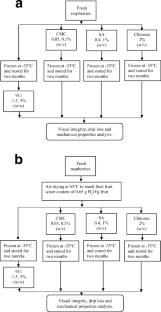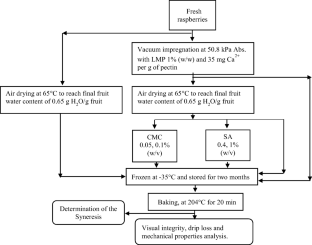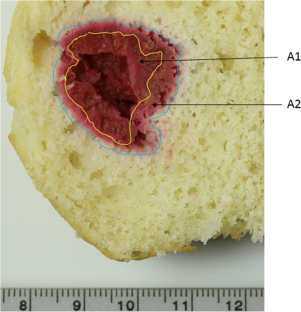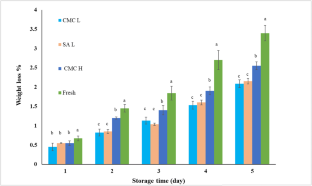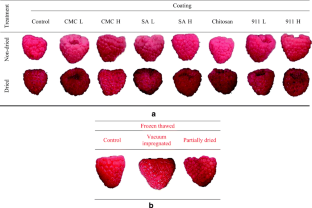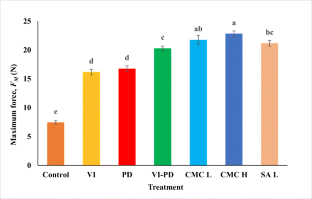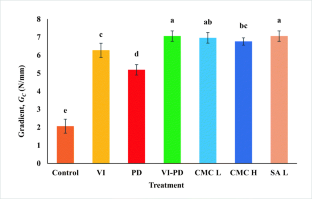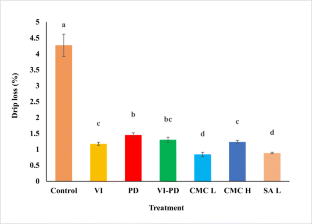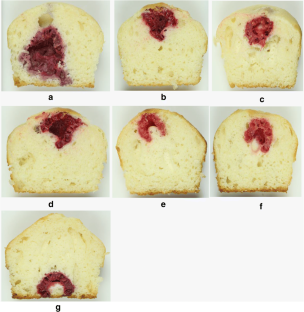 References
Aditi, M., Shashirekha, M. N., & Sudha, M. L. (2016). Characterization and bake stability of dry fruits fillings in dehydrated chiku (Manilkara zapota L.P. Royen) incorporated biscuit. Journal of Texture Studies, 48(3), 231–240. https://doi.org/10.1111/jtxs.12232.

Agudelo, A., Varela, P., Sanz, T., & Fiszman, S. (2014). Formulating fruit fillings. Freezing and baking stability of a tapioca starch-pectin mixture model. Food Hydrocolloids, 40, 203–213.

Basu, A., Rhone, M., & Lyons, T. (2010). Berries: emerging impact on cardiovascular health. Nutrition Reviews, 68(3), 168–177.

Basu, S., & Shivhare, U. S. (2010). Rheological, textural, micro-structural and sensory properties of mango jam. Journal of Food Engineering, 100(2), 357–365.

Ben Haj Said, L., Bellagha, S., & Allaf, K. (2016). Dehydrofreezing of apple fruits; freezing profiles, freezing characteristics, and texture variation. Food and Bioprocess Technology, 9(2), 252–261.

Bolling, B. W., DiMarco, D. M., Lainas, K., & Kranz, S. (2016). Raspberry juice. In F. Shahidi & C. Alasalvar (Eds.), Handbook of functional beverages and human health (pp. 527–534). Boca Raton: CRC Press Taylor & Francis Group.

Bowen-Forbes, C., Zhang, Y., & Nair, M. (2010). Anthocyanin content, antioxidant, anti-inflammatory and anticancer properties of blackberry and raspberry fruits. Journal of Food Composition and Analysis, 23(6), 554–560.

Cropotova, J., Tylewicz, U., Dellarosa, N., Laghi, L., Romani, S., & Dalla Rosa, M. (2016). Effect of freezing on microstructure and degree of syneresis in differently formulated fruit fillings. Food Chemistry, 195, 71–78.

Cropotova, J., & Popel, S. (2013a). Influence of different hydrocolloids on physicochemical and heat-stable properties of fruit fillings. The Annals of the University Dunarea De Jos of Galati. Fascicle VI. Food Technology, 37, 59–67.

Cropotova, J., & Popel, S. (2013b). A way to prevent syneresis in fruit fillings prepared with gellan gum. Scientific Papers, Series D. Animal Science, 56, 326–329.

de Vries, J. (2004). Hydrocolloid gelling agents and their applications. In P. A. Williams & G. O. Phillips (Eds.), Gums and stabilizers for the food industry 12 (pp. 23–31). Cambridge: Royal Society of Chemistry.

Draget, K., Skjåk-Bræk, G., & Smidsrød, O. (1997). Alginate based new materials. International Journal of Biological Macromolecules, 21(1-2), 47–55.

Draget, K., Moe, S., Skjak-Broek, G., & Smidsrød, O. (2006). Alginates, In: Food polysaccharides and their applications. In A. Stephen, G. Phillips, & P. Williams (Eds.), Food Science and Technology (Vol. 1995, 2nd ed., pp. 245–286). Boca Raton: CRC/Taylor & Francis.

Hernandez-Muñoz, P., Almenar, E., Del Valle, V., Velez, D., & Gavara, R. (2008). Effect of chitosan coating combined with postharvest calcium treatment on strawberry (Fragaria x ananassa) quality during refrigerated storage. Food Chemistry, 110(2), 428–435. https://doi.org/10.1016/j.foodchem.2008.02.020.

James, C., Purnell, G., & James, S. (2014). A critical review of dehydrofreezing of fruits and vegetables. Food and Bioprocess Technology, 7(5), 1219–1234.

Jiang, H., Sun, Z., Jia, R., Wang, X., & Huang, J. (2016). Effect of chitosan as an antifungal and preservative agent on postharvest blueberries. Journal of Food Quality, 39(5), 516–523.

Maestrelli, A., Lo Scalzo, R., Lupi, D., Bertolo, G., & Torreggiani, D. (2001). Partial removal of water before freezing: cultivar and pre-treatments as quality factors of frozen muskmelon (Cucumis melo, cv reticulatus Naud.). Journal of Food Engineering, 49(2-3), 255–260.

Martínez-Monzó, J., Baret, J. M., González-Martínez, C., Chiralt, A., & Fito, P. (2000). Changes in thermal properties of apple due to vacuum impregnation. Journal of Food Engineering, 43(4), 213–218.

Miller, M., & Shukitt-Hale, B. (2012). Berry fruit enhances beneficial signaling in the brain. Journal of Agricultural and Food Chemistry, 60(23), 5709–5715.

Mizrahi, S. (2010). Syneresis in food gels and its implications for food quality. In L. H. Skibsted, J. Risbo, & M. L. Andersen (Eds.), Chemical deterioration and physical instability of food and beverages (pp. 324–348). Cambridge: Woodhead Publishing, Ltd..

Murray, J. C. (2009). Cellulosics. In G. O. Phillips & P. A. Williams (Eds.), Handbook of hydrocolloids (2nd ed., pp. 710–722). Boca Raton: Publishing Limited.

Nadim, Z., Ahmadi, E., Sarikhani, H., & Amiri Chayjan, R. (2015). Effect of methylcellulose-based edible coating on strawberry fruit's quality maintenance during storage. Journal of Food Processing and Preservation, 39(1), 80–90.

Pátkai, G. (2012). Fruit and fruit products as ingredients. In N. Sinha, J. Sidhu, J. Barta, J. S. Wu, & M. Cano (Eds.), Handbook of fruits and fruit processing (2nd ed., pp. 270–274). Hoboken: John Wiley & Sons.

Pavlath, A., & Orts, W. (2009). Edible films and coatings: why, what and how? In K. C. Huber & M. E. Embuscado (Eds.), Edible films and coatings for food applications (pp. 16–19). Springer New York: New York.

Quintanilla, A., Mencia, A., Powers, J., Rasco, B., Tang, J., & Sablani, S. S. (2018). Vacuum impregnation of firming agents in red raspberries. Journal of the Science of Food and Agriculture, 98(10), 3706–3714. https://doi.org/10.1002/jsfa.8878.

Quintanilla, A., Mencia, A., Powers, J., Rasco, B., Tang, J., & Sablani, S. S. (2020). Developing vacuum-impregnated dehydrofrozen red raspberries with improved mechanical properties. Drying Technology Journal, 1–11. https://doi.org/10.1080/07373937.2020.1789654.

Radziejewska-Kubzdela, E., Bieganska-Marecik, R., & Kidon, M. (2014). Applicability of vacuum impregnation to modify physico-chemical, sensory and nutritive characteristics of plant origin products–A review. International Journal of Molecular Sciences, 15(9), 16577–16610.

Ramallo, L. A., & Mascheroni, R. H. (2010). Dehydrofreezing of pineapple. Journal of Food Engineering, 99(3), 269–275.

Reyes-Avalos, M. C., Minjares-Fuentes, R., Femenia, A., Contreras-Esquivel, J. C., Quintero-Ramos, A., Esparza-Rivera, J. R., & Meza-Velazquez, J. A. (2019). Application of an alginate-chitosan edible film on figs (Ficus carica): Effect on bioactive compounds and antioxidant capacity. Food and Bioprocess Technology, 12(3), 499–511.

Rodriguez, A., Bruno, E., Paola, C., Campaoñe, L., & Mascheroni, R. (2019). Experimental study of dehydration processes of raspberries (Rubus idaeus) with microwave and solar drying. Ciência e Tecnologia de Alimentos, 39(2), 336–343.

Sette, P., Salvatory, D., & Schebor, C. (2016). Physical and mechanical properties of raspberries subjected to osmotic dehydration and further dehydration by air- and freeze-drying. Food and Bioproducts Processing, 100, 156–171.

Sherer, G. W. (1989). Mechanics of syneresis I. Theory. Journal of Non-Crystalline Solids, 108(1), 18–27.

Sormani, A., Maffi, D., Bertolo, G., & Torreggiani, D. (1999). Textural and structural changes of dehydrofreeze-thawed strawberry slices: Effects of different dehydration pretreatments/Cambios texturales y estructurales de rodajas de fresa deshidratadas y descongeladas: efectos de diferentes pretratamientos de deshidratación. Food Science and Technology International, 5, 479–485.

Tapia, M., Rojas-Graü, M. A., Carmona, A., Rodriguez, F. J., Soliva-Fortuni, R., & Martin-Belloso, O. (2008). Use of alginate-and gellan-based coatings for improving barrier, texture and nutritional properties of fresh-cut papaya. Food Hydrocolloid, 22(8), 1493–1503.

Vargas, M., Albors, A., Chiralt, A., & González-Martinéz, C. (2006). Quality of cold-stored strawberries as affected by chitosan-oleic acid edible coatings. Postharvest Biology and Technology, 41(2), 164–171. https://doi.org/10.1016/j.postharvbio.2006.03.016.

Xie, J., & Zhao, Y. (2004). Use of vacuum impregnation to develop high quality and nutritionally fortified frozen strawberries. Journal of Food Processing and Preservation, 28(2), 117–132.

Yang, H., Wu, Q., Ng, L. Y., & Wang, S. (2017). Effects of vacuum impregnation with calcium lactate and pectin methylesterase on quality attributes and chelate-soluble pectin morphology of fresh-cut papayas. Food and Bioprocess Technology, 10(5), 901–913.

Yang, Z., Zou, X., Li, Z., Huang, X., Zhai, X., Zhang, W., Shi, J., & Haroon, E. (2019). Improved postharvest quality of cold stored blueberry by edible coating based on composite gum arabic/roselle extract. Food and Bioprocess Technology, 12(9), 1537–1547.

Young, N. W., Kappel, G., & Bladt, T. (2003). A polyuronan blend giving novel synergistic effects and bake-stable functionality to high soluble solids fruit fillings. Food Hydrocolloids, 17(4), 407–418. https://doi.org/10.1016/S0268-005X(03)00032-8.

Zhu, D., Guo, R., Li, W., Song, J., & Cheng, F. (2019). Improved postharvest preservation effects of Pholiota nameko mushroom by sodium alginate-based edible composite coating. Food and Bioprocess Technology, 12(4), 587–598.
Acknowledgments
The first author gratefully acknowledges the support and generosity of CONACYT, without which the present study could not have been completed.
Funding
This research was funded in part by the Washington State Department of Agriculture Specialty Crop Block Grant Program #K1772.
Ethics declarations
Conflict of interest
The authors declare no competing interests.
Additional information
Publisher's Note
Springer Nature remains neutral with regard to jurisdictional claims in published maps and institutional affiliations.
About this article
Cite this article
Quintanilla, A., Zhang, H., Powers, J. et al. Developing Baking-Stable Red Raspberries with Improved Mechanical Properties and Reduced Syneresis. Food Bioprocess Technol 14, 804–816 (2021). https://doi.org/10.1007/s11947-021-02599-x
Received:

Accepted:

Published:

Issue Date:

DOI: https://doi.org/10.1007/s11947-021-02599-x
Keywords