Abstract
Phytosterols are used to lower the blood cholesterol. β-Sitosterol is one of the most important phytosterols with very poor water solubility and bioaccessibility. The main goal of the current research was to investigate the effects of different emulsification variables (i.e. shear, time, pressure and cycle) on the physicochemical properties, release behaviour and encapsulation efficiency of β-sitosterol in water-in-oil-in water (W/O/W) emulsion. Initially, 19 β-sitosterol emulsions were prepared under different experimental conditions (shear 3000 and 6000 rpm; time 2.5 and 5 min; pressure 100, 200 and 300 bar; cycle 1–3). In this study, the β-sitosterol emulsion prepared at 6000 rpm, 5 min, 300 bar and 3 cycles had the smallest average droplet size (139 nm) among all prepared samples. The interaction between shear and time showed the most significant (P < 0.05) effect on the polydispersity index (PDI) and turbidity of the β-sitosterol emulsion. Increasing homogenization pressure and cycle led to improving emulsion stability and encapsulation efficiency. The β-sitosterol emulsion homogenised at 100 bar for 1 cycle had the highest encapsulation efficiency (81.7%) among all samples. The optimization study showed that the emulsification at 300 bar for 3 cycles resulted in the most desirable β-sitosterol emulsion.
This is a preview of subscription content, log in to check access.
Access options
Buy single article
Instant access to the full article PDF.
US$ 39.95
Price includes VAT for USA
Subscribe to journal
Immediate online access to all issues from 2019. Subscription will auto renew annually.
US$ 99
This is the net price. Taxes to be calculated in checkout.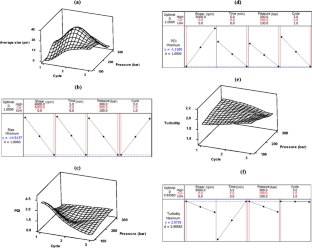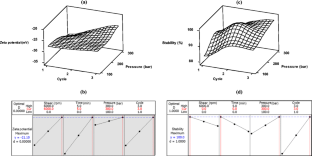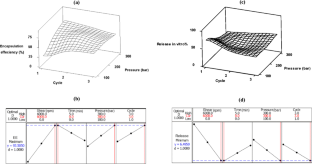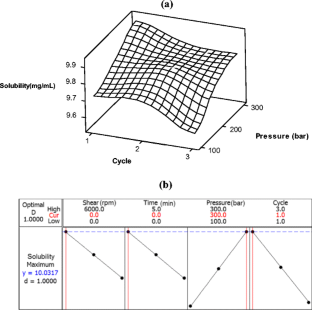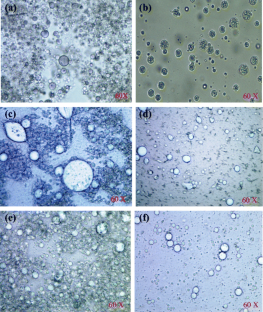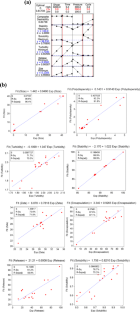 References
Anarjan, N., Tan, C. P., Mirhosseini, H., & Bin Baharin, B. S. (2011). Effect of processing conditions on physicochemical properties of sodium caseinate-stabilized astaxanthin nanodispersions. LWT- Food Science and Technology, 44, 1658–1665.

Araújo, B. D. C. L., Silva, L. S., Galvão, A. M. M., Ferreira, R. A. M., Araújo, L. E., Randau, P. K., & Soares, A. L. L. (2013). Total phytosterol content in drug materials and extracts from roots of Acanthospermum hispidum by UV-VIS spectrophotometry. Revista Brasileira de Farmacognosia, 23, 736–742.

Bai, L., & McClements, D. J. (2016). Development of microfluidization methods for efficient production of concentrated nanoemulsion: comparison of single- and dual-channel microfluidizers. Journal of Colloid and Interface Science, 466, 206–212.

Benichou, A., Aserin, A., & Garti, N. (2007). W/O/W double emulsions stabilized with WPI–polysaccharide complexes. Colloids and Surfaces, A: Physicochemical and Engineering Aspects, 294, 20–32.

Cano-Chauca, M., Stringheta, P. C., Ramos, A. M., & Cal-Vidal, J. (2005). Effect of the carriers on the microstructure of mango powder obtained by spray drying and its fictional characterization. Innovative Food Science & Emerging Technologies, 5, 420–428.

Chen, Q., McGillivray, D., Wen, J., Zhong, F., & Quek, S. Y. (2013). Co-encapsulation of fish with phytosterol esters and limonene by milk proteins. Journal of Food Engineering, 117, 505–512.

Desrumaux, A., Loisel, C., & Marcand, J. (2000). Performances of a new high pressure homogenizer to make fine food emulsions. Engineering and Food, 1, 633–637.

Dickinson, E. (2012). Use of nanoparticles and microparticles in the formation and stabilization of food emulsions. Trends in Food Science & Technology, 24(1), 4–12.

Galooyak, S. S., Dabir, B., & Zolfaghari, M. (2015). An innovative numerical approach for simulation of emulsion formation in a microfluidizer. Colloids and Surfaces, A: Physicochemical and Engineering Aspects, 487, 169–179.

Garti, N., & Lutz, R. (2004). Recent progress in double emulsions. Interf Sci Techno., 4, 557–605.

Giroux, J. H., Robitaille, G., & Britten, M. (2016). Controlled release of casein-derived peptides in the gastrointestinal environment by encapsulation in water-in-oil-in-water doubleemulsions. LWT- Food Science and Technology, 69, 225–232.

Hayes, M. G., & Kelly, A. L. (2003). High pressurehomogenisation of raw whole bovine milk (a) effects on fat globule size and other properties. The Journal of Dairy Research, 70(3), 297–305.

Hebishy, E., Buffa, M., Guamis, B., Blasco-Moreno, A., & Trujillo, A. J. (2015). Physical and oxidative stability of whey protein oil-in-water emulsions produced by conventional and ultra high-pressure homogenization: effects of pressure and protein concentration on emulsion characteristics. Food Sci Emerg Technol, 32, 79–90.

Hemar, Y., Cheng, L. J., Luz Sanguansri, O., & Augustin, M. (2010). Encapsulation of resveratrol using water-in-oil-in-water double emulsion. Food Biophysics, 5, 120–127.

Hernández-Marín, N. Y., Lobato-Calleros, C., Román-Guerrero, A., Alvarez-Ramirez, J., & Vernon-Carter, E. J. (2016). Physical properties and release behaviour of caffeine multiple emulsions stabilized by binary or ternary biopolymer soluble complexes under acid, bile and yogurt storage conditions. Food Hydrocolloids, 58, 42–48.

Hou, Z., Liu, Y., Lei, F., & Gao, Y. (2014). Investigation into the in vitro release properties of β-carotene in emulsions stabilized by different emulsifiers. LWT- Food Science and Technology, 59, 867–873.

Jafari, S. M., Assadpoor, E., He, Y., & Bhandari, B. (2008). Re-coalescence of emulsion droplets during high-energy emulsification. Food Hydrocolloids, 22(7), 1191–1202.

Kim, N. S., Lee, J. H., Han, K. M., Kim, J. W., Cho, S., & Kim, J. (2014). Discrimination of commercial cheeses from fatty acid profiles and phytosterol contents obtained by GC and PCA. Food Chemistry, 143, 40–47.

Lee, L., Hancocks, R., Noble, I., & Norton, I. T. (2014). Production of water-in-oil nanoemulsions using high pressurehomogenisation: a study on droplet break-up. Journal of Food Engineering, 131, 33–37.

Leong, W. F., Lai, O. M., Long, K., Che Man, Y. B., Misran, M., & Tan, C. P. (2011). Preparation and characterisation of water-soluble phytosterol nanodispersions. Food Chemistry, 129, 77–83.

McClements, D. J. (2012). Crystals and crystallization in oil-in-water emulsions: implications for emulsion-based delivery systems. Advances in Colloid and Interface Science, 174, 1–30.

McClements, D. J. (2005a). Emulsion stability, in food emulsions principles, practices, and techniques. Florida: CRC Press.

McClements, D. J. (2005b). Interfacial properties and their characterization, in: Food emulsions: principles, practices, and techniques. CRC Press LLC.

Menéndez-Carreño, M., Knol, D., & Janssen, H. (2016). Development and validation of methodologies for the quantification of phytosterols and phytosterol oxidation products in cooked and baked food products. Journal of Chromatography. A, 1428, 316–325.

Mirhosseini, H., & Tabatabaee Amid, B. (2012). Influence of chemical extraction conditions on the physicochemical and functional properties of polysaccharide gum from durian (Duriozibethinus) seed. Molecules, 17, 6465–6480.

Mirhosseini, H., Tan, C. P., Aghlara, A., Hamid, N. S. A., Yusof, S., & Chern, B. H. (2008). Influence of pectin and CMC on physical stability, turbidity loss rate, cloudiness and flavor release of orange beverage emulsion during storage. Carbohydrate Polymers, 73, 83–91.

Mirhosseini, H., & Tan, C. P. (2009). Response surface methodology and multivariate analysis of equilibrium headspace concentration of orange beverage emulsion as function of emulsion composition and structure. Food Chemistry, 115, 324–333.

Pan, Y., & Nitin, N. (2016). Real-time measurements to characterize dynamics of emulsion interface during simulated intestinal digestion. Colloids and Surfaces, B: Biointerfaces, 141, 233–241.

Peng, J., Dong, W. J., Li, L., Xu, J. M., Jin, D. J., & Xia, X. J. (2015). Effect of high pressure homogenization preparation on mean globule size and large-diameter tail of oil-in-water injectable emulsions. J Food Drug., 23, 828–835.

Pua, C. K., Nazimah, S. A. H., Tan, C. P., Mirhosseini, H., Abd. Rahman, R., & Rusul, G. (2010). Optimization of drum drying processing parameters for production of jackfruit (Artocarpus heterophyllus) powder using response surface methodology. LWT- Food Science and Technology, 43, 343–349.

Qian, C., & McClements, D. J. (2011). Formation of nanoemulsions stabilized by model food-grade emulsifiers using high-pressure homogenization: factors affecting particle size. Food Hydrocolloids, 25, 1000–1008.

Rocha-Selmi, G. A., Bozza, F. T., Thomazini, M., Bolin, H. M. A., & Fávaro-Trindade, C. S. (2013). Microencapsulation of aspartame by double emulsion followed by complex coacervation to provide protection and prolong sweetness. Food Chemistry, 139, 72–78.

Samaram, S., Mirhosseini, H., Tan, C. P., & Ghazali, H. (2014). Ultrasound-assisted extraction and solvent extraction of papaya seed oil: crystallization and thermal behavior, saturation degree, color and oxidative stability. Indust Crop Sci., 52, 702–708.

San Martín-González, M. F., Roach, A., & Harte, F. (2009). Rheological properties of corn oil emulsion stabilized by commercial micellar casein and high pressure homogenization. LWT- Food Science and Technology, 42, 307–311.

Schuch, A., Wrenger, J., & Schuchmann, H. P. (2014). Production of W/O/W double emulsions. Part II: Influence of emulsification device on the release of water by coalescence. Colloids and Surfaces, A: Physicochemical and Engineering Aspects, 461, 344–351.

Sharma, V., Anandhakumar, S., & Sasidharan, M. (2015). Self-degrading niosomes for encapsulation of hydrophilic and hydrophobic drugs: an efficient carrier for cancer multi-drug delivery. Materials Science and Engineering, 56, 393–400.

Stefanović, A.B., Jovanović, J.R., Dojčinović, M.B., Lević, S.M., Nedović, V.A., Bugarski, B.M., Knežević-Jugović, Z.D. 2017. Effect of the controlled high-intensity ultrasound on improving functionality and structural changes of egg white proteins. Food Bioprocess Techno, doi: 10.1007/s11947-017-1884-5.

Tabatabaee Amid, B., & Mirhosseini, H. (2014). Stabilization of water in oil in water (W/O/W) emulsion using protein isolated-conjugated durian seed gum: enhancement of interfacial activity through conjugation process. Colloids and Surfaces, B: Biointerfaces, 113, 107–114.

Tang, S. Y., Shridharan, P., & Manickam, S. (2013). Impact of process parameters in the generation of novel aspirin nanoemulsions—comparative studies between ultrasound cavitation and microfluidizer, Ultrason. Sonochemistry, 20, 485–497.

De Barros Fernandes, R. V., Silva, E. K., Borges, S. V., De Oliveira, C. R., Yoshida, M. I., Da Silva, Y. F., Do Carmo, E. L., Azevedo, V. M., & Botrel, D. A. (2017). Proposing novel encapsulating matrices for spray-dried ginger essential oil from the whey protein isolate-inulin/maltodextrin blends. Food and Bioprocess Technology, 10(1), 115–130.

Zhang, J., Bing, L., & Reineccius, G. A. (2016). Comparison of modified starch and Quillaja saponins in the formation and stabilization of flavor nanoemulsions. Food Chemistry, 192, 53–59.
Acknowledgments
We appreciate the financial support by University Putra Malaysia to support this study through Putra grant (GP-IPT/2013/94191600/GRANT PUTRA).
About this article
Cite this article
Momeny, E., Mirhosseini, H. & Sarker, M.I. Effect of Medium-High Energy Emulsification Condition on Physicochemical Properties of β-Sitosterol Multiple Emulsion. Food Bioprocess Technol 10, 1642–1654 (2017). https://doi.org/10.1007/s11947-017-1932-1
Received:

Accepted:

Published:

Issue Date:
Keywords
β-Sitosterol

Phytosterol

Nanoemulsifiation

Encapsulation efficiency

Release behaviour

Emulsion stability

Cholesterol