Abstract
Water content is one of the variables affecting light scattering in foods, which on time determine gloss, translucence, and transparency. The objective of this study was to evaluate the effect of freeze-drying, humidification, and storage time on the changes of light distribution inside fruit tissues and their relationship with glass transition and proton mobility. Sliced and powdered freeze-dried apple, pear, and melon humidified at different relative humidities were employed. All the studied materials were translucent when fresh and became opaque after the freeze-drying process. In freeze-dried sliced fruits, the cellular structure contributed to maintain air inside the matrices, and then the opacity of the materials was almost constant, independently of the relative humidity. In the powdered materials, the compacted structure retained less air than sliced samples, and the powders were translucent due to the lower number of light-matter interfaces than in the porous-dried fruits, leading to a lower internal diffusion. The opacity decrease when increasing the water mass fraction followed a variation parallel to the Tg curve. Opacity decrease occurred at T-Tg values above 38 °C and was coincident with the observation of a proton population of higher mobility than that observed below the water content hydration limit value. Proton mobility at a molecular scale could thus be related to supramolecular events affecting food appearance, and this information may help to develop food products with the desired appearance.
Access options
Buy single article
Instant access to the full article PDF.
USD 39.95
Price includes VAT (USA)
Tax calculation will be finalised during checkout.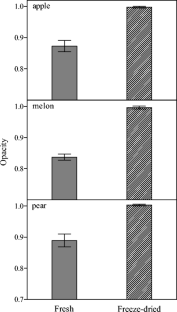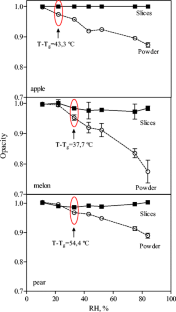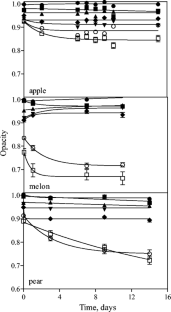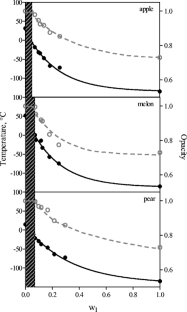 References
Acevedo, N., Briones, V., Buera, M., & Aguilera, J. (2008). Microstructure affects the rates of chemical, physical and color changes during storage of dried apple discs. Journal of Food Engineering, 85(2), 222–231.

Agudelo-Laverde, L. M., Schebor, C., & Buera, M. P. (2014a). Evaluation of structural shrinkage on freeze-dried fruits by image analysis: effect of relative humidity and heat treatment. Food and Bioprocess Technology, 7(9), 2618–2626.

Agudelo-Laverde, L. M., Schebor, C., & Buera, M. P. (2014b). Proton mobility for the description of dynamic aspects of freeze-dried fruits. Journal of Food Engineering, 125, 44–50.

Bhandari, B. R., & Howes, T. (1999). Implication of glass transition for drying and stability of dried foods. Journal of Food Engineering, 40, 71–79.

Bazardeh, M. E., & Esmaiili, M. (2014). Sorption isotherm and state diagram in evaluating storage stability for sultana raisins. Journal of Stored Products Research, 59, 140–145.

Caivano, J. (1991). Cesia: a system of visual signs complementing color. Color Research and Application, 16(4), 258–268.

Caivano, J. L. (1994). Appearance (cesia): construction of scales by means of spinning disks. Color Research and Application, 19, 351–362.

Caivano, J. L. (1996). Cesia: its relation to color in terms of the trichromatic theory. Die Farbe, 4(1/3), 51–63.

Caivano, J.L., Menghi, I., & Iadisernia, N. (2004). Cesia and paints: an atlas of cesia with painted samples. AIC 2004 Color and Paints, Interim Meeting of the International Color Association, Proceedings.

Chen, C. C., & Paull, R. E. (2001). Fruit temperature and crown removal on the occurrence of pineapple fruit translucency. Scientia Horticulturae, 88, 85–95.

Demco, D. E., Oros-Peusquens, A. M., Utiu, L., Fechete, R., Blümich, B., & Jon Shah, N. (2013). Molecular dynamics parameter maps by 1H Hahn echo and mixed-echo phase-encoding MRI. Journal of Magnetic Resonance, 227, 1–8.

Farroni, A. E., & Buera, M. P. (2014). Cornflake production process: state diagram and water mobility characteristics. Food and Bioprocess Technology, 7, 2902–2911.

Greenspan, L. (1977). Humidity fixed points of binary saturated aqueous solutions. Journal of Research, 8, 89–96.

Hahn, E. L. (1950). Spin echoes. Physical Review, 80(4), 580–594.

Hutchings, J. B., Ronnier Lou, M., & Ji, W. (2013). Food appearance quality assessment and specification in: instrumental assessment of food sensory quality, a practical guide. Cambrige UK: Woodhead Publishing.

Kiani, H., & Sun, D. W. (2011). Water crystallization and its importance to freezing of foods: a review. Trends in Food Science & Technology, 22, 407–426.

Kirtil, E., & Oztop, M. H. (2016). 1H nuclear magnetic resonance relaxometry and magnetic resonance imaging and applications in food science and processing. Food Engineering Reviews, 8, 1–22.

Lana, M. M., Tijskens, L. M. M., & Kooten, O. (2006). Modelling RGB colour aspects and translucency of fresh-cut tomatoes. Postharvest Biology and Technology, 40, 15–25.

Lozano, R. (1978). El color y su medición. Buenos Aires: Editorial América Lee.

MacDougall, D. B. (2002). In MacDougall (Ed.), Colour in food improving quality. Boca Ratón: CRC Press.

MacDougall, D. B. (2010). Color measurement. In Principles, advances and industrial applications. Cambrige: Woodhead Publishing.

Mayor, L., Moreira, R., & Sereno, A. M. (2011). Shrinkage, density, porosity and shape changes during dehydration of pumpkin (Cucurbita pepo L.) fruits. Journal of Food Engineering, 103, 29–37.

Papadakis, S., Abdul-Malek, S., Kandem, R., & Yam, K. (2000). A versatile and inexpensive technique for measuring colour of foods. Food Technology, 54(12), 48–51.

Roos, Y. H. (1993). Water activity and physical state effects on amorphous food stability. Journal of Food Processing and Preservation, 16(6), 433–447.

Saarela, J. M. S., Heikkinen, S. M., Fabritius, T. E. J., Haapala, A. T., & Myllylä, R. A. (2008). Refractive index matching improves optical object detection in paper. Measurement Science and Technology, 19, 1–7.

Schmidt, S. J. (2004). Water and solid mobility in foods. Advances in Food and Nutrition Research, 48, 1–101.

Talens, P., Martínez-Navarrete, P., Fito, N., & Chiralt, A. (2002). Changes in optical and mechanical properties during osmodehydrofreezing of kiwi fruit. Innovative Food Science & Emerging Technologies, 3, 191–199.

Voda, A., Homan, N., Witek, M., Duijster, A., van Dalen, G., van der Sman, R., et al. (2012). The impact of freeze-drying on microstructure and rehydration properties of carrot. Food Research International, 49, 687–693.
Acknowledgments
The authors acknowledge financial support from UBACYT 20020130100443BA and ANPCYT (PICT-2013 1331).
Additional information
María del Pilar Buera and Carolina Schebor are Members of FCEN-UBA, CONICET, Buenos Aires, Argentina.
About this article
Cite this article
Agudelo-Laverde, L.M., Acevedo, N., Schebor, C. et al. Opacity Studies in Dehydrated Fruits in Relation to Proton Mobility and Supramolecular Aspects. Food Bioprocess Technol 9, 1674–1680 (2016). https://doi.org/10.1007/s11947-016-1751-9
Received:

Accepted:

Published:

Issue Date:
Keywords
Opacity

Freeze-dried fruits

Glass transition

Nuclear magnetic resonance

Humidification