Abstract
Two different approaches, blending and layer-by-layer electrostatic deposition (LbL), were utilized to combine two biopolymers, gelatin and chitosan, in edible films or coatings. The performance of the blended and LbL composite films and single-component gelatin and chitosan films was compared in terms of mechanical, optical, and spectroscopic properties. In parallel, edible coatings based on these formulations were applied on a food model: fresh-cut melon. Physiological, textural, and microbiological parameters of the coated fruit were studied in comparison with non coated control. Surprisingly, in spite of the higher thickness, the composite films and especially the LbL formulation demonstrated enhanced water vapor permeability as compared to single-component films. The LbL film had higher strength and better elasticity than the blended one. All edible coatings containing chitosan effectively inhibited microbial growth on fresh-cut melons. The LbL formulation demonstrated the most effective inhibition of the total microbial growth especially after 5–7 days of storage, while the blended formulation demonstrated high antifungal activity after 11 days of storage. The LbL formulation demonstrated superior performance in preservation of fruit texture and also slightly reduced fruit weight loss, while the blended formulation did not improve these parameters. Both composite coatings do not obstruct fruit gas exchange and do not cause accumulation of off-flavor volatiles.
Access options
Buy single article
Instant access to the full article PDF.
USD 39.95
Price excludes VAT (USA)
Tax calculation will be finalised during checkout.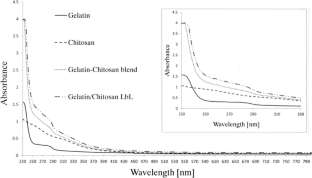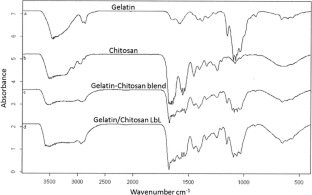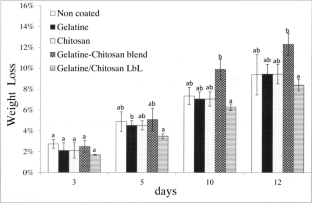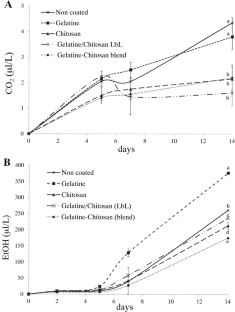 References
Abugoch, L. E., Tapia, C., Villaman, M. C., Yazdani-Pedram, M., & Diaz-Dosque, M. (2011). Characterization of quinoa protein-chitosan blend edible films. Food Hydrocolloids, 25(5), 879–886.

ASTM (2005) Standard test methods for water vapor transmission of materials (E96-05) Philadelphia, PA, USA

ASTM (2009) Test standard for determination of moisture in plastics by loss in weight (D6980-09) Philadelphia, PA, USA

Baldwin, E., Hagenmaier, R., & Bai, J. (2011). Edible coating and films to improve food quality (2nd ed.). Florida: CRC Press, Tailor & Francis Group.

Brasil, I. M., Gomes, C., Puerta-Gomez, A., Castell-Perez, M. E., & Moreira, R. G. (2012). Polysaccharide-based multilayered antimicrobial edible coating enhances quality of fresh-cut papaya. Food Science and Technology, 47(1), 39–45.

Campos, C. A., Gerschenson, L. N., & Flores, S. K. (2011). Development of edible films and coatings with antimicrobial activity. Food and Bioprocess Technology, 4(6), 849–875.

Dhall, R. (2013). Advances in edible coatings for fresh fruits and vegetables: a review. Critical Reviews in Food Science and Nutrition, 53(5), 435–450.

Dutta, P. K., Tripathi, S., Mehrotra, G. K., & Dutta, J. (2009). Perspectives for chitosan based antimicrobial films in food applications. Food Chemistry, 114(4), 1173–1182.

Elsabee, M. Z., & Abdou, E. S. (2013). Chitosan based edible films and coatings: a review. Materials Science & Engineering C-Materials for Biological Applications, 33(4), 1819–1841.

Fakhoury, F. M., Martelli, S. M., Bertan, L. C., Yamashita, F., Mei, L. H. I., & Queiroz, F. P. C. (2012). Edible films made from blends of manioc starch and gelatin—influence of different types of plasticizer and different levels of macromolecules on their properties. Food Science and Technology, 49(1), 149–154.

Falguera, V., Quintero, J. P., Jimenez, A., Munoz, J. A., & Ibarz, A. (2011). Edible films and coatings: structures, active functions and trends in their use. Trends in Food Science & Technology, 22(6), 292–303.

Gennadios, A. (2002). Soft gelatin capsules. In A. Gennadios (Ed.), Protein-based films and coatings (Vol. 1, pp. 1–41). Boca Raton: CRC Press.

Gomez-Estaca, J., De Lacey, A. L., Lopez-Caballero, M. E., Gomez-Guillen, M. C., & Montero, P. (2010). Biodegradable gelatin-chitosan films incorporated with essential oils as antimicrobial agents for fish preservation. Food Microbiology, 27(7), 889–896.

Greenspan, L. (1977). Humidity fixed points of binary saturated aqueous solutions. Journal of Research of the National Bureau of Standards - A. Physics and Chemistry, 81(1), 89–96.

Hammond, P. T. (2012). Building biomedical materials layer-by-layer. Materials Today, 15(5), 196–206.

Han, J. H., & Gennadios, A. (2005). Edible films and coatings: a review. Innovations in Food Packaging, Elsevier Academic Press, Amsterdam, 15, 239–262.

Hosseini, S. F., Rezaei, M., Zandi, M., & Ghavi, F. F. (2013). Preparation and functional properties of fish gelatin-chitosan blend edible films. Food Chemistry, 136(3–4), 1490–1495.

Indrani, B., Ravindra, C. P., & Kane, R. S. (2011). Antifouling coatings: recent developments in the design of surfaces that prevent fouling by proteins, bacteria, and marine organisms. Advances Materials, 23(6), 690–718.

Johansson, C., Bras, J., Mondragon, I., Nechita, P., Plackett, D., Simon, P., Svetec, D. G., Virtanen, S., Baschetti, M. G., Breen, C., Clegg, F., & Aucejo, S. (2012). Renewable fibers and bio-based materials for packaging applications—a review of recent developments. Bioresources, 7(2), 2506–2552.

Lavalle, P., Voegel, J. C., Vautier, D., Senger, B., Schaaf, P., & Ball, V. (2011). Dynamic aspects of films prepared by a sequential deposition of species: perspectives for smart and responsive materials. Advanced Materials, 23(10), 1191–1221.

Lima, C. G. A., De Oliveira, R. S., Figueiro, S. D., Wehmann, C. F., Goes, J. C., & Sombra, A. S. B. (2006). DC conductivity and dielectric permittivity of collagen-chitosan films. Materials Chemistry and Physics, 99(2–3), 284–288.

Ludovic, R., Lavalle, P., Payan, E., Shu, X. Z., Prestwich, G. D., Stoltz, J. F., Schaaf, P., Voegel, J. C., & Picart, C. (2004). Layer by layer buildup of polysaccharide films: physical chemistry and cellular adhesion aspects. Langmuir, 20(2), 448–458.

Martinez-Camacho, A. P., Cortez-Rocha, M. O., Ezquerra-Brauer, J. M., Graciano-Verdugo, A. Z., Rodriguez-Felix, F., Castillo-Ortega, M. M., Yepiz-Gomez, M. S., & Plascencia-Jatomea, M. (2010). Chitosan composite films: thermal, structural, mechanical and antifungal properties. Carbohydrate Polymers, 82(2), 305–315.

McHugh, H., Avena-Bustillos, R., & Krochta, J. (1993). Hydrophilic edible films: modified procedure for water vapor permeability and explanation of thickness effects. Journal of Food Science, 58(4), 899–903.

Medeiros, B. G., Carneiro da Cunha, M. G., & Vicente, A. A. (2012). Development and characterization of a nano multilayer coating of pectin and chitosan—evaluation of its gas barrier properties and application on 'Tommy Atkins' mangoes. Journal of Food Engineering, 110(3), 457–464.

Pereda, M., Ponce, A. G., Marcovich, N. E., Ruseckaite, R. A., & Martucci, J. F. (2011). Chitosan-gelatin composites and bi-layer films with potential antimicrobial activity. Food Hydrocolloids, 25(5), 1372–1381.

Poverenov, E., Danino, S., Horev, B., Granit, R., Vinokur, Y., & Rodov, V. (2014). Layer-by-layer electrostatic deposition of edible coating on fresh cut melon model: anticipated and unexpected effects of alginate-chitosan combination. Food and Bioprocess Technology, 7(5), 1424–1432.

Pranoto, Y., Lee, C. M., & Park, H. J. (2007). Characterizations of fish gelatin films added with gellan and κ-carrageenan. LWT- Food Science and Technology, 40(5), 766–774.

Rivero, S., García, M. A., & Pinotti, A. (2009). Composite and bi-layer films based on gelatin and chitosan. Journal of Food Engineering, 90(4), 531–539.

Ruiz, H. A., Cerqueira, M. A., Silva, H. D., Rodriguez-Jasso, R. M., Vicente, A. A., & Teixeira, J. A. (2013). Biorefinery valorization of autohydrolysis wheat straw hemicellulose to be applied in a polymer-blend film. Carbohydrate Polymers, 92(2), 2154–2162.

Vargas, M., Pastor, C., Chiralt, A., McClements, J. D., & González-Martínez, C. (2008). Recent advances in edible coatings for fresh and minimally processed fruits. Critical Reviews in Food Science and Nutrition, 48(6), 496–511.

Zivanovic, S., Li, J., Davidson, P. M., & Kit, K. (2007). Physical, mechanical, and antibacterial properties of chitosan/PEO blend films. Biomacromolecules, 8(5), 1505–1510.
Acknowledgments
The research leading to these results has received funding from the Chief Scientist of the Israeli Ministry of Agriculture and Rural Development, grant no. 421-0227-12 and the European Union Seventh Framework Programme (FP7/2007/2013) under grant agreement no. 289719 (Project QUAFETY). This paper is a contribution from the Agricultural Research Organization, The Volcani Center, Bet Dagan, Israel, no. 676/13.
About this article
Cite this article
Poverenov, E., Rutenberg, R., Danino, S. et al. Gelatin-Chitosan Composite Films and Edible Coatings to Enhance the Quality of Food Products: Layer-by-Layer vs. Blended Formulations. Food Bioprocess Technol 7, 3319–3327 (2014). https://doi.org/10.1007/s11947-014-1333-7
Received:

Accepted:

Published:

Issue Date:

DOI: https://doi.org/10.1007/s11947-014-1333-7
Keywords