Abstract
The simultaneous effects of slurry concentration (25–35 % w/w), enzyme concentration (0.5–2.5 % w/w) and liquefaction time (30–90 min) on the yield, total solids and rheological parameters of oat milk developed were studied and optimised by the application of response surface methodology. The effect of independent and dependent variables have been studied using a central composite rotatable design of experiments. Power law model explains the flow behaviour of the developed oat milk samples with correlation coefficient (R 2) varying from 0.89 to 0.96. All the formulations exhibited pseudo plastic behaviour with the flow behaviour index (n) between 0.29 and 0.46 and consistency index varying from 1.033 to 10.22 Pa sn. Statistical analysis showed that yield, total solids and rheology of oat milk were significantly (p < 0.05) correlated to slurry concentration, enzyme concentration and liquefaction time. The optimum conditions for making oat milk were: 27.1 % w/w slurry concentration, 2.1 % w/w enzyme concentration and liquefaction time of 49 min.
Access options
Buy single article
Instant access to the full article PDF.
USD 39.95
Price excludes VAT (USA)
Tax calculation will be finalised during checkout.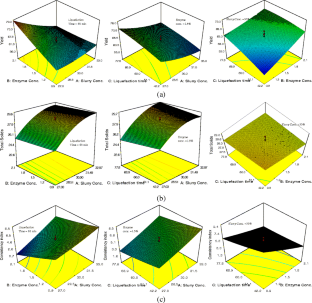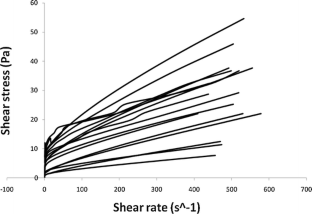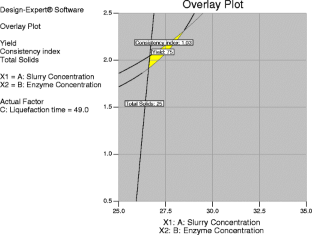 References
Aiyer, P. V. (2005). Amylases and their applications. African Journal of Biotechnology, 4(13), 1525–1529.

Anderson, J. W., Spencer, D. B., Hamilton, C. C., Smith, S. F., Tietyen, J., Bryant, C. A., & Oeltgen, P. (1990). Oat-bran cereal lowers serum total and LDL cholesterol in hypercholesterolemic men. American Journal of Clinical Nutrition, 52(3), 495–499.

Angioloni, A., & Collar, C. (2012). Suitability of oat, millet and sorghum in breadmaking. Food and Bioprocess Technology, 6(6), 1486–1493.

AOAC (1990). Official methods of analysis, 15th edn. Association of Official Analytical Chemists, method no. 930.25. Arlington: VA.

Braaten, J. T., Wood, P. J., Scott, F. W., Wolynetz, M. S., Lowe, M. K., Bradley-White, P., & Collins, M. W. (1994). Oat beta-glucan reduces blood cholesterol concentration in hypercholesterolemic subjects. European Journal of Clinical Nutrition, 48(7), 465–474.

Bratt, K., Sunnerheim, K., Bryngelsson, S., Fagerlund, A., Engman, L., Andersson, R. E., & Dimberg, L. H. (2003). Avenanthramides in oats (Avena sativa L.) and structure-antioxidant activity relationships. Journal of Agriculture and Food Chemistry, 51(3), 594–600.

Bricarello, L. P., Kasinski, N., Bertolami, M. C., Faludi, A., Pinto, L. A., Relvas, W. G., Izar, M. C., Ihara, S. S., Tufik, S., & Fonseca, F. A. (2004). Comparison between the effects of soy milk and non-fat cow milk on lipid profile and lipid peroxidation in patients with primary hypercholesterolemia. Nutrition, 20(2), 200–204.

Carr, M. E., Black, L. T., & Bagby, M. O. (1982). Continuous enzymatic liquefaction of starch for saccharification. Biotechnology and Bioengineering, 24(11), 2441–2449.

Charm, S. E. (1963). The nature and role of fluid consistency in food engineering applications. Advances in Food Research, 11, 355–435. In: Chichester CO, Mrak EM, Stewart GF (eds); Academic Press.

Choi, S. P., Nguyen, M. T., & Sim, S. J. (2010). Enzymatic pretreatment of Chlamydomonas reinhardtii biomass for ethanol production. Bioresource Technology, 101(14), 5330–5336.

Derringer, G., & Suich, R. (1980). Simultaneous optimization of several response variables. Journal of Quality Technology, 12(4), 214–219.

Gajdošová, A., Petruláková, Z., Havrlentová, M., Červená, V., Hozová, B., Šturdík, E., & Kogan, G. (2007). The content of water-soluble and water-insoluble β-d-glucans in selected oats and barley varieties. Carbohydrates Polymers, 70(1), 46–52.

Hallfrisch, J., Scholfield, D. J., & Behall, K. M. (1995). Diets containing soluble oat extracts improve glucose and insulin responses of moderately hypercholesterolemic men and women. American Journal of Clinical Nutrition, 61(2), 379–384.

Hoover, R. (2000). Acid-treated starches. Food Review International, 16(3), 369–392.

İbanoğlu, E. (2002). Rheological behaviour of whey protein stabilized emulsions in the presence of gum arabic. Journal of Food Engineering, 52(3), 273–277.

Jun-Liang, S., Xin-Hua, L., Jie, Z., Guang-Lei, L., & Rui-Xiang, Z. (2008). Study on preparation technology of dextrin using medium and high temperature α-amylases. Food Science, 29, 312–315.

Kirby, R. W., Anderson, J. W., Sieling, B., Rees, E. D., Chen, W. J., Miller, R. E., & Kay, R. M. (1981). Oat-bran intake selectively lowers serum low-density lipoprotein cholesterol concentrations of hypercholesterolemic men. Americian Journal of Clinical Nutrition, 34(5), 824–829.

Liu, T. T., & Wang, D. W. (2006). Study on function of thickening and stabilization of maltodextrin in ice cream. Food Science, 27, 233–236.

Lucyna, S., Danuta, W., & Grześkowiak, A. (2003). Liquefaction of starch by thermostable alpha-amylase. Technologia Alimentaria, 2(2), 17–26.

Ma, Y., Cai, C., Wang, J., & Sun, D.-W. (2006). Enzymatic hydrolysis of corn starch for producing fat mimetics. Journal of Food Engineering, 73(3), 297–303.

Marcotte, M., Taherian Hoshahili, A. R., & Ramaswamy, H. S. (2001). Rheological properties of selected hydrocolloids as a function of concentration and temperature. Food Research International, 34(8), 695–703.

Moore, G. R. P., Canto, L. R., Amante, E. R., & Soldi, V. (2005). Cassava and corn starch in maltodextrin production. Química Nova, 28, 596–600.

Morgan, K., Phillips, G. O., & Williams, P. A. (2000). Handbook of hydrocolloids. Boca Raton: CRC Press.

Peterson, D. M. (2001). Oat antioxidants. Journal of Cereal Science, 33(2), 115–129.

Ramos-de-la-Peña, A. M., Renard, C. M. G. C., Wicker, L., Montañez, J., de la Luz, R. V. M., Voget, C., & Contreras-Esquivel, J. C. (2012). Enzymatic liquefaction of jicama (Pachyrhizus erosus) tuberous roots and characterization of the cell walls after processing. LWT—Food Science and Technology, 49(2), 257–262.

Rao MA. (2007). Application of rheology to fluid food handling and processing. Rheology of Fluid and Semisolid Foods. Food Engineering Series, 427–469. Springer, New York.

Robert, L. S., Nozzolillo, C., Cudjoe, A., & Altosaar, I. (1983). Total solubilization of groat proteins in high protein oat (Avena sativa L. cv. Hinoat): evidence that glutelins are a minor component. Canadian Institute of Food Science and Technology, 16(3), 196–200.

Rohwer, R., & Klem, R. E. (1984). Acid-modified starch: production and uses. In R. L. Whistler, J. N. Bemiller, & E. F. Paschall (Eds.), Starch chemistry and technology (pp. 529–541). New York: Academic.

Sharma, P., & Gujral, H. (2012). Extrusion of hulled barley affecting β-glucan and properties of extrudates. Food and Bioprocess Technology, 1–16.

Simuang, J., Chiewchan, N., & Tansakul, A. (2004). Effects of fat content and temperature on the apparent viscosity of coconut milk. Journal of Food Engineering, 64(2), 193–197.

Singh, N. I., Dhuique-Mayer, C., & Lozano, Y. (2000). Physico-chemical changes during enzymatic liquefaction of mango pulp. Journal of Food Processing and Preservation, 24(1), 73–85.

Smith, W. F. (2005). Experimental design for formulation. Society for Industrial and Applied Mathematics. Philadelphia: SIAM.

Stoll, T., Schweiggert, U., Schieber, A., & Carle, R. (2003). Process for the recovery of a carotene-rich functional food ingredient from carrot pomace by enzymatic liquefaction. Innovative Food Science & Emerging Technologies, 4(4), 415–423.

Tester, R. F., & Karkalas, J. (1996). Swelling and gelatinization of oat starches. Cereal Chemistry, 73(2), 271–277.

Tester, R. F., Qi, X., & Karkalas, J. (2006). Hydrolysis of native starches with amylases. Animal Feed Science and Technology, 130(1–2), 39–54.

Tiwari, U., & Cummins, E. (2010). Sensitivity analysis in predictive models for assessing the level of β-glucan in oats and barley cultivars using meta-models. Food and Bioprocess Technology, 3(6), 935–945.

Tiwari, U., Cummins, E., Brunton, N., & Gallagher, E. (2012). A modelling approach to estimate the level and molecular weight distribution of β-glucan during the baking of an oat-based bread. Food and Bioprocess Technology, 5(5), 1990–2002.

Trinh, B., Trinh, K. T., & Haisman, D. (2007). Effect of total solids content and temperature on the rheological behaviour of reconstituted whole milk concentrates. The Journal of Dairy Research, 74(01), 116–123.

Will, F., Bauckhage, K., & Dietrich, H. (2000). Apple pomace liquefaction with pectinases and cellulases:analytical data of the corresponding juices. European Food Research and Technology, 211(4), 291–297.

Wood, P. J., Braaten, J. T., Scott, F. W., Riedel, K. D., Wolynetz, M. S., & Collins, M. W. (1994). Effect of dose and modification of viscous properties of oat gum on plasma glucose and insulin following an oral glucose load. British Journal of Nutrition, 72(5), 731–743.

Wurzburg, O. B. (1986). Modified starches: properties and uses. Boca Raton: CRC Press.

Zarkadas, C. G., Yu, Z., & Burrows, V. D. (1995). Assessment of the protein quality of two new Canadian-developed oat cultivars by amino acid analysis. Journal of Agriculture and Food Chemistry, 43(2), 422–428.
Acknowledgment
The authors would like to acknowledge the Department of Biotechnology, Government of India, for financial support.
About this article
Cite this article
Deswal, A., Deora, N.S. & Mishra, H.N. Optimization of Enzymatic Production Process of Oat Milk Using Response Surface Methodology. Food Bioprocess Technol 7, 610–618 (2014). https://doi.org/10.1007/s11947-013-1144-2
Received:

Accepted:

Published:

Issue Date:

DOI: https://doi.org/10.1007/s11947-013-1144-2
Keywords