Abstract
Solid lipid nanoparticles and nanostructure lipid carriers were used to entrap hesperetin and broaden confined knowledge of application of nanocarriers as the functional ingredients in food sectors. The produced nanocarriers using a high mechanical shear method were subjected to size and zeta potential analysis. The developed nanosize carriers had the encapsulation efficiency ranging from 39.90 to 63.08 %. Differential scanning calorimetry, X-ray diffraction, and Fourier transform infrared spectroscopy were also employed to study thermal behavior, crystalline state, and chemical structure. The release behavior of hesperetin in simulated gastrointestinal conditions was investigated and kinetically modeled. The modeling results indicated that the release phenomenon is mostly governed by combination of Fickian and dissolution mechanisms. Stability of the nanocarriers, as analyzed for up to 30 days, at 6 and 25 °C in aqueous suspension, showed no detectable hesperetin leakage. Cryoprotectant effect of different compounds (i.e., glucose, sorbitol, glycerin, lactose, and sucrose) was also examined. Finally, the potential capability of nanocarriers for food fortification was studied using milk as a model food. The fortified milk samples were subjected to sensory analysis and results betokened that the developed nanocarriers did not show any significant difference with blank milk sample and could well mask the bitter taste, after taste, and obviate poor solubility of hesperetin.
Access options
Buy single article
Instant access to the full article PDF.
USD 39.95
Price excludes VAT (USA)
Tax calculation will be finalised during checkout.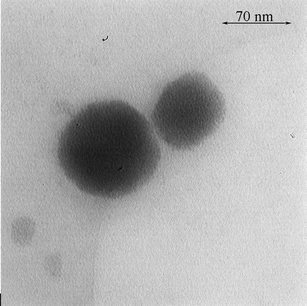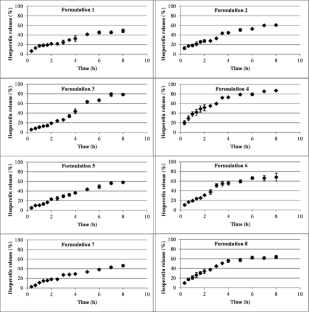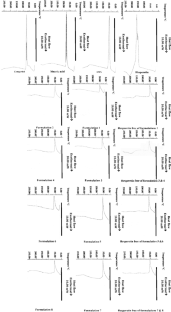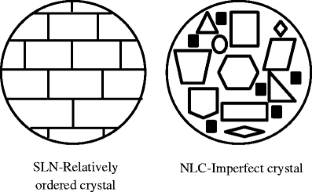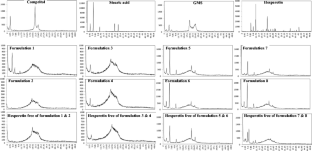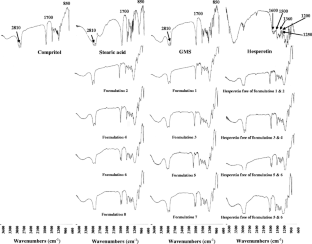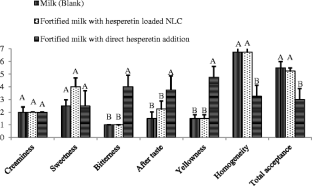 References
Acosta, E. (2006). Testing the effectiveness of nutrient delivery systems. In N. Garti (Ed.), Delivery and controlled release of bioactives in foods and nutraceuticals. Boca Raton: CRC.

Borradaile, N., Carroll, K., & Kurowska, E. (1999). Regulation of HepG2 cell apolipoprotein B metabolism by the citrus flavanones hesperetin and naringenin. Lipids, 34(6), 591–598.

Chakraborty, M., Dasgupta, S., Soundrapandian, C., Chakraborty, J., Ghosh, S., Mitra, M. K., & Basu, D. (2011). Methotrexate intercalated ZnAl-layered double hydroxide. Journal of Solid State Chemistry, 184(9), 2439–2445.

Crowe, L. M., Womersley, C., Crowe, J. H., Reid, D., Appel, L., & Rudolph, A. (1986). Prevention of fusion and leakage in freeze-dried liposomes by carbohydrates. Biochimica et Biophysica Acta (BBA) - Biomembranes, 861, 131–140.

Erlund, I. (2004). Review of the flavonoids quercetin, hesperetin, and naringenin. Dietary sources, bioactivities, bioavailability, and epidemiology. Nutrition Research, 24(10), 851–874.

Fathi, M., Mozafari, M. R., & Mohebbi, M. (2012). Nanoencapsulation of food ingredients using lipid based delivery systems. Trends in Food Science and Technology, 23, 13–27.

Ficarra, R., Tommasini, S., Raneri, D., Calabrò, M. L., Di Bella, M. R., Rustichelli, C., Gamberini, M. C., & Ficarra, P. (2002). Study of flavonoids/β-cyclodextrins inclusion complexes by NMR, FT-IR, DSC, X-ray investigation. Journal of Pharmaceutical and Biomedical Analysis, 29(6), 1005–1014.

Freitas, C., & Muller, R. H. (1998). Spray-drying of solid lipid nanoparticles (SLNTM). European Journal of Pharmaceutics and Biopharmaceutics, 46(2), 145–151.

Frost, M. B., Dijksterhuis, G., & Martens, M. (2001). Sensory perception of fat in milk. Food Quality and Preference, 12(5–7), 327–336.

Gabbott, P. (2008). A practical introduction to differential scanning calorimetry. In P. Gabbott (Ed.), Principles and applications of thermal analysis (pp. 1–50). Oxford: Blackwell.

Hentschel, A., Gramdorf, S., Müller, R. H., & Kurz, T. (2008). β-Carotene-loaded nanostructured lipid carriers. Journal of Food Science, 73(2), N1–N6.

Higuchi, T. (1963). Mechanism of sustained-action medication: theoretical analysis of rate of release of solid drugs dispersed in solid matrices. Journal of Pharmaceutical Sciences, 52, 1145–1149.

Horcajada, M. N., & Coxam, V. (2004). Hesperidin, a citrus flavanone, improves bone acquisition and prevents skeletal impairment in rats in nutritional aspects of osteoporosis. New York: Elsevier.

Li, F., Jin, L., Han, J., Wei, M., & Li, C. (2009). Synthesis and controlled release properties of prednisone intercalated Mg–Al layered double hydroxide composite. Industrial and Engineering Chemistry Research, 48(12), 5590–5597.

Luykx, D. M. A. M., Peters, R. J. B., van Ruth, S. M., & Bouwmeester, H. (2008). A review of analytical methods for the identification and characterization of nano delivery systems in food. Journal of Agricultural and Food Chemistry, 56(18), 8231–8247.

Miyagi, Y., Om, A. S., Chee, K. M., & Bennink, M. R. (2000). Inhibition of azoxymethane-induced colon cancer by orange juice. Nutrition and Cancer, 36(2), 224–229.

Müller, R. H., Radtke, M., & Wissing, S. A. (2002). Solid lipid nanoparticles (SLN) and nanostructured lipid carriers (NLC) in cosmetic and dermatological preparations. Advanced Drug Delivery Reviews, 54, S131–S155.

Nash, R. A., & Haeger, B. E. (1966). Zeta potential in the development of pharmaceutical suspensions. Journal of Pharmaceutical Sciences, 55(8), 829–837.

Pardeike, J., Hommoss, A., & Muller, R. H. (2009). Lipid nanoparticles (SLN, NLC) in cosmetic and pharmaceutical dermal products. International Journal of Pharmaceutics, 366(1–2), 170–184.

Sansone, F., Rossi, A., Del Gaudio, P., De Simone, F., Aquino, R., & Lauro, M. (2009). Hesperidin gastroresistant microparticles by spray-drying: preparation, characterization, and dissolution profiles. AAPS PharmSciTech, 10(2), 391–401.

Schwarz, C., & Mehnert, W. (1997). Freeze-drying of drug-free and drug-loaded solid lipid nanoparticles (SLN). International Journal of Pharmaceutics, 157(2), 171–179.

Sezer, A. D., Kazak, H., Oner, E. T., & Akbuga, J. I. (2011). Levan-based nanocarrier system for peptide and protein drug delivery: optimization and influence of experimental parameters on the nanoparticle characteristics. Carbohydrate Polymers, 84(1), 358–363.

So, F. V., Guthrie, N., Chambers, A. F., Moussa, M., & Carroll, K. K. (1996). Inhibition of human breast cancer cell proliferation and delay of mammary tumorigenesis by flavonoids and citrus juices. Nutrition and Cancer, 26(2), 167–181.

Tanaka, T., Makita, H., Kawabata, K., Mori, H., Kakumoto, M., Satoh, K., Hara, A., Sumida, T., & Ogawa, H. (1997). Chemoprevention of azoxymethane-induced rat colon carcinogenesis by the naturally occurring flavonoids, diosmin and hesperidin. Carcinogenesis, 18(5), 957–965.

Tomás-Barberán, F. A., & Clifford, M. N. (2000). Flavanones, chalcones and dihydrochalcones—nature, occurrence and dietary burden. Journal of the Science of Food and Agriculture, 80(7), 1073–1080.

Tommasini, S., Calabrò, M. L., Stancanelli, R., Donato, P., Costa, C., Catania, S., Villari, V., Ficarra, P., & Ficarra, R. (2005). The inclusion complexes of hesperetin and its 7-rhamnoglucoside with (2-hydroxypropyl)-[beta]-cyclodextrin. Journal of Pharmaceutical and Biomedical Analysis, 39(3–4), 572–580.

Varshosaz, J., Ghaffari, S., Khoshayand, M. R., Atyabi, F., Azarmi, S., & Kobarfard, F. (2010). Development and optimization of solid lipid nanoparticles of amikacin by central composite design. Journal of Liposome Research, 20(2), 97–104.

Varshosaz, J., Minayian, M., & Moazen, E. (2010). Enhancement of oral bioavailability of pentoxifylline by solid lipid nanoparticles. Journal of Liposome Research, 20(2), 115–123.

Venkateswarlu, V., & Manjunath, K. (2004). Preparation, characterization and in vitro release kinetics of clozapine solid lipid nanoparticles. Journal of Controlled Release, 95(3), 627–638.

Weiss, J., Decker, E. A., McClements, D. J., Kristbergsson, K., Helgason, T., & Awad, T. (2008). Solid lipid nanoparticles as delivery systems for bioactive food components. Food Biophysics, 3, 146–154.

Westesen, K., Siekmann, B., & Koch, M. H. J. (1993). Investigations on the physical state of lipid nanoparticles by synchrotron radiation X-ray diffraction. International Journal of Pharmaceutical, 93, 189–199.

Yang, S., & Washington, C. (2006). Drug release from microparticulate systems. In S. Benita (Ed.), Microencapsulation: methods and industrial applications. New York: Taylor & Francis Grou0p.

zur Muhlen, A., Schwarz, C., & Mehnert, W. (1998). Solid lipid nanoparticles (SLN) for controlled drug delivery—drug release and release mechanism. European Journal of Pharmaceutics and Biopharmaceutics, 45(2), 149–155.
Acknowledgment
The authors would like to acknowledge the Iran National Science Foundation (INSF) for financial support under grant number of 89004288.
About this article
Cite this article
Fathi, M., Varshosaz, J., Mohebbi, M. et al. Hesperetin-Loaded Solid Lipid Nanoparticles and Nanostructure Lipid Carriers for Food Fortification: Preparation, Characterization, and Modeling. Food Bioprocess Technol 6, 1464–1475 (2013). https://doi.org/10.1007/s11947-012-0845-2
Received:

Accepted:

Published:

Issue Date:

DOI: https://doi.org/10.1007/s11947-012-0845-2
Keywords
Hesperetin

Nanostructure lipid carriers

Solid lipid nanocarriers