Abstract
Ethyl acetate extracts and hydrodistillated essential oils from five cultivars of tropical citrus epicarps were evaluated for their inhibitory activities against Aspergillus fumigatus, Aspergillus niger, Aspergillus flavus, Aspergillus parasiticus, and Penicillium sp. using disk diffusion and broth microdilution assays. Essential oils prepared from kaffir lime (Citrus hystrix DC) and acid lime (Citrus aurantifolia Swingle) epicarps exhibited stronger antifungal activity to all fungi than their ethyl acetate extracts with minimum inhibitory concentration and minimum fungicidal concentration values of 0.56 and 1.13 mg/ml (dry matter), respectively, against aflatoxin-producing A. flavus and A. parasiticus. The dominant components of the essential oil from kaffir lime were limonene, citronellol, linalool, o-cymene, and camphene, whereas limonene and p-cymene were major components of acid lime essential oil. Pure limonene, citronellal, and citronellol were five to six times less fungicidal than the natural essential oils, indicating the synergistic activity of many active compounds present in the oils. Kaffir and acid lime essential oils significantly reduced aflatoxin production of A. flavus and A. parasiticus, particularly lime essential oil, which completely inhibited growth and aflatoxin production of A. flavus at the concentration of 2.25 mg/ml. Target cell damage caused by acid lime essential oil was investigated under transmission electron microscopy. Destructive alterations of plasma and nucleus membrane, loss of cytoplasm, vacuole fusion, and detachment of fibrillar layer were clearly exhibited in essential-oil-treated cells.
Access options
Buy single article
Instant access to the full article PDF.
US$ 39.95
Tax calculation will be finalised during checkout.
Subscribe to journal
Immediate online access to all issues from 2019. Subscription will auto renew annually.
US$ 79
Tax calculation will be finalised during checkout.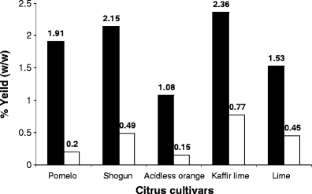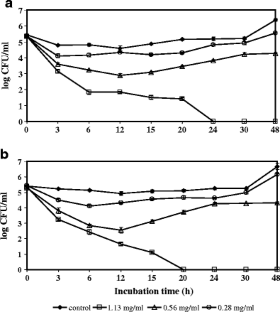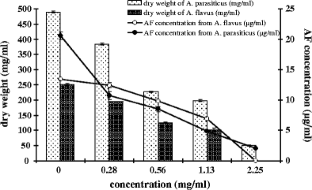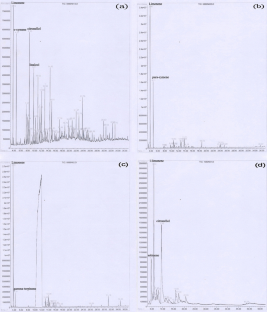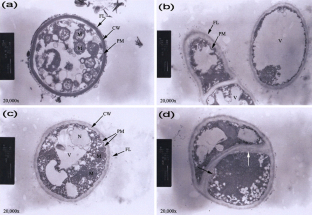 References
Agnihotri, K. V., Thappa, K. R., Meena, B., Kapahi, K. B., Saxena, K. R., Qazi, N. G., et al. (2004). Essential oil composition of aerial part of Angelica glauca growing wild in North West Himalaya (India). Phytochemistry, 652, 2400–2413.

Baratta, M. T., Dorman, H. J. D., Deans, S. G., Figueiredo, C. A., Barroso, J. G., & Ruberto, G. (1998). Antimicrobial and antioxidant properties of some commercial essential oils. Flavour and Fragrance Journal, 13, 235–244.

Belletti, N., Agijimana, M., Sisto, C., Guerzoni, M., Lanciotti, R., & Gardini, F. (2004). Evaluation of the antimicrobial activity of citrus essences on Saccharomyces cerevisiae. Journal of Agricultural and Food Chemistry, 52, 6932–6938.

Caccioni, D. R. L., Guizzardi, M., Biondi, D. M., Renda, A., & Ruberto, G. (1998). Relationship between volatile components of citrus fruit essential oils and antimicrobial action on Penicillium digitatum and Penicillium italicum. International Journal of Food Microbiology, 43, 73–79.

Chaisawadi, S., Thongbute, D., Methawiriyaslip, W., Pitakworarat, N., Chaisawadi, A., Jaturonrasamee, K., et al. (2003). Preliminary study of antimicrobial activities on medicinal herbs of Thai food ingredients: Abstract. Acta Horticulturae, 675, 111–114.

Chathaphon, S., Chantachum, S., & Hongpattarakere, T. (2008). Antimicrobial activities of essential oils and crude extracts from tropical Citrus spp. against food-related microorganisms. Songklanakarin Journal Science and Technology, 30, 125–131.

Chinaphuti, A., Trikarunasawat, C., Wongurai, A., & Kosotcharoenkul, S. (2002). Production of in-house ELISA test kit for detection of aflatoxin in agricultural commodities and their validations. Kasetsart Journal (Natural Science), 36, 179–186.

Chutia, M., Deka Bhuyan, P., Pathak, M. G., Sarma, T. C., & Boruah, P. (2009). Antifungal activity and chemical composition of Citrus reticulata Blanco essential oil against phytopathogens from North East India. LWT Food Science and Technology, 42, 777–780.

Dambolena, J. S., Lopez, A. G., Canepa, M. C., Theumer, M. G., Zygadlo, J. A., & Rubintien, H. R. (2008). Inhibitory effect of cyclic terpenes (limonene, menthol, menthone and thymol) on Fusarium verticillioides MRC 826 growth and fumonisin B1 biosynthesis. Toxicon, 51, 37–44.

Egal, S., Hounsa, A., Gong, Y. Y., Turner, P. C., Wild, C. P., Hall, A. J., et al. (2005). Dietary exposure and aflatoxin from maize and groundnut in young children from Benin and Togo, West Africa. International Journal of Food Microbiology, 104, 215–224.

Fisher, K., & Phillips, C. (2008). Potential antimicrobial uses of essential oils in food: is citrus the answer. Trends in Food Science and Technology, 19, 156–164.

Lanciotti, R., Gianotti, A., Patrignani, F., Belletti, N., Guerzoni, E. M., & Gardini, F. (2004). Use of natural aroma compounds to improve shelf-life and safety of minimally processed fruits. Trends in Food Science and Technology, 15, 201–208.

Lota, M. L., de Rocca Serra, D., Tomi, F., & Casanova, J. (2000). Chemical variability of peel and leaf essential oils of mandarins from Citrus reticulate Blanco. Biochemical Systematics and Ecology, 28, 61–78.

Mahmud, S., Saleem, M., Siddique, S., Ahmed, R., Khanum, R., & Perveen, Z. (2009). Volatile components, antioxidant and antimicrobial activity of Citrus acida var. sour lime peel oil. Journal of Saudi Chemical Society, 13, 195–198.

Matan, N., & Matan, N. (2007). Antifungal activity of anise oil, lime oil and tangerine oil against mold on rubberwood (Hevea brasiliensis). International Biodeterioration and Biodegradation, 62, 75–78.

Melendez, P. A., & Capriles, V. A. (2006). Antibacterial properties of tropical plants from Puerto Rico. Phytomedicine, 13, 272–276.

National Committee for Clinical Laboratory Standards. (2002). Reference method for broth dilution antifungal susceptibility testing of filamentous fungi; approved standard. NCCLS document M38-A. Wayne: NCCLS, [ISBN 1-56238-470-8].

Nogueira, J. H. C., Gonçalez, E., Galleti, S. R., Facanali, R., Marques, M. O. M., & Felício, J. D. (2010). Ageratum conyzoides essential oil as aflatoxin suppressor of Aspergillus flavus. International Journal of Food Microbiology, 137, 55–60.

Pawar, V. C., & Thaker, V. S. (2006). In vitro efficacy of 75 essential oils against Aspergillus niger. Mycoses, 51, 316–323.

Rasooli, I., Bagher Rezaei, B., & Allameh, A. (2006). Growth of inhibition and morphology alterations of Aspergillus niger by essential oils from Thymus erioalyx and Thymus x-porlock. Food Control, 17, 359–364.

Razzaghi-Abyaneh, M., Shams-Ghahfarokhi, M., Kawachi, M., Eslamifar, A., Schmidt, O. J., Schmidt, A., et al. (2006). Ultrastructural evidences of growth inhibitory effects of a novel biocide, Akacid®plus, on an aflatoxigenic Aspergillus parasiticus. Toxicon, 48, 1075–1082.

Razzaghi-Abyaneh, M., Shams-Ghahfarokhi, M., Rezaee, M. B., Jaimand, K., Alinezhad, S., Saberi, R., et al. (2009). Chemical composition and antiaflatoxigenic activity of Carum carvi L., Thymus vulgaris and Citrus aurantifolia essential oils. Food Control, 20, 1018–1024.

Reddy, C. S., Reddy, K. R. N., Raja Kumar, N., Laha, G. S., & Muralidharan, K. (2004). Exploration of aflatoxin contamination and its management in rice. Journal of Mycology and Plant Pathology, 34, 816–920.

Saikia, D., Khanuja, S.P.S., Kahol, A.P., Gupta, S.C., & Kumar, S. (2001). Comparative antifungal activity of essential oils and constituents from three distinct genotype of Cymbopogen spp. Current Science, 80, 1264–1266.

Samy, R. P. (2005). Antimicrobial activity of some medicinal plants from India. Fitoterapia, 76, 697–699.

Sekine, T., Sugano, M., Majid, A., & Fujii, Y. (2007). Antifungal effects of volatile compounds from black zira (Bunium persicum) and other spices and herbs. Journal of Chemical Ecology, 33, 2123–2132.

Sharma, N., & Tripathi, A. (2008). Effects of Citrus sinensis (L.) Osbeck epicarp essential oil on growth and morphogenesis of Aspergillus niger (L.) Van Tieghem. Microbiological Research, 163(3), 337–344.

Soliman, K. M., & Badeaa, R. I. (2002). Effect of oil extracted from some medicinal plants on different mycotoxigenic fungi. Food and Chemical Toxicology, 40, 1669–1675.

Sugar, A. M., & Liu, X. (1995). Comparison of three methods of antifungal susceptibility testing with the proposed NCCLS standard broth macrodilution assay: Lack of effect of phenol red. Diagnostic Microbiology and Infectious Disease, 21(3), 129–133.

Ultee, A., Bennik, M. H. J., & Moezelaar, R. (2002). The phenolic hydroxyl group of carvacrol is essential for action against the food-borne pathogen Bacillus cereus. Applied and Environmental Microbiology, 68, 1561–1568.

Vekiari, S. A., Protopapadakis, E. E., Papadopoulou, P., Papanicolaou, D., Panou, C., & Vamvakias, M. (2002). Composition and seasonal variation of essential oil from leaf and peel of Cretan lemon variety. Journal of Agricultural and Food Chemistry, 50, 147–153.

Vergopoulou, S., Galanopoulu, D., & Markaki, P. (2001). Methyl jasmonate stimulates aflatoxin B1 biosynthesis by Aspergillus parasiticus. Journal of Agricultural and Food Chemistry, 49, 3494–3498.

Viuda-Martos, M., Ruiz-Navajas, Y., Fernandez-Lopez, J., & Perez-Alvarez, J. (2008). Antifungal activity of lemon (Citrus lemon L.), mandarin (Citrus reticulata L.), grapefruit (Citrus paradise L.) and orange (Citrus sinensis L.) essential oils. Food Control, 19, 1130–1138.

Wannissorn, B., Jarekasem, S., Siriwangchai, T., & Thubthimthed, S. (2005). Antibacterial properties of essential oils from Thai medicinal plants. Fitoterapia, 76, 233–236.

Yamasaki, Y., Kunoh, H., Yamamoto, H., & Akimitsu, K. (2007). Biological role of monoterpene volatiles derived from rough lemon (Citrus jambhiri Lush) in citrus defense. Journal of General Plant Pathology, 73, 168–179.
Acknowledgements
This research was funded by the Graduate School and Nutraceutical and Functional Food Research and Development Center, Faculty of Agro-Industry, Prince of Songkla University. We express great appreciation to the Scientific Equipment Center, Prince of Songkla University for their electron microscopy facility and excellent TEM technical assistance.
About this article
Cite this article
Rammanee, K., Hongpattarakere, T. Effects of Tropical Citrus Essential Oils on Growth, Aflatoxin Production, and Ultrastructure Alterations of Aspergillus flavus and Aspergillus parasiticus . Food Bioprocess Technol 4, 1050–1059 (2011). https://doi.org/10.1007/s11947-010-0507-1
Received:

Accepted:

Published:

Issue Date:
Keywords
Citrus essential oils

Aspergillus flavus
Aspergillus parasiticus

Aflatoxin

Antifungal

TEM