Abstract
The effects of the blanching process of sweet corn on shearing stress, shearing energy, and processing recovery of kernels as well as weight and dry substance of kernels and cobs were studied. Sweet corn cobs were blanched in water, where blanching time ranged from 2 to 8 min and temperature ranged from 75 to 100 °C. Nonblanched cobs (fresh cobs) were used as control samples. It was found that all analyzed variables were significantly affected by blanching time and temperature. The average values of all analyzed variables, except moisture which decreased, increased with increasing of the blanching time and temperature. Changing the blanching time and temperature affected the dry substance of kernels and cobs, kernel and cob mass, recovery processing by increasing it, as well as the average values of shearing stress and shearing energy by decreasing them.
Access options
Buy single article
Instant access to the full article PDF.
USD 39.95
Price excludes VAT (USA)
Tax calculation will be finalised during checkout.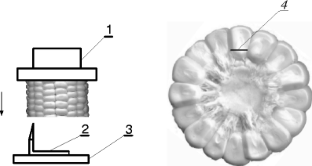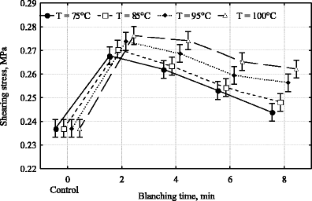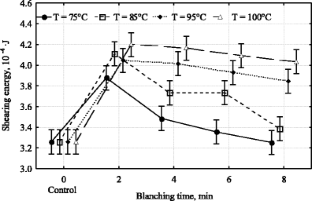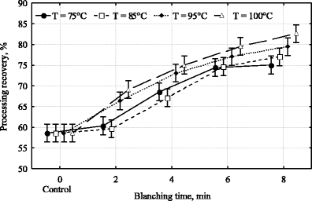 References
Afoakwa, E. O., & Yenyi, S. E. (2006). Application of response surface methodology for studying the influence of soaking, blanching and sodium hexametaphosphate salt concentration on some biochemical and physical characteristics of cowpeas (Vigna unguiculata) during canning. Journal of Food Engineering, 77(3), 713–724.

Arroqui, C., Lopez, A., Esnoz, A., & Virseda, P. (2003). Mathematic model of an integrated blancher/cooler. Journal of Food Engineering, 59, 297–307.

ASAE. (1996). Moisture measurement – Unground grain and seeds. ASAE Standards, S352.2 (43rd ed.). Michigan: American Society of Agricultural Engineering.

Azanza, F., Juvik, J. A., & Klein, B. P. (1994). Relationships between sensory quality attributes and kernel chemical composition of fresh-frozen sweet corn. Journal of Food Quality, 17, 159–172.

Barrett, D. M., & Theerakulkait, Ch. (1995). Quality indicators in blanched, frozen, stored vegetables. Food Technology, 49, 62–65.

Barrett, D. M., Garcia, E. L., Russell, G. F., Rramirez, E., & Shirazi, A. (2000). Blanch time and cultivar effects on quality of frozen and stored corn and broccoli. Journal of Food Science, 65(3), 534–540.

Bourne, M. C. (1989). How kinetic studies of detergency with Walter Jennings led to firmer textured processed vegetables and fruits. In: Proceedings of the198th American Chemical Society National Meeting, 12 September 1989, Miami, Florida, U.S.A. Washington: American Chemical Society. Division of Agricultural & Food Chemistry Abstract No. 28.

Boyes, S., Chevis, P., & Perera, C. (1997). Peroxidase isoforms of corn kernels and corn on the cob: Preparation and characteristics. Lebensmittel Wissenschaft und Technologie, 30, 192–201.

Chattopadhyay, P. S., & Pandey, K. P. (1999). Mechanical properties of sorghum stalk in relation to quasi-static deformation. Journal of Agricultural Engineering Research, 73, 199–206.

Chen, Y., Gratton, J. L., & Liu, J. (2004). Power requirements of hemp cutting and conditioning. Biosystems Engineering, 87(4), 417–424.

Chobpattana, W. (1994). Effect of cultivars, maturity and blanching time one quality of frozen whole kernel sweet corn. Dissertation, Kasetsart University, Bangkok, Thailand.

Cruz, R. M. S., Vieira, M. C., Fonseca, S. C., & Silva, C. L. M. (2009). Impact of thermal blanching and thermosonication treatments on watercress (Nasturtium officinale) quality: thermosonication process optimisation and microstructure evaluation. Food Bioprocess Technology, doi:10.1007/s11947-009-0220-0, in press.

Dignan, D. M., & Wiley, R. C. (1976). DMS levels in the aroma of cooked frozen sweet corn as affected by cultivar, maturity, blanching and packaging. Journal of Food Science, 41(2), 346–348.

Dougherty, R. H. (1975). Reduction of liquid waste loads in sweet corn processing by changing sequence of unit operations. Presented at the 35th Annual Meeting of the Institute of Food Technologists, Chicago, Ill, June 8–12, 1975. Journal Paper No. 5936. Purdue Agricultural Experiment Station, West Lafayette. IN 47907.

Encyklopedia Britannica (2009). Sweet corn. Available at: http://www.brita-nnica.com/EBchecked/topic/624615/vegetable-processing/50277/Freezing. Accessed 22 July 2009.

Feibert, E., Shock, C., Willison, G., & Saunders, M. (1996). Supersweet corn and sweet corn variety evaluations (p. 34). Oregon: Malheur Experiment Station, Oregon State University Ontario.

Grandison, A. S. (2006). Postharvest handling and preparation of foods for processing. In A. Brennan (Ed.), Food processing handbook (pp. 1–32). Germany: Wiley-VCH.

Grzeszczuk, M., Jadczak, D., & Podsiadło, C. (2007). The effect of blanching, freezing and freeze-storage on changes of some chemical compounds content in New Zealand Spinach. Vegetable Crops Research Bulletin, 66, 95–103.

Inglett, G. E. (1970). Corn: Culture, processing and products. Westport: AVI.

Kramer, A., & Smith, M. H. (1947). Effect of duration and temperature of blanch on proximate and mineral composition of certain vegetables. Industrial and Engineering Chemistry, 39(8), 1007–1009.

Lentas, K., & Witrowa-Rajchert, D. (2009). Wpływ parametrów blanszowania na właściwości mechaniczne i barwę suszu korzeni selera. Acta Agrophysica, 13(1), 165–174.

Liu, E. Z., & Scanlon, M. G. (2007). Modeling the effect of blanching conditions on the texture of potato strips. Journal of Food Engineering, 81, 292–297.

Mallett, C. P. (1994). Tecnologıa de los alimentos congelados. Madrid: AMV Ediciones.

Mohsenin, N. N. (1970). Physical properties of plant and animal materials. New York: Gordon and Breach Science.

Mukherjee, S., & Chattopadhyay, P. K. (2007). Whirling bed blanching of potato cubes and its effects on product quality. Journal of Food Engineering, 78, 52–60.

Nelson, A. I., & Steinberg, M. P. (1970). Sweet corn. In G. E. Inglett (Ed.), Corn: Culture, processing, product. Westport: AVI.

Nelson, A. I., Kempe, L. L., Norton, H. W., & Howard, L. B. (1954). Studies on the dehydration of sweet corn. Food Technology, 8, 9–14.

Niedziółka, I., & Szymanek, M. (2004). Wpływ blanszowania na wybrane właściwości mechaniczne ziarna kukurydzy cukrowej. Acta Agrophysica, 4(2), 449–457.

Niedziółka, I., Szymanek, M., & Tanaś, W. (2004). Ocena procesu mechanicznego odcinania ziarna od blanszowanych kolb kukurydzy cukrowej. Journal of Research and Applications in Agricultural Engineering, 49(4), 47–50.

Olivera, D. F., Viña, S. Z., Marani, S. M., Ferreyra, R. M., Mugridge, A., Chaves, A. R., et al. (2008). Effect of blanching on the quality of Brussels sprouts (Brassica oleracea L. gemmifera DC) after frozen storage. Journal of Food Engineering, 84(1), 148–155.

Polyak-Feher, K., Racz-Horvath, B., & Kecskes, T. (1992). Effect of blanching and ripeness on green pea peroxidase activity. Acta Alimentaria, 21, 261–274.

Pukrushpan, T., Mitchell, H. L., Greig, J. K., & Dayton, A. D. (1978). Effects of blanching on protein fractions of certain sweet corn cultivars. Journal of Agriculture and Food Chemistry, 26(2), 503–504.

Reid, D. (1991). Freezing. In D. Arthey & C. Dennis (Eds.), Vegetable processing (pp. 102–123). London: Blackie.

Rudra, S. G., Shivhare, U. S., Basu, S., & Sarkar, B. C. (2008). Thermal inactivation kinetics of peroxidase in Coriander leaves. Food Bioprocess Technology, 1, 187–195.

Selman, J. D. (1987). The blanching process. In S. Thorne (Ed.), Developments in food processing (pp. 205–249). London: Elsevier Applied Science.

Selman, J. D. (1994). Vitamin retention during blanching of vegetables. Food Chemistry, 49(2), 137–147.

Stanley, D. W., Bourne, M. C., Stone, A. P., & Wismer, W. V. (1995). Low temperature blanching effects on chemistry, firmness and structure of canned green beans and carrots. Journal of Food Science, 60, 327–333.

Togeby, M., Hansen, N., & Mosebilde, E. (1986). Modelling energy consumption, loss of firmness and enzyme inactivation in an industrial blanching process. Journal of Food Engineering, 5, 251–267.

Trongpanich, K., Stonsoavapak, S., Hengsawadi, D., & Lowitoon, N. A. (2002). Comparative study on pretreatment processes of canned whole kernel sweet corn. Kasetsart Journal (Natural Science), 36, 63–68.
About this article
Cite this article
Szymanek, M. Effects of Blanching on Some Physical Properties and Processing Recovery of Sweet Corn Cobs. Food Bioprocess Technol 4, 1164–1171 (2011). https://doi.org/10.1007/s11947-009-0246-3
Received:

Accepted:

Published:

Issue Date:

DOI: https://doi.org/10.1007/s11947-009-0246-3
Keywords