Abstract
Purpose of review
To review current treatments for trigeminal neuralgia, with an emphasis on determining which patients may benefit from neurosurgical procedures.
Recent findings
A detailed history is the most helpful tool for diagnosing trigeminal neuralgia (TN) and predicting response to neurosurgical treatments. Patients with classic trigeminal neuralgia will describe severe, unilateral, intermittent facial pain that is triggered by innocuous sensory stimuli. In most cases, pain is caused by compression of the trigeminal nerve by a blood vessel near the brainstem. Magnetic resonance imaging is necessary to rule out TN secondary to multiple sclerosis or tumor. Modern high-resolution T2 images may demonstrate neurovascular contact, particularly when analyzed by a neurosurgeon with expertise in TN. Initial management involves a trial of medication, usually carbamazepine or oxcarbazepine. Microvascular decompression (MVD) is safe and effective surgery, for patients with classic TN related to neurovascular compression. For patients with TN secondary to multiple sclerosis, and for patients who are otherwise poor candidates for MVD, neurosurgical options include percutaneous trigeminal rhizotomy and radiosurgery. Neurosurgical procedures are less effective in relieving atypical facial pain.
Summary
In the clinical evaluation of a patient with facial pain, it is important to distinguish classic trigeminal neuralgia from atypical facial pain. A patient with classic trigeminal neuralgia would benefit from neurosurgical consultation. The advent of high-resolution MRI and MRA sequences now allows a neurosurgeon to detect when neurovascular compression is likely, and select the optimal procedure for treatment.
Access options
Buy single article
Instant access to the full article PDF.
USD 39.95
Price excludes VAT (USA)
Tax calculation will be finalised during checkout.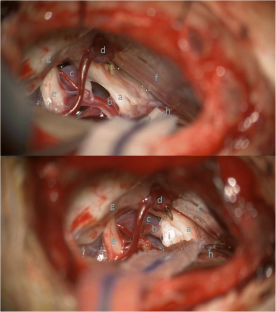 References and Recommended Reading
Papers of particular interest, published recently, have been highlighted as: • Of importance •• Of major importance
Fothergill J. Of a pain affliction of the face. Med Obs. 1773;5:129–42.

Patel SK, Liu JK. Overview and history of trigeminal neuralgia. Neurosurg Clin N Am. 2016;27(3):265–76.

Katusic S, Beard CM, Bergstralh E, Kurland LT. Incidence and clinical features of trigeminal neuralgia, Rochester, Minnesota, 1945-1984. Ann Neurol. 1990;27(1):89–95.

•• Bendtsen L, Zakrzewska JM, Abbott J, Braschinsky M, Di Stefano G, Donnet A, et al. European academy of neurology guideline on trigeminal neuralgia. Eur J Neurol. 2019;26(6):831–49 Systematic review of literature on trigeminal neuralgia produced by selected experts from the European Academy of Neurology.

society Hccotih. The international classification of headache disorders. Cephalalgia. 2013;33:629–808.

• Jannetta P. Arterial compression of the trigeminal nerve at the pons in patients with trigeminal neuralgia. J Neurosurg. 1967;26:159–62 Landmark paper first describing neurovascular compression of the trigeminal nerve in patients with trigeminal neuralgia.

Jia DZ, Li G. Bioresonance hypothesis: a new mechanism on the pathogenesis of trigeminal neuralgia. Med Hypotheses. 2010;74(3):505–7.

Devor M, Amir R, Rappaport ZH. Pathophysiology of trigeminal neuralgia: the ignition hypothesis. Clin J Pain. 2002;18(1):4–13.

Obermann M, Yoon MS, Ese D, Maschke M, Kaube H, Diener HC, et al. Impaired trigeminal nociceptive processing in patients with trigeminal neuralgia. Neurology. 2007;69(9):835–41.

Obermann M, Katsarava Z. Update on trigeminal neuralgia. Expert Rev Neurother. 2009;9(3):323–9.

Gronseth G, Cruccu G, Alksne J, Argoff C, Brainin M, Burchiel K, et al. Practice parameter: the diagnostic evaluation and treatment of trigeminal neuralgia (an evidence-based review): report of the quality standards subcommittee of the American Academy of Neurology and the European Federation of Neurological Societies. Neurology. 2008;71(15):1183–90.

Eller JL, Raslan AM, Burchiel KJ. Trigeminal neuralgia: definition and classification. Neurosurg Focus. 2005;18(5):E3.

Antonini G, Di Pasquale A, Cruccu G, Truini A, Morino S, Saltelli G, et al. Magnetic resonance imaging contribution for diagnosing symptomatic neurovascular contact in classical trigeminal neuralgia: a blinded case-control study and meta-analysis. Pain. 2014;155(8):1464–71.

Miller JP, Acar F, Hamilton BE, Burchiel KJ. Radiographic evaluation of trigeminal neurovascular compression in patients with and without trigeminal neuralgia. J Neurosurg. 2009;110(4):627–32.

Beydoun A. Safety and efficacy of oxcarbazepine: results of randomized, double-blind trials. Pharmacotherapy. 2000;20:152S–8S.

Arai YC, Hatakeyama N, Nishihara M, Ikeuchi M, Kurisuno M, Ikemoto T. Intravenous lidocaine and magnesium for management of intractable trigeminal neuralgia: a case series of nine patients. J Anesth. 2013;27(6):960–2.

Cheshire WP. Trigeminal neuralgia : a guide to drug choice. CNS Drugs. 1997;7(2):98–110.

Stavropoulou E, Argyra E, Zis P, Vadalouca A, Siafaka I. The effect of intravenous lidocaine on trigeminal neuralgia: a randomized double blind placebo controlled trial. ISRN Pain. 2014;2014:853826.

Di Stefano G, La Cesa S, Truini A, Cruccu G. Natural history and outcome of 200 outpatients with classical trigeminal neuralgia treated with carbamazepine or oxcarazepine in a tertiary center for neuropathic pain. J Headache Pain. 2014;15:34.

•• Kaufmann AM, Price AV. A history of the Jannetta procedure. J Neurosurg. 2019:1–8. Detailed history of detailing how Peter Jannetta first described neurovascular compression in patients with trigeminal neuralgia and how he developed a technique to address the etiology.

Toda H, Goto M, Iwasaki K. Patterns and variations in microvascular decompression for trigeminal neuralgia. Neurol Med Chir (Tokyo). 2015;55(5):432–41.

Barker FG 2nd, Jannetta PJ, Bissonette DJ, Larkins MV, Jho HD. The long-term outcome of microvascular decompression for trigeminal neuralgia. N Engl J Med. 1996;334(17):1077–83.

Burchiel KJ, Clarke H, Haglund M, Loeser JD. Long-term efficacy of microvascular decompression in trigeminal neuralgia. J Neurosurg. 1988;69(1):35–8.

•• Hardaway FA, Gustafsson HC, Holste K, Burchiel KJ, Raslan AM. A novel scoring system as a preoperative predictor for pain-free survival after microsurgery for trigeminal neuralgia. J Neurosurg. 2019:1–8. A novel scoring system developed in order to determine predictors of pain-free survival after microsurgery for trigeminal neuralgia.

Jo KW, Kong DS, Hong KS, Lee JA, Park K. Long-term prognostic factors for microvascular decompression for trigeminal neuralgia. J Clin Neurosci. 2013;20(3):440–5.

Leal PR, Hermier M, Froment JC, Souza MA, Cristino-Filho G, Sindou M. Preoperative demonstration of the neurovascular compression characteristics with special emphasis on the degree of compression, using high-resolution magnetic resonance imaging: a prospective study, with comparison to surgical findings, in 100 consecutive patients who underwent microvascular decompression for trigeminal neuralgia. Acta Neurochir. 2010;152(5):817–25.

Sindou M, Leston J, Decullier E, Chapuis F. Microvascular decompression for primary trigeminal neuralgia: long-term effectiveness and prognostic factors in a series of 362 consecutive patients with clear-cut neurovascular conflicts who underwent pure decompression. J Neurosurg. 2007;107(6):1144–53.

Zacest AC, Magill ST, Miller J, Burchiel KJ. Preoperative magnetic resonance imaging in type 2 trigeminal neuralgia. J Neurosurg. 2010;113(3):511–5.

Pollock BE, Phuong LK, Gorman DA, Foote RL, Stafford SL. Stereotactic radiosurgery for idiopathic trigeminal neuralgia. J Neurosurg. 2002;97(2):347–53.

Kano H, Kondziolka D, Yang HC, Zorro O, Lobato-Polo J, Flannery TJ, et al. Outcome predictors after gamma knife radiosurgery for recurrent trigeminal neuralgia. Neurosurgery. 2010;67(6):1637–44 discussion 44-5.

Karam SD, Tai A, Snider JW, Bhatia S, Bedrick EJ, Rashid A, et al. Refractory trigeminal neuralgia treatment outcomes following CyberKnife radiosurgery. Radiat Oncol (London, England). 2014;9:257.

Karam SD, Tai A, Wooster M, Rashid A, Chen R, Baig N, et al. Trigeminal neuralgia treatment outcomes following gamma knife radiosurgery with a minimum 3-year follow-up. J Radiat Oncol. 2014;3:125–30.

Park KJ, Kondziolka D, Berkowitz O, Kano H, Novotny J Jr, Niranjan A, et al. Repeat gamma knife radiosurgery for trigeminal neuralgia. Neurosurgery. 2012;70(2):295–305 discussion.

Pollock BE, Foote RL, Link MJ, Stafford SL, Brown PD, Schomberg PJ. Repeat radiosurgery for idiopathic trigeminal neuralgia. Int J Radiat Oncol Biol Phys. 2005;61(1):192–5.

Xu Z, Mathieu D, Heroux F, Abbassy M, Barnett G, Mohammadi AM, et al. Stereotactic radiosurgery for trigeminal neuralgia in patients with multiple sclerosis: a multicenter study. Neurosurgery. 2019;84(2):499–505.

Fraioli MF, Strigari L, Fraioli C, Lecce M, Lisciani D. Preliminary results of 45 patients with trigeminal neuralgia treated with radiosurgery compared to hypofractionated stereotactic radiotherapy, using a dedicated linear accelerator. J Clin Neurosci. 2012;19(10):1401–3.

Massager N, Lorenzoni J, Devriendt D, Desmedt F, Brotchi J, Levivier M. Gamma knife surgery for idiopathic trigeminal neuralgia performed using a far-anterior cisternal target and a high dose of radiation. J Neurosurg. 2004;100(4):597–605.
Ethics declarations
Conflict of Interest
Alexander X. Tai and Vikram V. Nayar each declare no potential conflicts of interest.
Human and Animal Rights and Informed Consent
This article does not contain any studies with human or animal subjects performed by any of the authors.
Additional information
Publisher's Note
Springer Nature remains neutral with regard to jurisdictional claims in published maps and institutional affiliations.
This article is part of the Topical Collection on Neurologic Ophthalmology and Otology
About this article
Cite this article
Tai, A.X., Nayar, V.V. Update on Trigeminal Neuralgia. Curr Treat Options Neurol 21, 42 (2019). https://doi.org/10.1007/s11940-019-0583-0
Published:

DOI: https://doi.org/10.1007/s11940-019-0583-0
Keywords
Trigeminal neuralgia

Facial pain

Microvascular decompression

Percutaneous trigeminal rhizotomy

Radiosurgery