Abstract
Purpose of review
Nutritional optic neuropathy is a potential cause of severe visual loss; however, appropriate and timely management can result in excellent visual outcomes. The purpose of this review is to outline our current understanding of the treatment and outcomes for nutritional optic neuropathy.
Recent findings
Current understanding of nutritional optic neuropathy has been greatly aided by some well-reported and investigated epidemics of the condition, most notably the Cuban epidemic optic neuropathy of the early 1990s. More recently, there is an emerging literature surrounding nutritional deficiencies that can occur in patients who have undergone bariatric surgery. There also continues to be a stream of case reports in the literature that add to our understanding. Nutritional optic neuropathy has a great deal of overlap with toxic optic neuropathies and hereditary optic neuropathies and should not be thought of in isolation from these conditions.
Summary
The mainstay of treatment for nutritional optic neuropathy involves identifying and replacing deficient nutrients as well as identifying and eliminating contributory toxins. It is also important to identify contributory genetic factors and to consider the broader social, economic and societal factors which may contribute.
Access options
Buy single article
Instant access to the full article PDF.
USD 39.95
Price excludes VAT (USA)
Tax calculation will be finalised during checkout.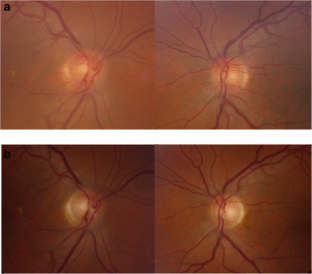 References and Recommended Reading
Papers of particular interest, published recently, have been highlighted as: • Of importance
Strachan H. Malarial multiple peripheral neuritis. Sajou Ann Universal Med Sci. 1888;1:139–51.

Robson D, Welch E, Beeching NJ, Gill GV. Consequences of captivity: health effects of far east imprisonment in World War II. QJM. 2009;102(2):87–96. https://doi.org/10.1093/qjmed/hcn137.

Osuntokun BO. Cassava diet, chronic cyanide intoxication and neuropathy in the Nigerian Africans. World Rev Nutr Diet. 1981;36:141–73.

Cuba Neuropathy Field Investigation T. Epidemic optic neuropathy in Cuba—clinical characterization and risk factors. N Engl J Med. 1995;333(18):1176–82.

Plant GT, Mtanda AT, Arden GB, Johnson GJ. An epidemic of optic neuropathy in Tanzania: characterization of the visual disorder and associated peripheral neuropathy. J Neurol Sci. 1997;145(2):127–40.

Mills C. In the eye of the Cuban epidemic neuropathy storm: Rosaralis Santiesteban MD PhD, Neurology and Neurosurgery Institute. Interview by Christina Mills. MEDICC Rev. 2011;13(1):10–5.

Roman GC. An epidemic in Cuba of optic neuropathy, sensorineural deafness, peripheral sensory neuropathy and dorsolateral myeloneuropathy. J Neurol Sci. 1994;127(1):11–28.

• Moss HE. Bariatric surgery and the neuro-ophthalmologist. Journal of neuro-ophthalmology : the official journal of the north American neuro-ophthalmology society. 2016;36(1):78-84. https://doi.org/10.1097/WNO.0000000000000332. An important overview of bariatric surgery and its importance for neuro-ophthalmologists.

Chiotoroiu S, Noaghi M, Stefaniu G, Secureanu F, Purcarea V, Zemba M. Tobacco-alcohol optic neuropathy—clinical challenges in diagnosis. J Med Life. 2014;7(4):472–6.

Sadun A. Acquired mitochondrial impairment as a cause of optic nerve disease. Trans Am Ophthalmol Soc. 1998;96:881–923.

Sadun AA. Metabolic optic neuropathies. Semin. 2002;17(1):29–32.

Pilz YL, Bass SJ, Sherman J. A review of mitochondrial optic neuropathies: from inherited to acquired forms. J Opt. 2017;10(4):205–14. https://doi.org/10.1016/j.optom.2016.09.003.

Amaral-Fernandes MS, Marcondes AM, do Amor Divino Miranda PM, Maciel-Guerra AT, Sartorato EL. Mutations for Leber hereditary optic neuropathy in patients with alcohol and tobacco optic neuropathy. Mol Vis. 2011;17:3175–9.

Newman NJ. Leber hereditary optic neuropathy: bad habits, bad vision? Brain. 2009;132(Pt 9):2306–8. https://doi.org/10.1093/brain/awp195.

Kirkman MA, Yu-Wai-Man P, Korsten A, Leonhardt M, Dimitriadis K, De Coo IF et al. Gene-environment interactions in Leber hereditary optic neuropathy. Brain 2009;132(Pt 9):2317–2326. doi:https://doi.org/10.1093/brain/awp158.

Tucker K, Hedges TR. Food shortages and an epidemic of optic and peripheral neuropathy in Cuba. Nutr Rev. 1993;51(12):349–57.

Grzybowski A. Tobacco amblyopia: does it really exist? Eye 2007;21(11):1448–9; author reply

• Grzybowski A, Brona P. Nutritional optic neuropathy instead of tobacco-alcohol amblyopia. Can J Ophthalmol. 2017;52(5):533. https://doi.org/10.1016/j.jcjo.2017.02.016 Why the term tocacco-alcohol amblyopia is now outdated.

Suzuki S, Kumanomido T, Nagata E, Inoue J, Niikawa O. Optic neuropathy from thiamine deficiency. Intern Med. 1997;36(7):532.

Cotton P. Cause of Cuban outbreak neuropathologic puzzle. JAMA. 1993;270(4):421–3.

Gay J, Porrata C, Hernandez M, Clua AM, Arguelles JM, Cabrera A, et al. Dietetic factors in epidemic neuropathy on Isla de la Juventud, Cuba. Bol Oficina Sanit Panam. 1994;117(5):389–99.

Macias-Matos C, Rodriguez-Ojea A, Chi N, Jimenez S, Zulueta D, Bates CJ. Biochemical evidence of thiamine depletion during the Cuban neuropathy epidemic, 1992-1993. Am J Clin Nutr. 1996;64(3):347–53. https://doi.org/10.1093/ajcn/64.3.347.

Bowman BA, Bern C, Philen RM. Nothing's simple about malnutrition: complexities raised by epidemic neuropathy in Cuba. Am J Clin Nutr. 1996;64(3):383–4.

Coutin-Churchman P. The "Cuban epidemic neuropathy" of the 1990s: a glimpse from inside a totalitarian disease. Surg Neurol Int. 2014;5:84. https://doi.org/10.4103/2152-7806.133888.

• Rapoport Y, Lavin PJ. Nutritional optic neuropathy caused by copper deficiency after bariatric surgery. J Neuro-Ophthalmol. 2016;36(2):178–81. https://doi.org/10.1097/WNO.0000000000000333 A relatively new cause of nutritional optic neuropathy which needs to be considered in people who have had bariatric surgery.

Yarandi SS, Griffith DP, Sharma R, Mohan A, Zhao VM, Ziegler TR. Optic neuropathy, myelopathy, anemia, and neutropenia caused by acquired copper deficiency after gastric bypass surgery. J Clin Gastroenterol. 2014;48(10):862–5. https://doi.org/10.1097/MCG.0000000000000092.

Bohnsack BL, Patel SS. Peripapillary nerve fiber layer thickening, telangiectasia, and retinal hemorrhages in wernicke encephalopathy. J Neuroophthalmol. 2010;30(1):54–8. https://doi.org/10.1097/WNO.0b013e3181ceb4d0.

Thomson AD. Mechanisms of vitamin deficiency in chronic alcohol misusers and the development of the Wernicke-Korsakoff syndrome. Alcohol Alcohol. 2000;35(1):2–7.

Chavala SH, Kosmorsky GS, Lee MK, Lee MS. Optic neuropathy in vitamin B12 deficiency. Eur J Intern Med. 2005;16(6):447–8. https://doi.org/10.1016/j.ejim.2005.01.021.

Nightingale LM, Paviour DC. Nutritional optic and peripheral neuropathy: a case report. Cases J. 2009;2:7762. https://doi.org/10.4076/1757-1626-2-7762.

Milea D, Cassoux N, LeHoang P. Blindness in a strict vegan. N Engl J Med. 2000;342(12):897–8. https://doi.org/10.1056/NEJM200003233421217.

Sawicka-Pierko A, Obuchowska I, Hady RH, Mariak Z, Dadan J. Nutritional optic neuropathy following bariatric surgery. Videosurgery and Other Miniinvasive Techniques. 2014;9(4):662–6. https://doi.org/10.5114/wiitm.2014.47262.

Kulkarni S, Lee A, Holstein S, Warner J. You are what you eat. Surv Ophthalmol. 2005;50(4):389–93.

Yeh WY, Lian LM, Chang A, Cheng CK. Thiamine-deficient optic neuropathy associated with Wernicke's encephalopathy in patients with chronic diarrhea. J Formos Med Assoc. 2013;112(3):165–70. https://doi.org/10.1016/j.jfma.2012.10.010.

Gratton SM, Lam BL. Visual loss and optic nerve head swelling in thiamine deficiency without prolonged dietary deficiency. Clin Ophthalmol. 2014;8:1021–4. https://doi.org/10.2147/OPTH.S64228.

van Noort BA, Bos PJ, Klopping C, Wilmink JM. Optic neuropathy from thiamine deficiency in a patient with ulcerative colitis. Doc Ophthalmol. 1987;67(1–2):45–51.

Vagianos K, Bector S, McConnell J, Bernstein CN. Nutrition assessment of patients with inflammatory bowel disease. J Parenter Enter Nutr. 2007;31(4):311–9. https://doi.org/10.1177/0148607107031004311.

Foulds WS, Chisholm IA, Stewart JB, Wilson TM. The optic neuropathy of pernicious anemia. Arch Ophthalmol. 1969;82(4):427–32.

Pineles SL, Avery RA, Liu GT. Vitamin B12 optic neuropathy in autism. Pediatrics. 2010;126(4):e967–70. https://doi.org/10.1542/peds.2009-2975.

Hsu CT, Miller NR, Wray ML. Optic neuropathy from folic acid deficiency without alcohol abuse. Ophthalmologica. 2002;216(1):65–7.

Pott JW, Klein Wassink-Ruiter JS, van Vliet A. Methylmalonic acid and homocysteine assessment in the detection of vitamin B12 deficiency in patients with bilateral visual loss. Acta Ophthalmol. 2012;90(3):e252–3. https://doi.org/10.1111/j.1755-3768.2011.02342.x.

Grzybowski A. Problems related to the diagnosis of vitamin B12 deficiency optic neuropathy. Acta Ophthalmol. 2014;92(1):e74–5. https://doi.org/10.1111/aos.12195.

Cosar A, Ipcioglu OM. Detection of functional vitamin B12 and folate deficiencies, while serum levels are normal. Blood Transfus. 2014;12(Suppl 1):s164. https://doi.org/10.2450/2013.0040-13.

Turner MR, Talbot K. Functional vitamin B12 deficiency. Pract Neurol. 2009;9(1):37–41. https://doi.org/10.1136/jnnp.2008.161968.

Joint Formulary Committee. British National Formulary (online). BMJ Group and Pharmaceutical Press, London. http://www.medicinescomplete.com. Accessed 7/8/18.

Chu C, Scanlon P. Vitamin B12 deficiency optic neuropathy detected by asymptomatic screening. BMJ Case Rep. 2011;2011:bcr0220113823. https://doi.org/10.1136/bcr.02.2011.3823.

Naismith RT, Shepherd JB, Weihl CC, Tutlam NT, Cross AH. Acute and bilateral blindness due to optic neuropathy associated with copper deficiency. Arch Neurol. 2009;66(8):1025–7. https://doi.org/10.1001/archneurol.2009.70.

Fischer PW, Giroux A, L'Abbe MR. The effect of dietary zinc on intestinal copper absorption. Am J Clin Nutr. 1981;34(9):1670–5. https://doi.org/10.1093/ajcn/34.9.1670.

Troost FJ, Brummer RJ, Dainty JR, Hoogewerff JA, Bull VJ, Saris WH. Iron supplements inhibit zinc but not copper absorption in vivo in ileostomy subjects. Am J Clin Nutr. 2003;78(5):1018–23. https://doi.org/10.1093/ajcn/78.5.1018.

Woon C, Tang RA, Pardo G. Nutrition and optic nerve disease. Semin. 1995;10(3):195–202.

Carroll FD. Nutritional amblyopia. Arch Ophthalmol. 1966;76(3):406–11.

Grzybowski A, Holder GE. Tobacco optic neuropathy (TON) - the historical and present concept of the disease. Acta Ophthalmol. 2011;89(5):495–9. https://doi.org/10.1111/j.1755-3768.2009.01853.x.

• Ijaz S, Jackson J, Thorley H, Porter K, Fleming C, Richards A, et al. Nutritional deficiencies in homeless persons with problematic drinking: a systematic review. Int J Equity Health. 2017;16(1):71. https://doi.org/10.1186/s12939-017-0564-4 Important insights into the mechanisms of nutritional optic neuropathy in homeless persons.

Sharma P, Sharma R. Toxic optic neuropathy. Indian J Ophthalmol. 2011;59(2):137–41. https://doi.org/10.4103/0301-4738.77035.

Milea D. Nutritional, toxic and drug-induced optic neuropathies. Rev Prat. 2001;51(20):2215–9.

Maass J, Matthe E. Bilateral vision loss due to Leber's hereditary optic neuropathy after long-term alcohol, nicotine and drug abuse. Doc Ophthalmol. 2018;136(2):145–53. https://doi.org/10.1007/s10633-018-9622-5.

Li JM, Rucker JC. Irreversible optic neuropathy in wernicke encephalopathy and leber hereditary optic neuropathy. J Neuroophthalmol. 2010;30(1):49–53. https://doi.org/10.1097/WNO.0b013e3181ce80c6.

DeLong DM. Epidemic neuropathy in Cuba. Ann Intern Med. 1995;123(9):734.

Hedges TR, 3rd, Hirano M, Tucker K, Caballero B. Epidemic optic and peripheral neuropathy in Cuba: a unique geopolitical public health problem. Surv Ophthalmol 1997;41(4):341–353.

Perez-Stable E. Epidemic neuropathy in Cuba. Ann Intern Med. 1995;123(9):734.
Ethics declarations
Conflict of Interest
The authors declare that they have no conflicts of interest.
Human and Animal Rights and Informed Consent
This article does not contain any studies with human or animal subjects performed by any of the authors.
Additional information
Publisher's Note
Springer Nature remains neutral with regard to jurisdictional claims in published maps and institutional affiliations.
This article is part of the Topical Collection on Neurologic Manifestations of Systemic Disease
About this article
Cite this article
Jefferis, J.M., Hickman, S.J. Treatment and Outcomes in Nutritional Optic Neuropathy. Curr Treat Options Neurol 21, 5 (2019). https://doi.org/10.1007/s11940-019-0542-9
Published:

DOI: https://doi.org/10.1007/s11940-019-0542-9
Keywords