Opinion statement
Despite an explosion in the number of options available for helping diabetic patients heal wounds, major amputation remains a critical issue for these persons. Since diabetes prematurely ages tissues and no organ system is immune to its presence, it makes inherent sense that multi-disciplinary team approaches to these patients is necessary to make significant strides forward. Here, we present literature from the fields of podiatric surgery/medicine, vascular and plastic surgery and introduce the successes that a multi-disciplinary limb salvage center can have on the lives and limbs of patients with diabetes.
Access options
Buy single article
Instant access to the full article PDF.
US$ 39.95
Tax calculation will be finalised during checkout.
Subscribe to journal
Immediate online access to all issues from 2019. Subscription will auto renew annually.
US$ 79
Tax calculation will be finalised during checkout.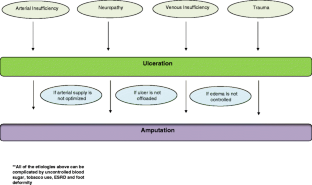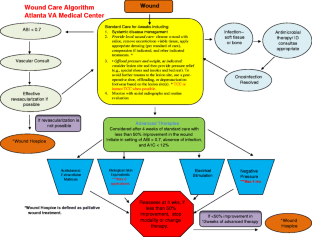 References and Recommended Reading
Papers of particular interest, published recently, have been highlighted as: • Of importance •• Of major importance
1.

Gibson TB, Lee TA, Vogeli CS, et al. A four-system comparison of patients with chronic illness: the military health system, veterans health administration, Medicaid, and commercial plans. Mil Med. 2009;174(9):936–43.

2.

Kress AM, Hartzel MC, Peterson MR. Burden of disease associated with overweight and obesity among U.S. military retirees and their dependents, aged 38-64. Prev Med 2005. 2003;41(1):63–9.

3.

Willyard C. Limb-saving medicines sought to prevent amputations. Nat Med. 2012;18(3):328.

4.

Baur GM, Porter JM, Axthelm S, Eidemiller LR, Hood R. Lower extremity amputation for ischemia. Am Surg. 1978;44(8):472–7.

5.

Kristensen MT, Holm G, Kirketerp-Moller K, Krasheninnikoff M, Gebuhr P. Very low survival rates after non-traumatic lower limb amputation in a consecutive series: what to do? Interact Cardiovasc Thorac Surg. 2012;14(5):543–7.

6.

Ghaferi AA, Birkmeyer JD, Dimick JB. Variation in hospital mortality associated with inpatient surgery. N Engl J Med. 2009;361(14):1368–75.

7.

Mayfield JA, Caps MT, Reiber GE, Maynard C, Czerniecki JM, Sangeorzan BJ. Trends in peripheral vascular procedures in the veterans health administration, 1989-1998. J Rehabil Res Dev. 2001;38(3):347–56.

8.

Zhou J, Bates BE, Kurichi JE, Kwong PL, Xie D, Stineman MG. Factors influencing receipt of outpatient rehabilitation services among veterans following lower extremity amputation. Arch Phys Med Rehabil. 2011;92(9):1455–61.

9.

Criqui MH, Ninomiya JK, Wingard DL, Ji M, Fronek A. Progression of peripheral arterial disease predicts cardiovascular disease morbidity and mortality. J Am Coll Cardiol. 2008;52(21):1736–42.

10.

Elgzyri T, Larsson J, Nyberg P, Thorne J, Eriksson KF, Apelqvist J. Early revascularization after admittance to a diabetic foot center affects the healing probability of ischemic foot ulcer in patients with diabetes. Eur J Vasc Endovasc Surg. 2014.

11.

Hirsch AT, Criqui MH, Treat-Jacobson D, et al. Peripheral arterial disease detection, awareness, and treatment in primary care. JAMA. 2001;286(11):1317–24.

12.

Suzuki K, Iida O, Yamauchi Y, et al. Impact of diabetes mellitus on critical limb ischemia with below the knee disease: japan below-the-knee artery treatment subanalysis. Angiology. 2013.

13.

Dick F, Diehm N, Galimanis A, Husmann M, Schmidli J, Baumgartner I. Surgical or endovascular revascularization in patients with critical limb ischemia: influence of diabetes mellitus on clinical outcome. J Vasc Surg. 2007;45(4):751–61.

14.

Powell RJ, Simons M, Mendelsohn FO, et al. Results of a double-blind, placebo-controlled study to assess the safety of intramuscular injection of hepatocyte growth factor plasmid to improve limb perfusion in patients with critical limb ischemia. Circulation. 2008;118(1):58–65.

15.

Lawall H, Bramlage P, Amann B. Treatment of peripheral arterial disease using stem and progenitor cell therapy. J Vasc Surg. 2011;53(2):445–53.

16.

Nixon BP, Armstrong DG, Wendell C, et al. Do US veterans wear appropriately sized shoes?: the veterans Affairs shoe size selection study. J Am Podiatr Med Assoc. 2006;96(4):290–2.

17.

Gallagher KA, Joshi A, Carson WF, et al. Epigenetic changes in bone marrow progenitor cells influence the inflammatory phenotype and alter wound healing in type 2 diabetes. Diabetes. 2015;64(4):1420–30.

18.

Gallagher KA, Liu ZJ, Xiao M, et al. Diabetic impairments in NO-mediated endothelial progenitor cell mobilization and homing are reversed by hyperoxia and SDF-1 alpha. J Clin Invest. 2007;117(5):1249–59.

19.

Boulton AJM. The diabetic foot. In: De Groot LJ, Chrousos G, Dungan K, et al., editors. Endotext. South Dartmouth (MA) 2000.

20.

Lipsky BA, Berendt AR, Cornia PB, et al. 2012 infectious diseases society of america clinical practice guideline for the diagnosis and treatment of diabetic foot infections. J Am Podiatr Med Assoc. 2013;103(1):2–7.

21.

Stabley JN, Towler DA. Arterial calcification in diabetes mellitus: preclinical models and translational implications. Arterioscler Thromb Vasc Biol. 2017;37(2):205–17.

22.

Alavi A, Sibbald RG, Mayer D, et al. Diabetic foot ulcers: part I. Pathophysiology and prevention. J Am Acad Dermatol. 2014;70(1):1 e1-18. quiz 19-20

23.

•• Schaper NC, Van Netten JJ, Apelqvist J, Lipsky BA, Bakker K. International working group on the diabetic F. Prevention and management of foot problems in diabetes: a summary guidance for daily practice 2015, based on the IWGDF guidance documents. Diabetes Res Clin Pract. 2017;124:84–92. This is a high quality summary of mechanism of DFU and guidance for offloading, optimizing vascular perfusion, local wound care, and antibiotic therapy.

24.

Singh N, Armstrong DG, Lipsky BA. Preventing foot ulcers in patients with diabetes. JAMA. 2005;293(2):217–28.

25.

Plank J, Haas W, Rakovac I, et al. Evaluation of the impact of chiropodist care in the secondary prevention of foot ulcerations in diabetic subjects. Diabetes Care. 2003;26(6):1691–5.

26.

Gibson TB, Driver VR, Wrobel JS, et al. Podiatrist care and outcomes for patients with diabetes and foot ulcer. Int Wound J. 2014;11(6):641–8.

27.

Carls GS, Gibson TB, Driver VR, et al. The economic value of specialized lower-extremity medical care by podiatric physicians in the treatment of diabetic foot ulcers. J Am Podiatr Med Assoc. 2011;101(2):93–115.

28.

• Hingorani A, LaMuraglia GM, Henke P, et al. The management of diabetic foot: a clinical practice guideline by the Society for Vascular Surgery in collaboration with the American podiatric medical association and the Society for Vascular Medicine. J Vasc Surg. 2016;63(2 Suppl):3S-21S. This is a collaborative practice guideline to assist vascular and podiatric care of patients with a diabetic foot. They key components of this work are early and appropriate stratification of the foot with optimal local and revascularization strategies to these complicated patients.

29.

Barshes NR, Flores E, Belkin M, Kougias P, Armstrong DG, Mills JL Sr. The accuracy and cost-effectiveness of strategies used to identify peripheral artery disease among patients with diabetic foot ulcers. J Vasc Surg. 2016;64(6):1682–90. e1683

30.

Chung J, Timaran DA, Modrall JG, et al. Optimal medical therapy predicts amputation-free survival in chronic critical limb ischemia. J Vasc Surg. 2013;58(4):972–80.

31.

Anderson JL, Halperin JL, Albert NM, et al. Management of patients with peripheral artery disease (compilation of 2005 and 2011 ACCF/AHA guideline recommendations): a report of the American College of Cardiology Foundation/American Heart Association Task Force on practice guidelines. Circulation. 2013;127(13):1425–43.

32.

Gerhard-Herman MD, Gornik HL, Barrett C, et al. 2016 AHA/ACC guideline on the management of patients with lower extremity peripheral artery disease: a report of the American College of Cardiology/American Heart Association Task Force on Clinical Practice Guidelines. Circulation. 2016.

33.

Cardona S, Pasquel FJ, Fayfman M, et al. Hospitalization costs and clinical outcomes in CABG patients treated with intensive insulin therapy. J Diabetes Complications. 2017.

34.

Rooke TW, Hirsch AT, Misra S, et al. 2011 ACCF/AHA focused update of the guideline for the Management of Patients with Peripheral Artery Disease (updating the 2005 guideline): a report of the American College of Cardiology Foundation/American Heart Association Task Force on practice guidelines. J Am Coll Cardiol. 2011;58(19):2020–45.

35.

Reyes-Umpierrez D, Davis G, Cardona S, et al. Inflammation and oxidative stress in cardiac surgery patients treated to intensive vs. conservative glucose targets. J Clin Endocrinol Metab. 2016;jc20163197.

36.

Kotagal M, Symons RG, Hirsch IB, et al. Perioperative hyperglycemia and risk of adverse events among patients with and without diabetes. Ann Surg. 2015;261(1):97–103.

37.

Armstrong EJ, Wu J, Singh GD, et al. Smoking cessation is associated with decreased mortality and improved amputation-free survival among patients with symptomatic peripheral artery disease. J Vasc Surg. 2014;60(6):1565–71.

38.

Clair C, Cohen MJ, Eichler F, Selby KJ, Rigotti NA. The effect of cigarette smoking on diabetic peripheral neuropathy: a systematic review and meta-analysis. J Gen Intern Med. 2015;30(8):1193–203.

39.

Pan A, Wang Y, Talaei M, Hu FB. Relation of smoking with Total mortality and cardiovascular events among patients with diabetes mellitus: a meta-analysis and systematic review. Circulation. 2015;132(19):1795–804.

40.

•• Robbins JM, Dillon J. Evidence-based approach to advanced wound care products. J Am Podiatr Med Assoc. 2015;105(5):456–67. Robust review of the evidence supporting very common adjuncts to wound healing in patients. Identifies key limitations in the existing literature and supports more rigorous indications for adjunctive methods that do not have much evidence supporting their use.

41.

Kim PJ, Attinger CE, Evans KK, Steinberg JS. Role of the podiatrist in diabetic limb salvage. J Vasc Surg. 2012;56(4):1168–72.

42.

Greer NFN, Dorrian J, Fitzgerald P, MacDonald R, Rutks, I, Wilt T. Evidence-based synthesis Porgram. Advanced wound care therapies for non-healing diabetic, venous and arterial ulcers: a systematic review. In: Department of Veterans Affairs HSRDS, ed2012.

43.

Yazdanpanah L, Nasiri M, Adarvishi S. Literature review on the management of diabetic foot ulcer. World J Diabetes. 2015;6(1):37–53.

44.

Miller J, Armstrong DG. Offloading the diabetic and ischemic foot: solutions for the vascular specialist. Semin Vasc Surg. 2014;27(1):68–74.

45.

Kucera T, Shaikh HH, Sponer P. Charcot neuropathic arthropathy of the foot: a literature review and single-center experience. Journal of diabetes research. 2016;2016:3207043.

46.

Botezatu I, Laptoiu D. Minimally invasive surgery of diabetic foot—review of current techniques. J Med Life. 2016;9(3):249–54.

47.

Domek N, Dux K, Pinzur M, Weaver F, Rogers T. Association between hemoglobin A1c and surgical morbidity in elective foot and ankle surgery. J Foot Ankle Surg. 2016;55(5):939–43.

48.

Korkmaz M, Erdogan Y, Balci M, Senarslan DA, Yilmaz N. Preoperative medical treatment in patients undergoing diabetic foot surgery with a Wagner grade-3 or higher ulcer: a retrospective analysis of 52 patients. Diabet Foot Ankle. 2012;3

49.

•• Zhan LX, Branco BC, Armstrong DG, Mills JL Sr. The Society for Vascular Surgery lower extremity threatened limb classification system based on wound, ischemia, and foot infection (WIfI) correlates with risk of major amputation and time to wound healing. J Vasc Surg. 2015;61(4):939–44. This is a very useful manuscript identifying the benefit of the WIfI classification of patients with wounds. This information can help drive revascularization timing and improve limb salvage. It is also available within the Society for Vascular Surgery's free application (SVS IPG).

50.

Unal S, Ersoz G, Demirkan F, Arslan E, Tutuncu N, Sari A. Analysis of skin-graft loss due to infection: infection-related graft loss. Ann Plast Surg. 2005;55(1):102–6.

51.

Rose JF, Giovinco N, Mills JL, Najafi B, Pappalardo J, Armstrong DG. Split-thickness skin grafting the high-risk diabetic foot. J Vasc Surg. 2014;59(6):1657–63.

52.

Anderson JJ, Wallin KJ, Spencer L. Split thickness skin grafts for the treatment of non-healing foot and leg ulcers in patients with diabetes: a retrospective review. Diabet Foot Ankle. 2012;3

53.

Santema TB, Poyck PP, Ubbink DT. Skin grafting and tissue replacement for treating foot ulcers in people with diabetes. Cochrane Database Syst Rev. 2016;2:CD011255.

54.

Blume PA, Paragas LK, Sumpio BE, Attinger CE. Single-stage surgical treatment of noninfected diabetic foot ulcers. Plast Reconstr Surg. 2002;109(2):601–9.

55.

Stasch T, Hoehne J, Huynh T, De Baerdemaeker R, Grandel S, Herold C. Debridement and autologous Lipotransfer for chronic ulceration of the diabetic foot and lower limb improves wound healing. Plast Reconstr Surg. 2015;136(6):1357–66.

56.

Suh HS, Oh TS, Lee HS, et al. A new approach for reconstruction of diabetic foot wounds using the Angiosome and Supermicrosurgery concept. Plast Reconstr Surg. 2016;138(4):702e–9e.

57.

Amin AH, Abd Elmageed ZY, Nair D, et al. Modified multipotent stromal cells with epidermal growth factor restore vasculogenesis and blood flow in ischemic hind-limb of type II diabetic mice. Lab Investig. 2010;90(7):985–96.

58.

Kuo YR, Wang CT, Cheng JT, Wang FS, Chiang YC, Wang CJ. Bone marrow-derived mesenchymal stem cells enhanced diabetic wound healing through recruitment of tissue regeneration in a rat model of streptozotocin-induced diabetes. Plast Reconstr Surg. 2011;128(4):872–80.

59.

Giordano A, Galderisi U, Marino IR. From the laboratory bench to the patient's bedside: an update on clinical trials with mesenchymal stem cells. J Cell Physiol. 2007;211(1):27–35.

60.

Powell RJ. Update on clinical trials evaluating the effect of biologic therapy in patients with critical limb ischemia. J Vasc Surg. 2012.

61.

Krawiec JT, Weinbaum JS, St Croix CM, et al. A cautionary tale for autologous vascular tissue engineering: impact of human demographics on the ability of adipose-derived mesenchymal stem cells to recruit and differentiate into smooth muscle cells. Tissue Eng Part A. 2015;21(3–4):426–37.

62.

Tamarat R, Silvestre JS, Le Ricousse-Roussanne S, et al. Impairment in ischemia-induced neovascularization in diabetes: bone marrow mononuclear cell dysfunction and therapeutic potential of placenta growth factor treatment. Am J Pathol. 2004;164(2):457–66.

63.

Kim H, Han JW, Lee JY, et al. Diabetic mesenchymal stem cells are ineffective for improving limb ischemia due to their impaired angiogenic capability. Cell Transplant. 2014.

64.

Neef K, Choi YH, Weichel A, et al. The influence of cardiovascular risk factors on bone marrow mesenchymal stromal cell fitness. Cytotherapy. 2012;14(6):670–8.

65.

Khan M, Akhtar S, Mohsin S. S NK, Riazuddin S. Growth factor preconditioning increases the function of diabetes-impaired mesenchymal stem cells. Stem Cells Dev. 2011;20(1):67–75.

66.

Gremmels H, Teraa M, Quax PH, den Ouden K, Fledderus JO, Verhaar MC. Neovascularization capacity of mesenchymal stromal cells from critical limb ischemia patients is equivalent to healthy controls. Mol Ther. 2014;22(11):1960–70.

67.

Brewster L, Robinson S, Wang R, et al. Expansion and angiogenic potential of mesenchymal stem cells from patients with critical limb ischemia. J Vasc Surg. 2016.

68.

• Teraa M, Sprengers RW, Schutgens RE, et al. Effect of repetitive intra-arterial infusion of bone marrow mononuclear cells in patients with no-option limb ischemia: the randomized, double-blind, placebo-controlled JUVENTAS trial. Circulation. 2015. This primary manuscript includes an update to the author's prior meta-analysis (below). This update questions the effect of cellular therapies as tested to date.

69.

Teraa M, Conte MS, Moll FL, Verhaar MC. Critical limb ischemia: current trends and future directions. J Am Heart Assoc. 2016;5(2).

70.

Lu D, Chen B, Liang Z, et al. Comparison of bone marrow mesenchymal stem cells with bone marrow-derived mononuclear cells for treatment of diabetic critical limb ischemia and foot ulcer: a double-blind, randomized, controlled trial. Diabetes Res Clin Pract. 2011;92(1):26–36.

71.

Wajid N, Naseem R, Anwar SS, et al. The effect of gestational diabetes on proliferation capacity and viability of human umbilical cord-derived stromal cells. Cell Tissue Bank. 2015;16(3):389–97.

72.

Chinnadurai R, Garcia MA, Sakurai Y, et al. Actin cytoskeletal disruption following cryopreservation alters the biodistribution of human mesenchymal stromal cells in vivo. Stem cell reports. 2014;3(1):60–72.

73.

Francois M, Copland IB, Yuan S, Romieu-Mourez R, Waller EK, Galipeau J. Cryopreserved mesenchymal stromal cells display impaired immunosuppressive properties as a result of heat-shock response and impaired interferon-gamma licensing. Cytotherapy. 2012;14(2):147–52.

74.

• Chung J, Modrall JG, Ahn C, Lavery LA, Valentine RJ. Multidisciplinary care improves amputation-free survival in patients with chronic critical limb ischemia. J Vasc Surg. 2015;61(1):162–9. This manuscript and the position statement below (citation 75) demonstrate the benefits of multi-disciplinary care of patients with critical limb ischemia and DFU.

75.

• Wu T, Chaer RA. Society for Vascular Surgery Young Surgeons C, Salvo NL, American Podiatric Medical Association Young Physicians' Leadership P. Building effective partnerships between vascular surgeons and podiatric physicians in the effective Management of Diabetic Foot Ulcers. J Am Podiatr Med Assoc. 2016;106(4):308–11. This is a cross-discipline white paper document on how to build and develop multi-disciplinary teams to help improve outcomes in diabetic patients at high risk of amputation.
Acknowledgments
Funding for this work was supported in part by DOD Award: CDMRP/OPORP; OP140015.
Ethics declarations
Conflict of Interest
Nichol L. Salvo declares no potential conflicts of interest.
Mark D. Walsh reports personal fees from Chemence Medical.
Luke P. Brewster reports a patent pending for therapeutic hydrogel for cell therapy (prov 15,101).
Human and Animal Rights and Informed Consent
This article does not contain any studies with human or animal subjects performed by any of the authors.
Additional information
This article is part of the Topical Collection on Vascular Disease
About this article
Cite this article
Salvo, N.L., Walsh, M.D. & Brewster, L.P. Promoting Limb Salvage through Multi-Disciplinary Care of the Diabetic Patient. Curr Treat Options Cardio Med 19, 55 (2017). https://doi.org/10.1007/s11936-017-0547-1
Keywords
Peripheral arterial disease

Critical limb ischemia

Diabetic foot ulcer

Charcot neuropathy