Opinion statement
The use of cacao for health benefits dates back at least 3000 years. Our understanding of cacao has evolved with modern science. It is now felt based on extensive research the main health benefits of cacao stem from epicatechin, a flavanol found in cacao. The process of manufacturing dark chocolate retains epicatechin, whereas milk chocolate does not contain significant amounts of epicatechin. Thus, most of the current research studies are focused on dark chocolate. Both epidemiological and clinical studies suggest a beneficial effect of dark chocolate on blood pressure, lipids, and inflammation. Proposed mechanisms underlying these benefits include enhanced nitric oxide bioavailability and improved mitochondrial structure/function. Ultimately, further studies of this promising compound are needed to elucidate its potential for prevention and treatment of cardiovascular and metabolic diseases as well as other diseases that have underlying mechanisms of mitochondrial dysfunction and nitric oxide deficiency.
Access options
Buy single article
Instant access to the full article PDF.
US$ 39.95
Tax calculation will be finalised during checkout.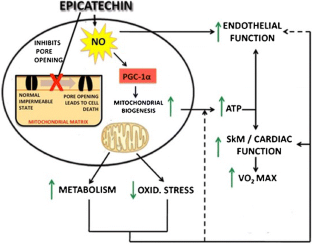 References and Recommended Reading
Papers of particular interest, published recently, have been highlighted as: • Of importance •• Of major importance
1.

Henderson JS, Joyce RA, Hall GR, Hurst WJ, McGoven PE. Chemical and archeological evidence for the earliest cacao beverages. Proc Natl Acad Sci. 2007;104(48):18937–40.

2.

Dillinger TL, Barriga P, Escarcega S, Jimenez M, Salazar Lowe D, Grivetti LE. J Nurt. 2000;130(8S Suppl):2057S–72.

3.

Berdan FF. Aztec archaeology and ethnohistory (Cambridge world archaeology). New York: Cambridge University Press; 2014.

4.

Kean BH. The blood pressure of the Kuna Indians. Am J Trop Med Hyg. 1944;24:341–3.

5.

Hollenberg NK, Martinez G, McCullough M, Meinking T, Passan D, Preston M, et al. Hypertension. 1997;29(1 Pt 2):171–6.

6.

McCullough ML, Chevaux K, Jackson L, Preston M, Martinez G, Schmitz HH, et al. Hypertension, the Kuna, and the epidemiology of flavanols. J Cardiovasc Pharmacol. 2006;47(Supple 2):S103–9.

7.

Bayard V, Chamorro F, Motta J, Hollenberg NK. Does flavanol intake influence mortality from nitric-oxide dependent process? Ischemic heart disease, stroke, diabetes mellitus, and cancer in Panama. Int J Med Sci. 2007;4(1):53–8.

8.

Heiss C, Kleinbongard P, Dejam A, Perre S, Schroeter H, Sies H, et al. Acute consumption of flavanol-rich cocoa and the reversal of endothelial dysfunction in smokers. J Am Coll Cardiol. 2005;46(7):1276–83.

9.

Cohn JN, Quyyumi AA, Hollengerg NK, Jamerson KA. Markers of malign across the cardiovascular continuum: interpretation and application. Circulation. 2004;109:IV-31–6.

10.

Balzer J, Rassaf T, Heiss C, Kleinbongard P, Lauer T, Merx M, et al. Sustained benefits in vascular function through flavanol-containing cocoa in medicated diabetic patients a double-masked, randomized, controlled trial. J Am Coll Cardiol. 2008;51(22):2141–9.

11.

Flammer AJ, Hermann F, Sudano I, Spieker L, Hermann M, Cooper KA, et al. Dark chocolate improves coronary vasomotion and reduces platelet reactivity. Circulation. 2007;116(21):2376–82.

12.

Buijsse B, Feskens EJ, Kok FJ, Kromhout D. Cocoa intake, blood pressure, and cardiovascular mortality: the Zutphen Elderly Study. Arch Intern Med. 2006;166(4):411–7.

13.

Buijsse B, Weikert C, Drogan D, Bergmann M, Boeing H. Chocolate consumption in relation to blood pressure and risk of cardiovascular disease in German adults. Eur Heart J. 2010;31(13):1616–23.

14.

Janszky I, Mukamal KJ, Ljung R, Ahnve S, Ahlbom A, Hallqvist J. Chocolate consumption and mortality following a first acute myocardial infarction: the Stockholm Heart Epidemiology Program. J Intern Med. 2009;266(3):248–57.

15.

Djousse L, Hopkins PN, North KE, Pankow JS, Arnett DK, Ellison RC. Chocolate consumption in inversely associated with prevalent coronary heart disease: the National Heart, Lung, and Blood Institute Family Heart Study. Clin Nutr. 2011;30(2):182–7.

16.

Djousse L, Hopkins PN, Arnett DK, Pankow JS, Borecki I, North KE, et al. Chocolate consumption is inversely associated with calcified atherosclerotic plaques in coronary arteries: the NHLBI Family Heart Study. Clin Nutr. 2011;30(1):38–43.

17.••

Kowk C, Boekholdt SM, Lentjes MA, Loke YK, Luben RN, Yeong JK, et al. Habitual chocolate consumption and risk of cardiovascular disease among healthy men and women. Heart. 2015;101(16):1279–87. This large analysis of dark chocolate consumption is the most recent data on the topic and suggests that consumption may be related to lower blood pressure. Their paper also includes a meta-analysis of nine separate studies that found an association with dark chocolate and decreased risk of various cardiovascular conditions.

18.

Grassi D, Desideri G, Necozione S, Ruggieri F, Blumberg JB, Stornello M, et al. Protective effects of flavanol-rich dark chocolate on endothelial function and wave reflection during acute hyperglycemia. Hypertension. 2012;60(3):827–32.

19.

Brownlee M. The pathobiology of diabetic complications. A unifying mechanism. Diabetes. 2005;54(6):1615–25.

20.

Yamazaki KG, Taub PR, Barraza-Hildalgo M, Rivas MM, Zambon AC, Ceballos G, et al. Effects of (-)-epicatechin on myocardial infarct size and left ventricular remodeling after permanent coronary occlusion. J Am Coll Cardiol. 2010;55(25):2869–76.

21.

Gasper A, Hollands W, Casgrain A, Saha S, Teucher B, Dainty JR, et al. Consumption of both low and high (-)-epicatechin apple puree attenuates platelet reactivity and increases plasma concentrations of nitric oxide metabolites: a randomized controlled trial. Arch Biochem Biophys. 2014;559:29–37.

22.

Schroeter H, Heiss C, Balzer J, Kleinbonard P, Keen CL, Hollenberg NK, et al. (-)-Epicatechin mediates beneficial effects of flavanol-rich cocoa on vascular function in humans. Proc Natl Acad Sci U S A. 2006;103(4):1024–9.

23.

Ramirez-Sanchez I, Maya L, Ceballos G, Villarreal F. (-)-Epicatechin activation of endothelial cell endothelial nitric oxide synthase, nitric oxide, and related signaling pathways. Hypertension. 2010;55(6):1398–405.

24.

Ceballos G, Villarreal JL. Effects of (-)-epicatechin on myocardial infarct size and left ventricular remodeling after permanent coronary occlusion. J Am Coll Cardiol. 2010;55(25):2869–76.

25.

Corti R, Flammer AJ, Hollenberg NK, Luscher TF. Cocoa and cardiovascular health. Circulation. 2009;119:1433–41.

26.

Piot C, Croisille P, Staat P, et al. Effect of cyclosporine on reperfusion injury in acute myocardial infarction. N Engl J Med. 2008;359:473–81.

27.

Devika PT, Stanely Mainzen Prince P. (-)Epigallocatechingallate protects the mitochondria against the deleterious effects of lipids, calcium, and adenosine triphosphate in isoproterenol induced myocardial infarcted male Wistar rats. J Appl Toxicol. 2008;28(8):938–44.

28.•

Ortiz-Vilchis P, Yamazaki KG, Rubio-Gayosso I, Ramirez-Sanchez I, Calzada C, Romero-Perez D, et al. Co-administration of the flavanol (-)-epicatechin with doxycycline synergistically reduced infarct size in a model of ischemia reperfusion injury by inhibition of mitochondrial swelling. Eur J Pharmacol. 2014;744:76–82. An assessment of the potential cardioprotective effects of epicatechin in an in vivo rat model. This was the first study to suggest that epicatechin may confer benefits through inhibition of the mitochondrial permeability transition pore (mPTP), which is now a major focus of research.

29.

Nogueira L, Ramirez-Sanchez I, Perkins GA, Murphy A, Taub PR, Ceballos G, et al. (-)-Epicatechin enhances fatigue resistance and oxidative capacity in mouse muscle. J Physiol. 2011;589(Pt 18):4615–31.

30.•

Taub PR, Ramirez-Sanchez I, Ciaraldi TP, Perkins G, Murphy AN, Naviaux R, et al. Alterations in skeletal muscle indicators of mitochondrial structure and biogenesis in patients with type 2 diabetes and heart failure: effects of epicatechin rich cocoa. Clin Transl Sci. 2012;5(1):43–7. This was the first study of the role of epicatechin on mitochondria in a population at high risk for cardiovascular events. The analysis suggested the beneficial effects of epicatechin upon mitochondria structure and function, analyzed via assessment of skeletal muscle changes and mitochondrial protein levels.

31.

Taub PR, Patel M, Higginbotham E, Ramon L, Moreno-Ulloa A, Ramirez-Sanchez I, Ceballos G, Villarreal F. Effects of dark chocolate (DC) on exercise capacity in sedentary older adults (a double blind placebo controlled trial). J Am Coll Cardiol. 2015; 65(10_S):. doi:10.1016/S0735-1097(15)61455-3.

32.

Kavanagh T, Mertens DJ, Hamm LF, et al. Prediction of long-term prognosis in 12 169 men referred for cardiac rehabilitation. Circulation. 2002;106:666–71.

33.

Janssen I, Shepard DS, Katzmarzyk PT, Roubenoff R. The healthcare costs of sarcopenia in the United States. J Am Geriatr Soc. 2004;52:80–5.

34.

Taub PR, Ramirez-Sanchez I, Ciaraldi TP, Gonzales-Basutro S, Coral-Vazquez R, Perkins G, et al. Perturbations in skeletal muscle sarcomere structure in patients with heart failure and type 2 diabetes: restorative effects of (-)-epicatechin-rich cocoa. Clin Sci (Lond). 2013;125(8):383–9.

35.

Mulvey C, Mullen E, Ohlendieck K. The pathobiochemical role of the dystrophin–dystroglycan complex and the Ca2+-handling apparatus in diabetes-related muscle weakness. Mol Med Rep. 2008;1:297–306.

36.•

Brickman AM, Khan UA, Provenano FA, Yeung LK, Suzuki W, Schroeter H, et al. Enhancing dentate gyrus function with dietary flavanols improves cognition in older adults. Nat Neurosci. 2014;17(12):1798–803. This illustrates a promising new area of epicatechin research within neurology and cognitive-behavioral sciences. There will likely be more data over the next few years related to epicatechin and effects on cognitive function and other neurological pathways.

37.

Scaramuzza AE, Succotti GV. Dark chocolate consumption and lower HbA1c in children with diabetes: direct cause or pure happiness? Clin Nutr. 2015;34(2):333–4.

38.

Terai N, Gedenk A, Spoerl E, Pillunat LE, Stodmeister R. The short-term effect of flavonoid-rich dark chocolate on retinal vessel diameter in glaucoma patients and age-matched controls. Acta Ophthalmol. 2014;92(5):e341–5.

39.

Mikus CR, Boyle LJ, Borengasser SJ, Oberlin DJ, Naples SP, Fletcher J, et al. Simvastatin impairs exercise training adaptations. J Am Coll Cardiol. 2013;62(8):709–14.

40.

Lee I, Huttemann M, Kruger A, Bollig-Fischer A, Malek MH. (-)-Epicatechin combined with 8 weeks of treadmill exercise is associated with increased angiogenic and mitochondrial signaling in mice. Front Pharmacol. 2015;6:43.

41.

Gonzales-Garrido Chem JA, Olivares-Corichi IM, Tovar-Rodriguez JM, Hernandez-Santana NA, Mendez-Bolaina E, Ceballos-Reyes GM, et al. Influence of the AT(2) receptor on the L-arginine-nitric oxide pathway and effects of (-)-epicatechin on HUVECs from women with preeclampsia. J Hum Hypertens. 2013;27(6):355–61.
Compliance with Ethical Standards
Conflict of Interest
Erin Higginbotham declares no potential conflicts of interest.
Pam R. Taub reports equity from Cardero Therapeutics and has an issued patent (US 8,648,059).
Human and Animal Rights and Informed Consent
This article does not contain any studies with human or animal subjects performed by any of the authors.
Additional information
This article is part of the Topical Collection on Prevention
About this article
Cite this article
Higginbotham, E., Taub, P.R. Cardiovascular Benefits of Dark Chocolate?. Curr Treat Options Cardio Med 17, 54 (2015). https://doi.org/10.1007/s11936-015-0419-5
Keywords
Dark chocolate

Cocoa

Epicatechin

Flavanols

Mitochondria

Skeletal muscle