Abstract
Purpose of Review
Urinary tract infections (UTIs) are a common problem, especially in women. Recurrent UTIs (rUTIs) are difficult to treat and while prophylactic antibiotics can be an effective strategy, they worsen antimicrobial resistance and incur side effects. We conducted a systematic review of literature to assess the role of probiotics in management of UTIs. All English language articles reporting on randomised trials and cohort studies were selected, while paediatric patients (< 18 years) and patients with neurogenic bladders were excluded.
Recent Findings
A total of 9 articles (772 patients) met the inclusion criteria with a mean age of 34.2 years (range 18–65 years). A variety of different probiotics were used. Two studies concluded that probiotics could reduce risk of rUTIs; however, the remainder provided inconclusive results. A key advantage demonstrated, however, was the limited side effect profile and tolerance, which allows for good patient compliance with this treatment strategy.
Summary
There exists only limited clinical evidence to support the role of probiotics in the management of rUTIs, and based on the current evidence, probiotics can be a potential measure to reduce rUTIs, although further randomised studies will help delineate its formal position in the treatment algorithm.
Access options
Buy single article
Instant access to the full article PDF.
USD 39.95
Price excludes VAT (USA)
Tax calculation will be finalised during checkout.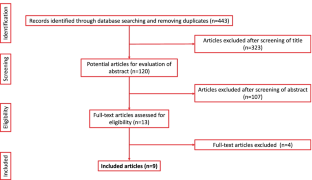 References
Papers of particular interest, published recently, have been highlighted as: • Of importance
Foxman B. Epidemiology of urinary tract infections: incidence, morbidity, and economic cost. Dis Mon. 2003;49(2):53–70.

Ellis AK, Verma S. Quality of life in women with urinary tract infections: is benign disease a misnomer? J Am Board Fam Pract. 2000;13(6):392–7.

Albert X, Huertas I, Pereiro II, et al. Antibiotics for preventing recurrent urinary tract infection in nonpregnant women. Cochrane Database Syst Rev. 2004;(3):CD001209.

National Institute for Health and Care Excellence (NICE). NG112 Urinary tract infection (recurrent): antimicrobial prescribing, https://www.niceorguk/guidance/ng112/chapter/Recommendations. (accessed May 2021)

• Bonkat G, Bartoletti R, Bruyère R, et al. EAU guidelines on urological infections. Retrieved from https://uroweb.org/wp-content/uploads/EAU-Guidelines-on-Urological-infections-2021.pdf/ (Accessed May 2021). European guidelines on Urological infections.

Gootz TD. The global problem of antibiotic resistance. Crit Rev Immunol. 2010;30(1):79–93.

Chapman CM, Gibson GR, Rowland I. Effects of single- and multi-strain probiotics on biofilm formation and in vitro adhesion to bladder cells by urinary tract pathogens. Anaerobe. 2014;27:71–6.

Liberati A, Altman DG, Tetzlaff J, et al. The PRISMA statement for reporting systematic reviews and meta-analyses of studies that evaluate health care interventions: explanation and elaboration. BMJ. 2009;339:b2700.

Baerheim A, Larsen E, Digranes A. Vaginal application of lactobacilli in the prophylaxis of recurrent lower urinary tract infection in women. Scand J Prim Health Care. 1994;12(4):239–43.

Czaja C, Stapleton A, Yarova-Yarovaya Y, et al. Phase I Trail of a Lactobacillus crispatus Vaginal suppository for prevention of recurrent urinary tract infection in women. Infect Dis Obstet Gynecol. 2007;2007:35387. https://doi.org/10.1155/2007/35387.

Stapleton A, Au-Yeung M, Hooton TM, et al. Randomized, placebo-controlled phase 2 trial of a Lactobacillus crispatus probiotic given intravaginally for prevention of recurrent urinary tract infection. Clin Infect Dis. 2011;52(10):1212–7.

• Koradia P, Kapadia S, Trivedi Y, et al. Probiotic and cranberry supplementation for preventing recurrent uncomplicated urinary tract infections in premenopausal women: a controlled pilot study. Expert Rev Anti-Infect Ther. 2019;17(9):733-740. The study showed benefit from probiotic use. The probiotic agent was a special formula combining benefits of both probiotics and cranberry extract.

Pugliese D, Acampora A, Porreca A, et al. Effectiveness of a novel oral combination of D-Mannose, pomegranate extract, prebiotics and probiotics in the treatment of acute cystitis in women. Arch Ital Urol Androl. 2020;92(1):34–8.

Reid G, Charbonneau D, Erb J, et al. Oral use of Lactobacillus rhamnosus GR-1 and L. fermentum RC-14 significantly alters vaginal flora: randomized, placebo-controlled trial in 64 healthy women. FEMS Immunol Med Microbiol. 2003;35(2):131–4.

Wolff B, Price T, Joyce CJ, et al. Oral probiotics and the female urinary microbiome: a double-blinded randomized placebo-controlled trial. Int Urol Nephrol. 2019;51(12):2149–59.

Beerepoot MA, Riet G, Nys S, et al. Lactobacilli vs antibiotics to prevent urinary tract infections: a randomized, double-blind, noninferiority trial in postmenopausal women. Arch Intern Med. 2012;172(9):704–12.

Kontiokari T, Sundqvist K, Nuutinen M, et al. Randomised trial of cranberry-lingonberry juice and Lactobacillus GG drink for the prevention of urinary tract infections in women. BMJ. 2001;322:1571.

Schwenger EM, Tejani AM, Loewen PS. Probiotics for preventing urinary tract infections in adults and children. Cochrane Database Syst Rev. 2015;(12):CD008772. https://doi.org/10.1002/14651858.CD008772.pub2.

Ng QX, Peters C, Venkatanarayanan N, et al. Use of Lactobacillus spp. to prevent recurrent urinary tract infections in females. Med Hypotheses. 2018;114:49–54.

Review Manager (RevMan) [Computer program]. Version 5.4, The Cochrane Collaboration, 2020.

Hempel S, Newberry S, Ruelaz A, et al. Safety of probiotics used to reduce risk and prevent or treat disease. Evid Rep Technol Assess (Full Rep). 2011;200:1–645.

Gwee KA, Lee WWR, Ling KL, et al. Consensus and contentious statements on the use of probiotics in clinical practice: a south east Asian gastro-neuro motility association working team report. J Gastroenterol Hepatol. 2018;33(10):1707–16.
Ethics declarations
Consent to Participate
N/A.
Conflict of Interest
The authors declare no competing interests.
Additional information
Publisher's Note
Springer Nature remains neutral with regard to jurisdictional claims in published maps and institutional affiliations.
This article is part of the Topical Collection on Lower Urinary Tract Symptoms & Voiding Dysfunction
Supplementary Information
Below is the link to the electronic supplementary material.
About this article
Cite this article
New, F.J., Theivendrampillai, S., Juliebø-Jones, P. et al. Role of Probiotics for Recurrent UTIs in the Twenty-First Century: a Systematic Review of Literature. Curr Urol Rep 23, 19–28 (2022). https://doi.org/10.1007/s11934-022-01085-x
Accepted:

Published:

Issue Date:

DOI: https://doi.org/10.1007/s11934-022-01085-x
Keywords
Probiotics

Urinary tract infection

UTI

Antimicrobial resistance

Antibiotics

Recurrent