Abstract
Purpose of Review
To review novel, non-surgical therapies for erectile dysfunction (ED).
Recent Findings
Recently, a landmark study identified the SIM1 locus, involved in the leptin-melanocortin pathway, as an independent risk factor for ED and a potential target for novel therapies. The recent literature otherwise has focused on low-intensity shock wave therapy (LiSWT), with several randomized trials and meta-analyses suggesting therapeutic efficacy.
Summary
There are few novel oral agents for ED. There is growing evidence suggesting efficacy of intracavernosal stem cells therapy and low-intensity shock wave therapy (LiSWT), although these therapies are still investigational. A better understanding of the pathophysiologic spectrum of ED will offer new opportunities for novel, non-surgical therapies for ED.
This is a preview of subscription content, log in to check access.
Access options
Buy single article
Instant access to the full article PDF.
US$ 39.95
Tax calculation will be finalised during checkout.
Subscribe to journal
Immediate online access to all issues from 2019. Subscription will auto renew annually.
US$ 99
Tax calculation will be finalised during checkout.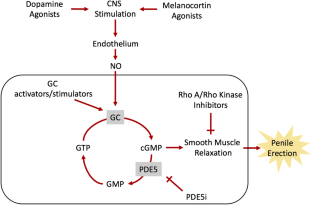 References
Papers of particular interest, published recently, have been highlighted as: • Of importance •• Of major importance
1.

Johannes CB, Araujo AB, Feldman HA, Derby CA, Kleinman KP, McKinlay JB. Incidence of erectile dysfunction in men 40 to 69 years old: longitudinal results from the Massachusetts male aging study. J Urol. 2000;163(2):460–3.

2.

Laumann EO, Paik A, Rosen RC. Sexual dysfunction in the United States: prevalence and predictors. JAMA. 1999;281(6):537–44.

3.

Selvin E, Burnett AL, Platz EA. Prevalence and risk factors for erectile dysfunction in the US. Am J Med. 2007;120(2):151–7.

4.

Bohm M, Baumhakel M, Teo K, Sleight P, Probstfield J, Gao P, et al. Erectile dysfunction predicts cardiovascular events in high-risk patients receiving telmisartan, ramipril, or both: the ONgoing Telmisartan Alone and in combination with Ramipril Global Endpoint Trial/Telmisartan Randomized AssessmeNt Study in ACE iNtolerant subjects with cardiovascular Disease (ONTARGET/TRANSCEND). Trials Circulation. 2010;121(12):1439–46.

5.

Dong JY, Zhang YH, Qin LQ. Erectile dysfunction and risk of cardiovascular disease: meta-analysis of prospective cohort studies. J Am Coll Cardiol. 2011;58(13):1378–85.

6.

Schouten BW, Bohnen AM, Bosch JL, Bernsen RM, Deckers JW, Dohle GR, et al. Erectile dysfunction prospectively associated with cardiovascular disease in the Dutch general population: results from the Krimpen Study. Int J Impot Res. 2008;20(1):92–9.

7.

Nehra A, Jackson G, Miner M, Billups KL, Burnett AL, Buvat J, et al. The Princeton III Consensus recommendations for the management of erectile dysfunction and cardiovascular disease. Mayo Clin Proc. 2012;87(8):766–78.

8.

Batty GD, Li Q, Czernichow S, Neal B, Zoungas S, Huxley R, et al. Erectile dysfunction and later cardiovascular disease in men with type 2 diabetes: prospective cohort study based on the ADVANCE (Action in Diabetes and Vascular Disease: Preterax and Diamicron Modified-Release Controlled Evaluation) trial. J Am Coll Cardiol. 2010;56(23):1908–13.

9.

Kirby M. The circle of lifestyle and erectile dysfunction. Sex Med Rev. 2015;3(3):169–82.

10.

•• Mulhall JP, Trost LW, Brannigan RE, Kurtz EG, Redmon JB, Chiles KA, et al. Evaluation and management of testosterone deficiency: AUA guideline. J Urol. 2018;200(2):423–32 This recent guideline provides a comprehensive review of the evaluation and treatment of testosterone deficiency.

11.

•• Burnett AL, Nehra A, Breau RH, Culkin DJ, Faraday MM, Hakim LS, et al. Erectile dysfunction: AUA guideline. J Urol. 2018;200(3):633–41 This recent guideline provides a comprehensive review of the evaluation and treatment of ED.

12.

Wessells H, Joyce GF, Wise M, Wilt TJ. Erectile dysfunction. J Urol. 2007;177(5):1675–81.

13.

Lal S, Laryea E, Thavundayil JX, Nair NP, Negrete J, Ackman D, et al. Apomorphine-induced penile tumescence in impotent patients--preliminary findings. Prog Neuro-Psychopharmacol Biol Psychiatry. 1987;11(2–3):235–42.

14.

Heaton JP. Key issues from the clinical trials of apomorphine SL. World J Urol. 2001;19(1):25–31.

15.

Von Keitz AT, Stroberg P, Bukofzer S, Mallard N, Hibberd M. A European multicentre study to evaluate the tolerability of apomorphine sublingual administered in a forced dose-escalation regimen in patients with erectile dysfunction. BJU Int. 2002;89(4):409–15.

16.

Cowart M, Latshaw SP, Bhatia P, Daanen JF, Rohde J, Nelson SL, et al. Discovery of 2-(4-pyridin-2-ylpiperazin-1-ylmethyl)-1H-benzimidazole (ABT-724), a dopaminergic agent with a novel mode of action for the potential treatment of erectile dysfunction. J Med Chem. 2004;47(15):3853–64.

17.

Wessells H, Levine N, Hadley ME, Dorr R, Hruby V. Melanocortin receptor agonists, penile erection, and sexual motivation: human studies with melanotan II. Int J Impot Res. 2000;12(Suppl 4):S74–9.

18.

•• Jorgenson E, Matharu N, Palmer MR, Yin J, Shan J, Hoffmann TJ, et al. Genetic variation in the SIM1 locus is associated with erectile dysfunction. Proc Natl Acad Sci U S A. 2018;115(43):11018–23 This recent landmark study identified a genetic association between a SIM1 locus and ED. This genome-wide association study provides targets for other gene discoveries and novel ED therapies.

19.

Albersen M, Linsen L, Tinel H, Sandner P, Van Renterghem K. Synergistic effects of BAY 60-4552 and vardenafil on relaxation of corpus cavernosum tissue of patients with erectile dysfunction and clinical phosphodiesterase type 5 inhibitor failure. J Sex Med. 2013;10(5):1268–77.

20.

Guagnini F, Ferazzini M, Grasso M, Blanco S, Croci T. Erectile properties of the Rho-kinase inhibitor SAR407899 in diabetic animals and human isolated corpora cavernosa. J Transl Med. 2012;10:59.

21.

Chaitoff A, Killeen TC, Nielsen C. Men's health 2018: BPH, prostate cancer, erectile dysfunction, supplements. Cleve Clin J Med. 2018;85(11):871–80.

22.

Ernst E, Pittler MH. Yohimbine for erectile dysfunction: a systematic review and meta-analysis of randomized clinical trials. J Urol. 1998;159(2):433–6.

23.

Lebret T, Herve JM, Gorny P, Worcel M, Botto H. Efficacy and safety of a novel combination of L-arginine glutamate and yohimbine hydrochloride: a new oral therapy for erectile dysfunction. Eur Urol. 2002;41(6):608–13 discussion 13.

24.

Klotz T, Mathers MJ, Braun M, Bloch W, Engelmann U. Effectiveness of oral L-arginine in first-line treatment of erectile dysfunction in a controlled crossover study. Urol Int. 1999;63(4):220–3.

25.

Jang DJ, Lee MS, Shin BC, Lee YC, Ernst E. Red ginseng for treating erectile dysfunction: a systematic review. Br J Clin Pharmacol. 2008;66(4):444–50.

26.

Choi J, Kim TH, Choi TY, Lee MS. Ginseng for health care: a systematic review of randomized controlled trials in Korean literature. PLoS One. 2013;8(4):e59978.

27.

Shindel AW, Xin ZC, Lin G, Fandel TM, Huang YC, Banie L, et al. Erectogenic and neurotrophic effects of icariin, a purified extract of horny goat weed (Epimedium spp.) in vitro and in vivo. J Sex Med. 2010;7(4 Pt 1):1518–28.

28.

Anaissie J, Hellstrom WJ. Clinical use of alprostadil topical cream in patients with erectile dysfunction: a review. Res Rep Urol. 2016;8:123–31.

29.

•• Gu X, Hua S, Ethan M, Zhong L, Long T, Clouse C, et al. Long-term therapeutic effect of cell therapy on improvement in erectile function in a rat model with pelvic neurovascular injury. BJU international. 2018. This recent study demonstrates therapeutic efficacy of intracavernosal stem cell injection in an animal model. Normal saline (control), umbilical vein endothelial cells, adipose-derived stem cells, and amniotic fluid-derived stem cells were injected into the corpus cavernosum of rats. The authors show a significant increase in the intracavernosal pressure/mean arterial pressure ratio in treated rats compared with controls.

30.

Bivalacqua TJ, Champion HC, Mehta YS, Abdel-Mageed AB, Sikka SC, Ignarro LJ, et al. Adenoviral gene transfer of endothelial nitric oxide synthase (eNOS) to the penis improves age-related erectile dysfunction in the rat. Int J Impot Res. 2000;12(Suppl 3):S8–17.

31.

Bivalacqua TJ, Deng W, Kendirci M, Usta MF, Robinson C, Taylor BK, et al. Mesenchymal stem cells alone or ex vivo gene modified with endothelial nitric oxide synthase reverse age-associated erectile dysfunction. Am J Physiol Heart Circ Physiol. 2007;292(3):H1278–90.

32.

Bivalacqua TJ, Usta MF, Champion HC, Adams D, Namara DB, Abdel-Mageed AB, et al. Gene transfer of endothelial nitric oxide synthase partially restores nitric oxide synthesis and erectile function in streptozotocin diabetic rats. J Urol. 2003;169(5):1911–7.

33.

Johnston EK, Francis MK, Knepper JE. Recombinant pigment epithelium-derived factor PEDF binds vascular endothelial growth factor receptors 1 and 2. In Vitro Cell Dev Biol Anim. 2015;51(7):730–8.

34.

Gettins PG, Simonovic M, Volz K. Pigment epithelium-derived factor (PEDF), a serpin with potent anti-angiogenic and neurite outgrowth-promoting properties. Biol Chem. 2002;383(11):1677–82.

35.

Chen X, Yang Q, Zheng T, Bian J, Sun X, Shi Y, et al. Neurotrophic effect of adipose tissue-derived stem cells on erectile function recovery by pigment epithelium-derived factor secretion in a rat model of cavernous nerve injury. Stem Cells Int. 2016;2016:5161248.

36.

Vardi Y, Appel B, Jacob G, Massarwi O, Gruenwald I. Can low-intensity extracorporeal shockwave therapy improve erectile function? A 6-month follow-up pilot study in patients with organic erectile dysfunction. Eur Urol. 2010;58(2):243–8.

37.

•• Campbell JD, Trock BJ, Oppenheim AR, Anusionwu I, Gor RA, Burnett AL. Meta-analysis of randomized controlled trials that assess the efficacy of low-intensity shockwave therapy for the treatment of erectile dysfunction. Ther Adv Urol. 2019;11:1756287219838364 This recent meta-analysis of randomized trials suggests therapeutic efficacy of LiSWT for ED.

38.

Clavijo RI, Kohn TP, Kohn JR, Ramasamy R. Effects of low-intensity extracorporeal shockwave therapy on erectile dysfunction: a systematic review and meta-analysis. J Sex Med. 2017;14(1):27–35.

39.

Lu Z, Lin G, Reed-Maldonado A, Wang C, Lee YC, Lue TF. Low-intensity extracorporeal shock wave treatment improves erectile function: a systematic review and meta-analysis. Eur Urol. 2017;71(2):223–33.

40.

Katz JE, Molina ML, Clavijo R, Prakash NS, Ramasamy R. A phase 2 randomized trial to evaluate different dose regimens of low-intensity extracorporeal shockwave therapy for erectile dysfunction: clinical trial update. Eur Urol Focus. 2018;4(3):336–7.

41.

Andia I, Maffulli N. Platelet-rich plasma for managing pain and inflammation in osteoarthritis. Nat Rev Rheumatol. 2013;9(12):721–30.

42.

Akeda K, Yamada J, Linn ET, Sudo A, Masuda K. Platelet-rich plasma in the management of chronic low back pain: a critical review. J Pain Res. 2019;12:753–67.

43.

Marck RE, Middelkoop E, Breederveld RS. Considerations on the use of platelet-rich plasma, specifically for burn treatment. J Burn Care Res. 2014;35(3):219–27.

44.

Hesseler MJ, Shyam N. Platelet-rich plasma and its utility in medical dermatology - a systematic review. J Am Acad Dermatol. 2019.

45.

Wu CC, Wu YN, Ho HO, Chen KC, Sheu MT, Chiang HS. The neuroprotective effect of platelet-rich plasma on erectile function in bilateral cavernous nerve injury rat model. J Sex Med. 2012;9(11):2838–48.

46.

• Matz EL, Pearlman AM, Terlecki RP. Safety and feasibility of platelet rich fibrin matrix injections for treatment of common urologic conditions. Investigative and clinical urology. 2018;59(1):61–5 This study assesses the safety and feasibility of PRP for ED.
Ethics declarations
Conflict of Interest
Darshan P. Patel declares no potential conflicts of interest.
Alexander W. Pastuszak reports advisor, speaker, consultant, and research and fellowship support from Endo Pharmaceuticals; is an advisor for Boston Scientific and Antares Pharmaceuticals; and holds a leadership position with Woven Health.
James M. Hotaling reports a research and fellowship grant from Endo Pharmaceuticals and a fellowship grant from Boston Scientific; and holds leadership positions with Nanonc, SteamDx, and Andro360.
Human and Animal Rights and Informed Consent
This article does not contain any studies with human or animal subjects performed by any of the authors.
Additional information
Publisher's Note
Springer Nature remains neutral with regard to jurisdictional claims in published maps and institutional affiliations.
This article is part of the Topical Collection on Men's Health
About this article
Cite this article
Patel, D.P., Pastuszak, A.W. & Hotaling, J.M. Emerging Treatments for Erectile Dysfunction: a Review of Novel, Non-surgical Options. Curr Urol Rep 20, 44 (2019). https://doi.org/10.1007/s11934-019-0908-2
Keywords
Erectile dysfunction

Sexual dysfunction

Physiological

Dietary supplement

Platelet-rich plasma

Genetic therapy

Extracorporeal shockwave therapy