Abstract
Purpose of Review
Genital dermatology represents a challenge to many providers. Though dermatologic lesions involving the genitalia may present to any of a number of practices, ranging from primary care to urology, gynecology, and dermatology, few training programs provide significant training regarding the diagnosis and management of genital dermatologic lesions. The purpose of this review is to provide urologists with an overview of common genital dermatological lesions that may be encountered in a clinic. The review also provides a guide to how to approach these conditions.
Recent Findings
This manuscript summarizes the most common categories of genital dermatologic lesions, starting with normal variants and progressing to a review of contagious conditions, premalignant lesions, and malignant lesions. In cases in which a lesion does not definitively belong to one of these categories, an algorithmic approach to making a diagnosis may be helpful to narrow the differential diagnosis. The most common benign genital growths include cysts, syringomas, seborrheic keratosis, pearly papules, and Fordyce spots. Contagious lesions, such as herpes, syphilis, scabies, or molluscum contagiosum, should be treated immediately before complications or transmission can occur. Inflammatory genital lesions are very diverse in etiology and presentation but are the most common genital lesions in urological clinical practice. This category of lesions can be approached by dividing them into non-erythematous and erythematous (scaling and non-scaling) lesions. Given the potential evolution of the challenging category of premalignant genital lesions, proper recognition and early biopsy play an important role. Premalignant lesions can be broadly classified into two categories: those not related to HPV infection and those that are related to HPV, including erythroplasia of Queyrat (EQ), Bowen's disease, Bowenoid papulosis, vulvar intraepithelial neoplasia (VIN), and giant condyloma. Herein, contemporary nomenclature and proper evaluation and management of premalignant lesions are reviewed which provide safe and efficacious outcomes for patients. Finally, malignant genital lesions, though rare, must be recognized early and addressed correctly. Squamous cell carcinoma represents 95% of penile and approximately 90% of vulvar and vaginal malignancies, and diagnosis and management can be challenging and require proper referral to an oncologist.
Summary
Genital dermatology is a challenging field marked by diagnostic difficulty and management challenges. This manuscript provides an overview of genitourinary dermatologic lesions in an effort to provide clinicians with a framework with which to approach the evaluation of these various conditions that will facilitate proper consideration of the differential diagnoses and help the urologist distinguish between normal, benign, premalignant, and malignant lesions.
Access options
Buy single article
Instant access to the full article PDF.
US$ 39.95
Tax calculation will be finalised during checkout.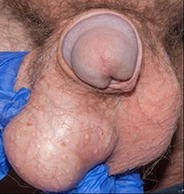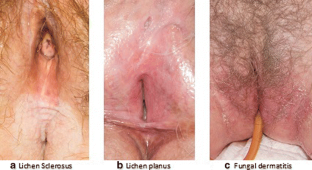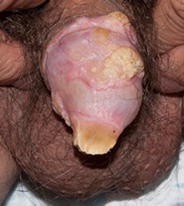 References
1.

Weiss JN, Plumb RT. Benign lesions of the external genitalia. Urol Clin North Am. 1992;19:123–30.

2.

Anon: STD Clinical Consultation Network. Available at: www.stdccn.org.

3.

CDC: 2015 STD Treatment Guidelines. Available at: https://www.cdc.gov/std/tg2015/.

4.

Lisboa C, Ferreira A, Resende C, et al. Infectious balanoposthitis: management, clinical and laboratory features. Int J Dermatol. 2009;48:121–4.

5.

Shimizu A, Tamura A, Abe M, et al. Human papillomavirus type 56-associated Bowen disease. Br J Dermatol. 2012;167:1161–4.

6.

McKenna KE, Patterson CC, Handley J, et al. Cutaneous neoplasia following PUVA therapy for psoriasis. Br J Dermatol. 1996;134:639–42.

7.

Divakaruni AK, Rao AVC, Mahabir B. Erythroplasia of Queyrat with Zoon's balanitis: a diagnostic dilemma. Int J STD AIDS. 2008;19:861–3.

8.

Papadopoulos AJ, Schwartz RA, Lefkowitz A, et al. Extragenital bowenoid papulosis associated with atypical human papillomavirus genotypes. J Cutan Med Surg. 2002;6:117–21.

9.

Shabbir M, Minhas S, Muneer A. Diagnosis and management of premalignant penile lesions. Ther Adv Urol. 2011;3:151–8.

10.

Micheletti L, Preti M, Radici G, et al. Vulvar lichen sclerosus and neoplastic transformation: a retrospective study of 976 cases. J Low Genit Tract Dis. 2016;20:180–3.

11.

Philippou P, Shabbir M, Ralph DJ, et al. Genital lichen sclerosus/balanitis xerotica obliterans in men with penile carcinoma: a critical analysis. BJU Int. 2013;111:970–6.

12.

Darragh TM, Colgan TJ, Thomas Cox J, et al. The Lower Anogenital Squamous Terminology Standardization project for HPV-associated lesions: background and consensus recommendations from the College of American Pathologists and the American Society for Colposcopy and Cervical Pathology. Int J Gynecol Pathol Off J Int Soc Gynecol Pathol. 2013;32:76–115.

13.

Wright TC, Schiffman M. Adding a test for human papillomavirus DNA to cervical-cancer screening. N Engl J Med. 2003;348:489–90.

14.

Castle PE, Stoler MH, Solomon D, et al. The relationship of community biopsy-diagnosed cervical intraepithelial neoplasia grade 2 to the quality control pathology-reviewed diagnoses: an ALTS report. Am J Clin Pathol. 2007;127:805–15.

15.

Galgano MT, Castle PE, Atkins KA, et al. Using biomarkers as objective standards in the diagnosis of cervical biopsies. Am J Surg Pathol. 2010;34:1077–87.

16.

You H-S, Kim G-W, Kim W-J, et al. Dermatoses of the glans penis in Korea: a 10-year single center experience. Ann Dermatol. 2016;28:40–4.
Ethics declarations
Conflict of Interest
Andrew Stamm and Ksenija Stefanovic each declare no potential conflicts of interest.
Kathleen Kobashi is a section editor for Current Urology Reports.
Human and Animal Rights and Informed Consent
This article does not contain any studies with human or animal subjects performed by any of the authors.
Additional information
This article is part of the Topical Collection on Female Urology
About this article
Cite this article
Stamm, A.W., Kobashi, K.C. & Stefanovic, K.B. Urologic Dermatology: a Review. Curr Urol Rep 18, 62 (2017). https://doi.org/10.1007/s11934-017-0712-9
Keywords
Dermatology

Urologic dermatology

Genital dermatology

Lesions