Abstract
Purpose of review
Despite the fact that Masters and Johnson's Sensate Focus has informed the sex therapy field for decades, there has been a lack of clarity about its updated description, and its use with sexual dysfunctions versus facilitating optimal sexual interaction. The authors suggest separating Sensate Focus into two components: Sensate Focus 1 for resolving dysfunctions; and Sensate Focus 2 for optimizing intimacy. Six specific questions are addressed: Does the literature continue to reference Sensate Focus? What is its efficacy? In what types of journals is it referenced? How do recent publications define Sensate Focus? Is it referenced as a general citation or are details included? Are details consistent with different phases of Sensate Focus (1 and 2)?
Recent findings
Sensate Focus: continues to be referenced in the literature especially with diverse clientele; continues to be an effective sex therapy technique; is increasingly referenced in medical journals; is increasingly defined as having two components (Sensate Focus 1 and 2); is increasingly referenced in greater detail; and details increasingly reflect a nuanced understanding of differences between Sensate Focus 1 and 2.
Summary
The complexities of Sensate Focus are being recognized in terms of phases of treatment, application to diversified populations, and as incorporated in biopsychosocial models for treating sexual problems.
Access options
Buy single article
Instant access to the full article PDF.
USD 39.95
Price excludes VAT (USA)
Tax calculation will be finalised during checkout.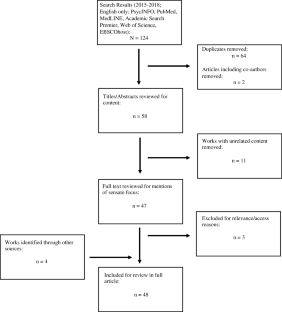 References
Papers of particular interest, published recently, have been highlighted as: • Of importance •• Of major importance
Masters W, Johnson VE. Human sexual inadequacy. New York: Little, Brown and Company; 1970.

•• Avery-Clark C, Weiner L. Traditional Masters and Johnson behavioral approaches to sex therapy. In: Peterson Z, editor. The Wiley handbook of sex therapy. New York: Wiley-Blackwell; 2017. pp. 165–189. This is the first publication in chapter form to include an updated definition of Sensate Focus, one more aligned with the concepts of Sensate Focus as later described by Masters and Johnson.

Weiner L, Avery-Clark C. Sensate focus: clarifying the Masters and Johnson's model. Sex Relatsh Ther. 2014;29:307–19.

•• Weiner L, Avery-Clark C. Sensate Focus in sex therapy: the illustrated manual. New York: Routledge; 2017. This is the first detailed description not only of the specific, updated instructions for Sensate Focus that accurately reflect the underlying concepts of Sensate Focus, but also instructions reflecting the distinction between Sensate Focus 1 (for sexually dysfunctional couples) and Sensate Focus 2 (for couples wishing to optimize their intimacy).

Albaugh JA, Kellogg-Spadt S. Intimacy issues: Sensate Focus and its role in treating sexual dysfunction. Urol Nurs. 2002;22:402.

Cooper AJ. Short-term treatment in sexual dysfunction: a review. Compr Psychiatry. 1981;22:206–17.

De Villers L, Turgeon H. The uses and benefits of "Sensate Focus" exercises. Contemporary Sexuality. 2005;39(11):i–vi.

Regev L, Schmidt J. Sensate focus. In: O'Donohue WT, Fisher JE, editors. Cognitive behavior therapy: applying empirically supported techniques in your practice. 2nd ed. Hoboken, NJ: John Wiley & Sons Inc; 2008. p. 486–92.

Carroll JL. Sexuality now, embracing diversity. 4th ed. Wadsworth/Thompson Learning: Belmont, CA; 2013.

Tye M. Sexuality & our diversity: integrating culture with the biopsychosocial. Vol 1.0. Boston: Flat World Education, Inc: 2013.

Rosenthal M. Human sexuality: from cells to society. Independence, KY: Cengage Advantage Books; 2012.

Yarber WL, Sayad BW, Strong B. Human sexuality: diversity in contemporary America. 8th ed. New York: McGraw-Hill; 2012.

• Hertlein KM, Weeks GR, Gambescia N, editors. Systemic sex therapy. 2nd edition. New York: Routledge/Taylor & Francis Group; 2016. One of the fundamental texts in sex therapy education that contains the updated descriptions of the two phases of Sensate Focus, also suggest the way in which Sensate Focus 1 flows over into Sensate Focus 2.

•• Linschoten MG, Weiner L, Avery-Clark C. Sensate focus: a critical literature review. Sex Relation Ther. 2016;31:230–47 This is the first review of the Sensate Focus literature, and is the article from which the current research arose.

Kleinplatz PJ. Advancing sex therapy or is that the best you can do? In: Kleinplatz, PJ, editor. New directions in sex therapy: innovations and alternatives. 2nd edition. New York: Routledge: 2012. pp. xix-xxxvi.

Kaplan HS. The evaluation of sexual disorders: psychological and medical aspects. Levittown, PA: Taylor & Francis: 1983.

Kaplan HS. The illustrated manual of sex therapy. 2nd edition. New York: Routledge Taylor & Francis: 1988.

Masters WH, Johnson VE, Kolodny RC. Human sexuality. 5th edition. New York: HarperCollins: 1995.

Atwood J. Sexual disorders and sex therapy. In: Hecker LL, Wetchler JL, editors., An Introduction to marriage and family therapy. New York: Routledge Mental Health, Taylor & Francis Group: 2014. pp. 369–408.

Hucker A, McCabe MP. Incorporating mindfulness and chat groups into an online cognitive behavioral therapy for mixed female sexual problems. J Sex Res. 2015;52:627–39.

McCarthy B, Wald LM. Strategies and techniques to directly address sexual desire problems. J Fam Psychother. 2015;26:286–98.

• Seal BN, Meston CM. The impact of body awareness on women's sexual health: a comprehensive review. Sex Med Rev. 2018. https://doi.org/10.1016/j.sxmr.2018.03.003 Accessed 21 June 2018. This excellent review emphasizes an important aspect of Sensate Focus, the somatic aspect of sexual dysfunction treatment.

Pulverman CS, Hixon JG, Meston CM. Uncovering category specificity of genital sexual arousal in women: the critical role of analytic technique. Psychophysiology. 2015;52:1396–408.

Kimmes JG, Mallory AB, Cameron C, Köse Ö. A treatment model for anxiety-related sexual dysfunctions using mindfulness meditation within a sex-positive framework. Sex Relatsh Ther. 2015;30:286–96.

O'driscoll C, Flanagan E. Sexual problems and post-traumatic stress disorder following sexual trauma: a meta-analytic review. Psychol Psychother Theory Res Pract. 2016;89:351–67.

Al-Abbadey M, Liossi C, Curran N, Schoth DE, Graham CA. Treatment of female sexual pain disorders: a systematic review. J Sex Marital Ther. 2016;42:99–142.

Baynes N. Professionals' experiences when treating women with vulvodynia. Doctoral dissertation. Minneapolis, MN: Capella University. 2017.

Davidson HL. The multidisciplinary approach to practice: two case studies. Contemp Sex. 2015.

Dunkley CR, Brotto LA. Psychological treatments for provoked vestibulodynia: integration of mindfulness-based and cognitive behavioral therapies. J Clin Psychol. 2016;72:637–50.

Klein V, Koops T, Lange C, Briken P. Sexual history of male partners of women with the diagnosis vaginismus. Sex Relatsh Ther. 2015;30:376–84.

Zarski AC, Berking M, Fackiner C, Rosenau C, Ebert DD. Internet-based guided self-help for vaginal penetration difficulties: results of a randomized controlled pilot trial. J Sex Med. 2017;14:238–54.

Auteri S. Our evolving understanding of genital pain disorders. Contemp Sex. 2015.

Boddi V, Castellini G, Casale H, Rastrelli G, Boni L, Corona G, et al. An integrated approach with vardenafil orodispersible tablet and cognitive behavioral sex therapy for treatment of erectile dysfunction: a randomized controlled pilot study. Andrology. 2015;3:909–18.

Derby DS, Peleg-Sagy T, Doron G. Schema therapy in sex therapy: a theoretical conceptualization. J Sex Marital Ther. 2016;42:648–58.

Kang HS, Kim HK, Park SM, Kim JH. Online-based interventions for sexual health among individuals with cancer: a systematic review. BMC Health Serv Res. 2018;18:167.

Pascoal PM, Raposo CF, Oliveira LB. Predictors of body appearance cognitive distraction during sexual activity in a sample of men with ED. Int J Impot Res. 2015;27:103–7.

Anil SS, Ratnakaran B, Suresh N. A case report of over-the-counter codeine dependence as consequence of self-medication for premature ejaculation. Journal of Family Medicine and Primary Care. 2017;6:867–9.

Cooper K, Martyn-St James M, Kaltenthaler E, Dickinson K, Cantrell A, Wylie K, et al. Behavioral therapies for management of premature ejaculation: a systematic review. Sex Med. 2015;3:174–88.

Werner M, Štulhofer A, Waldorp L, Jurin T. A network approach to hypersexuality: insights and clinical implications. J Sex Med. 2018;15:373–86.

Balsamo DN, Eth S. Sexual enhancement treatment for sexually violent predators: ethical and legal implications. J Sex Marital Ther. 2016;42:702–6.

Ghizzani A, Bruni S, Luisi S. The sex life of women surviving breast cancer. Gynecol Endocrinol. 2018:1–5.

Hummel SB, van Lankveld JJ, Oldenburg HS, Hahn DE, Broomans E, Aaronson NK. Internet-based cognitive behavioral therapy for sexual dysfunctions in women treated for breast cancer: design of a multicenter, randomized controlled trial. BMC Cancer. 2015;15:321.

Hocaloski S, Elliott S, Brotto LA, Breckon E, McBride K. A mindfulness psychoeducational group intervention targeting sexual adjustment for women with multiple sclerosis and spinal cord injury: a pilot study. Sex Disabil. 2016;34:183–98.

Pöttgen J, Rose A, van de Vis W, Engelbrecht J, Pirard M, Lau S, et al. Sexual dysfunctions in MS in relation to neuropsychiatric aspects and its psychological treatment: a scoping review. PLoS One. 2018;13:e0193381.

Tellier SA, Calleja NG. Renegotiating sexuality following an acquired disability: best practices for counselors. Adultspan Journal. 2017;16:47–59.

Garland EL, Froeliger B, Howard MO. Neurophysiological evidence for remediation of reward processing deficits in chronic pain and opioid misuse following treatment with Mindfulness-Oriented Recovery Enhancement: exploratory ERP findings from a pilot RCT. J Behav Med. 2015;38:327–36.

Baggett LR, Eisen E, Gonzalez-Rivas S, Olson LA, Cameron RP, Mona LR. Sex-positive assessment and treatment among female trauma survivors. J Clin Psychol. 2017;73:965–74.

Wohl A, Kirschen GW. Betrayal of the body: group approaches to hypo-sexuality for adult female sufferers of childhood sexual abuse. J Child Sex Abus. 2018;27:154–60.

Zoldbrod AP. Sexual issues in treating trauma survivors. Curr Sex Health Rep. 2015;7:3–11.

Adam F, Heeren A, Day J, de Sutter P. Development of the Sexual Five-Facet Mindfulness Questionnaire (FFMQ-S): validation among a community sample of French-speaking women. J Sex Res. 2015;52:617–26.

Boskey E. Spirituality and sexuality: when religious clients present for sex therapy. Contemp Sex. 2015.

Eleuteri S, Farulla C. Sexual counseling with Catholics: how to cope with sexual issues with Catholic clients? Sex Relatsh Ther. 2016;31:289–300.

McCoy MA, Stinson MA, Ross DB, Hjelmstad LR. Who's in our clients' bed? A case illustration of sex therapy with a polyamorous couple. J Sex Marital Ther. 2015;41:134–44.

•• Brotto LA. Better sex through mindfulness: how women can cultivate desire. Vancouver, BC: Greystone Books; 2018. This is the best representation of Sensate Focus 1 and 2 distinctions other than our material. It also aligns Sensate Focus with Mindfulness Practice.

Khaddouma A, Gordon KC, Bolden J. Zen and the art of sex: examining associations among mindfulness, sexual satisfaction, and relationship satisfaction in dating relationships. Sex Relatsh Ther. 2015;30:268–85.

Cornell WF. The analyst's body at work: utilizing touch and sensory experience in psychoanalytic psychotherapies. Psychoanalytic Perspectives. 2016;13:168–85.

Yadave M, Hinchliff S, Wylie K, Hayter M. The perspectives of psychosexual therapists towards using play therapy techniques in sex and relationship therapy: a qualitative study. Sex Relatsh Ther. 2015;30:408–18.

Blanken I, Leusink P, van Diest S, Gijs L, van Lankveld JJ. Outcome predictors of internet-based brief sex therapy for sexual dysfunctions in heterosexual men. J Sex Marital Ther. 2015;41:531–43.

Almås E. Psychological treatment of sexual problems: thematic analysis of guidelines and recommendations, based on a systematic literature review 2001–2010. Sex Relatsh Ther 2016:31:54–69.

Trigwell P, Waddington R, Yates A, Coburn S. The Leeds Psychosexual Medicine Service: an NHS service for sexual dysfunction–review period 2. Sex Relatsh Ther. 2016;31:32–41.

Weeks GR, Gambescia N, Hertlein KM. A clinician's guide to systematic sex therapy. New York: Routledge Mental Health, Taylor & Francis Group; 2016.
Ethics declarations
Conflict of Interest
The authors declare that they have no conflict of interest.
Human and Animal Rights and Informed Consent
This article does not contain any studies with human or animal subjects performed by any of the authors.
Additional information
Publisher's Note
Springer Nature remains neutral with regard to jurisdictional claims in published maps and institutional affiliations.
This article is part of the Topical Collection on Clinical Therapeutics
About this article
Cite this article
Avery-Clark, C., Weiner, L. & Adams-Clark, A.A. Sensate Focus for Sexual Concerns: an Updated, Critical Literature Review. Curr Sex Health Rep 11, 84–94 (2019). https://doi.org/10.1007/s11930-019-00197-9
Published:

Issue Date:

DOI: https://doi.org/10.1007/s11930-019-00197-9
Keywords
Sensate Focus

Sex therapy

Sexual dysfunction

Sexual health

Sexual intimacy

Biopsychosocial model