Abstract
Treatment for cancer is improving, and an increasing number of men and women are surviving its diagnosis. Despite improvements in survival, residual side effects of cancer and treatment offer survivors challenges related to quality of life. Among those most commonly mentioned in this population are concerns related to sexual function. Cancer and treatments can cause numerous symptoms related to sexual dysfunction including loss of libido and desire, difficulty with orgasm, physical challenges in engagement in sexual acts, issues related to intimacy, and more global issues related to mood symptoms, such as anxiety and depression, and body image dissatisfaction. While pharmacologic agents have shown improvements in sexual functioning for men, their success for women has been more limited. Additionally, while patients with specific types of cancer have been the subjects of research on sexual dysfunction (e.g., prostate and testicular caners in men and breast and gynecologic cancers in women), patients across various cancer diagnoses experience sexual dysfunction. This paper will review the most current interventions and theoretical models for treatment of sexual dysfunction and offer a comprehensive plan for future intervention development and dissemination to improve sexual recovery after cancer.
Access options
Buy single article
Instant access to the full article PDF.
US$ 39.95
Tax calculation will be finalised during checkout.
Subscribe to journal
Immediate online access to all issues from 2019. Subscription will auto renew annually.
US$ 79
Tax calculation will be finalised during checkout.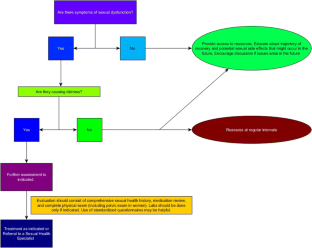 References
Papers of particular interest, published recently, have been highlighted as: • Of importance •• Of major importance
1.

de Moor J, Mariotto A, Parry C, et al. Cancer survivors in the United States: prevalence across the survivorship trajectory and implications for care. Cancer Epidemiol Biomarkers Prev. 2013;22(4):561–70.

2.

Reese J. Coping with sexual concerns after cancer. Curr Opin Oncol. 2011;23(4):313–21.

3.

Challenges reported by post-treatment cancer survivors in the LIVESTRONG surveys | what we do | LIVESTRONG.org. LIVESTRONG.org Web site. http://www.livestrong.org/what-we-do/our-approach/reports-findings/survivor-survey-report/. Accessed 22 09 2014.

4.

Perz J, Ussher J, Gilbert E. Constructions of sex and intimacy after cancer: Q methodology study of people with cancer, their partners, and health professionals. BMC Cancer. 2013;13:270.

5.••

Bober S, Varela V. Sexuality in adult cancer survivors: challenges and intervention. J Clin Oncol. 2012;30(30):3712–9. This article describes common sexual symptoms after cancer and evidence based approaches to treating sexual dysfunction for men and women.

6.

Milbury K, Cohen L, Jenkins R, Skibber J, Schover L. The association between psychosocial and medical factors with long-term sexual dysfunction after treatment for colorectal cancer. Support Care Cancer. 2013;21(3):793–802.

7.

Ganz P, Coscarelli A, Fred C, Kahn B, Polinsky M, Petersen L. Breast cancer survivors: psychosocial concerns and quality of life. Breast Cancer Res Treat. 1996;38(2):183–99.

8.

Onujiogu N, Johnson T, Seo S, et al. Survivors of endometrial cancer: who is at risk for sexual dysfunction? Gynecol Oncol. 2011;123(2):356–9.

9.

Flynn K, Jeffery D, Keefe F, et al. Sexual functioning along the cancer continuum: focus group results from the patient-reported outcomes measurement information system (PROMIS). Psychooncology. 2011;20(4):378–86.

10.

Bober S, Zhou E, Manley P, Kenney L, Recklitis C. Sexual function in childhood cancer survivors: a report from project REACH. J Sex Med. 2013;10(8):2084–93.

11.

Sadovsky R, Basson R, Krychman M, et al. Cancer and sexual problems. J Sex Med. 2010;7(1 Pt. 2):349–73.

12.••

DeSimone M, Spriggs E, Gass J, Carson S, Krychman M, Dizon D. Sexual dysfunction in female cancer survivors. Am J Clin Oncol. 2014;37(1):101–6. This article focuses on sexual dysfunction in women in view of the phases of sexual response and the physiological and emotional sequelae of cancer and cancer treatment.

13.

Hendren S, O'Connor B, Lui M, et al. Prevalence of male and female sexual dysfunction is high following surgery for rectal cancer. Ann Surg. 2005;242(2):212–23.

14.

Krychman M, Katz A. Breast cancer and sexuality: multi-modal treatment options. J Sex Med. 2012;9(1):5–13.

15.

Wiggins D, Wood R, Granai C, Dizon D. Sex, intimacy, and the gynecologic oncologists: Survey results of the New England Association of Gynecologic Oncologists (NEAGO). J Psychosoc Oncol. 2007;25(4):61–70.

16.

Parish S, Rubio-Aurioles E. Education in sexual medicine: proceedings from the international consultation in sexual medicine, 2009. J Sex Med. 2010;7(10):3305–14.

17.

Loren A, Mangu P, Beck L, et al. Fertility preservation for patients with cancer: American society of clinical oncology clinical practice guideline update. J Clin Oncol. 2013;31(19):2500–10.

18.••

Annon J. Behavioral treatment of sexual problems: Brief therapy. Oxford: Harper & Row; 1976:166. http://books.google.com/books/about/Behavioral_treatment_of_sexual_problems.html?id=K4NHAAAAMAAJ. A good review of the PLISSIT model for taking a sexual health interview.

19.

Park E, Norris R, Bober S. Sexual health communication during cancer care: barriers and recommendations. Cancer J. 2009;15(1):74–7.

20.

Katz A. The sound of silence: sexuality information for cancer patients. J Clin Oncol. 2005;23(1):238–41.

21.••

Basson R. Sexual desire and arousal disorders in women. N Engl J Med. 2006;354(14):1497–506. An important paper that incorporates the psychosocial realm into a model of female sexual function.

22.

Muller M, Ruof J, Graf-Morgenstern M, Porst H, Benkert O. Quality of partnership in patients with erectile dysfunction after sildenafil treatment. Pharmacopsychiatry. 2001;34(3):91–5.

23.•

Dizon D, Suzin D, McIlvenna S. Sexual health as a survivorship issue for female cancer survivors. Oncologist. 2014;19(2):202–10. A comprehensive and evidence-based review of sexual health after cancer, predominantly focused on the issues experienced by women after treatment.

24.•

Flynn K, Reeve B, Lin L, Cyranowski J, Bruner D, Weinfurt K. Construct validity of the PROMIS sexual function and satisfaction measures in patients with cancer. Health Qual Life Outcomes. 2013;11:40. A good discussion on the development of the PROMIS sexual function and satisfaction (PROMIS SexFS) questionnaires, including the work done to evaluate its validity.

25.

Flynn K, Lin L, Cyranowski J, et al. Development of the NIH PROMIS sexual function satisfaction measures in patients with cancer. J Sex Med. 2013;10 Suppl 1:43–52.

26.

Amoyal N, Robbins M, Paiva A, Burditt C, Kessler D, Shaz B. Measuring the processes of change for increasing blood donation in black adults. Transfusion. 2013;53(6):1280–90.

27.

Falk S, Dizon D. Sexual dysfunction in women with cancer. Fertil Steril. 2013;100(4):917–21.

28.

Goetsch M, Lim J, Caughey A. A solution for dyspareunia in breast cancer survivors: a randomized controlled study. Obstet Gynecol. 2014;123 Suppl 1:1S.

29.

Barton D, Sloan J, Shuster L, et al. Impact of vaginal dehydroepiandosterone (DHEA) on vaginal symptoms in female cancer survivors: trial N10C1 (alliance). J Clin Oncol. 2014;32:5s. suppl; abstr 9507.

30.••

Chung E, Brock G. Sexual rehabilitation and cancer survivorship: a state of art review of current literature and management strategies in male sexual dysfunction among prostate cancer survivors. J Sex Med. 2013;10 Suppl 1:102–11. A comprehensive review of sexual dysfunction in males with prostate cancer is provided with advocacy for psychological and sexual counseling in conjunction with medical treatment.

31.••

Montorsi F, Adaikan G, Becher E, et al. Summary of the recommendations on sexual dysfunctions in men. J Sex Med. 2010;7(11):3572–88. An excellent review of the sexual issues of men that incorporates both a medical and psychological approach to treatment of many issues.

32.

Garcia F, Brock G. Current state of penile rehabilitation after radical prostatectomy. Curr Opin Urol. 2010;20(3):234–40.

33.•

Brotto L, Erskine Y, Carey M, et al. A brief mindfulness-based cognitive behavioral intervention improves sexual functioning versus wait-list control in women treated for gynecologic cancer. Gynecol Oncol. 2012;125(2):320–5. This article describes a brief mindfulness based intervention and initial support for the intervention in treating women for sexual dysfunction after gynecologic cancer. This intervention could be adapted and translated to other cancer content areas and tested in randomized controlled trials in future research.

34.

Classen C, Chivers M, Urowitz S, et al. Psychosexual distress in women with gynecologic cancer: a feasibility study of an online support group. Psychooncology. 2013;22(4):930–5.

35.

Wiljer D, Urowitz S, Barbera L, et al. A qualitative study of an internet-based support group for women with sexual distress due to gynecologic cancer. J Cancer Educ. 2011;26(3):451–8.

36.•

Schover L, Yuan Y, Fellman B, Odensky E, Lewis P, Martinetti P. Efficacy trial of an internet-based intervention for cancer-related female sexual dysfunction. J Natl Compr Canc Netw. 2013;11(11):1389–97. The online intervention was tested in a randomized controlled trial and demonstrated efficacy in improving symptoms of sexual dysfunction for women with cancer. This study demonstrates that an intervention that can be easily disseminated (via internet) to the population of interest was effective and provides support for technological intervention development to treat sexual dysfunction in patients with cancer.

37.

Taylor S, Harley C, Ziegler L, Brown J, Velikova G. Interventions for sexual problems following treatment for breast cancer: a systematic review. Breast Cancer Res Treat. 2011;130(3):711–24.

38.

Schover L, Canada A, Yuan Y, et al. A randomized trial of internet-based versus traditional sexual counseling for couples after localized prostate cancer treatment. Cancer. 2012;118(2):500–9.

39.

Reese J, Finan P, Haythornthwaite J, et al. Gastrointestinal ostomies and sexual outcomes: a comparison of colorectal cancer patients by ostomy status. Support Care Cancer. 2014;22(2):461–8.

40.

Metz M, McCarthy B. Coping with premature ejaculation: overcome PE, please your partner, and have great sex. Oakland: New Harbinger Publ. 2003;358.

41.

Metz M, McCarthy B. The "good-enough sex" model for couple sexual satisfaction. Sex Relat Ther. 2007;22(3):351–62.
Compliance with Ethics Guidelines
Conflict of Interest
Nicole R. Amoyal, Lauren Nisotel, and Don S. Dizon declare no conflicts of interest.
Human and Animal Rights and Informed Consent
This article does not contain any studies with human or animal subjects performed by any of the authors.
Additional information
This article is part of the Topical Collection on Integrating the Psychosocial
About this article
Cite this article
Amoyal, N.R., Nisotel, L. & Dizon, D.S. Sexual Recovery After Cancer. Curr Sex Health Rep 7, 63–69 (2015). https://doi.org/10.1007/s11930-015-0042-1
Keywords
Cancer

Cancer survivorship

Sexual health

Sexual dysfunction

Erectile dysfunction

Dyspareunia

Orgasmic disorders

Intimacy

Arousal disorders

Treatment-related toxicities

Male sexuality

Female sexuality

Breast cancer

Prostate cancer