Abstract
Medically unexplained chronic vulvar pain, or vulvodynia, is a common condition that affects many aspects of a woman's life. The most common subtype of vulvodynia is provoked vestibulodynia (PVD), and recent research has demonstrated that its pathophysiology likely involves both peripheral and central dysregulation. In this review, the phenomenon of central sensitization is specifically described and linked to relevant findings in the PVD literature. Recommendations for further research in the area of vulvodynia are made, in particular, the examination of other vulvodynia subtypes and of subtypes within the PVD samples. In addition, support is given for the validation of an existing animal model of provoked vulvar pain in order to understand further spinal involvement and also mechanisms involved in the genesis and persistence of this condition.
This is a preview of subscription content, log in to check access.
Access options
Buy single article
Instant access to the full article PDF.
US$ 39.95
Price includes VAT for USA
Subscribe to journal
Immediate online access to all issues from 2019. Subscription will auto renew annually.
US$ 99
This is the net price. Taxes to be calculated in checkout.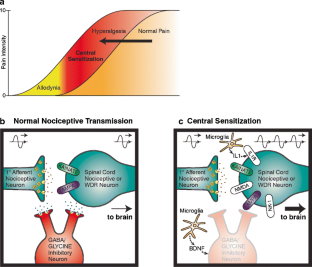 References
Papers of particular interest, published recently, have been highlighted as: • Of importance •• Of major importance
1.

Damsted-Petersen C, Boyer SC, Pukall CF. Current perspectives in vulvodynia. Womens Health. 2009;5(4):423–36.

2.••

Fugl-Meyer KS, Bohm-Starke N, Damsted Petersen C, Fugl-Meyer A, Parish S, Giraldi A. Standard operating procedures for female genital sexual pain. J Sex Med. 2013;10:83–93. This review paper supports a comprehensive somato-psychological multidisciplinary approach to female genital sexual pain disorders.

3.

Haefner HK. Report of the International Society for the Study of Vulvovaginal Disease terminology and classification of vulvodynia. J Low Genit Tract Dis. 2007;11(1):48–9.

4.

Moyal-Barracco M, Lynch PJ. 2003 ISSVD terminology and classification of vulvodynia: A historical perspective. J Reprod Med. 2004;49(10):772–7.

5.

Harlow BL, Wise LA, Stewart EG. Prevalence and predictors of chronic lower genital tract discomfort. Am J Obstet Gynecol. 2001;185(3):545–50.

6.

Bergeron S, Binik YM, Khalifé S, Pagidas K, Glazer HI. Vulvar vestibulitis syndrome: Reliability of diagnosis and evaluation of current diagnostic criteria. Obstet Gynecol. 2001;98(1):45–51.

7.

Deliveliotou A, Creatsas G. Anatomy of the vulva. In: Farage MA, Maibach HI, editors. The Vulva. New York.: Informa Healthcare USA Inc; 2006. p. 1–8.

8.

Krantz KE. Innervation of the human vulva and vagina: A microscopic study. Obstet Gynecol. 1958;12:382–96.

9.

Bohm-Starke N, Hilliges M, Flaconer C, Rylander E. Increased intraepithelial innervation in women with vulvar vestibulitis syndrome. Gynecol Obstet Invest. 1998;46(4):256–60.

10.

Kinsey AC, Pomeroy WB, Martin CE, Gebhard PM. Sexual Behaviour in the human Female. Philadelphia and London: W.B. Saunders Company; 1953.

11.

Pukall CF, Bergeron S, Goldfinger C. Vulvodynia: A review of pathophysiological factors and treatment options. Basic Clin Med. 2008;28(4):421–36.

12.

Latremoliere A, Woolf CJ. Central sensitization: a generator of pain hypersensitivity by central neural plasticity. J Pain. 2009;10(9):895–926.

13.

Devor M. Ectopic discharge in Abeta afferents as a source of neuropathic pain. Exp Brain Res. 2009;196(1):115–28.

14.

Baron R, Hans G, Dickenson A (2013) Peripheral input and its importance for central sensitization. Ann Neurol.; epub ahead of print.

15.

De Koninck Y. Altered chloride homeostasis in neurological disorders: a new target. Curr Opin Pharmacol. 2007;7(1):93–9.

16.

Milligan ED, Watkins LR. Pathological and protective roles of glia in chronic pain. Nat Rev Neurosci. 2009;10(1):23–36.

17.

Gao YJ, Ji RR. Chemokines, neuronal-glial interactions, and central processing of neuropathic pain. Pharmacol Ther. 2010;126(1):56–68.

18.

Trang T, Beggs S, Salter MW. Brain-derived neurotrophic factor from microglia: a molecular substrate for neuropathic pain. Neuron Glia Biol. 2011;7(1):99–108.

19.

Woolf CJ, Chong MS. Preemptive analgesia—treating postoperative pain by preventing the establishment of central sensitization. Anesth Analg. 1993;77(2):362–79.

20.

Levine J, Taiwo Y. Inflammatory pain. In: Wall PD, Melzack R, editors. Textbook of pain. 3rd ed. London, England: Churchill Livingstone; 1994. p. 45–56.

21.

Fields HL, Rowbatham M, Baron R. Postherpetic neuralgia: Irritable nociceptors and deafferentation. Neurobiol Dis. 1998;5:209–27.

22.

Woolf CJ. Central sensitization: implications for the diagnosis and treatment of pain. Pain. 201;152(3 Suppl):S2-15.

23.

Cervero F, Laird JM, García-Nicas E. Secondary hyperalgesia and presynaptic inhibition: an update. Eur J Pain. 2003;7(4):345–51.

24.

Craig AD, Bushnell MC, Zhang ET, Blomqvist A. A thalamic nucleus specific for pain and temperature sensation. Nature. 1994;372:770–3.

25.

Becerra L, Breiter HC, Wise R, Gonzalez RG, Borsook D. Reward circuitry activation by noxious thermal stimuli. Neuron. 2001;32(5):927–46.

26.

Baliki MN, Geha PY, Fields HL, Apkarian AV. Predicting value of pain and analgesia: nucleus accumbens response to noxious stimuli changes in the presence of chronic pain. Neuron. 2010;66(1):149–60.

27.

Li XY, Ko HG, Chen T, Descalzi G, Koga K, Wang H, et al. Alleviating neuropathic pain hypersensitivity by imhibiting PKMzeta in the anterior cingulate cortex. Science. 2010;330:1400–4.

28.

Bushnell MC, Ceko M, Low LA. Cognitive and emotional control of pain and its disruption in chronic pain. Nat Rev Neurosci. 2013;14(7):502–11.

29.

Galan A, Laird JM, Cervero F. In vivo recruitment by painful stimuli of AMPA receptor subunits to the plasma membrane of spinal cord neurons. Pain. 2004;112(3):315–23.

30.

D'Mello R, Marchand F, Pezet S, McMahon SB, Dickenson AH. Perturbing PSD-95 interactions with NR2B-subtype receptors attenuates spinal nociceptive plasticity and neuropathic pain. Mol Ther. 2011;19(10):1780–92.

31.

Coull JA, Beggs S, Boudreau D, Boivin D, Tsuda M, Inoue K, et al. BDNF from microglia causes the shift in neuronal anion gradient underlying neuropathic pain. Nature. 2005;438:1017–21.

32.

Crozier RA, Bi C, Han YR, Plummer MR. BDNF modulation of NMDA receptors is activity dependent. J Neurophysiol. 2008;100(6):3264–74.

33.

Louter MA, Bosker JE, van Oosterhout WP, van Zwet EW, Zitman FG, Ferrari MD, Terwindt GM (2013) Cutaneous allodynia as a predictor of migraine chronification. Brain. ;epub ahead of print.

34.

Wu J, Renn CL, Faden AI, Dorsey SG. TrkB.T1 contributes to neuropathic pain after spinal cord injury through regulation of cell cycle pathways. J Neurosci. 2013;33(30):12447–63.

35.

Matricon J, Gelot A, Etienne M, Lazdunski M, Muller E, Ardid D. Spinal cord plasticity and acid-sensing ion channels involvement in a rodent model of irritable bowel syndrome. Eur J Pain. 2011;15(4):335–43.

36.

Desmeules JA, Cedraschi C, Rapitis E, Baumgartner E, Finckh A, Cohn P, et al. Neurophysiologic evidence for a central sensitization in patients with fibromyalgia. Arthritis Rheum. 2003;48(5):1420–9.

37.

Friedrich EG. Vulvar vestibulitis syndrome. J Reprod Med. 1987;32:110–4.

38.

Pukall CF, Binik YM, Khalifé S. A new instrument for pain assessment in vulvar vestibulitis syndrome. J Sex Marital Ther. 2004;30(2):69–78.

39.

Pukall CF, Binik YM, Khalifé S, Amsel R, Abbott FV. Vestibular pain thresholds in women with vulvar vestibulitis syndrome. Pain. 2002;96(1–2):163–75.

40.

Bohm-Starke N, Hilliges M, Brodda-Jansen G, Rylander E, Torebjörk E. Psychophysical evidence of nociceptor sensitization in vulvar vestibulitis syndrome. Pain. 2001;94(2):177–83.

41.

Lowenstein L, Vardi Y, Deutsch M, Friedman M, Granot M, Sprecher E, et al. Vulvar vestibulitis severity – assessment by sensory and pain testing modalities. Pain. 2004;107(1-2):47–53.

42.•

Farmer MA, Maykut CA, Huberman CA, Huang L, Khalifé S, Binik YM, et al. Psychophysical properties of female genital sensation. Pain. 2013;154:2277–86. This article is the first to systematically investigate vulvar somatic and vaginal visceral sensation in women with and without PVD.

43.

Giesecke J, Reed BD, Haefner HK, Giesecke T, Clauw DJ, Gracely RH. Quantitative sensory testing in vulvodynia patients and increased peripheral pressure pain sensitivity. Obstet Gynecol. 2004;104(1):126–33.

44.

Sutton KS, Pukall CF, Chamberlain S. Pain ratings, sensory thresholds, and psychosocial functioning in women with provoked vestibulodynia. J Sex Marital Ther. 2009;35(4):262–81.

45.

Foster DC, Dworkin RH, Wood RW. Effects of intradermal foot and forearm capsaicin injections in normal and vulvodynia-affected women. Pain. 2005;117(1–2):128–36.

46.

Pukall CF, Baron M, Amsel R, Khalifé S, Binik YM. Tender point examination in women with vulvar vestibulitis syndrome. Clin J Pain. 2006;22(7):601–9.

47.

Danielsson I, Eisemann M, Sjöberg I, Wikman M. Vulvar vestibulitis: a multifactorial condition. BJOG. 2001;108(5):456–61.

48.

Granot M, Friedman M, Yarnitsky D, Zimmer EZ. Enhancement of systemic pain in women with vulvar vestibulitis. BJOG. 2002;109(8):863–6.

49.

Granot M, Lavee Y. Psychological factors associated with perception of experimental pain in vulvar vestibulitis syndrome. J Sex Marital Ther. 2005;31(4):285–302.

50.

Kosek E, Ekholm J, Hansson P. Sensory dysregulation in fibromyalgia patients with implications for pathogenic mechanisms. Pain. 1996;68(2–3):375–83.

51.

Verne GN, Robinson ME, Price DD. Hypersensitivity to visceral and cutaneous pain in the irritable bowel syndrome. Pain. 2001;93(1):7–14.

52.

Le Bars D. the whole body receptive field of dorsal horn multireceptive neurones. Brain Res Rev. 2002;40:29–44.

53.

Lautenbacher S, Rollman GB. Possible deficiencies of pain modulation in fibromyalgia. Clin J Pain. 1997;13:189–96.

54.

Edwards RR, Ness TJ, Weigent DA, et al. Individual differences in diffuse noxious inhibitory controls (DNIC): Association with clinical variables. Pain. 2003;106:427–37.

55.

Le Bars D, Dickenson AH, Besson JM. Diffuse noxious inhibitory controls (DNIC). I. Effects on dorsal horn convergent neurones in the rat. Pain. 1979;6:283–304.

56.

Bouharissa D, Villaneuva L, Bing Z, Le Bars D. Involvement of the subnucleus reticularis dorsalis in diffuse noxious inhibitory controls in the rat. Brain Res. 1992;595:353–7.

57.

Hu JW. Response properties of nociceptive and non-nociceptive neurons in the rat's trigeminal subnucleus caudalis (medullary dorsal horn) related to cutaneous and deep craniofacial afferent stimulation and modulation by diffuse noxious inhibitory controls. Pain. 2009;41:331–45.

58.

Sutton KS, Pukall CF, Chamberlain S. Diffuse noxious inhibitory control function in women with provoked vestibulodynia. Clin J Pain. 2012;28(8):667–74.

59.

Johannesson U, de Boussard CN, Brodda Jansen G, Bohm-Starke N. Evidence of diffuse noxious inhibitory controls (DNIC) elicited by cold noxious stimulation in patients with provoked vestibulodynia. Pain. 2007;130(1–2):31–9.

60.

Zhang Z, Zolnoun DA, Francisco EM, Holden JK, Dennis RG, Tommerdahl M. Altered central sensitization in subgroups of women with vulvodynia. Clin J Pain. 2011;27(9):755–63.

61.

Coghill RC, Sang CN, Maisog JM, Iadorola MJ. Pain intensity processing within the human brain: A bilateral, distributed mechanism. J Neurophysiol. 1999;82:1934–43.

62.

Hofbauer RK, Rainville P, Duncan GH, Bushnell MC. Cortical representation of the sensory dimension of pain. J Neurophysiol. 2001;86:402–11.

63.

Kuchinad A, Schweinhardt P, Seminowicz DA, Wood PB, Chizh BA, Bushnell MC (2007) Accelerated brain gray matter loss in fibromyalgia patients: Premature aging of the brain? J Neurosci. ;4004-4007.

64.

Pukall CF, Strigo IA, Binik YM, Amsel R, Khalifé S, Bushnell MC. Neural correlates of painful genital touch in women with vulvar vestibulitis syndrome. Pain. 2005;115(1–2):118–27.

65.•

Hampson JP, Reed BD, Clauw DJ, Bhavsar R, Gracely RH, Haefner HK, et al. Augmented central pain processing in vulvodynia. J Pain. 2013;14(6):579–89. This article is one of the few brain imaging studies of vulvodynia in existence.

66.

Apkarian AV, Sosa Y, Sonty S, Levy RM, Harden RN, Parrish TB, et al. Chronic back pain is associated with decreased prefrontal and thalamic gray matter density. J Neurosci. 2004;24:10410–5.

67.

Schmidt-Wilcke T, Leinisch E, Straube A, Kampfe N, Draganski B, Diner HC, et al. Gray matter decreases in patients with chronic tension type headache. Neurology. 2005;65:1483–6.

68.

Schmidt-Wilcke T, Leinisch E, Ganssbauer S, Draganski B, Bogdahn U, Altmeppen J, et al. Affective components and intensity of pain correlate with structural differences in gray matter in chronic back pain patients. Pain. 2006;125:89–97.

69.

Davis KD, Pope G, Chen J, Kwan CL, Crawley AP, Diamant NE. Cortical thinning in IBS: Implications for homeostatic, attention, and pain processing. Neurology. 2008;70:153–4.

70.

Schmidt-Wilcke T, Luerding R, Weigand T, Jurgens T, Schuierer G, Leinisch E, et al. Striatal grey matter increase in patients suffering from fibromyalgia-a voxel-based morphometry study. Pain. 2007;132:S109–16.

71.

Schweinhardt P, Kuchinad A, Pukall CF, Bushnell MC. Increased gray matter density in young women with chronic vulvar pain. Pain. 2008;140(3):411–9.

72.••

Boyer SC, Goldfinger C, Thibault-Gagnon S, Pukall CF. Management of female sexual pain disorders. Adv Psychosom Med. 2011;31:83–104. This chapter provides a recent review of the vulvodynia treatment literature.

73.

Van Lankveld JJ, Granot M, Weijmar Schultz WC, Binik YM, Wesselmann U, Pukall CF, et al. Women's sexual pain disorders. J Sex Med. 2010;7(1 Pt 2):615–31.

74.••

Basson R. The recurrent pain and sexual sequelae of provoked vestibulodynia: A perpetuating cycle. J Sex Med. 2012;9:2077–92. This paper offers for a model of PVD in which peripheral, psychological, and central factors are purported to contribute to the perpetuating cycle of the pain.

75.•

Farmer MA, Taylor AM, Bailey AL, Tuttle AH, MacIntyre LC, Milagrosa ZE, et al. Repeated vulvovaginal fungal infections cause persistent pain in a mouse model of vulvodynia. Sci Transl Med. 2011;21(101):101ra91. This paper details the first demonstration of an animal model of provoked vulvar pain and attributes the increased sensitivity to heightened innervation.

76.

Nguyen RH, Swanson D, Harlow BL. Urogenital infections in relation to the occurrence of vulvodynia. J Reprod Med. 2009;54(6):385–92.
Compliance with Ethics Guidelines
Conflict of Interest
Catherine M. Cahill and Caroline F. Pukall declare that they have no conflict of interest.
Human and Animal Rights and Informed Consent
This article does not contain any studies with human or animal subjects performed by any of the authors.
Additional information
This article is part of the Topical Collection on Female Sexual Dysfunction and Disorders
About this article
Cite this article
Pukall, C.F., Cahill, C.M. New Developments in the Pathophysiology of Genital Pain: Role of Central Sensitization. Curr Sex Health Rep 6, 11–19 (2014). https://doi.org/10.1007/s11930-013-0007-1
Keywords
Vulvodynia

Provoked vestibulodynia

Dyspareunia

Peripheral sensitization

Central factors

Central sensitization

Pathophysiology

Genital pain

Sensory innervation

Allodynia

Hyperalgesia

Receptive field expansion

GABA

Neuronal-glial interactions

Nociceptors

Pain pathways

Quantitative sensory testing

Diffuse noxious inhibitory control

Functional brain imaging