Abstract
Purpose of Review
To provide a general overview of the organizations dedicated to advance clinical and translational research in the field of psoriatic disease and to describe the current and future opportunities for team science approaches to overcome unmet needs in the field. Descriptions of initiatives from the NPF, PPACMAN, and GRAPPA are summarized.
Recent Findings
Program projects have recently identified areas of knowledge gaps in diagnosis, treatment, and prevention of psoriasis and psoriatic arthritis (PsA). NPF's Psoriasis Prevention Initiative aims to identify interventions that can prevent the onset and relapse of psoriatic disease or related comorbidities. The Psorcast Study is a joint venture between PPACMAN and Sage Bionetworks based on patient-generated smartphone measurements of psoriatic disease. Similarly, GRAPPA is involved in a number of projects related to axial PsA, enthesitis prevalence, and biomarker discoveries.
Summary
As important initiatives bring new targets for diagnosis and therapeutics in psoriatic disease, supra-endeavors such as the NIH-Accelerating Medicines Partnership (AMP) and the European Innovative Medicines Initiative (IMI) are promising public-private partnerships that can significantly catapult the field forward.
Access options
Buy single article
Instant access to the full article PDF.
USD 39.95
Price excludes VAT (USA)
Tax calculation will be finalised during checkout.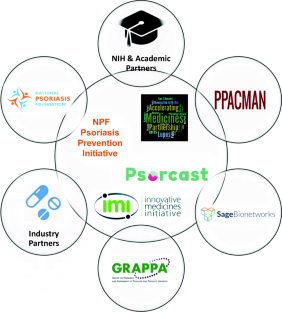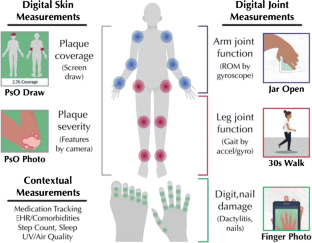 References
Papers of particular interest, published recently, have been highlighted as: • Of importance •• Of major importance
Funding
NIH/NIAMS R01AR074500-01A, National Psoriasis Foundation PsA Diagnostic Challenge and Psoriasis Prevention Initiative Grants, The Riley Family Foundation and The Snyder Family Foundation (Scher); NIH U01-AI119125, National Psoriasis Foundation Diagnostic Challenge Grant (Liao).
Ethics declarations
Conflict of Interest
UCB, Janssen, Abbvie, Pfizer, Novartis, Sanofi, BMS (Scher); AbbVie, Amgen, BMS, Celgene, Janssen, Lilly, Novartis, Pfizer, Corrona (Ogdie); AbbVie, Lilly, Janssen, Novartis, BMS, Pfizer, Amgen, UCB (FitzGerald); Abbvie, Amgen, Janssen, Novartis, Pfizer, Regeneron, and TRex Bio (Liao)BMS, Abbvie, Dermavant, Lilly, Novartis, Janssen, UCB, Sun Pharma, Pfizer, EMD Sorono (Merola). Novartis, Janssen, Pfizer, Otsuka (Webster).
Human and Animal Rights and Informed Consent
As this is a review article, this article does not contain any studies with human or animal subjects.
Additional information
Publisher's Note
Springer Nature remains neutral with regard to jurisdictional claims in published maps and institutional affiliations.
This article is part of the Topical Collection on Psoriatic Arthritis
About this article
Cite this article
Bell, S., Merola, J.F., Webster, D.E. et al. Aiming for Cure and Preventive Initiatives in Psoriatic Disease: Building Synergy at NPF, GRAPPA, and PPACMAN. Curr Rheumatol Rep 22, 78 (2020). https://doi.org/10.1007/s11926-020-00958-9
Published:

DOI: https://doi.org/10.1007/s11926-020-00958-9
Keywords