Abstract
The endocannabinoid system impacts pain and inflammation with potential for therapeutic effect on patients with rheumatic diseases. The current treatment options include the herbal product derived from the plant Cannabis sativa, as well as pharmaceutical preparations. The legalization of medicinal cannabis (marijuana) in many jurisdictions and widespread public advocacy has propelled an interest in use either by prescription or self-medication. In this review, we examine current evidence for efficacy and adverse effects of any cannabinoid product in rheumatic conditions. The evidence to date is scant and precludes making recommendations for the use of cannabinoid preparations in rheumatology patients. In particular, the risks of herbal cannabis in patients are not well defined. Anecdote and advocacy cannot supersede sound evidence.
This is a preview of subscription content, log in to check access.
Access options
Buy single article
Instant access to the full article PDF.
US$ 39.95
Price includes VAT for USA
Subscribe to journal
Immediate online access to all issues from 2019. Subscription will auto renew annually.
US$ 99
This is the net price. Taxes to be calculated in checkout.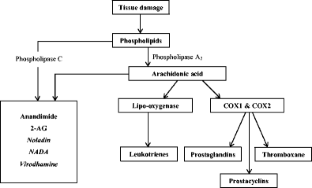 References
Papers of particular interest, published recently, have been highlighted as: • Of importance •• Of major importance
1.

Pertwee RG. Cannabinoid pharmacology: the first 66 years. Br J Pharmacol. 2006;147 Suppl 1:S163–71.

2.

Kalant H. Medicinal use of cannabis: history and current status. Pain Res Manag. 2001;6(2):80–91.

3.

Aggarwal SK, Carter GT, Sullivan MD, ZumBrunnen C, Morrill R, Mayer JD. Characteristics of patients with chronic pain accessing treatment with medical cannabis in Washington State. J Opioid Manag. 2009;5(5):257–86.

4.

Swift W, Gates P, Dillon P. Survey of Australians using cannabis for medical purposes. Harm Reduct J. 2005;2:18.

5.

Ware MA, Adams H, Guy GW. The medicinal use of cannabis in the UK: results of a nationwide survey. Int J Clin Pract. 2005;59(3):291–5.

6.

Fitzcharles MA, Jamal S. Expanding medical marijuana access in Canada: considerations for the rheumatologist. J Rheumatol. 2015;42(2):143–5.

7.

Pecoraro N, Dallman MF, Warne JP, Ginsberg AB, Laugero KD, la Fleur SE, et al. From Malthus to motive: how the HPA axis engineers the phenotype, yoking needs to wants. Prog Neurobiol. 2006;79(5–6):247–340.

8.

Pertwee RG. Cannabinoid receptors and pain. Prog Neurobiol. 2001;63(5):569–611.

9.

Morena M, Patel S, Bains JS, Hill MN. Neurobiological interactions between stress and the endocannabinoid system. Neuropsychopharmacology. 2016;41(1):80–102.

10.

Howlett AC. Cannabinoid receptor signaling. Handb Exp Pharmacol. 2005;168:53–79.

11.

McDougall JJ, Linton P. Neurophysiology of arthritis pain. Curr Pain Headache Rep. 2012;16(6):485–91.

12.

Howlett AC. A short guide to the nomenclature of seven-transmembrane spanning receptors for lipid mediators. Life Sci. 2005;77(14):1522–30.

13.

Cravatt BF, Lichtman AH. The endogenous cannabinoid system and its role in nociceptive behavior. J Neurobiol. 2004;61(1):149–60.

14.

•• Croxford JL, Yamamura T. Cannabinoids and the immune system: potential for the treatment of inflammatory diseases? J Neuroimmunol. 2005;166(1–2):3–18. This short and well-illustrated paper summarizes the current knowledge of the types of cannabis plants, their chemical constituents and the global status of cannabis cultivation, as well as the human physiological effects of the endocannabinoid receptors.

15.

Anand P, Whiteside G, Fowler CJ, Hohmann AG. Targeting CB2 receptors and the endocannabinoid system for the treatment of pain. Brain Res Rev. 2009;60(1):255–66.

16.

•• Gould J. The cannabis crop. Nature. 2015;525(7570):S2–3. This review article describes the neurocognitive adverse effects of marijuana, especially as pertaining to the developing brain in young people and highlights the overall societal impact of marijuana use.

17.

Mechoulam R, Parker LA, Gallily R. Cannabidiol: an overview of some pharmacological aspects. J Clin Pharmacol. 2002;42(11 Suppl):11S–9S.

18.

Prud'homme M, Cata R, Jutras-Aswad D. Cannabidiol as an intervention for addictive behaviors: a systematic review of the evidence. Subst Abus: Res Treat. 2015;9:33–8.

19.

Volkow ND, Compton WM, Weiss SR. Adverse health effects of marijuana use. N Engl J Med. 2014;371(9):879.

20.

Lowin T, Straub RH. Cannabinoid-based drugs targeting CB1 and TRPV1, the sympathetic nervous system, and arthritis. Arthritis Res Ther. 2015;17:226.

21.

Cooper ZD, Haney M. Comparison of subjective, pharmacokinetic, and physiological effects of marijuana smoked as joints and blunts. Drug Alcohol Depend. 2009;103(3):107–13.

22.

Ware MA, Wang T, Shapiro S, Robinson A, Ducruet T, Huynh T, et al. Smoked cannabis for chronic neuropathic pain: a randomized controlled trial. CMAJ. 2010;182(14):E694–701.

23.

Cascini F, Aiello C, Di Tanna G. Increasing delta-9-tetrahydrocannabinol (Delta-9-THC) content in herbal cannabis over time: systematic review and meta-analysis. Curr Drug Abuse Rev. 2012;5(1):32–40.

24.

Huestis MA. Pharmacokinetics and metabolism of the plant cannabinoids, delta9-tetrahydrocannabinol, cannabidiol and cannabinol. Handb Exp Pharmacol. 2005;168:657–90.

25.

Huestis MA. Human cannabinoid pharmacokinetics. Chem Biodivers. 2007;4(8):1770–804.

26.

Mensinga TT, de Vries I, Kruidenier M, Hunault CC, van den Hengel-Koot IS, Fijen JW, et al. A double-blind, randomized, placebo controlled, cross-over study on the pharmacokinetics and effects of cannabis. Nationaal Vergiftigingen Informatie Centrum. 2006; RIVM 267002002.

27.

• Asbridge M, Hayden JA, Cartwright JL. Acute cannabis consumption and motor vehicle collision risk: systematic review of observational studies and meta-analysis. BMJ. 2012;344:e536. doi:10.1136/bmj.e536. This study describes reports a twofold risk of serious injury or death in motor vehicle accidents following acute cannabis use.

28.

Legrand SA, Isalberti C, der Linden TV, Bernhoft IM, Hels T, Simonsen KW, et al. Alcohol and drugs in seriously injured drivers in six European countries. Drug Test Anal. 2013;5(3):156–65.

29.

Canada_Department_of_Justice_Acts_Regulations_Health. Marihuana medical access regulations (SOR/2001-227), P.C. 2001–1146 2001-06-14 2013 [2013-09-21].

30.

Aryana A, Williams MA. Marijuana as a trigger of cardiovascular events: speculation or scientific certainty? Int J Cardiol. 2007;118(2):141–4.

31.

Thomas G, Kloner RA, Rezkalla S. Adverse cardiovascular, cerebrovascular, and peripheral vascular effects of marijuana inhalation: what cardiologists need to know. Am J Cardiol. 2014;113(1):187–90.

32.

Jouanjus E, Lapeyre-Mestre M, Micallef J. Cannabis use: signal of increasing risk of serious cardiovascular disorders. J Am Heart Assoc. 2014;3(2):e000638.

33.

Taylor DR, Hall W. Respiratory health effects of cannabis: position statement of the Thoracic Society of Australia and New Zealand. Intern Med J. 2003;33(7):310–3.

34.

Aldington S, Harwood M, Cox B, Weatherall M, Beckert L, Hansell A, et al. Cannabis use and risk of lung cancer: a case-control study. Eur Respir J. 2008;31(2):280–6.

35.

Callaghan RC, Allebeck P, Sidorchuk A. Marijuana use and risk of lung cancer: a 40-year cohort study. Cancer Causes Control. 2013.

36.

Zhang LR, Morgenstern H, Greenland S, Chang SC, Lazarus P, Teare MD, et al. Cannabis smoking and lung cancer risk: pooled analysis in the International Lung Cancer Consortium. Int J Cancer. 2015;136(4):894–903.

37.

Moreira FA, Grieb M, Lutz B. Central side-effects of therapies based on CB1 cannabinoid receptor agonists and antagonists: focus on anxiety and depression. Best Pract Res Clin Endocrinol Metab. 2009;23(1):133–44.

38.

Zhang MW, Ho RC. The cannabis dilemma: a review of its associated risks and clinical efficacy. J Addict. 2015;2015:707596.

39.

Harder VS, Morral AR, Arkes J. Marijuana use and depression among adults: testing for causal associations. Addiction. 2006;101(10):1463–72.

40.

Ksir C, Hart CL. Cannabis and psychosis: a critical overview of the relationship. Curr Psychiatry Rep. 2016;18(2):12.

41.

Bersani G, Orlandi V, Kotzalidis GD, Pancheri P. Cannabis and schizophrenia: impact on onset, course, psychopathology and outcomes. Eur Arch Psychiatry Clin Neurosci. 2002;252(2):86–92.

42.

Gonzalez S, Cebeira M, Fernandez-Ruiz J. Cannabinoid tolerance and dependence: a review of studies in laboratory animals. Pharmacol Biochem Behav. 2005;81(2):300–18.

43.

Gorelick DA, Levin KH, Copersino ML, Heishman SJ, Liu F, Boggs DL, et al. Diagnostic criteria for cannabis withdrawal syndrome. Drug Alcohol Depend. 2012;123(1–3):141–7.

44.

Ramesh D, Schlosburg JE, Wiebelhaus JM, Lichtman AH. Marijuana dependence: not just smoke and mirrors. ILAR J. 2011;52(3):295–308.

45.

Budney AJ, Hughes JR. The cannabis withdrawal syndrome. Curr Opin Psychiatry. 2006;19(3):233–8.

46.

• van der Pol P, Liebregts N, de Graaf R, Korf DJ, van den Brink W, van Laar M. Predicting the transition from frequent cannabis use to cannabis dependence: a three-year prospective study. Drug Alcohol Depend. 2013;133(2):352–9. In this prospective cohort study of young cannabis users, progression to dependence was predicted by adverse psychosocial factors.

47.

Lopez-Quintero C, Perez de los Cobos J, Hasin DS, Okuda M, Wang S, Grant BF, et al. Probability and predictors of transition from first use to dependence on nicotine, alcohol, cannabis, and cocaine: results of the National Epidemiologic Survey on Alcohol and Related Conditions (NESARC). Drug Alcohol Depend. 2011;115(1–2):120–30.

48.

Hall W, Degenhardt L. Adverse health effects of non-medical cannabis use. Lancet. 2009;374(9698):1383–91.

49.

• Gilman JM, Kuster JK, Lee S, Lee MJ, Kim BW, Makris N, et al. Cannabis use is quantitatively associated with nucleus accumbens and amygdala abnormalities in young adult recreational users. J Neurosci. 2014;34(16):5529–38. A study demonstrating for the first time the presence of anatomical changes in areas of brain subserving addictive behaviours in young occasional recreational cannabis users.

50.

Richardson D, Pearson RG, Kurian N, Latif ML, Garle MJ, Barrett DA, et al. Characterisation of the cannabinoid receptor system in synovial tissue and fluid in patients with osteoarthritis and rheumatoid arthritis. Arthritis Res Ther. 2008;10(2):R43.

51.

Stein C, Schafer M, Machelska H. Attacking pain at its source: new perspectives on opioids. Nat Med. 2003;9(8):1003–8.

52.

Schuelert N, McDougall JJ. Cannabinoid-mediated antinociception is enhanced in rat osteoarthritic knees. Arthritis Rheum. 2008;58(1):145–53.

53.

Gui H, Liu X, Liu LR, Su DF, Dai SM. Activation of cannabinoid receptor 2 attenuates synovitis and joint distruction in collagen-induced arthritis. Immunobiology. 2015;220(6):817–22.

54.

Schuelert N, Zhang C, Mogg AJ, Broad LM, Hepburn DL, Nisenbaum ES, et al. Paradoxical effects of the cannabinoid CB2 receptor agonist GW405833 on rat osteoarthritic knee joint pain. Osteoarthr Cartil. 2010;18(11):1536–43.

55.

Klein TW, Newton CA, Friedman H. Cannabinoids and the immune system. Pain Res Manag. 2001;6(2):95–101.

56.

Fitzcharles MA, Ste-Marie PA, Hauser W, Clauw DJ, Jamal S, Karsh J, et al. Efficacy, tolerability, and safety of cannabinoid treatments in the rheumatic diseases: a systematic review of randomized controlled trials. Arthritis Care Res (Hoboken). 2016;68(5):681–8.

57.

Fitzcharles MA, Baerwald C, Ablin J, Hauser W. Efficacy, tolerability and safety of cannabinoids in chronic pain associated with rheumatic diseases (fibromyalgia syndrome, back pain, osteoarthritis, rheumatoid arthritis): a systematic review of randomized controlled trials. Schmerz (Berlin, Germany). 2016;30(1):47–61.

58.

•• Walitt B, Klose P, Fitzcharles MA, Phillips T, Hauser W. Cannabinoids for fibromyalgia. Cochrane Database Syst Rev. 2016;7:CD011694. An updated systematic review of the evidence for use of cannabinoids in fibromyalgia that points to poor evidence for effect.

59.

Blake DR, Robson P, Ho M, Jubb RW, McCabe CS. Preliminary assessment of the efficacy, tolerability and safety of a cannabis-based medicine (Sativex) in the treatment of pain caused by rheumatoid arthritis. Rheumatology. 2006;45(1):50–2.

60.

Skrabek RQ, Galimova L, Ethans K, Perry D. Nabilone for the treatment of pain in fibromyalgia. J Pain. 2008;9(2):164–73. English.

61.

Ware MA, Fitzcharles MA, Joseph L, Shir Y. The effects of nabilone on sleep in fibromyalgia: results of a randomized controlled trial. Anesth Analg. 2010;110(2):604–10. English.

62.

Huggins JP, Smart TS, Langman S, Taylor L, Young T. An efficient randomised, placebo-controlled clinical trial with the irreversible fatty acid amide hydrolase-1 inhibitor PF-04457845, which modulates endocannabinoids but fails to induce effective analgesia in patients with pain due to osteoarthritis of the knee. Pain. 2012;153(9):1837–46.

63.

• Whiting PF, Wolff RF, Deshpande S, Di Nisio M, Duffy S, Hernandez AV, et al. Cannabinoids for medical use: a systematic review and meta-analysis. JAMA. 2015;313(24):2456–73. This meta-analysis examines the published studies for use of any cannabinoid for all medical conditions, including musculoskeletal conditions, with conclusion that there is some evidence for effect on some conditions but with increased reporting of adverse events.

64.

•• D'Souza DC, Ranganathan M. Medical marijuana: is the cart before the horse? JAMA. 2015;313(24):2431–2. A thoughtful editorial highlighting the important gaps in knowledge that exist regarding marijuana use for many medical conditions and recommendation to exercise caution regarding any treatment advice.

65.

Ware MA, Wang T, Shapiro S, Collet JP. Cannabis for the Management of Pain: Assessment of Safety Study (COMPASS). J Pain. 2015;16(12):1233–42.

66.

Fitzcharles MA, McDougall J, Ste-Marie PA, Padjen I. Clinical implications for cannabinoid use in the rheumatic diseases: potential for help or harm? Arthritis Rheum. 2012;64(8):2417–25.

67.

Kalant H. Adverse effects of cannabis on health: an update of the literature since 1996. Prog Neuropsychopharmacol Biol Psychiatry. 2004;28(5):849–63.

68.

• Kondrad E, Reid A. Colorado family physicians' attitudes toward medical marijuana. J Am Board Fam Med. 2013;26(1):52–60. A study of family physicians attitudes to the use of medicinal marijuana that highlights physicians discomfort with use and need for further education to allow for competent medical care.

69.

Fitzcharles MA, Ste-Marie PA, Clauw DJ, Jamal S, Karsh J, LeClercq S, et al. Rheumatologists lack confidence in their knowledge of cannabinoids pertaining to the management of rheumatic complaints. BMC Musculoskelet Disord. 2014;15:258.

70.

Fitzcharles MA, Clauw DJ, Ste-Marie PA, Shir Y. The dilemma of medical marijuana use by rheumatology patients. Arthritis Care Res. 2014.

71.

College_of_Family_Physicians_of_Canada. Authorizing dried cannabis for chronic pain or anxiety: preliminary guidance from the college of family physicians of Canada Mississauga, ON: College of Family Physicians of Canada. 2014.
Ethics declarations
Conflict of Interest
The authors declare that they have no conflict of interest.
Human and Animal Rights and Informed Consent
All reported studies/experiments with human or animal subjects performed by the authors have been previously published and were in compliance with all applicable ethical standards (including the Helsinki declaration and its amendments, institutional/national research committee standards, and international/national/institutional guidelines).
This article does not contain any studies with human or animal subjects performed by any of the authors.
Additional information
This article is part of the Topical Collection on Complementary and Alternative Medicine
About this article
Cite this article
Fitzcharles, M., Häuser, W. Cannabinoids in the Management of Musculoskeletal or Rheumatic Diseases. Curr Rheumatol Rep 18, 76 (2016). https://doi.org/10.1007/s11926-016-0625-5
Keywords
Cannabinoids

Rheumatic disease

Marijuana