Management of Raynaud's Phenomenon and Digital Ischemia
SCLERODERMA (J VARGA, SECTION EDITOR)
Part of the following topical collections:
Abstract
This review focuses on new findings and developments relevant to the clinician caring for patients with primary and secondary [especially systemic sclerosis (SSc)-related] Raynaud phenomenon (RP). In the last 18 months, several clinical trials and observational studies of RP and of SSc-related digital ulceration have been published, reflecting increased awareness of disease burden and increased interest by pharmaceutical companies: new insights into pathophysiology are driving new approaches to treatment. Key developments are the increased use of phosphodiesterase type V inhibitors in severe RP, and of bosentan (an endothelin-1 receptor antagonist) for prevention of recurrent SSc-related digital ulcers. Other treatments being researched include topical glyceryl trinitrate (applied locally to the digits), botulinum toxin (for severe digital ischemia/ulceration), and several other drugs including oral prostanoids. Increased availability and interest in nailfold capillaroscopy, by facilitating early diagnosis of SSc, should pave the way for studies of early intervention and vascular protection.
Keywords
Raynaud's phenomenon 
Systemic sclerosis 
Digital ulcers 
Digital ischemia 
Critical ischemia 
Clinical trials 
Phosphodiesterase inhibitors 
Endothelin-1 receptor antagonists 
Glyceryl trinitrate 
Prostanoids 
Botulinum toxin 
Nailfold capillaroscopy 
Management 
Introduction
The aim of this review is to discuss new findings and developments over the last 12−18 months, relevant to the management of patients with Raynaud phenomenon (RP). RP is most commonly primary (PRP, idiopathic): up to 19 % of the general population are affected by RP [
1
], although estimated prevalences vary widely, due to differences in definition of RP and different geographic locations. However, it is systemic sclerosis (SSc)-related RP which is of most interest (and most challenging) to the rheumatologist, and which will be the focus of this review. This is because RP in the context of SSc is often severe (resulting from structural as well as functional vascular change) [Fig. 
1
], and frequently progresses to digital ulceration and/or critical digital ischemia (referred to in this review as 'complicated RP'). The true burden of SSc-related digital ulceration has only recently been recognised: at least 40−50 % of all patients with SSc will experience one or more digital ulcers at some point in their disease course [
2
,
3
], and these ulcers are associated not only with severe pain but also with significant functional impairment [
3
,
4
•]. The good news is that new insights into pathogenesis are directing new avenues of therapy, and the last 12−18 months have seen the publication of a number of controlled clinical trials (in addition to anecdotal reports and small case series), examining different therapies for both uncomplicated (no digital ulceration or critical ischemia) and complicated RP.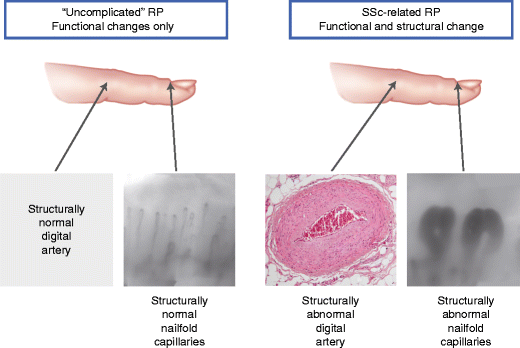 It should also be remembered that the first principle of management is to establish the diagnosis. In the context of RP (which is a clinical diagnosis based on colour change of the fingers in response to cold or to emotional stress), the challenge to rheumatologists is to diagnose any underlying SSc-spectrum disorder early, to allow early intervention before irreversible tissue damage has occurred.
This review describes new findings and developments under four headings:
1.

 

2.

SSc-related digital ulceration.

 

3.

SSc-related critical digital ischemia.

 

4.

Early diagnosis of a SSc-spectrum disorder in the patient with RP.

 
Some key unanswered questions and future areas for research are then briefly discussed.
Uncomplicated RP
By definition, all patients with PRP have uncomplicated RP, because the presence of irreversible tissue injury (pitting scars, ulcers or gangrene) precludes this diagnosis [5]. A significant proportion of patients with SSc (and with other connective tissue diseases) will also have uncomplicated RP, as many do not progress to irreversible tissue injury, although their RP will probably be more severe than that in patients with PRP, evidenced by the severity of change on thermographic testing. Management depends on severity. Many patients with PRP will respond to 'non-drug measures' and in some the RP will resolve completely [6]. However, a proportion will require drug treatment, as will most patients with SSc-related RP. The EULAR (European League Against Rheumatism) treatment recommendations for SSc include digital vasculopathy and outline the evidence base for treatment of both SSc-related RP and digital ulceration [7]. A calcium channel blocker is generally the drug of first choice. However, if this not tolerated or ineffective then there are a number of other options, although the evidence base for other oral vasodilators is very weak: these options include an angiotensin II receptor antagonist, an angiotensin-converting enzyme (ACE) inhibitor, an alpha-blocker or a selective serotonin reuptake inhibitor. Although there are no controlled clinical trials of combination therapy, certain combinations (for example a calcium channel blocker together with an angiotensin II receptor antagonist) seem sensible in patients who have not had a satisfactory response to either treatment alone. Recent reviews of the evidence base for (1) oral vasodilators for PRP (other than calcium channel blockers) [8•] and (2) different treatments for secondary RP [9] highlight the need for more high quality randomised controlled trials.
New Findings and Developments
Supplementation of the L-Arginine/Nitric Oxide Pathway
For uncomplicated RP, the most important recent therapeutic advances relate to supplementation of the L-arginine/nitric oxide pathway, in particular with phosphodiesterase type 5 inhibitors (referred to below simply as 'phosphodiesterase inhibitors'). Nitric oxide is a vasodilator which acts directly on vascular smooth muscle. Its availability/effect can be enhanced by phosphodiesterase inhibitors, which inhibit degradation of cyclic guanosine monophosphate. There have been surprisingly few trials of phosphodiesterase inhibitors in RP. Those which have been performed have given somewhat conflicting results, and are summarised in Table 
1
. All three of the randomised controlled clinical trials published in the last 2 years (and which relate mainly to patients with SSc-related RP) [
10
•,
11
•,
12
•] reported benefit from phosphodiesterase inhibition. The first by Shenoy et al. [
10
•] was a double-blind cross-over trial of 24 patients (23 of whom had SSc) randomised to receive either tadalafil or placebo as 'add-on' therapy: tadalafil in a dose of 20 mg on alternate days, taken for 6 weeks, conferred benefit in terms of RP symptoms and quality of life (and also in digital ulceration). The second, which recruited 57 patients with limited cutaneous SSc [
11
•], was of parallel group design examining 4 weeks' treatment with modified release sildenafil (100 mg for 3 days followed by 200 mg daily): there was a greater percentage reduction in RP attacks in the sildenafil-treated group compared to the placebo group. The third was a double-blind cross-over study comparing 6 weeks' treatment with vardenafil 10 mg bd to placebo in 53 patients of whom 47 had secondary RP and 6 had primary RP [
12
•]: vardenafil conferred benefit in terms of RP symptoms. There was a suggestion of a prolonged effect of vardenafil: Raynaud's Condition Score remained low during the second phase of the study in those patients randomised to receive vardenafil first. Side effects including flushing and headache were more common in the active treatment group [
12
•], highlighting how patients treated with phosphodiesterase inhibitors not uncommonly experience vasodilatory side effects.
Table 1
Clinical trials of phosphodiesterase inhibitors in RP
| Study | Drug | Number of subjects | Treatment duration | Study design | Main efficacy findings |
| --- | --- | --- | --- | --- | --- |
| Fries et al. [48] | Sildenafil 50 mg bd | 16 with secondary RP (14 had SSc) | 4 weeks | Placebo-controlled cross-over | Improvement in RP symptoms (including Raynaud's Condition Score) with active treatment |
| Caglayan et al. [49] | Vardenafil 10 mg bd | 40 (33 with secondary RP | 2 weeks | Open label | Improvement in Raynaud's Condition Score |
| Schiopu et al [50] | Tadalafil 20 mg | 39 women with SSc | 4 weeks | Placebo-controlled cross-over | No benefit in terms of RP symptoms (including Raynaud's Condition Score) with active treatment |
| Shenoy et al. [10•] | Tadalafil 20 mg on alternate days | 24 (23 with SSc) | 6 weeks | Placebo-controlled cross-over | Improvement in RP symptoms (including Raynaud's Condition Score), and in digital ulceration with active treatment |
| Herrick et al. [11•] | Sildenafil modified release (100 mg once daily for 3 days then 200 mg) | 57 with limited cutaneous SSc | 4 weeks | Placebo-controlled parallel group | Greater mean percentage reduction in RP attacks in active treatment group |
| Caglayan et al. [12•] | Vardenafil 10 mg bd | 53 (6 with primary RP, 47 with secondary RP, of whom 38 had SSc) | 6 weeks | Placebo-controlled cross-over | Improvement in RP symptoms (including Raynaud's Condition Score) with active treatment |
A key point is that the randomised controlled trials of phosphodiesterase inhibitors have so far been of only 6 weeks' duration or less. Although longer-term studies are required to better evaluate the role of phosphodiesterase inhibitors in RP, many clinicians are now prescribing these on the basis of the existing short-term studies and their own anecdotal experience. Increasing use of phosphodiesterase inhibitors for SSc-related RP is evidenced by recent surveys of (1) case records from patients within the Canadian Scleroderma Research Group [13] and (2) SSc experts, many of whom reported that their second choice of drug therapy after a calcium channel blocker was a phosphodiesterase inhibitor [14].
Nitric oxide can also be supplemented directly, via topical application. Although effective when administered systemically by glyceryl trinitrate (GTN) patch, this is at the expense of vasodilatory side effects. Local application of GTN to the fingers (delivering a lower dose to the symptomatic area, without systemic adverse effects) is an attractive option in which interest has recently been reawakened. A multicentre, placebo-controlled trial of parallel group design [15] examined tolerability and efficacy of 4 weeks' treatment with a novel formulation of GTN, MQX-503, applied as a gel (supplied in pouches) immediately before or within 5 min of the onset of a Raynaud's attack. Of the 219 patients studied, 69 had primary RP and 150 secondary (of whom 131 had SSc). MQX-503 conferred benefit in terms of improvement in Raynaud's Condition Score [15]. However, as yet there is no commercially available preparation specifically for use in RP.
Other Recent Studies
The last 18 months have seen publication of a small number of clinical trials investigating other possible therapies for RP. Disappointingly none suggested benefit. Fasudil, a RhoA/Rho kinase inhibitor, did not improve temperature and blood flow response to a cold challenge in a single dose study of 17 patients with SSc-RP [16]. Gingko biloba was not found to be superior to placebo in a 10-week parallel group study in 41 patients with PRP [17]. St. John's Wort (6 weeks' treatment) conferred no clinical benefit over placebo in a study of 18 patients with either primary or secondary RP [18].
Author's Approach Focusing on New Developments
Pending longer duration clinical trials, I currently recommend a phosphodiesterase inhibitor for patients with severe RP (these will usually be patients with SSc) unresponsive to more commonly used vasodilators. At present, I rarely recommend topical (local) nitrate therapy, because there is currently no easy to use, commercially available, preparation.
SSc-Related Digital Ulceration
As with uncomplicated RP, management depends on severity. Some digital ulcers are relatively minor and heal spontaneously. An antibiotic should be prescribed if there is any question of superadded infection. Conversely, many digital ulcers are extremely painful (requiring treatment with opiates in the short term) and difficult to heal: patients with these ulcers require hospitalisation for intravenous prostanoid therapy such as iloprost [7, 19, 20].
All patients with digital ulceration require optimisation of therapy for their RP including non-drug measures: stopping smoking is particularly important in those patients with SSc who have severe digital ischemia. Expert nursing/tissue viability input is another important aspect of management. The EULAR recommendations [7] include intravenous prostanoids for ulcer healing, and bosentan (discussed below) for prevention of digital ulcers in selected patients. A recent survey highlighted how management varies across continents [21].
Some patients with digital ulcers will require surgical debridement, especially if there is necrotic tissue present. Digital (palmar) sympathectomy, a highly specialised technique, has attracted interest recent years [22], although there have been no new reports in the last 18 months.
New Findings and Developments
Digital ulceration has been the most studied aspect of SSc-related vasculopathy in the last 5 years: large multinational clinical trials have helped to increase awareness of the enormous burden of digital ulceration, leading to studies of epidemiology and pathophysiology, and further clinical trials and observational treatment studies.
Endothelin-1 receptor antagonists, phosphodiesterase inhibitors, oral prostanoids and botulinum toxin have all attracted interest.
Author's Approach Focusing on New Developments
I recommend bosentan in patients with refractory SSc-related digital ulcers, for example those requiring repeated admissions for intravenous iloprost. I refer a significant proportion of patients with digital ulceration for surgical debridement; while there is no good evidence base for this approach (and there is unlikely to ever be a controlled clinical trial of surgical debridement), my own feeling is that with early debridement, very few patients go on to require more radical surgery (digital sympathectomy or amputation).
SS-Related Critical Digital Ischemia
This is much less common that digital ulceration (and can occur concomitantly), but is always a medical emergency. By the time the patient presents, it may be too late to save the digit; hence, the importance of reinforcing to patients that they must seek medical advice immediately if a finger or toe becomes permanently discoloured. The approach to treatment in the acute setting is very similar to that of severe digital ulceration (admission for intravenous prostanoid treatment and analgesics), although most clinicians would in addition give an antiplatelet agent, and consider short-term anticoagulation. The situation should be discussed with a hand or vascular surgeon because surgery may be required. Surgical options include debridement of necrotic tissue (although this may autoamputate), digital sympathectomy or amputation.
New Findings and Developments
The rarity of critical digital ischemia means that controlled clinical trials, for example of anticoagulation, are unlikely ever to be mounted. The focus of treatment must be to maximise nutrient blood flow to the affected digit, and this will include:(1) optimising vasodilator treatments in the acute situation, on the assumption that there may still be some reversibility to the impaired blood flow; (2) treating any procoagulant tendency, on the assumption that thrombi may be contributory to the critical ischemia; Although there is no good evidence base for this approach, in some patients arterial thromboses have been found in digital arteries from amputation specimens [38]; and (3) identifying whether there might be a vascular lesion amendable to surgical intervention, for example an ulnar artery occlusion [39]. While proximal lesions can often be diagnosed by careful clinical examination of the peripheral pulses and arterial Dopplers, more distal lesions can be difficult to detect non-invasively. Advances in magnetic resonance angiography may in the future obviate the need for the more invasive X-ray angiography to visualise the distal circulation, including the digital arteries, in patients with SSc [40].
Author's Approach Focusing on New Developments
My practice has not changed significantly over the last 2 years, other than a more aggressive use of oral vasodilator therapy once the acute episode has passed (as per 'uncomplicated RP'). I anticipate using more phosphodiesterase inhibition over the next 5 years. In our centre, we are currently gaining experience in the use of botulinum toxin in patients with critical ischemia and/or refractory digital ulceration, although I would prefer to be doing this in the context of a clinical trial.
Early Diagnosis of a SSc-Spectrum Disorder in the Patient with RP
Optimal management of RP includes using this 'opportunity' to diagnose SSc early. Most clinicians agree that early diagnosis of SSc is worthwhile: even if we cannot at present modify the underlying disease process, we can screen the patient for internal organ involvement for which effective treatments are available (for example pulmonary arterial hypertension) and/or recruit patients into clinical trials of potential disease-modifying (and other) therapies.
It is now well established that abnormal nailfold capillaries and the presence of SSc-specific autoantibodies are independent risk factors for SSc. In a study of 586 patients with RP followed for 3,197 patient years [41], SSc developed in 25.8 % of patients with an abnormal capillary pattern, in 35.4 % of those with a specific autoantibody, and in 79.5 % of those with both abnormal nailfold capillaries and a specific autoantibody. Those patients with both predictors were 60 times more likely to develop SSc than those with neither [41].
New Findings and Developments
The importance of diagnosing SSc early is now recognised internationally: proposed criteria for early diagnosis include RP, abnormal capillaroscopy, and SSc-specific autoantibodies [42]. A key point to highlight is the increasing awareness of the role of nailfold capillaroscopy in patients with both primary and secondary RP [43]. While the usefulness of nailfold capillaroscopy in predicting an underlying SSc-spectrum disorder has long been recognised, its role in predicting digital ulceration is an area of active research [44, 45•].
Key Questions Yet to be Answered for the Practicing Clinician
Ideally, we need treatments which will effectively prevent RP attacks, without systemic side effects, and also drugs which will (for the patient with SSc) prevent and reverse structural vascular change. The next 5−10 years should see controlled trials addressing these issues, facilitated by increased international networking of clinicians with an interest in RP, and by work in progress developing robust outcome measures of digital blood flow for application in clinical trials.
Pending these developments, practising clinicians often ask the following:
Does Statin Therapy Confer Benefit in Patients with RP and/or SSc?
There are many reasons why statins should confer benefit in SSc-related digital vasculopathy, and a study of 84 patients with SSc suggested that 4 months' atorvastatin 40 mg/day improved both clinical and laboratory parameters [46]. Further studies of statin therapy in patients with SSc-related RP are urgently required: at present, there is insufficient evidence base for these to be recommended as standard therapy for either PRP or SSc-related RP.
Should Aspirin or Another Antiplatelet Agent be Prescribed for Patients with RP?
As with statin therapy, there is a strong therapeutic rationale for the use of antiplatelet therapy for patients with SSc-related RP (less so in patients with PRP). However, there is no good evidence base for this approach. Given that clinical trials of antiplatelet agents are unlikely to be mounted in the near future, the pragmatic approach adopted by many clinicians is to prescribe these for patients with complicated RP, remembering that patients with SSc often have gastrointestinal involvement and are at increased risk of side effects from aspirin.
What About Antioxidants?
Again, despite there being considerable evidence to support oxidant stress as a contributor to the SSc disease process [47], currently there is not the evidence base to support antioxidant therapy as standard therapy.
Conclusions
The main recent developments in the management of RP with direct relevance to the practising clinician in the community are the increasing use of (1) phosphodiesterase inhibitors for patients refractory to more commonly used vasodilators and (2) endothelin-1 receptor antagonists for patients with recurrent SSc-related digital ulcers. In addition, clinicians should be aware of the recent (and long overdue) recognition of the enormous pain, morbidity and functional disability associated with SSc-related digital ulcers, necessitating a proactive approach to management including skilled nursing/wound care and collaboration with surgical colleagues, because surgical debridement and/or digital sympathectomy may help to preserve a digit. Finally, when confronted with a patient with RP, every clinician should ask him/herself: could this patient have SSc? Early identification of SSc, including with nailfold capillaroscopy and checking of SSc-specific autoantibodies, alerts the clinician to the possibility of the patient's RP progressing to complications. Looking into the future, high quality clinical trials should deliver answers to the questions as to whether patients with RP should be prescribed statins, antiplatelet agents, or one of a number of exciting therapies which may offer vascular protection.
Notes
Disclosure
Dr. Herrick has served as a consultant for Actelion Pharmaceuticals and Pfizer; has received royalties from UpToDate; has received payment for development of educational presentations (including service on speakers' bureaus) from Actelion Pharmaceuticals; has had travel/accommodations expenses covered/reimbursed by Actelion Pharmaceuticals; and has been an investigator in studies sponsored by Actelion Pharmaceuticals, Pfizer, MediQuest, United Therapeutics Corp., and Orion Pharma.
References
Papers of particular interest, published recently, have been highlighted as: • Of importance •• Of major Importance
Copyright information
© Springer Science+Business Media New York 2013