Abstract
Rheumatoid arthritis is a chronic inflammatory disease that results in generalized bone loss and increased fracture risk. Characteristic radiologic features of rheumatoid arthritis include periarticular osteopenia and marginal erosions. An emerging literature highlights the importance of osteoclasts as mediators of the erosive process, with an impairment of bone formation by inhibition of the Wnt signaling pathway as a cause of lack of repair of erosions. MRI has demonstrated the importance of inflammation in the bone marrow compartment as a cause of periarticular osteopenia. The term osteoimmunology has evolved to highlight the association between cells and cytokines of the immune system and their relationship to bone metabolism in rheumatoid arthritis and other forms of chronic inflammatory arthritis.
Access options
Buy single article
Instant access to the full article PDF.
USD 39.95
Price excludes VAT (USA)
Tax calculation will be finalised during checkout.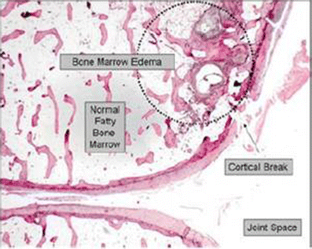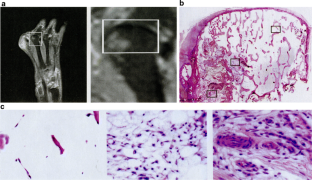 References
van Staa TP, Geusens P, Bijlsma JW, Leufkens HG, Cooper C. Clinical assessment of the long-term risk of fracture in patients with rheumatoid arthritis. Arthritis Rheum. 2006;54:3104–12.

Orstavik RE, Haugeberg G, Uhlig T, et al. Vertebral deformities in 229 female patients with rheumatoid arthritis: associations with clinical variables and bone mineral density. Arthritis Rheum. 2003;49:355–60.

Kanis JA, Johnell O, Oden A, Johansson H, McCloskey E. FRAX and the assessment of fracture probability in men and women from the UK. Osteoporos Int. 2008;19:385–97.

Engvall IL, Svensson B, Tengstrand B, Brismar K, Hafstrom I. Better Anti-Rheumatic FarmacO Therapy Study Group. Impact of low-dose prednisolone on bone synthesis and resorption in early rheumatoid arthritis: experiences from a two-year randomized study. Arthritis Res Ther. 2008;10:R128.

Wijbrandts CA, Klaasen R, Dijkgraaf MG, Gerlag DM, van Eck-Smit BL, Tak PP. Bone mineral density in rheumatoid arthritis patients 1 year after adalimumab therapy: arrest of bone loss. Ann Rheum Dis. 2009;68:373–6.

Seriolo B, Paolino S, Sulli A, Ferretti V, Cutolo M. Bone metabolism changes during anti-TNF-alpha therapy in patients with active rheumatoid arthritis. Ann N Y Acad Sci. 2006;1069:420–7.

Arron JR, Choi Y. Bone versus immune system. Nature. 2000;408:535–6.

Schett G. Osteoimmunology in rheumatic diseases. Arthritis Res Ther. 2009;11:210.

Ritchlin CT, Haas-Smith SA, Li P, Hicks DG, Schwarz EM. Mechanisms of TNF-alpha- and RANKL-mediated osteoclastogenesis and bone resorption in psoriatic arthritis. J Clin Invest. 2003;111:821–31.

Zaiss MM, Axmann R, Zwerina J, et al. Treg cells suppress osteoclast formation: a new link between the immune system and bone. Arthritis Rheum. 2007;56:4104–12.

Vis M, Havaardsholm EA, Haugeberg G, et al. Evaluation of bone mineral density, bone metabolism, osteoprotegerin and receptor activator of the NFkappaB ligand serum levels during treatment with infliximab in patients with rheumatoid arthritis. Ann Rheum Dis. 2006;65:1495–9.

Guler-Yuksel M, Allaart CF, Goekoop-Ruiterman YP, et al. Changes in hand and generalised bone mineral density in patients with recent-onset rheumatoid arthritis. Ann Rheum Dis. 2009;68:330–6.

Dirven L, Guler-Yuksel M, de Beus WM, et al. Changes in hand bone mineral density and the association with the level of disease activity in patients with rheumatoid arthritis: bone mineral density measurements in a multicenter randomized clinical trial. Arthritis Care Res (Hoboken). 2011;63:1691–9.

Schett G, Kiechl S, Weger S, et al. High-sensitivity C-reactive protein and risk of nontraumatic fractures in the Bruneck study. Arch Intern Med. 2006;166:2495–501.

Weitzmann MN, Pacifici R. Estrogen deficiency and bone loss: an inflammatory tale. J Clin Invest. 2006;116:1186–94.

Charatcharoenwitthaya N, Khosla S, Atkinson EJ, McCready LK, Riggs BL. Effect of blockade of TNF-alpha and interleukin-1 action on bone resorption in early postmenopausal women. J Bone Miner Res. 2007;22:724–9.

Roggia C, Gao Y, Cenci S, et al. Up-regulation of TNF-producing T cells in the bone marrow: a key mechanism by which estrogen deficiency induces bone loss in vivo. Proc Natl Acad Sci U S A. 2001;98:13960–5.

Schett G. Bone marrow edema. Ann N Y Acad Sci. 2009;1154:35–40.

McQueen FM. The MRI view of synovitis and tenosynovitis in inflammatory arthritis: implications for diagnosis and management. Ann N Y Acad Sci. 2009;1154:21–34.

Jimenez-Boj E, Nobauer-Huhmann I, Hanslik-Schnabel B, et al. Bone erosions and bone marrow edema as defined by magnetic resonance imaging reflect true bone marrow inflammation in rheumatoid arthritis. Arthritis Rheum. 2007;56:1118–24.

Schett G, Firestein GS. Mr Outside and Mr Inside: classic and alternative views on the pathogenesis of rheumatoid arthritis. Ann Rheum Dis. 2010;69:787–9.

Gravallese EM, Harada Y, Wang JT, Gorn AH, Thornhill TS, Goldring SR. Identification of cell types responsible for bone resorption in rheumatoid arthritis and juvenile rheumatoid arthritis. Am J Pathol. 1998;152:943–51.

Schett G, Teitelbaum SL. Osteoclasts and arthritis. J Bone Miner Res. 2009;24:1142–6.

Jarrett SJ, Conaghan PG, Sloan VS, et al. Preliminary evidence for a structural benefit of the new bisphosphonate zoledronic acid in early rheumatoid arthritis. Arthritis Rheum. 2006;54:1410–4.

Cohen SB, Dore RK, Lane NE, et al. Denosumab treatment effects on structural damage, bone mineral density, and bone turnover in rheumatoid arthritis: a twelve-month, multicenter, randomized, double-blind, placebo-controlled, phase II clinical trial. Arthritis Rheum. 2008;58:1299–309.

Ideguchi H, Ohno S, Hattori H, Senuma A, Ishigatsubo Y. Bone erosions in rheumatoid arthritis can be repaired through reduction in disease activity with conventional disease-modifying antirheumatic drugs. Arthritis Res Ther. 2006;8:R76.

Walsh NC, Reinwald S, Manning CA, et al. Osteoblast function is compromised at sites of focal bone erosion in inflammatory arthritis. J Bone Miner Res. 2009;24:1572–85.

Walsh NC, Gravallese EM. Bone remodeling in rheumatic disease: a question of balance. Immunol Rev. 2010;233:301–12.

Diarra D, Stolina M, Polzer K, et al. Dickkopf-1 is a master regulator of joint remodeling. Nat Med. 2007;13:156–63.
Disclosure
Dr. Deal has served as a consultant and on the speakers' bureau for Amgen and Novartis.
About this article
Cite this article
Deal, C. Bone Loss in Rheumatoid Arthritis: Systemic, Periarticular, and Focal. Curr Rheumatol Rep 14, 231–237 (2012). https://doi.org/10.1007/s11926-012-0253-7
Published:

Issue Date:

DOI: https://doi.org/10.1007/s11926-012-0253-7
Keywords
Osteoporosis

FRAX

Periarticular osteopenia

Marginal erosions

Wnt signaling

RANK ligand

Inflammation

Osteoimmunology

Osteoblasts

Osteoclasts

Magnetic resonance imaging

MRI

Bone loss

Rheumatoid arthritis

Systemic

Periarticular

Focal