Abstract
Purpose of Review
Approximately 25% of employed individuals engage in shift work, which can substantially alter opportunities for restorative sleep. Being tired on the job can lead to safety risks in professions such as healthcare, first responders, manufacturing, and numerous others. In addition to the physical stress and health consequences of shift work, recent evidence links shift work to poor mental health outcomes. The current review examines the literature from 2016 onward, emphasizing the impact of shift work on mental health.
Recent Findings
Shift work is associated with considerable impacts on sleep, depressed mood and anxiety, substance use, impairments in cognition, lower quality of life, and even suicidal ideation. Pronounced sleep disturbances frequently underlie the mental health consequences of shift work.
Summary
Shift work can have physical, mental health, and safety consequences. Future research should aim to better understand the interplay of shift work, sleep, and mental health and seek to mitigate the adverse consequences of shift work.
Access options
Buy single article
Instant access to the full article PDF.
US$ 39.95
Tax calculation will be finalised during checkout.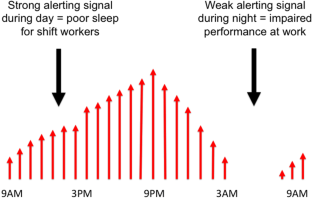 References
Papers of particular interest, published recently, have been highlighted as: • Of importance
1.

McMenamin TM. Time to work: recent trends in shift work and flexible schedules. Monthly Labor Review. 2007;130(12):3–15.

2.

Eurofound. Sixth European Working Conditions Survey—overview report (2017 update). Publications Office of the European Union, Luxenbourg. 2017.

3.

Yong LC, Li J, Calvert GM. Sleep-related problems in the US working population: prevalence and association with shiftwork status. Occup Environ Med. 2017;74(2):93–104. https://doi.org/10.1136/oemed-2016-103638.

4.

(2019) NSF. 2019 Sleep in America® Poll - Sleep Health & Scheduling. Sleep Health. 2019;5(4):e1.

5.

Borbely AA, Daan S, Wirz-Justice A, Deboer T. The two-process model of sleep regulation: a reappraisal. J Sleep Res. 2016;25(2):131–43. https://doi.org/10.1111/jsr.12371.

6.

Taniyama Y, Yamauchi T, Takeuchi S, Kuroda Y. PER1 polymorphism associated with shift work disorder. Sleep Biol Rhythms. 2015;13(4):342–7.

7.

Hilliker NA, Muehlbach MJ, Schweitzer PK, Walsh JK. Sleepiness/alertness on a simulated night shift schedule and morningness-eveningness tendency. Sleep. 1992;15(5):430–3. https://doi.org/10.1093/sleep/15.5.430.

8.

Viola AU, Archer SN, James LM, Groeger JA, Lo JC, Skene DJ, et al. PER3 polymorphism predicts sleep structure and waking performance. Curr Biol. 2007;17(7):613–8. https://doi.org/10.1016/j.cub.2007.01.073.

9.

Wickwire EM, Geiger-Brown J, Scharf SM, Drake CL. Shift work and shift work sleep disorder: clinical and organizational perspectives. Chest. 2017;151(5):1156–72. https://doi.org/10.1016/j.chest.2016.12.007.

10.

Drake CL, Roehrs T, Richardson G, Walsh JK, Roth T. Shift work sleep disorder: prevalence and consequences beyond that of symptomatic day workers. Sleep. 2004;27(8):1453–62. https://doi.org/10.1093/sleep/27.8.1453.

11.

Frost P, Kolstad HA, Bonde JP. Shift work and the risk of ischemic heart disease - a systematic review of the epidemiologic evidence. Scand J Work Environ Health. 2009;35(3):163–79. https://doi.org/10.5271/sjweh.1319.

12.

Brown DL, Feskanich D, Sanchez BN, Rexrode KM, Schernhammer ES, Lisabeth LD. Rotating night shift work and the risk of ischemic stroke. Am J Epidemiol. 2009;169(11):1370–7. https://doi.org/10.1093/aje/kwp056.

13.

Caruso CC. Negative impacts of shiftwork and long work hours. Rehabil Nurs. 2014;39(1):16–25. https://doi.org/10.1002/rnj.107.

14.

Knutsson A, Boggild H. Gastrointestinal disorders among shift workers. Scand J Work Environ Health. 2010;36(2):85–95. https://doi.org/10.5271/sjweh.2897.

15.

Mahoney MM. Shift work, jet lag, and female reproduction. Int J Endocrinol. 2010;2010:813764. https://doi.org/10.1155/2010/813764.

16.

Hansen J, Lassen CF. Nested case-control study of night shift work and breast cancer risk among women in the Danish military. Occup Environ Med. 2012;69(8):551–6. https://doi.org/10.1136/oemed-2011-100240.

17.

Jia Y, Lu Y, Wu K, Lin Q, Shen W, Zhu M, et al. Does night work increase the risk of breast cancer? A systematic review and meta-analysis of epidemiological studies. Cancer Epidemiol. 2013;37(3):197–206. https://doi.org/10.1016/j.canep.2013.01.005.

18.

Kubo T, Ozasa K, Mikami K, Wakai K, Fujino Y, Watanabe Y, et al. Prospective cohort study of the risk of prostate cancer among rotating-shift workers: findings from the Japan collaborative cohort study. Am J Epidemiol. 2006;164(6):549–55. https://doi.org/10.1093/aje/kwj232.

19.

Puca FM, Perrucci S, Prudenzano MP, Savarese M, Misceo S, Perilli S, et al. Quality of life in shift work syndrome. Funct Neurol. 1996;11(5):261–8.

20.

Morikawa Y, Sakurai M, Nakamura K, Nagasawa SY, Ishizaki M, Kido T, et al. Correlation between shift-work-related sleep problems and heavy drinking in Japanese male factory workers. Alcohol Alcohol. 2013;48(2):202–6. https://doi.org/10.1093/alcalc/ags128.

21.

Nena E, Katsaouni M, Steiropoulos P, Theodorou E, Constantinidis TC, Tripsianis G. Effect of shift work on sleep, health, and quality of life of health-care workers. Indian J Occup Environ Med. 2018;22(1):29–34. https://doi.org/10.4103/ijoem.IJOEM_4_18.

22.

Gumenyuk V, Roth T, Korzyukov O, Jefferson C, Kick A, Spear L, et al. Shift work sleep disorder is associated with an attenuated brain response of sensory memory and an increased brain response to novelty: an ERP study. Sleep. 2010;33(5):703–13. https://doi.org/10.1093/sleep/33.5.703.

23.

Barger LK, Cade BE, Ayas NT, Cronin JW, Rosner B, Speizer FE, et al. Extended work shifts and the risk of motor vehicle crashes among interns. N Engl J Med. 2005;352(2):125–34. https://doi.org/10.1056/NEJMoa041401.

24.

Ftouni S, Sletten TL, Howard M, Anderson C, Lenne MG, Lockley SW, et al. Objective and subjective measures of sleepiness, and their associations with on-road driving events in shift workers. J Sleep Res. 2013;22(1):58–69. https://doi.org/10.1111/j.1365-2869.2012.01038.x.

25.

Smith L, Folkard S, Poole CJ. Increased injuries on night shift. Lancet. 1994;344(8930):1137–9. https://doi.org/10.1016/s0140-6736(94)90636-x.

26.

Rajaratnam SM, Howard ME, Grunstein RR. Sleep loss and circadian disruption in shift work: health burden and management. Med J Aust. 2013;199(8):S11–5. https://doi.org/10.5694/mja13.10561.

27.

Czeisler CA, Wickwire EM, Barger LK, Dement WC, Gamble K, Hartenbaum N, et al. Sleep-deprived motor vehicle operators are unfit to drive: a multidisciplinary expert consensus statement on drowsy driving. Sleep Health. 2016;2(2):94–9. https://doi.org/10.1016/j.sleh.2016.04.003.

28.

Chaiard J, Deeluea J, Suksatit B, Songkham W, Inta N, Stone TE. Sleep disturbances and related factors among nurses. Nurs Health Sci. 2019. https://doi.org/10.1111/nhs.12626.

29.

• Kalmbach DA, Fang Y, Arnedt JT, Cochran AL, Deldin PJ, Kaplin AI, et al. Effects of Sleep, Physical Activity, and Shift Work on Daily Mood: a Prospective Mobile Monitoring Study of Medical Interns. J Gen Intern Med. 2018;33(6):914–20. https://doi.org/10.1007/s11606-018-4373-2. This longitudinal study used objective assessment of physical activity and sleep duration to demonstrate decreases in sleep, physical activity and mood in medical interns before and after starting internship year.

30.

Wyse CA, Celis Morales CA, Graham N, Fan Y, Ward J, Curtis AM, et al. Adverse metabolic and mental health outcomes associated with shiftwork in a population-based study of 277,168 workers in UK biobank<sup/>. Ann Med. 2017;49(5):411–20. https://doi.org/10.1080/07853890.2017.1292045.

31.

• Kang MY, Kwon HJ, Choi KH, Kang CW, Kim H. The relationship between shift work and mental health among electronics workers in South Korea: a cross-sectional study. PLoS One. 2017;12(11):e0188019. https://doi.org/10.1371/journal.pone.0188019. This study demonstrates that sucidal ideation was found to be considerably elevated in shiftworkers with insomnia.

32.

Voinescu BI. Common sleep, psychiatric, and somatic problems according to work schedule: an internet survey in an eastern European country. Int J Behav Med. 2018;25(4):456–64. https://doi.org/10.1007/s12529-018-9719-y.

33.

Cheng WJ, Cheng Y. Minor mental disorders in Taiwanese healthcare workers and the associations with psychosocial work conditions. J Formos Med Assoc. 2017;116(4):300–5. https://doi.org/10.1016/j.jfma.2016.05.004.

34.

Story CR, Koch JM, Daniel SS, Reboussin BA, Grzywacz JG. Impact of work schedule, race, and psychological distress among impoverished mothers. Am J Health Behav. 2018;42(5):43–53. https://doi.org/10.5993/AJHB.42.5.4.

35.

Booker LA, Magee M, Rajaratnam SMW, Sletten TL, Howard ME. Individual vulnerability to insomnia, excessive sleepiness and shift work disorder amongst healthcare shift workers. A systematic review. Sleep Med Rev. 2018;41:220–33. https://doi.org/10.1016/j.smrv.2018.03.005.

36.

Hall AL, Kecklund G, Leineweber C, Tucker P. Effect of work schedule on prospective antidepressant prescriptions in Sweden: a 2-year sex-stratified analysis using national drug registry data. BMJ Open. 2019;9(1):e023247. https://doi.org/10.1136/bmjopen-2018-023247.

37.

Booker LA, Sletten TL, Alvaro PK, Barnes M, Collins A, Chai-Coetzer CL et al. Exploring the associations between shift work disorder, depression, anxiety and sick leave taken amongst nurses. J Sleep Res. 2019:e12872. doi:https://doi.org/10.1111/jsr.12872.

38.

Dorrian J, Heath G, Sargent C, Banks S, Coates A. Alcohol use in shiftworkers. Accid Anal Prev. 2017;99(Pt B):395–400. https://doi.org/10.1016/j.aap.2015.11.011.

39.

• Ogeil R, Barger LK, Lockley SW, et al. Cross-sectional analysis of sleep-promoting and wake-promoting drug use on health, fatigue-related error, and near-crashes in police officers. BMJ Open. 2018;8(9):e022041. https://doi.org/10.1136/bmjopen-2018-022041. This study characterizes substance use and misuse of both sleep-promoting and wake-promoting drugs in police officers.

40.

Pham TT, Park B. Alcohol use disorder and health-related quality of life in Korean night-shift workers: a cross-sectional study using the KNHANES 2007-2015 data. PLoS One. 2019;14(4):e0214593. https://doi.org/10.1371/journal.pone.0214593.

41.

Titova OE, Lindberg E, Elmstahl S, Lind L, Schioth HB, Benedict C. Association between shift work history and performance on the trail making test in middle-aged and elderly humans: the EpiHealth study. Neurobiol Aging. 2016;45:23–9. https://doi.org/10.1016/j.neurobiolaging.2016.05.007.

42.

Wong IS, Smith PM, Ibrahim S, Mustard CA, Gignac MA. Mediating pathways and gender differences between shift work and subjective cognitive function. Occup Environ Med. 2016;73(11):753–60. https://doi.org/10.1136/oemed-2016-103774.

43.

Cheng P, Tallent G, Bender TJ, Tran KM, Drake CL. Shift work and cognitive flexibility: decomposing task performance. J Biol Rhythm. 2017;32(2):143–53. https://doi.org/10.1177/0748730417699309.

44.

Chellappa SL, Morris CJ, Scheer F. Effects of circadian misalignment on cognition in chronic shift workers. Sci Rep. 2019;9(1):699. https://doi.org/10.1038/s41598-018-36762-w.
Ethics declarations
Conflict of Interest
Jessica P. Brown, Destiny Martin, Zain Nagaria, Avelino C. Verceles, and Sophia L. Jobe each declare no potential conflicts of interest. Emerson M. Wickwire's institution has received research support from AASM Foundation, Department of Defense, Merck, and ResMed. Dr. Wickwire has served as a scientific consultant for Eisai, DayZz, Merck, and Purdue and is an equity shareholder in WellTap.
Human and Animal Rights and Informed Consent
This article does not contain any studies with human or animal subjects performed by any of the authors.
Additional information
Publisher's Note
Springer Nature remains neutral with regard to jurisdictional claims in published maps and institutional affiliations.
This article is part of the Topical Collection on Sleep Disorders
About this article
Cite this article
Brown, J.P., Martin, D., Nagaria, Z. et al. Mental Health Consequences of Shift Work: An Updated Review. Curr Psychiatry Rep 22, 7 (2020). https://doi.org/10.1007/s11920-020-1131-z
Keywords
Shift work

Sleep

Mood

Substance use

Cognition

Insomnia