Abstract
Purpose of Review
This review synthesized the literature on predictors and mechanisms of post-bariatric alcohol problems, in order to guide future research on prevention and treatment targets.
Recent Findings
Consistent evidence suggests an elevated risk of developing problems with alcohol following bariatric surgery. While there is a paucity of empirical data on predictors of problematic alcohol use after bariatric surgery, being male, a younger age, smoking, regular alcohol consumption, pre-surgical alcohol use disorder, and a lower sense of belonging have predicted alcohol misuse post-operatively. This review synthesizes potential mechanisms including specific bariatric surgical procedures, peptides and reinforcement/reward pathways, pharmacokinetics, and genetic influences. Finally, potential misperceptions regarding mechanisms are explored.
Summary
Certain bariatric procedures elevate the risk of alcohol misuse post-operatively. Future research should serve to elucidate the complexities of reward signaling, genetically mediated mechanisms, and pharmacokinetics in relation to alcohol use across gender and developmental period by surgery type.
Access options
Buy single article
Instant access to the full article PDF.
US$ 39.95
Tax calculation will be finalised during checkout.
Subscribe to journal
Immediate online access to all issues from 2019. Subscription will auto renew annually.
US$ 79
Tax calculation will be finalised during checkout.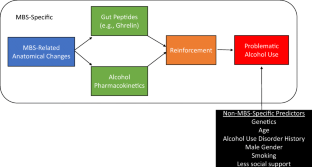 References
Papers of particular interest, published recently, have been highlighted as: • Of importance •• Of major importance
1.

King W, Chen J, Mitchell JE, Kalarchian MA, Steffen KJ, Engel SG, et al. Prevalence of alcohol use disorders before and after bariatric surgery. JAMA. 2012;307:2516–25.

2.

•• King WC, Chen JY, Courcoulas AP, Dakin GF, Engel SG, Flum DR, et al. Alcohol and other substance use after bariatric surgery: prospective evidence from a U.S. multicenter cohort study. Surg Obes Relat Dis. 2017;13:1392–402. Examined rates and predictors of alcohol use up to seven yeras following bariatric surgery.

3.

• Spadola CE, Wagner EF, Dillon FR, Trepka MJ, De La Cruz-Munoz N, Messiah SE. Alcohol and drug use among postoperative bariatric patients: a systematic review of the emerging research and its implications. Alcohol Clin Exp Res. 2015;39:1582–601. Provides a systematic review of the rates of alcohol and drug use following bariatric surgery.

4.

Saules KK, Wiedemann Ashley A, Ivezaj V, Hopper JA, Foster-Hartsfield J, Schwarz D. Bariatric surgery history among substance abuse treatment patients: prevalence and associated features. Surg Obes Relat Dis. 2010;6:615–21.

5.

Cuellar-Barboza AB, Frye MA, Grothe K, Prieto ML, Schneekloth TD, Loukianova LL, et al. Change in consumption patterns for treatment-seeking patients with alcohol use disorder post-bariatric surgery. J Psychosom Res. 2015;78:199–204.

6.

Fogger SA, McGuinness TM. The relationship between addictions and bariatric surgery for nurses in recovery. Perspect Psychiatr Care. 2012;48:10–5.

7.

Wiedemann AA, Saules KK, Ivezaj V. Emergence of new onset substance use disorders among post-weight loss surgery patients. Clin Obes. 2013;3:194–201.

8.

Ertelt TW, Mitchell JE, Lancaster K, Crosby RD, Steffen KJ, Marino JM. Alcohol abuse and dependence before and after bariatric surgery: a review of the literature and report of a new data set. Surg Obes Relat Dis. 2008;4:647–50.

9.

Ibrahim N, Alameddine M, Brennan J, Sessine M, Holliday C, Ghaferi AA. New onset alcohol use disorder after bariatric surgery. Surg Endoscopy, In Press. 2018. https://doi.org/10.1007/s00464-018-6545-x.

10.

Mitchell JE, Lancaster KL, Burgard MA, Howell LM, Krahn DD, Crosby RD, et al. Long-term follow-up of patients' status after gastric bypass. Obes Surg. 2001;11:464–8.

11.

• Spadola CE, Wagner EF, Accornero VH, Vidot DC, de la Cruz-Munoz N, Messiah SE. Alcohol use patterns and alcohol use disorders among young adult, ethnically diverse bariatric surgery patients. Subst Abus. 2017;38:82–7. Examined alcohol use patterns and alcohol use disorder among a diverse group of young adults.

12.

Suzuki J, Haimovici F, Chang G. Alcohol use disorders after bariatric surgery. Obes Surg. 2012;22:201–7.

13.

Svensson PA, Anveden A, Romeo S, Peltonen M, Ahlin S, Burza MA, et al. Alcohol consumption and alcohol problems after bariatric surgery in the Swedish obese subjects study. Obesity (Silver Spring). 2013;21:2444–51.

14.

Wee CC, Mukamal KJ, Huskey KW, Davis RB, Colten ME, Bolcic-Jankovic D, et al. High-risk alcohol use after weight loss surgery. Surg Obes Relat Dis. 2014;10:508–13.

15.

Ostlund MP, Backman O, Marsk R, Stockeld D, Lagergren J, Rasmussen F, et al. Increased admission for alcohol dependence after gastric bypass surgery compared with restrictive bariatric surgery. JAMA Surg. 2013;148:374–7.

16.

Nolen-Hoeksema S. Gender differences in risk factors and consequences for alcohol use and problems. Clin Psychol Rev. 2004;24:981–1010.

17.

Hasin DS, Stinson FS, Ogburn E, Grant BF. Prevalence, correlates, disability, and comorbidity of DSM-IV alcohol abuse and dependence in the United States - results from the national epidemiologic survey on alcohol and related conditions. Arch Gen Psychiatry. 2007;64:830–42.

18.

Conner KR, Pinquart M, Gamble SA. Meta-analysis of depression and substance use among individuals with alcohol use disorders. J Subst Abus Treat. 2009;37:127–37.

19.

Keyes KM, Hasin DS. Socioeconomic status and problem alcohol use: the positive relationship between income and the DSM-IV alcohol abuse diagnosis. Addiction. 2008;103:1120–30.

20.

•• Zeller MH, Washington GA, Mitchell JE, Sarwer DB, Reiter-Purtill J, Jenkins TM, et al. Alcohol use risk in adolescents 2 years after bariatric surgery. Surg Obes Relat Dis. 2017;13:85–94. Compared group differences in alcohol use between bariatric surgery and a matched control group of adolescents.

21.

Ochner CN, Gibson C, Carnell S, Dambkowski C, Geliebter A. The neurohormonal regulation of energy intake in relation to bariatric surgery for obesity. Physiol Behav. 2010;100:549–59.

22.

Miras AD, le Roux CW. Mechanisms underlying weight loss after bariatric surgery. Nat Rev Gastroenterol Hepatol. 2013;10:575–84.

23.

Dimitriadis GK, Randeva MS, Miras AD. Potential hormone mechanisms of bariatric surgery. Curr Obes Rep. 2017;6:253–65.

24.

Sandoval D. Bariatric surgeries: beyond restriction and malabsorption. Int J Obes. 2011;35(Suppl 3):S45–9.

25.

Vendrell J, Broch M, Vilarrasa N, Molina A, Gomez JM, Gutierrez C, et al. Resistin, adiponectin, ghrelin, leptin, and proinflammatory cytokines: relationships in obesity. Obes Res. 2004;12:962–71.

26.

Ochner CN, Gibson C, Shanik M, Goel V, Geliebter A. Changes in neurohormonal gut peptides following bariatric surgery. Int J Obes. 2011;35:153–66.

27.

Ozsoy Z, Demir E. Which bariatric procedure is the most popular in the world? A bibliometric comparison. Obes Surg. 2018;28:2339–52.

28.

Akkary E, Duffy A, Bell R. Deciphering the sleeve: technique, indications, efficacy, and safety of sleeve gastrectomy. Obes Surg. 2008;18:1323–9.

29.

Davis JF, Tracy AL, Schurdak JD, Magrisso IJ, Grayson BE, Seeley RJ, et al. Roux en Y gastric bypass increases ethanol intake in the rat. Obes Surg. 2013;23:920–30.

30.

Hajnal A, Zharikov A, Polston JE, Fields MR, Tomasko J, Rogers AM, et al. Alcohol reward is increased after Roux-en-Y gastric bypass in dietary obese rats with differential effects following ghrelin antagonism. PLoS One. 2012;7:e49121.

31.

Polston JE, Pritchett CE, Tomasko JM, Rogers AM, Leggio L, Thanos PK, et al. Roux-en-Y gastric bypass increases intravenous ethanol self-administration in dietary obese rats. PLoS One. 2013;8:e83741.

32.

•• Sirohi S, Richardson BD, Lugo JM, Rossi DJ, Davis JF. Impact of Roux-en-Y gastric bypass surgery on appetite, alcohol intake behaviors, and midbrain ghrelin signaling in the rat. Obesity (Silver Spring). 2017;25:1228–36. Discusses the importance of ghrelin signaling on appetite and alcohol using preclinical data.

33.

Thanos PK, Subrize M, Delis F, Cooney RN, Culnan D, Sun M, et al. Gastric bypass increases ethanol and water consumption in diet-induced obese rats. Obes Surg. 2012;22:1884–92.

34.

Jerlhag E, Ivanoff L, Vater A, Engel JA. Peripherally circulating ghrelin does NotMediate alcohol- induced reward and alcohol intake in rodents. Alcohol Clin Exp Res. 2014;38:959–68.

35.

Holst B, Schwartz TW. Constitutive ghrelin receptor activity as a signaling set-point in appetite regulation. Trends Pharmacol Sci. 2004;25:113–7.

36.

Verebey K, Gold MS. From coca leaves to crack - the effects of dose and routes of administration in abuse liability. Psychiatr Ann. 1988;18:513–20.

37.

Hatsukami DK, Fischman MW. Crack cocaine and cocaine hydrochloride. Are the differences myth or reality? JAMA. 1996;276:1580–8.

38.

Klockhoff H, Naslund I, Jones AW. Faster absorption of ethanol and higher peak concentration in women after gastric bypass surgery. Br J Clin Pharmacol. 2002;54:587–91.

39.

Hagedorn JC, Encarnacion B, Brat GA, Morton JM. Does gastric bypass alter alcohol metabolism? Surg Obes Relat Dis. 2007;3:543–8.

40.

Woodard GA, Downey J, Hernandez-Boussard T, Morton JM. Impaired alcohol metabolism after gastric bypass surgery: a case-crossover trial. J Am Coll Surg. 2011;212:209–14.

41.

Steffen KJ, Engel SG, Pollert GA, Li C, Mitchell JE. Blood alcohol concentrations rise rapidly and dramatically after Roux-en-Y gastric bypass. Surg Obes Relat Dis. 2013;9:470–3.

42.

Harger RN, Forney RB, Baker RS. Estimation of the level of blood-alcohol from analysis of breath .2. Use of rebreathed air. Q J Stud Alcohol. 1956;17:1–18.

43.

Jones AW, Lindberg L, Olsson SG. Magnitude and time-course of arterio-venous differences in blood-alcohol concentration in healthy men. Clin Pharmacokinet. 2004;43:1157–66.

44.

•• Pepino MY, Okunade AL, Eagon JC, Bartholow BD, Bucholz K, Klein S. Effect of Roux-en-Y Gastric bypass surgery: converting 2 alcoholic drinks to 4. JAMA Surg. 2015. Examined the subjective effects of ingested alcohol using arterialized blood samples among individuals who underwent RYGB.

45.

Changchien EM, Woodard GA, Hernandez-Boussard T, Morton JM. Normal alcohol metabolism after gastric banding and sleeve gastrectomy: a case-cross-over trial. J Am Coll Surg. 2012;215:475–9.

46.

Gallo AS, Berducci MA, Nijhawan S, Nino DF, Broderick RC, Harnsberger CR, et al. Alcohol metabolism is not affected by sleeve gastrectomy. Surg Endosc. 2015;29:1088–93.

47.

Maluenda F, Csendes A, De Aretxabala X, Poniachik J, Salvo K, Delgado I, et al. Alcohol absorption modification after a laparoscopic sleeve gastrectomy due to obesity. Obes Surg. 2010;20:744–8.

48.

•• Acevedo MB, Eagon JC, Bartholow BD, Klein S, Bucholz KK, Pepino MY. Sleeve gastrectomy surgery: when 2 alcoholic drinks are converted to 4. Surg Obes Relat Dis. 2018;14:277–83. Examined pharmacologic and subjective effects of alcohol following SG and RYGB.

49.

Prom-Wormley EC, Ebejer J, Dick DM, Bowers MS. The genetic epidemiology of substance use disorder: a review. Drug Alcohol Depend. 2017;180:241–59.

50.

Winnier DA, Fourcaudot M, Norton L, Abdul-Ghani MA, Hu SL, Farook VS, et al. Transcriptomic identification of ADH1B as a novel candidate gene for obesity and insulin resistance in human adipose tissue in Mexican Americans from the veterans administration genetic epidemiology study (VAGES). PLoS One. 2015;10.

51.

Wang GJ, Volkow ND, Fowler JS. The role of dopamine in motivation for food in humans: implications for obesity. Expert Opin Ther Targets. 2002;6:601–9.

52.

Wang GJ, Volkow ND, Logan J, Pappas NR, Wong CT, Zhu W, et al. Brain dopamine and obesity. Lancet. 2001;357:354–7.

53.

Romer AL, Kang MS, Nikolova YS, Gearhardt AN, Hariri AR. Dopamine genetic risk is related to food addiction and body mass through reduced reward-related ventral striatum activity. Appetite. 2019;133:24–31.

54.

Blum K, Braverman ER, Wood RC, Gill J, Li C, Chen TJ, et al. Increased prevalence of the Taq I A1 allele of the dopamine receptor gene (DRD2) in obesity with comorbid substance use disorder: a preliminary report. Pharmacogenetics. 1996;6:297–305.

55.

Thompson MD, Kenna GA. Variation in the serotonin transporter gene and alcoholism : risk and response to pharmacotherapy. Alcohol Alcohol. 2016;51:164–71.

56.

Need AC, Ahmadi KR, Spector TD, Goldstein DB. Obesity is associated with genetic variants that alter dopamine availability. Ann Hum Genet. 2006;70:293–303.

57.

Drabe M, Rullmann M, Luthardt J, Boettcher Y, Regenthal R, Ploetz T, et al. Serotonin transporter gene promoter methylation status correlates with in vivo prefrontal 5-HTT availability and reward function in human obesity. Transl Psychiatry. 2017;7.

58.

Locke AE, Kahali B, Berndt SI, Justice AE, Pers TH, Felix R, et al. Genetic studies of body mass index yield new insights for obesity biology. Nature. 2015;518:197–U401.

59.

Serra-Juhe C, Martos-Moreno GA, de Pieri FB, Flores R, Gonzalez JR, Rodriguez-Santiago B, et al. Novel genes involved in severe early-onset obesity revealed by rare copy number and sequence variants. PLoS Genet. 2017:13.

60.

Mahna D, Puri S, Sharma S. DNA methylation signatures: biomarkers of drug and alcohol abuse. Mutat Res Rev Mutat Res. 2018;777:19–28.

61.

Palmisano M, Pandey SC. Epigenetic mechanisms of alcoholism and stress-related disorders. Alcohol. 2017;60:7–18.

62.

Still CD, Wood GC, Chu X, Erdman R, Manney CH, Benotti PN, et al. High allelic burden of four obesity SNPs is associated with poorer weight loss outcomes following gastric bypass surgery. Obesity. 2011;19:1676–83.

63.

• Morcillo S, Macias-Gonzalez M, Tinahones FJ. The effect of metabolic and bariatric surgery on DNA methylation patterns. Curr Atheroscler Rep. 2017;19. Reviews the literature on DNA methylation patterns and metabolic improvement after bariatric surgery.

64.

Nicoletti CF, Cortes-Oliveira C, Pinhel MAS, Nonino CB. Bariatric surgery and precision nutrition. Nutrients. 2017;9.

65.

Day SE, Garcia LA, Coletta RL, Campbell LE, Benjamin TR, De Filippis EA, et al. Alterations of sorbin and SH3 domain containing 3 (SORBS3) in human skeletal muscle following Roux-en-Y gastric bypass surgery. Clin Epigenetics. 2017;9:96.

66.

Testino G, Fagoonee S. Alcohol use disorders and bariatric surgery. Obes Surg. 2018;28:3304–5.

67.

McFadden KM. Cross-addiction: from morbid obesity to substance abuse. Bariatric Nurs Surg Patient Care. 2010;5:145–78.

68.

Ziauddeen H, Fletcher PC. Is food addiction a valid and useful concept? Obes Rev. 2013;14:19–28.

69.

Ivezaj V, Saules KK, Schuh LM. New-onset substance use disorder after gastric bypass surgery: rates and associated characteristics. Obes Surg. 2014;24:1975–80.

70.

Lynch A. "When the honeymoon is over, the real work begins:" Gastric bypass patients' weight loss trajectories and dietary change experiences. Soc Sci Med. 2016;151:241–9.

71.

Ito S, Izumi T, Arakawa M. Gastrectomy is a risk factor for alcoholism. Intern Med. 1999;38:751–1.

72.

Lundegardh G, Helmick C, Zack M, Adami HO. Mortality among patients with partial gastrectomy for benign ulcer disease. Dig Dis Sci. 1994;39:340–6.

73.

Yokoyama A, Takagi T, Ishii H, Wada N, Maruyama K, Takagi S, et al. Gastrectomy enhances vulnerability to the development of alcoholism. Alcohol. 1995;12:213–6.

74.

Burgos MG, Cabral PC, Maio R, et al. Prevalence of alcohol abuse before and after bariatric surgery associated with nutritional and lifestyle factors. Obes Surg. 2015;25:1716–22.

75.

Buffington CK. Alcohol use and health risks: survey results. Bariatric Times. 2007;4:21-23.

76.

Welch G, Wesolowski C, Zagarins S, et al. Evaluation of clinical outcomes for gastric bypass: results from a comprehensive follow-up study. Obes Surg. 2011;21:18–28.

77.

Conason A, Teixeira J, Hsu CH, et al. A Substance use following bariatric weight loss surgery. JAMA Surg. 2013;148:145–150.

78.

Reslan S, Saules KK, Greenwald MK, & Schuh L. Substance misuse following Roux-en-Y gastric bypass surgery. Substance Use and Misuse. 2014;29:405–417.

79.

Alfonsson S, Sundbom M, Ghaderi A. Is age a better predictor of weight loss one year after gastric bypass than symptoms of disordered eating, depression, adult ADHD and alcohol consumption? Eat Beh. 2014;644–647.

80.

Coluzzi I, Lossa A, Spinetti E, et al. Alcohol consumption after laparoscopic sleeve gastrectomy: 1 year results. Eat Weight Disord, in press.
Acknowledgments
The authors would like to acknowledge the Radcliffe Institute for Advanced Study at Harvard University for funding the meeting, which contributed to this review. All authors received travel reimbursement to attend the Radcliffe meeting, from which this manuscript resulted. Outside the submitted work, Dr. Pepino and Dr. Mitchell report grants from the NIH and Dr. Steffen reports grants from Sanford Profile/NDSU, NIH, and Shire Pharmaceuticals.
Ethics declarations
Conflict of Interest
Valentina Ivezaj, Stephen C. Benoit, Jon Davis, Celia Lloret-Linares, Ann M. Rogers, and Stephanie Sogg each declare no potential conflicts of interest.
Scott Engel is a section editor for Current Obesity Reports and he was not involved in the peer-review process.
Dr. Pepino reports a grant from the University of Illinois at Urbana-Champaign (NIH AA024103) and Dr. Mitchell reports funding from NIH.
Kristine Steffen reports grants from Sanford Profile/NDSU Grants, NIH, and Shire Pharmaceuticals and travel reimbursements from Radcliffe Institute.
Human and Animal Rights and Informed Consent
This article does contain studies performed by the authors (among other studies) which did use appropriate procedures for IRB and IACUC.
Additional information
Publisher's Note
Springer Nature remains neutral with regard to jurisdictional claims in published maps and institutional affiliations.
This article is part of the Topical Collection on Eating Disorders
About this article
Cite this article
Ivezaj, V., Benoit, S.C., Davis, J. et al. Changes in Alcohol Use after Metabolic and Bariatric Surgery: Predictors and Mechanisms. Curr Psychiatry Rep 21, 85 (2019). https://doi.org/10.1007/s11920-019-1070-8
Keywords
Obesity

Bariatric surgery

Alcohol

Alcohol use disorder

Roux-en-Y gastric bypass

Sleeve gastrectomy