Abstract
Purpose of Review
Phenibut (β-phenyl-γ-aminobutyric acid) is a psychoactive GABA analogue currently being marketed online as an anxiolytic and nootropic dietary supplement. Its use is growing in popularity, but its pharmacological activity is well beyond that of a conventional nutritional supplement, and similar to that of a prescription strength sedative. This review will focus on the potential adversities of phenibut use and will discuss what treatment options may be beneficial to afflicted patients.
Recent Findings
Over the last several years, multiple case reports have highlighted phenibut's potential to produce the conditions of physical dependence, withdrawal, and addiction. In cases involving intoxication, patients have presented with a varying degree of mental status changes, from being minimally responsive to manifesting symptoms of an agitated delirium.
Summary
Phenibut is a potent psychoactive substance with GABAB agonist properties, which is emerging as a drug of misuse through growing internet sales. Its marketing as a "dietary supplement" is inaccurate and misleading, given its pharmacological profile and ability to induce the physiological changes associated with withdrawal and physical dependence.
Access options
Buy single article
Instant access to the full article PDF.
US$ 39.95
Tax calculation will be finalised during checkout.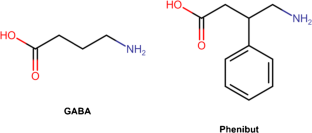 References
Papers of particular interest, published recently, have been highlighted as: • Of importance •• Of major importance
1.

Lapin I. Phenibut (beta-phenyl-GABA): a tranquilizer and nootropic drug. CNS Drug Rev. 2001;7(4):471–81.

2.

Van Hout MC. A narrative review of the naturally occurring inhibitory neurotransmitter gamma-aminobutyric acid (GABA) called phenibut in dietary supplements. Perform Enhance Health. 2018;6(1):33–5. https://doi.org/10.1016/j.peh.2018.02.001.

3.

• Owen DR, Wood DM, Archer JR, Dargan PI. Phenibut (4-amino-3-phenyl-butyric acid): availability, prevalence of use, desired effects and acute toxicity. Drug Alcohol Rev. 2016;35(5):591–6. https://doi.org/10.1111/dar.12356 Internet availability of phenibut in the UK is reviewed, in addition to a analysis of the symptoms patients may be attempting to self-soothe. This highlights the ease of availablity through multiple online vendors, and providers a glimpse into what may be driving patients to use phenibut.

4.

EMCDDA-Europol. New drugs in Europe, 2012, EMCDDA-Europol 2012 Annual Report on the implementation of Council Decision 2005/387/JHA. Luxembourg: Publications Office of the European Union; 2013.

5.

UNODC: United Nations Office on Drugs and Crime. UNODC Early Warning Advisory (EWA) on New Psychoactive Substances (NPS). https://www.unodc.org/LSS/Home/NPS. Accessed 10 Sept 2018.

6.

UNODC: United Nations Off ice on Drugs and Crime. Global Smart Update. Understanding the synthetic drug market: the NPS factor. Volume 19, March. https://www.unodc.org/documents/scientific/Global_Smart_Update_2018_Vol.19.pdf.

7.

Mellor, L. What is Phenibut? The cosmonaut drug that may have caused a school overdose. ABC News. 22 Feb 2019 11:54pm. https://www.abc.net.au/news/2018-02-23/what-is-phenibut-the-drug-suspected-in-school-overdose/9475814. Accessed 10 Sept 2018.

8.

Stohs SJ, Preuss HG. What health care professionals should know about the regulation and safety of dietary supplements. J Am Coll Nutr. 2017;36(4):306–9. https://doi.org/10.1080/07315724.2016.1275065.

9.

U.S Food and Drug Administration. Dietary Supplement Health and Education Act of 1994. Public Law 103-417, 103rd Congress. http://dshedu.whnlive.com/DSHEA_Legal/dshea.html. Accessed 10 Sept 2018.

10.

FDA. Dietary supplements: what you need to know. https://www.fda.gov/food/resourcesforyou/consumers/ucm109760.htm. Accessed 11 Sept 2018; 2018.

11.

FDA. FDA 101: dietary supplements. https://www.fda.gov/ForConsumers/ConsumerUpdates/ucm050803.htm. Accessed 13 Sept 2018; 2018.

12.

Frangaj A, Fan QR. Structural biology of GABAB receptor. Neuropharmacology. 2018;136(Pt A):68–79. https://doi.org/10.1016/j.neuropharm.2017.10.011.

13.

Jacobson LH, Vlachou S, Slattery DA, Li X, Cryan JF. The gamma-aminobutyric acid B receptor in depression and reward. Biol Psychiatry. 2018;83(11):963–76. https://doi.org/10.1016/j.biopsych.2018.02.006.

14.

Zvejniece L, Vavers E, Svalbe B, Veinberg G, Rizhanova K, Liepins V, et al. R-phenibut binds to the alpha2-delta subunit of voltage-dependent calcium channels and exerts gabapentin-like anti-nociceptive effects. Pharmacol Biochem Behav. 2015;137:23–9. https://doi.org/10.1016/j.pbb.2015.07.014.

15.

Downes MA, Berling IL, Mostafa A, Grice J, Roberts MS, Isbister GK. Acute behavioural disturbance associated with phenibut purchased via an internet supplier. Clin Toxicol. 2015;53(7):636–8. https://doi.org/10.3109/15563650.2015.1059945.

16.

Joshi YB, Friend SF, Jimenez B, Steiger LR. Dissociative intoxication and prolonged withdrawal associated with phenibut: a case report. J Clin Psychopharmacol. 2017;37(4):478–80. https://doi.org/10.1097/JCP.0000000000000731.

17.

Li W, Madhira B. Phenibut (beta-phenyl-gamma-aminobutyric acid) psychosis. Am J Ther. 2017;24(5):e639–e40. https://doi.org/10.1097/MJT.0000000000000618.

18.

O'Connell CW, Schneir AB, Hwang JQ, Cantrell FL. Phenibut, the appearance of another potentially dangerous product in the United States. Am J Med. 2014;127(8):e3–4. https://doi.org/10.1016/j.amjmed.2014.03.029.

19.

Sankary S, Canino P, Jackson J. Phenibut overdose. Am J Emerg Med. 2017;35(3):516 e1–2. https://doi.org/10.1016/j.ajem.2016.08.067.

20.

Wong A, Little M, Caldicott D, Easton C, Andres D, Greene SL. Analytically confirmed recreational use of Phenibut (beta-phenyl-gamma-aminobutyric acid) bought over the internet. Clin Toxicol. 2015;53(7):783–4. https://doi.org/10.3109/15563650.2015.1059944.

21.

• Brunner E, Levy R. Case report of physiologic phenibut dependence treated with a phenobarbital taper in a patient being treated with buprenorphine. J Addict Med. 2017;11(3):239–40. https://doi.org/10.1097/ADM.0000000000000303 A case of phenibut addiction is described, which is seldom published, and use of phenobarbital as a detoxification strategy is implemented with success.

22.

Magsalin RM, Khan AY. Withdrawal symptoms after Internet purchase of phenibut (beta-phenyl-gamma-aminobutyric acid HCl). J Clin Psychopharmacol. 2010;30(5):648–9. https://doi.org/10.1097/JCP.0b013e3181f057c8.

23.

•• Samokhvalov AV, Paton-Gay CL, Balchand K, Rehm J. Phenibut dependence. BMJ Case Rep. 2013;2013:bcr2012008381. https://doi.org/10.1136/bcr-2012-008381 The use of baclofen in the detoxification off phenibut is described here, and a several week tapering protocol with dosage recommendations is provided. This is only one of a few papers which provides clinical recommendations for managing phenibut discontinuation and withdrawal.

24.

Ahuja T, Mgbako O, Katzman C, Grossman A. Phenibut (beta-phenyl-gamma-aminobutyric acid) dependence and management of withdrawal: emerging nootropics of abuse. Case Rep Psychiatry. 2018;2018:9864285–3. https://doi.org/10.1155/2018/9864285.

25.

El Zahran T, Schier J, Glidden E, Kieszak S, Law R, Bottei E, et al. Characteristics of tianeptine exposures reported to the National Poison Data System - United States, 2000-2017. MMWR Morb Mortal Wkly Rep. 2018;67(30):815–8. https://doi.org/10.15585/mmwr.mm6730a2.

26.

Das S, Palappalllil DS, Purushothaman ST, Rajan V. An unusual case of baclofen abuse. Indian J Psychol Med. 2016;38(5):475–6. https://doi.org/10.4103/0253-7176.191383.

27.

Ghosh S, Bhuyan D. Baclofen abuse due to its hypomanic effect in patients with alcohol dependence and comorbid major depressive disorder. Clin Psychopharmacol Neurosci. 2017;15(2):187–9. https://doi.org/10.9758/cpn.2017.15.2.187.

28.

Hamel Senecal L, Chretien B, Jean-Jacques PY, Lelong Boulouard V, Cohen D, Le Boisselier R. A case of drug dependence syndrome to baclofen following high-dose therapy. J Clin Psychopharmacol. 2018;38(3):277–9. https://doi.org/10.1097/jcp.0000000000000886.

29.

Turner S, Mota N, Bolton J, Sareen J. Self-medication with alcohol or drugs for mood and anxiety disorders: a narrative review of the epidemiological literature. Depress Anxiety. 2018;35(9):851–60. https://doi.org/10.1002/da.22771.
Acknowledgments
The author and publisher would like to thank Dr. Patricia Ordorica, MD, for reviewing this manuscript.
Ethics declarations
Conflict of Interest
Edward A. Jouney declares no potential conflicts of interest.
Human and Animal Rights and Informed Consent
This article does not contain any studies with human or animal subjects performed by any of the authors.
Additional information
Publisher's Note
Springer Nature remains neutral with regard to jurisdictional claims in published maps and institutional affiliations.
This article is part of the Topical Collection on Complex Medical-Psychiatric Issues
About this article
Cite this article
Jouney, E.A. Phenibut (β-Phenyl-γ-Aminobutyric Acid): an Easily Obtainable "Dietary Supplement" With Propensities for Physical Dependence and Addiction. Curr Psychiatry Rep 21, 23 (2019). https://doi.org/10.1007/s11920-019-1009-0
Keywords
Phenibut

Nootropic

New psychoactive substance

Baclofen

GABAB agonist

Dietary supplement