Abstract
Multiple-homicide school shootings are rare events, but when they happen they significantly impact individuals, the school and the community. We focus on multiple-homicide incidents and identified mental health issues of shooters. To date, studies of school shootings have concluded that no reliable profile of a shooter exists, so risk should be assessed using comprehensive threat assessment protocols. Existing studies primarily utilize retrospective case histories or media accounts. The field requires more empirical and systematic research on all types of school shootings including single victim incidents, those that result in injury but not death and those that are successfully averted. We discuss current policies and practices related to school shootings and the role of mental health professionals in assessing risk and supporting surviving victims.
Access options
Buy single article
Instant access to the full article PDF.
US$ 39.95
Tax calculation will be finalised during checkout.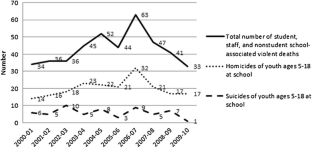 Notes
1.

The USDOE has documented school homicides back to the 1700 s when a group of Indians killed a number of children in a school outside of Philadelphia.
References
Papers of particular interest, published recently, have been highlighted as: • Of importance •• Of major importance
1.

Modzeleski W, Feucht T, Rand M, et al. School-associated student homicides-United States, 1992-2006. MMWR Morb Mortal Wkly Rep. 2008;57:33–6.

2.

Vossekuil, B, Fein, R, Reddy, M, et al. The final report and findings of the Safe School Initiative: Implications for the prevention of school attacks in the United States. Available at http://www.secretservice.gov/ntac/ssi_final_report.pdf. Accessed July 2012.

3.

Kiilakoski T, Oksanen A. Soundtrack of the school shootings: cultural script, music and male rage. Young. 2011;19:247–69.

4.

Anderson MA, Kaufman J, Simon TR, et al. School-associated violent deaths in the United States, 1994-1999. JAMA. 2001;286:2695–702.

5.

Department of Health and Human Services: Youth violence: a report of the Surgeon General. Washington, DC: 2001.

6.

•• Wike T, Fraser MW. School shootings: making sense of the senseless. Aggress Violent Behav. 2009;14:162–9. Discusses the nature of school shootings, in particular the individual characteristics of perpetrators and the vulnerabilities of schools where shootings have occurred, as the basis for recommended prevention strategies.

7.

• Kalish R, Kimmel M. Suicide by mass murder: Masculinity, aggrieved entitlement, and rampage school shootings. Heal Sociol Rev. 2010;19:451–64. Examines three cases of school shootings that culminated in suicide by the perpetrator and points out some common features of incidents including discussion of cultural issues like challenges to masculine identity that may create a sense of aggrieved entitlement, particularly among males, conducive to violence perpetration and suicide.

8.

•• Borum R, Cornell D, Modzeleski W, Jimerson S. What can be done about school shootings? A review of the evidence. Educ Res. 2010;39:27–37. Reviews the effectiveness of current safety and security measures deployed in response to school shootings. Advocates for threat assessment as a promising strategy that merits further study.

9.

US Department of Education, National Center for Education Statistics: Digest of education statistics, 2007. Available at http://nces.ed.gov/pubs2008/2008022.pdf. Accessed July 2012.

10.

Centers for Disease Control and Prevention: School-Associated Violent Deaths Surveillance Study: 1992 − 2010. US Department of Education, Office of Safe and Drug-Free Schools, 2011.

11.

Robers, S, Zhang, J, and Truman, J: Indicators of School Crime and Safety: 2011 (NCES 2012-002/NCJ 236021). National Center for Education Statistics, US Department of Education, and Bureau of Justice Statistics, Office of Justice Programs, US Department of Justice. Washington, DC; 2012.

12.

• Ferguson C, Coulson M, Barnett J. Psychological profiles of school shooters: positive directions and one big wrong turn. J Police Crisis Negot. 2011;11:1–17. Compares the etiology seen in extreme cases of school shootings to that for less extreme forms of youth violence and summarizes recent evidence that playing violent video games is not a major contributor to youth violence perpetration.

13.

Hong JS, Cho H, Allen-Meares P, Espelage D. The social ecology of the Columbine High School shootings. Child Youth Serv Rev. 2011;33:861–8.

14.

Langman P. Why kids kill: inside the minds of school shooters. New York: Palgrave MacMillan; 2009.

15.

Meloy JR, Hempel A, Mohandie K, et al. Offender and offense characteristics of a nonrandom sample of adolescent mass murderers. J Am Acad Child Adolesc Psychiatry. 2001;40:719–28.

16.

O'Toole, ME. The school shooter: a threat assessment perspective. Quantico, VA: National Center for the Analysis of Violence Crime, Federal Bureau of Investigation; 2000.

17.

Cornell D, Sheras P, Kaplan S, et al. Guidelines for student threat assessment: Field-test findings. Sch Psychol Rev. 2004;33:527–46.

18.

Singer M, Flannery DJ. The relationship between children's threats of violence and violent behavior. Arch Pediatr Adolesc Med. 2000;154:785–90.

19.

• Weisbrot DM. Prelude to a school shooting? Assessing threatening behaviors in childhood and adolescence. J Am Acad Child Adolesc Psychiatry. 2008;47:847–52. Details the role of psychiatrists in evaluating children and adolescents who have made threats toward other students or school staff. Provides recommendations on thorough diagnostic evaluations and assessments to determine the seriousness of interpersonal threats.

20.

Leary MR, Kowalski RM, Smith L, Phillips S. Teasing, rejection and violence: case studies of the school shootings. Aggress Behav. 2003;29:202–14.

21.

Flannery DJ, Singer MI, Wester K. Violence exposure, psychological trauma, and suicide risk in a community sample of dangerously violent adolescents. J Am Acad Child Adolesc Psychiatry. 2001;40:435–42.

22.

Singer M, Anglin TM, Song L, Lunghofer L. Adolescents' exposure to violence and associated symptoms of psychological trauma. JAMA. 1995;273:477–82.

23.

Song L, Singer MI, Anglin TM. Violence exposure and emotional trauma as contributors to adolescents' violent behaviors. Arch Pediatr Adolesc Med. 1998;152:531–6.

24.

Singer M, Miller D, Guo S, et al. Contributors to violent behavior among elementary and middle school children. Pediatrics. 1999;104:878–84.

25.

Verlinden S, Hersen M, Thomas J. Risk factors in school shootings. Clin Psychol Rev. 2000;29:3–56.

26.

•• Langman P. Rampage school shooters: a typology. Aggress Violent Behav. 2009;14:79–86. Examines in detail the cases of ten rampage school shooters including information available before the shooting incident. Also examines the influence of family structure, role models, and peer influence in school shootings. Concludes that at least three types of youth perpetrators exist: traumatized, psychotic and psychopathic.

27.

Altheide DL. The Columbine shootings and the discourse of fear. Am Behav Sci. 2009;52:1354–70.

28.

Reuter-Rice K. Male adolescent bullying and the school shooter. J Sch Nurs. 2008;24:350–9.

29.

Moore M, Petrie C, Braga A, McLaughlin B. Deadly lessons: understanding lethal school violence. Washington, DC: National Academy Press; 2003.

30.

Williams K, Rivera L, Neighbours R, Reznik V. Youth violence prevention comes of age: research, training and future directions. Annu Rev Public Health. 2007;28:195–211.

31.

Brown RP, Osterman L, Barnes CD. School violence and the culture of honor. Psychol Sci. 2009;20:1400–5.

32.

Tonso KL. Violent masculinities as tropes for school shooters: the Montreal Massacre, the Columbine attack, and rethinking schools. Am Behav Sci. 2009;52:1266–85.

33.

Newman KS, Fox C, Harding D, et al. Rampage: the social roots of school shootings. New York: Basic Books; 2004.

34.

Heilbrun K, Dvoskin J, Heilbrun A. Toward preventing future tragedies: mass killings on college campuses, public health, and threat/risk assessment. Psychol Inj Law. 2009;2:93–9.

35.

Mulvey EP, Cauffman E. The inherent limits of predicting school violence. Am Psychol. 2001;56:797–802.

36.

Reddy M, Borum R, Berglund J, et al. Evaluating risk for targeted violence in schools: comparing risk assessment, threat assessment, and other approaches. Psychol Sch. 2001;38:157–72.

37.

Dwyer K, Osher D, Warger C. Early warning, timely response: A guide to safe schools. Washington DC: US Department of Education; 1998.

38.

Daniels JA, Volungis A, Pshenishny E, et al. A qualitative investigation of averted school shooting rampages. Couns Psychol. 2010;38:69–95.

39.

Harris J, Harris R. Rampage violence requires a new type of research. Commentary. Am J Public Health. 2012;102:1054–7.

40.

American Psychological Association Zero Tolerance Task Force. Are zero tolerance policies effective in the schools? An evidentiary review and recommendations. Am Psychol. 2008;63:852–62.

41.

Fredland N. Nurturing hostile environments: the problem of school violence. Fam Commun Health. 2008;31:S32–41.

42.

Lamb HR, Weinberger LE, DeCurr W. The police and mental health. Psychiatr Serv. 2002;53:1266–71.

43.

Mohandie K, Meloy JR. Clinical and forensic indicators of "suicide by cop". J Forensic Sci. 2000;45:384–9.

44.

Mohandie K, Meloy JR, Collins P. Suicide by cop among officer-involved shooting cases. J Forensic Sci. 2009;54:456–62.
Disclosure
No potential conflicts of interest relevant to this article were reported.
Additional information
This article is part of the Topical Collection on Child and Adolescent Disorders
About this article
Cite this article
Flannery, D.J., Modzeleski, W. & Kretschmar, J.M. Violence and School Shootings. Curr Psychiatry Rep 15, 331 (2013). https://doi.org/10.1007/s11920-012-0331-6
Keywords
School violence

Shootings

Firearms

Homicide

Threat assessment

Mental health

Rampage

Profiling

Targeted

Prevention

Treatment

Survivors

Trauma

Child and adolescent disorders

Psychiatry