Abstract
Suicide in late life is an enormous public health problem that will likely increase in severity as adults of the baby boom generation age. Data from psychological autopsy studies supplemented with recent studies of suicidal ideation and attempts point to a consistent set of risk factors for the spectrum of suicidal behaviors in late life (suicide ideation, attempts, and deaths). Clinicians should be vigilant for psychiatric illness (especially depression), physical illness, pain, functional impairment, and social disconnectedness. Recent advances in late-life suicide prevention have in common collaborative, multifaceted intervention designs. We suggest that one mechanism shared by all preventive interventions shown to reduce the incidence of late-life suicide is the promotion of connectedness. For the clinician working with older adults, our recommendation is to not only consider risk factors, such as depression, and implement appropriate treatments but to enhance social connectedness as well.
This is a preview of subscription content, log in to check access.
Access options
Buy single article
Instant access to the full article PDF.
US$ 39.95
Price includes VAT for USA
Subscribe to journal
Immediate online access to all issues from 2019. Subscription will auto renew annually.
US$ 99
This is the net price. Taxes to be calculated in checkout.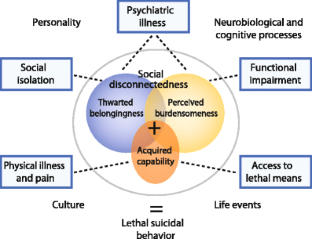 References
Papers of particular interest, published recently, have been highlighted as: • Of importance
1.

Charles ST, Carstensen LL. Social and emotional aging. Annu Rev Psychol. 2010;61:383–409.

2.

World Health Organization. Suicide rates (per 100,000), by country, year, and gender. 2003. Available at http://www.who.int/mental_health/prevention/suicide/suiciderates/en/. Accessed February 2006.

3.

Heron MP, Hoyert DL, Murphy SL, Jiaquan X, Kochanek KD, Tejada-Vera B. Deaths: final data for 2006. Natl Vital Stat Rep. 2009;57:1–135.

4.

Conwell Y, Van Orden K, Caine E. Suicide in older adults. Psychiatr Clin North Am. 2011;34(2) in press.

5.

Phillips JA, Robin AV, Nugent CN, Idler EL. Understanding recent changes in suicide rates among the middle-aged: period or cohort effects? Public Health Rep. 2010;125:680–8.

6.

Mann JJ, Oquendo M, Underwood MD, Arango V. The neurobiology of suicide risk: a review for the clinician. J Clin Psychiatry. 1999;60 Suppl 2:7–11.

7.

Nock MK, Borges G, Bromet EJ, Cha CB, Kessler RC, Lee S. Suicide and suicidal behavior. Epidemiol Rev. 2008;30:133–54.

8.

Duberstein PR, Conwell Y, Caine ED. Age differences in the personality characteristics of suicide completers: preliminary findings from a psychological autopsy study. Psychiatr Interpers Biol Process. 1994;57:213–24.

9.

Rubenowitz E, Waern M, Wilhelmson K, Allebeck P. Life events and psychosocial factors in elderly suicides–a case-control study. Psychol Med. 2001;31:1193–202.

10.

Karvonen K, Hakko H, Koponen H, Meyer-Rochow VB, Rasanen P. Suicides among older persons in Finland and time since hospitalization discharge. Psychiatr Serv. 2009;60:390–3.

11.

Holland JM, Schutte KK, Brennan PL, Moos RH. The structure of late-life depressive symptoms across a 20-year span: a taxometric investigation. Psychol Aging. 2010;25:142–56.

12.

Miret M, Nuevo R, Morant C, et al. Differences between younger and older adults in the structure of suicidal intent and its correlates. Am J Geriatr Psychiatry 2010;18(9):837–47.

13.

Luoma JB, Martin CE, Pearson JL. Contact with mental health and primary care providers before suicide: a review of the evidence. Am J Psychiatry. 2002;159:909–16.

14.

Conwell Y, Lyness JM, Duberstein P, et al. Completed suicide among older patients in primary care practices: a controlled study. J Am Geriatr Soc. 2000;48:23–9.

15.

Cheng S-TPD, Yu, Lee, et al. The Geriatric Depression Scale as a screening tool for depression and suicide ideation: a replication and extension. Am J Geriatr Psychiatry. 2010;18:256–65.

16.

• Heisel MJ, Duberstein PR, Lyness JM, Feldman MD. Screening for suicide ideation among older primary care patients. J Am Board Fam Med. 2010;23:260–9. This article describes the accuracy of the GDS in detecting the presence of suicidal ideation among older adults in primary care. Given that most older adults who die by suicide are seen in primary care, yet universal screening is not recommended by the US Preventive Task Force due to insufficient data on the efficacy of screening tools (see Liu et al. [17]), this article addresses a topic of great importance for late-life suicide prevention.

17.

Liu IC, Chiu CH. Case-control study of suicide attempts in the elderly. Int Psychogeriatr. 2009;21:896–902.

18.

US Preventive Services Task Force. Screening for Suicide Risk: Recommendation and Rationale. May 2004 [cited Retrieved August 30, 2010; Available at http://www.uspreventiveservicestaskforce.org/3rduspstf/suicide/suiciderr.htm].

19.

Haw C, Harwood D, Hawton K. Dementia and suicidal behavior: a review of the literature. Int Psychogeriatr. 2009;21:440–53.

20.

Carlsten A, Waern M. Are sedatives and hypnotics associated with increased suicide risk of suicide in the elderly? BMC Geriatr. 2009;9:20.

21.

Holt-Lunstad J, Smith TB, Layton JB. Social relationships and mortality risk: a meta-analytic review. PLoS Med. 2010;7:e1000316.

22.

Waern M, Runeson BS, Allebeck P, et al. Mental disorder in elderly suicides: a case-control study. Am J Psychiatry. 2002;159:450–5.

23.

Conwell Y, Rotenberg M, Caine ED. Completed suicide at age 50 and over. J Am Geriatr Soc. 1990;38:640–4.

24.

Turvey CL, Conwell Y, Jones MP, et al. Risk factors for late-life suicide: a prospective community-based study. Am J Geriatr Psychiatry Special Issue: Suicidal behaviors in older adults. 2002;10:398–406.

25.

Kjolseth I, Ekeberg O, Steihaug S. "Why do they become vulnerable when faced with the challenges of old age?" Elderly people who committed suicide, described by those who knew them. Int Psychogeriatr. 2009;21:903–12.

26.

Wiktorsson S, Runeson B, Skoog I, Ostling S, Waern M. Attempted suicide in the elderly: characteristics of suicide attempters 70 years and older and a general population comparison group. Am J Geriatr Psychiatry. 2010;18:57–67.

27.

Harrison KE, Dombrovski AY, Morse JQ, et al. Alone? Perceived social support and chronic interpersonal difficulties in suicidal elders. Int Psychogeriatr. 2010:22(3):445–54.

28.

Golden J, Conroy RM, Bruce I, et al. Loneliness, social support networks, mood and wellbeing in community-dwelling elderly. Int J Geriatr Psychiatry. 2009;24:694–700.

29.

Juurlink DN, Herrmann N, Szalai JP, Kopp A, Redelmeier DA. Medical illness and the risk of suicide in the elderly. Arch Intern Med. 2004;164:1179–84.

30.

Bergman Levy T, Barak Y, Sigler M, Aizenberg D. Suicide attempts and burden of physical illness among depressed elderly inpatients. Arch Gerontol Geriatr. 2010;52:115–7.

31.

Sirey JA, Bruce ML, Carpenter M, et al. Depressive symptoms and suicidal ideation among older adults receiving home delivered meals. Int J Geriatr Psychiatry. 2008;23:1306–11.

32.

Li LW, Conwell Y. Pain and self-injury ideation in elderly men and women receiving home care. J Am Geriatr Soc. 2010;58:2160–5.

33.

Conwell Y, Duberstein PR, Hirsch JK, Conner KR, Eberly S, Caine ED. Health status and suicide in the second half of life. Int J Geriatr Psychiatry 2010;25(4):371–9.

34.

Tsoh J, Chiu HF, Duberstein PR, et al. Attempted suicide in elderly Chinese persons: a multi-group, controlled study. Am J Geriatr Psychiatry. 2005;13:562–71.

35.

Kjolseth I, Ekeberg O, Steihaug S. Why suicide? Elderly people who committed suicide and their experience of life in the period before their death. Int Psychogeriatr. 2010;22:209–18.

36.

Malfent D, Wondrak T, Kapusta ND, Sonneck G. Suicidal ideation and its correlates among elderly in residential care homes. Int J Geriatr Psychiatry. 2010;25:843–9.

37.

Lund R, Nilsson CJ, Avlund K. Can the higher risk of disability onset among older people who live alone be alleviated by strong social relations? A longitudinal study of non-disabled men and women. Age Ageing. 2010;39:319–26.

38.

Dombrovski AY, Clark L, Siegle GJ, et al. Reward/punishment reversal learning in older suicide attempters. Am J Psychiatry. 2010;167:699–707.

39.

Gibbs LM, Dombrovski AY, Morse J, Siegle GJ, Houck PR, Szanto K. When the solution is part of the problem: problem solving in elderly suicide attempters. Int J Geriatr Psychiatry. 2009;24:1396–404.

40.

Hwang JP, Lee TW, Tsai SJ, et al. Cortical and subcortical abnormalities in late-onset depression with history of suicide attempts investigated with MRI and voxel-based morphometry. J Geriatr Psychiatry Neurol. 2010;23:171–84.

41.

Marty MA, Segal DL, Coolidge FL. Relationships among dispositional coping strategies, suicidal ideation, and protective factors against suicide in older adults. Aging Ment Health. 2010;14:1015–23.

42.

Edelstein BA, Heisel MJ, McKee DR, et al. Development and psychometric evaluation of the reasons for living–older adults scale: a suicide risk assessment inventory. Gerontologist. 2009;49:736–45.

43.

Yur'yev A, Leppik L, Tooding LM, et al. Social inclusion affects elderly suicide mortality. Int Psychogeriatr. 2010;22:1337–43.

44.

• Van Orden KA, Witte TK, Cukrowicz KC, Braithwaite SR, Selby EA, Joiner Jr TE. The Interpersonal Theory of Suicide. Psychol Rev. 2010;117:575–600. This theoretical paper describes the Interpersonal Theory of Suicide in detail, including rationale for its hypotheses and empiric studies investigating these hypotheses.

45.

World Health Organization. Primary prevention of mental, neurological and psychosocial disorders. Geneva: World Health Organization; 1998.

46.

Van Orden KA, Witte TK, Gordon KH, Bender TW, Joiner TE. Suicidal desire and the capability for suicide: tests of the interpersonal-psychological theory of suicidal behavior among adults. J Consult Clin Psychol. 2008;76:72–83.

47.

De Leo D, Dello Buono M, Dwyer J. Suicide among the elderly: the long-term impact of a telephone support and assessment intervention in northern Italy. Br J Psychiatry. 2002;181:226–9.

48.

Oyama H, Sakashita T, Ono Y, Goto M, Fujita M, Koida J. Effect of community-based intervention using depression screening on elderly suicide risk: a meta-analysis of the evidence from Japan. Community Ment Health J. 2008;44:311–20.

49.

• Alexopoulos GS, Reynolds CF, III, Bruce ML, et al. Reducing suicidal ideation and depression in older primary care patients: 24-month outcomes of the PROSPECT study. Am J Psychiatry 2009. doi:10.1176/appi.ajp.2009.08121779. This article describes 2-year outcomes of a collaborative care model designed to reduce suicidal ideation among older adults and represents one of the largest and most well-designed clinical trials for the prevention of late-life suicidality.

50.

Heisel MJ, Duberstein P, Talbot NL, King DK, Tu X. Adapting interpersonal psychotherapy for older adults at risk for suicide: preliminary findings. Prof Psychol Res Pract. 2009;40:156–64.

51.

Chan SS, Leung VP, Tsoh J, et al. Outcomes of a two-tiered multifaceted elderly suicide prevention program in a Hong Kong Chinese community. Am J Geriatr Psychiatry 2011;19(2):185–96.

52.

Joiner TE, Van Orden KA, Witte TK, Rudd MD. The Interpersonal Theory of Suicide: guidance for working with suicidal clients. Washington: American Psychological Association; 2009.
Acknowledgment
This work was supported in part by grant no. T32MH20061 from the National Institute of Mental Health.
Disclosure
No potential conflicts of interest relevant to this article were reported.
About this article
Cite this article
Van Orden, K., Conwell, Y. Suicides in Late Life. Curr Psychiatry Rep 13, 234–241 (2011). https://doi.org/10.1007/s11920-011-0193-3
Keywords
Suicide

Suicidal ideation

Older adult

Aged

Elderly

Prevention