Abstract
Purpose of Review
Public acceptance of Cannabis sativa L. (cannabis) as a therapeutic option grows despite lags in both research and clinician familiarity. Cannabis—whether as a medical, recreational, or illicit substance—is and has been commonly used by patients. With ongoing decriminalization efforts, decreased perception of harms, and increased use of cannabis in the treatment of symptoms and disease, it is critical for clinicians to understand the rationale for specific therapies and their medical and practical implications for patients. In view of the opioid crisis, overall patient dissatisfaction, and lack of adherence to current chronic pain and headache therapies, this review provides up-to-date knowledge on cannabis as a potential treatment option for headache pain.
Recent Findings
Research into the use of cannabinoids for disease treatment have led to FDA-approved drugs for seizures, nausea, and vomiting caused by cancer chemotherapy; and for decreased appetite and weight loss in people with HIV/AIDS. For a wide variety of conditions and symptoms (including chronic pain), cannabis has gained increasing acceptance in society. The effects of cannabidiol (CBD) and tetrahydrocannabinol (THC) in pain pathways have been significantly elucidated. An increasing number of retrospective studies have shown a decrease in pain scores after administration of cannabinoids, as well as long-term benefits such as reduced opiate use. Yet, there is no FDA-approved cannabis product for headache or other chronic pain disorders. More is being done to determine who is likely to benefit from cannabis as well as to understand the long-term effects and limitations of the treatment.
Summary
Cannabis can refer to a number of products derived from the plant Cannabis sativa L. Relatively well-tolerated, these products come in different configurations, types, and delivery forms. Specific formulations of the plant have been shown to be an effective treatment modality for chronic pain, including headache. It is important for clinicians to know which product is being discussed as well as the harms, benefits, contraindications, interactions, and unknowns in order to provide the best counsel for patients.
Access options
Buy single article
Instant access to the full article PDF.
USD 39.95
Price excludes VAT (USA)
Tax calculation will be finalised during checkout.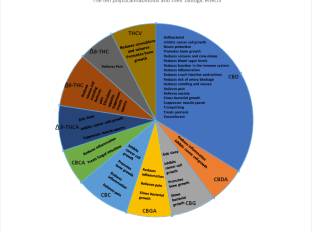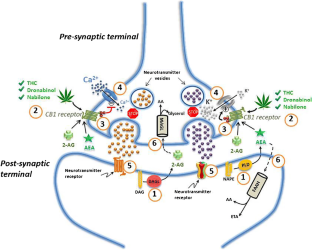 References
Papers of particular interest, published recently, have been highlighted as: •• Of major importance
Dubois MY, Follett KA. Pain Medicine: The Case for an Independent Medical Specialty and Training Programs. Acad Med. 2014;89(6):863–8. https://doi.org/10.1097/ACM.0000000000000265.

Nahin RL. Estimates of Pain Prevalence and Severity in Adults: United States, 2012. J Pain. 2015;16(8):769–80. https://doi.org/10.1016/j.jpain.2015.05.002.

Elliott AM, Smith BH, Hannaford PC, Smith WC, Chambers WA. The course of chronic pain in the community: results of a 4-year follow-up study. Pain. 2002;99(1):299–307. https://doi.org/10.1016/S0304-3959(02)00138-0.

Substance Abuse and Mental Health Services Administration. Results from the 2012 National Survey on Drug Use and Health: Summary of National Findings, NSDUH Series H-46, HHS Publication No. (SMA) 13-4795. Rockville: Substance Abuse and Mental Health Services Administration; 2013.

Chambers J, Gleason RM, Kirsh KL, Twillman R, Webster L, Berner J, et al. An Online Survey of Patients' Experiences Since the Rescheduling of Hydrocodone: The First 100 Days. Pain Med. 2016;17(9):1686–93. https://doi.org/10.1093/pm/pnv064.

Burch R, Rizzoli P, Loder E. The Prevalence and Impact of Migraine and Severe Headache in the United States: Figures and Trends From Government Health Studies. Headache: The Journal of Head and Face Pain. 2018;58(4):496–505. https://doi.org/10.1111/head.13281.

Bonafede M, Sapra S, Shah N, Tepper S, Cappell K, Desai P. Direct and Indirect Healthcare Resource Utilization and Costs Among Migraine Patients in the United States. Headache: The Journal of Head and Face Pain. 2018;58(5):700–14. https://doi.org/10.1111/head.13275.

Cottrell CK, Drew JB, Waller SE, Holroyd KA, Brose JA, O'Donnell FJ. Perceptions and needs of patients with migraine: a focus group study. J Family Pract. 2002;51(2):142–7.

Harpole LH, Samsa GP, Matchar DB, Silberstein SD, Blumenfeld A, Jurgelski AE. Burden of illness and satisfaction with care among patients with headache seen in a primary care setting. Headache. 2005;45(8):1048–55 10.

Seng EK, Robbins MS, Nicholson RA. Acute migraine medication adherence, migraine disability and patient satisfaction: a naturalistic daily diary study. Cephalalgia. 2017;37(10):955–64.

Hill KP. Medical marijuana: more questions than answers. J Psychiatr Pract. 2014;20(5):389–91. https://doi.org/10.1097/01.pra.0000454786.97976.96.

FDA. What is a Botanical Drug? https://www.fda.gov/about-fda/center-drug-evaluation-and-research-cder/what-botanical-drug. Accessed February 14, 2019.

Sābūr ibn Sah, Kahl O. Dispensatorium Parvum (Al-Aqrābādhīn al-saghīr). E.J. Brill; 1994.

Russo E. Cannabis for migraine treatment: the once and future prescription?An historical and scientific review. Pain. 1998;76(1):3–8. https://doi.org/10.1016/S0304-3959(98)00033-5.

Cuttler C, Spradlin A, Cleveland MJ, Craft RM. Short- and Long-Term Effects of Cannabis on Headache and Migraine. J Pain. Published online November 2019:S152659001930848X. doi:https://doi.org/10.1016/j.jpain.2019.11.001

Baron EP. Comprehensive Review of Medicinal Marijuana, Cannabinoids, and Therapeutic Implications in Medicine and Headache: What a Long Strange Trip It's Been. Headache: The Journal of Head and Face Pain. 2015;55(6):885–916. https://doi.org/10.1111/head.12570.

Grotenhermen F, Russo E, eds. Cannabis and Cannabinoids: Pharmacology, Toxicology, and Therapeutic Potential. Haworth Integrative Healing Press; 2002.

National Pain Foundation. Marijuana rated most effective for treating fibromyalgia, 2014. http://www.thenationalpainfoundation.org/pain-news.php Accessed March 1, 2020.

Daniller, A. Two-thirds of Americans support marijuana legalization. Pew Research Center. http://www.pewresearch.org/fact-tank/2018/10/08/americans-support-marijuana-legalization/. Published 2018. Accessed February 25, 2021.

Marijuana Policy Project. Number of Legal Medical Marijuana Patients. https://www.mpp.org/issues/medical-marijuana/state-by-state-medical-marijuana-laws/medical-marijuana-patient-numbers/. Published 12/2/2020. Accessed February 25, 2021.

Doctors for Cannabis Regulation - Declaration of Principles. 2016. https://dfcr.org/wp-content/uploads/Declaration-of-Principles.pdf. Accessed February 19, 2019.

Cupini LM, Costa C, Sarchielli P, Bari M, Battista N, Eusebi P, et al. Degradation of endocannabinoids in chronic migraine and medication overuse headache. Neurobiol Dis. 2008;30:186–9. https://doi.org/10.1016/j.nbd.2008.01.003.

Carlini BH, Garrett SB, Carter GT. Medicinal Cannabis: A Survey Among Health Care Providers in Washington State. Am J Hosp Palliat Med. 2017;34(1):85–91. https://doi.org/10.1177/1049909115604669.

Sideris A, Khan F, Boltunova A, Cuff G, Gharibo C, Doan LV. New York Clinicians' Perspectives and Knowledge of the State Medical Marijuana Program. Can Cannabinoid Re. 2018;3(1):74–84. https://doi.org/10.1089/can.2017.0046.

Evanoff AB, Quan T, Dufault C, Awad M, Bierut LJ. Clinicians-in-training are not prepared to prescribe medical marijuana. Drug Alcohol Depend. 2017;180:151–5. https://doi.org/10.1016/j.drugalcdep.2017.08.010.

Haj-Dahmane S, Shen R-Y. Endocannabinoids suppress excitatory synaptic transmission to dorsal raphe serotonin neurons through the activation of presynaptic CB1 receptors. J Pharmacol Exp Ther. 2009;331(1):186–96. https://doi.org/10.1124/jpet.109.153858.

Perrotta A, Arce-Leal N, Tassorelli C, Gasperi V, Sances G, Blandini F, et al. Acute Reduction of Anandamide-Hydrolase(FAAH) Activity is Coupled With a Reduction of Nociceptive Pathways Facilitation in Medication-Overuse Headache Subjects After Withdrawal Treatment. Headache: The Journal of Head and Face Pain. 2012;52(9):1350–61. https://doi.org/10.1111/j.1526-4610.2012.02170.x.

Stuster J. Validation of the Standardized Field Sobriety Test Battery at 0.08% Blood Alcohol Concentration. Hum Factors. 2006;48(3):608–14. https://doi.org/10.1518/001872006778606895.

Lafaye G, et al. Cannabis, cannabinoids and health. Dialogues Clin Neurosci 2017.

Russo EB. Taming THC: potential cannabis synergy and phytocannabinoid-terpenoid entourage effects: Phytocannabinoid-terpenoid entourage effects. Br J Pharmacol. 2011;163(7):1344–64. https://doi.org/10.1111/j.1476-5381.2011.01238.x.

Hasin DS, Sarvet AL, Cerdá M, Keyes KM, Stohl M, Galea S, et al. US Adult Illicit Cannabis Use, Cannabis Use Disorder, and Medical Marijuana Laws: 1991-1992 to 2012-2013. JAMA Psychiatry. 2017;74(6):579–88. https://doi.org/10.1001/jamapsychiatry.2017.0724.

Brooks JW, Pryce G, et al. Aranvil-induced inhibition of spasticity and persistent pain: sites for therapeutic sites of action different from the vanilloid VR1 receptor and cannabinoid CB1/CB2 receptors. Eur J Pharmacol. 2002;439(1-3):83–92. https://doi.org/10.1016/s0014-2999(02)01369-9.

Vučković S, Srebro D, Vujović KS, Vučetić Č, Prostran M. Cannabinoids and Pain: New Insights From Old Molecules. Front Pharmacol. 2018;9:1259. https://doi.org/10.3389/fphar.2018.01259.

Akerman S, Holland PR, Lasalandra MP, Goadsby PJ. Endocannabinoids in the Brainstem Modulate Dural Trigeminovascular Nociceptive Traffic via CB1 and "Triptan" Receptors: Implications in Migraine. J Neurosci. 2013;33(37):14869–77. https://doi.org/10.1523/JNEUROSCI.0943-13.2013.

Russo EB. Clinical endocannabinoid deficiency (CECD): can this concept explain therapeutic benefits of cannabis in migraine, fibromyalgia, irritable bowel syndrome and other treatment-resistant conditions? Neuroendocrinol Lett. 2004;25(1-2):31–9.

Silva M, Martins D, Charrua A, Piscitelli F, Taveres I, Morgado C, et al. Endovanilloid control of pain modulation by the rostroventromedial medulla in an animal model of diabetic neuropathy. Neuropharmacology. 2016;107:49–57. https://doi.org/10.1016/j.neuropharm.2016.03.007.

Sarchielli P, Pini LA, Coppola F, Rossi C, Baldi A, Mancini ML, et al. Endocannabinoids in Chronic Migraine: SCF Findings Suggest a System Failure. Neuropsychopharmacology. 2007;32:1384–90. https://doi.org/10.1038/sj.npp.1301246.

Boehnke KF, Gangopadhyay S, Clauw DJ, Haffajee RL. Qualifying Conditions Of Medical Cannabis License Holders In The United States. Health Affairs (Millwood). 2019;38(2):295–302. https://doi.org/10.1377/hlthaff.2018.05266.

Andre CM, Larondelle Y, Evers D. Dietary antioxidants and oxidative stress from a human and plant perspective: A review. Curr Nutr Food Sci. 2010;6:2–12.

U.S. Government. The Comprehensive Drug Abuse Prevention and Control Act of 1970, 21 U.S.C. §801–971. 1970. https://en.wikipedia.org/wiki/Comprehensive_Drug_Abuse_Prevention_and_Control_Act_of_1970. Accessed February 14, 2019.

Cole J The Cole Memorandum. 2013. https://www.justice.gov/iso/opa/resources/3052013829132756857467.pdf. Accessed February 14, 2019.

Sessions J The Sessions Memorandum. https://www.justice.gov/opa/pr/justice-department-issues-memo-cannabis-enforcement. Accessed February 14, 2019.

Olafson JJ. Marijuana Use and the Workplace. Employment Relat Today. 2016;43(3):67–97. https://doi.org/10.1002/ert.21577.

U.S. Equal Employment, Opportunity Commission. Titles I and V of the Americans with Disabilities Act of 1990 (ADA). 1990. https://www.eeoc.gov/laws/statutes/ada.cfm. Accessed February 14, 2019.

Fischer B, Russell C, Sabioni P, van den Brink W, le Foll B, Hall W, et al. Lower-Risk Cannabis Use Guidelines: A Comprehensive Update of Evidence and Recommendations. Am J Public Health. 2017;107(8):e1–e12. https://doi.org/10.2105/AJPH.2017.303818.

Fan X, Els C, Corbet KJ, Straube S. Decision-critical work: a conceptual framework. J Occup Med Toxicol. 2016;11(1):22. https://doi.org/10.1186/s12995-016-0115-8.

Hunt P, Pacula RL. Early Impacts of Marijuana Legalization: An Evaluation of Prices in Colorado and Washington. J Prim Prev. 2017;38(3):221–48. https://doi.org/10.1007/s10935-017-0471-x.

Andrews M When Your State Says Yes To Medical Marijuana, But Your Insurer Says No. NPR. https://www.npr.org/sections/health-shots/2012/11/20/165554172/when-your-state-says-yes-to-medical-marijuana-but-your-insurer-says-no. Published November 20, 2012. Accessed February 14, 2019.

Uritsky TJ, McPherson ML, Pradel F. Assessment of hospice health professionals' knowledge, views, and experiences with medical marijuana. J Palliat Med. 2011;14(12):1291–5.

Leafly - Qualifying conditions for medical marijuana by state - Leafly Staff (2020)https://www.leafly.com/news/health/qualifying-conditions-for-medical-marijuana-by-state Accessed August 18, 2020.

Easter JC, DeWalt DA. The Medication Optimization Value Proposition: Aligning Teams and Education to Improve Care. N C Med J. 2017;78(3):168–72. https://doi.org/10.18043/ncm.78.3.168.

Government of the District of Columbia, Department of Health. Medical Cannabis Adverse Effects & Drug Interactions. https://www.doh.dc.gov/sites/default/files/dc/sites/doh/publication/attachments/Medical%20Cannabis%20Adverse%20Effects%20and%20Drug%20Interactions_0.pdf. Accessed February 14, 2019.

MacCallum CA, Russo EB. Practical considerations in medical cannabis administration and dosing. Eur J Internal Med. 2018;49:12–9. https://doi.org/10.1016/j.ejim.2018.01.004.

Shahi A, Allain S, Turner S, Bailey K. Cannabis Therapy Knowledge Study: Toward Establishing a Pedagogical Tool. UOJM. 2018;8(2):19–22. https://doi.org/10.18192/uojm.v8i2.3672.

Elizabeth Rodd, Light, Smoke, and Fire: How State Law Can Provide Medical Marijuana Users Protection from Workplace Discrimination, Boston College Law Review. 1759 (2014), November 25, 2014 - Vol 55 - Issue 5 http://www.lawdigitalcommons.bc.edu/bclr/vol55/iss5/10

Chokshi N. How Much Weed Is in a Joint? Pot Experts Have a New Estimate. The New York Times. https://www.nytimes.com/2016/07/15/science/how-much-weed-is-in-a-joint-pot-experts-have-a-new-estimate.html. Published July 14, 2016. Accessed February 14, 2019.

Haug NA, Kieschnick D, Sottile JE, Babson KA, Vandrey R, Bonn-Miller MO. Training and Practices of Cannabis Dispensary Staff. Can Cannabinoid Re. 2016;1(1):244–51. https://doi.org/10.1089/can.2016.0024.

Seamon MJ, Fass JA, Maniscalco-Feichtl M, Abu-Shraie NA. Medical marijuana and the developing role of the pharmacist. Am J Health-Syst Pharm. 2007;64(10):1037–44. https://doi.org/10.2146/ajhp060471.

Parmar JR, Forrest BD, Freeman RA. Medical marijuana patient counseling points for health care professionals based on trends in the medical uses, efficacy, and adverse effects of cannabis-based pharmaceutical drugs. Res Soc Adm Pharm. 2016;12(4):638–54. https://doi.org/10.1016/j.sapharm.2015.09.002.

Saunders A, Stevenson RS, et al. Can J Cardiol. 2019;35(2):229.e1–3. https://doi.org/10.1016/j.cjca.2018.11.033.

Huestis MA. Human Cannabinoid Pharmacokinetics. Chem Biodivers. 2007;4(8):1770–804. https://doi.org/10.1002/cbdv.200790152.

Bonn-Miller MO, Loflin MJE, Thomas BF, Marcu JP, Hyke T, Vandrey R. Labeling Accuracy of Cannabidiol Extracts Sold Online. JAMA. 2017;318(17):1708–9. https://doi.org/10.1001/jama.2017.11909.

de Gier JJ, Javier Alvarez F, Mercier-Guyon C., Verstraete A.G. (2009) pp 121-134. Prescribing and dispensing guidelines for medicinal drugs affecting driving performance. In: Verster J.C., Pandi-Perumal S.R., Ramaekers J.G., de Gier J.J. (eds)Drugs, Driving and Traffic Safety. Birkhäuser Basel.

Bari M, Battista N, Fezza F, Gasperi V, Maccarrone M. New Insights into Endocannabinoid Degradation and its Therapeutic Potential. Mini-Rev Med Chem. 2006;6(3):257–68. https://doi.org/10.2174/138955706776073466.

Committee on the Health Effects of Marijuana: An Evidence Review and Research Agenda. Board on Population Health and Public Health Practice, Health and Medicine Division, National Academies of Sciences, Engineering, and Medicine. Health Effects Cannabis Cannabinoids: The Current State of Evidence and Recommendations for Research National Academies Press. 2017;2017:24625. https://doi.org/10.17226/24625Extensive search of literature databases, including consideration of more than 10,000 scientific abstracts, concluding that there is conclusive or substantial evidence that cannabis or cannabinoids are effective for the treatment for chronic pain in adults.

Pino, C. et al. Prescription of opioids for acute pain in opioid naïve patients. In: UpToDate, Post, TW (Ed), UpToDate, Waltham, 2020. Accessed March 1, 2020.

Etter K (2020). Professional Portal Designed for Medical Marijuana Dialogue. [online] Cannabistech.com. Available at: https://www.cannabistech.com/articles/professional-portal-designed-for-medical-marijuana-dialogue/ Accessed Feb. 24, 2020.

Stith SS, Diviant JP, Brockelman F, Keeling K, Hall B, Lucern S, Vigil JM Alleviative effects of Cannabis flower on migraine and headache. J Integr Med. Published online July 2020:S2095496420300741. doi:https://doi.org/10.1016/j.joim.2020.07.004

Yafai S The Case for Cannabis: Research on Cannabis is Rapidly Advancing. Emergency Medicine News. November 26, 2019 - Volume 41 - Issue 11C -https://doi.org/10.1097/01.EEM.0000615360.74448.c9. Also available at: https://www.journals.lww.com/em-news/Fulltext/2019/11261/The_Case_for_Cannabis__Research_on_Cannabis_is.2.aspx Accessed Feb. 24, 2020.

Russo E. Cannabinoids in the management of difficult to treat pain. Ther Clin Risk Manag. 2008;4:245–59. https://doi.org/10.2147/TCRM.S1928Robust review of research on cannabinoid analgesia via the endocannabinoid system and non-receptor mechanisms, as well as randomized clinical trials employing cannabinoids in pain treatment.

Karschner EL, Darwin WD, McMahon RP, et al. Subjective and Physiological Effects After Controlled Sativex and oral THC Administration. Clin Pharmacol Ther. 2011;89:400–7. https://doi.org/10.1038/clpt.2010.318.89:400-407.

Pinl LA, Guerzonl S. Cainazzo MM et al Nabilone for the treatment of medication overuse headache; results of a preliminary double-blind, active-controlled, randomized trial. J Headache Pain. 2012;13:677–84. https://doi.org/10.1007/s10194-012-0490-1.

Lochte BC, Beletsky A, Samuel NK, Granty I. The Use of Cannabis for Headache Disorders. Cannabis Cannabinoid Res. 2017;2(1):61–71. https://doi.org/10.1089/can.2016.0033.

Wershoven N, Kennedy AG, MacLean CD. Use and Reported Helpfulness of Cannabinoids Among Primary Care Patients in Vermont. J Prim Care Community Health. 2020;11:215013272094695. https://doi.org/10.1177/2150132720946954.

Vigil JM, Stith SS, Adams IM, Reeve AP. Associations between medical cannabis and prescription opioid use in chronic pain patients: a preliminary cohort study. PLoS One. 2017;12(11):1–13 17.

Piper BJ, RM DK, Beals ML, Cobb CM, Burchman CA, Perkinson L, et al. Substitution of medical cannabis for pharmaceutical agents for pain, anxiety, and sleep. J Psychopharmacol. 2017;31(5):569–75 16.

Stith SS, Vigil JM, Adams IM, Reeve AP. Effects of legal access to cannabis on scheduled II–V drug prescriptions. J Am Med Dir Assoc. 2018;19(1):59–64. https://doi.org/10.1016/j.jamda.2017.07.017.

Baron EP, Lucas P, Eades J, Hogue O. Patterns of medicinal cannabis use, strain analysis, and substitution effect among patients with migraine, headache, arthritis, and chronic pain in a medicinal cannabis cohort. J Headache Pain. 2018;19(1):37. https://doi.org/10.1186/s10194-018-0862-2Review of the medical literature and summary of individual medicinal benefits for the use of cannabis/cannabinoids in the treatment of migraine, headache, facial pain, and other chronic pain syndromes, and for supporting evidence of a potential role in combating the opioid epidemic.

Hou AY, et al. Medical marijuana in the management of headache disorders. Presented at: American Headache Society Annual Meeting; June 15-30, 2020 (virtual meeting)

Rhyne DN, Anderson SL, Gedde M, Borgelt LM. Effects of medical marijuana on migraine headache frequency in an adult population. Pharmacotherapy. 2016;36(5):505–10. https://doi.org/10.1002/phar.1673.

Stith SS, Diviant JP, Brockelman F, Keeling K, Hall B, Lucern S, Vigil JM. Alleviative effects of Cannabis flower on migraine and headache. J Integr Med. 2020

Birnbaum AK, Karanam A, Marino SE, Barkley CM, Remmel RP, Roslawski M, et al. Food effect on pharmacokinetics of cannabidiol oral capsules in adult patients with refractory epilepsy. Epilepsia. 2019;60(8):1586–92. https://doi.org/10.1111/epi.16093.

LaFrance EM, Stueber A, Glodosky NC, Mauzay D, Cuttler C. Overbaked: assessing and predicting acute adverse reactions to Cannabis. J Cannabis Res. 2020;2:3. https://doi.org/10.1186/s42238-019-0013-x.

Anthony JC. The Epidemiology of Cannabis Dependence. In: Roffman R, Stephens RS, eds. Cannabis Dependence. 1st ed. Cambridge University Press; 2001:58-105. doi:https://doi.org/10.1017/CBO9780511544248.006

Drug Interactions Checker - Medscape Drug Reference. https://reference.medscape.com/drug-interactionchecker Accessed August 18, 2020.

Bao C, Bao S. Neonate Death Due to Marijuana Toxicity to the Liver and Adrenals. Am J Case Rep. 2019;20:1874–8. https://doi.org/10.12659/AJCR.919545.

Committee Opinion No. 722. Marijuana Use During Pregnancy and Lactation. Obstet Gynecol. 2017;130(4):e205–9. https://doi.org/10.1097/AOG.0000000000002354.

Tepper SJ, Silberstein SD, Rosen NL, Lipton RB, Dennehy EB, Dowsett SA, et al. The Influence of Migraine on Driving: Current Understanding, Future Directions, and Potential Implications of Findings. Headache. 2020;60(1):178–89. https://doi.org/10.1111/head.13716.

Pearlman EM, Wilbrabraham D, et al. Effects of lasmiditan in simulated driving performance: Results of two randomized, blinded, crossover studies with placebo and active controls. Human Psychopharmacol. 2020;35(5):1–11. https://doi.org/10.1002/hup.2732.

Gruber SA, Sagar KA, Dahlgren MK, Gonenc A, Smith RT, Lambros AM, et al. The Grass Might Be Greener: Medical Marijuana Patients Exhibit Altered Brain Activity and Improved Executive Function after 3 Months of Treatment. Front Pharmacol. 2018;8:983. https://doi.org/10.3389/fphar.2017.00983.
Ethics declarations
Conflict of Interest
The authors declare no conflicts of interest relevant to this manuscript.
Human d Animal Rights and Informed Consent
This article does not contain any studies with human or animal subjects performed by any of the authors.
Additional information
Publisher's Note
Springer Nature remains neutral with regard to jurisdictional claims in published maps and institutional affiliations.
This article is part of the Topical Collection on Hot Topics in Pain and Headache
About this article
Cite this article
Duarte, R.A., Dahmer, S., Sanguinetti, S.Y. et al. Medical Cannabis for Headache Pain: a Primer for Clinicians. Curr Pain Headache Rep 25, 64 (2021). https://doi.org/10.1007/s11916-021-00974-z
Accepted:

Published:

DOI: https://doi.org/10.1007/s11916-021-00974-z
Keywords
Chronic pain,

Chronic migraine,

Cannabis sativa,

Cannabidiol,

Tetrahydrocannabinol,

THC,

CBD,

Opioids,

Opioid crisis,

Migraine treatment,

Endocannabinoid system,

Medical marijuana,

Legislation,

Dispensary