Abstract
Purpose of Review
The purpose of this review is to provide an overview and update on the common causes of headache attributed to arterial hypertension with a focus on secondary headache disorders. We will also highlight uncommon and recent findings in this area of research.
Recent Findings
There is some controversy in the relationship between chronic hypertension and headache, particularly migraine; recent research suggests that there may be a link, but it is likely complex and multifactorial. Many recent studies and case reports demonstrate that the pathophysiology underlying the onset of headache as it relates to abrupt rises in blood pressure seems to lie at the cellular level and mechanically becomes an issue with disruption of the blood-brain barrier. Although not a formally defined headache entity, carotid revascularization syndrome demonstrates this phenomenon and also has a recent set of proposed criteria that include headache and elevated blood pressure.
Summary
This paper reviews the various etiologies of hypertensive headaches, mostly in regard to headache as a secondary symptom of elevated blood pressure. We will also discuss trends of hypertensive headache in pregnancy. Finally, we will touch on controversy that exists in relation to chronic hypertension and its causal relationship to headache as well as the relationship between hypertension and migraine.
This is a preview of subscription content, log in to check access.
Access options
Buy single article
Instant access to the full article PDF.
US$ 39.95
Price includes VAT for USA
Subscribe to journal
Immediate online access to all issues from 2019. Subscription will auto renew annually.
US$ 99
This is the net price. Taxes to be calculated in checkout.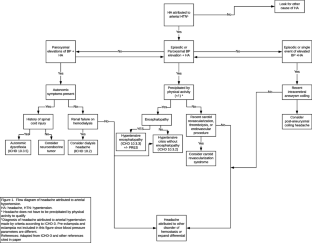 References
Papers of particular interest, published recently, have been highlighted as: • Of importance •• Of major importance
1.

Headache Classification Committee of the International Headache Society (IHS) The international classification of headache disorders, 3rd edition Cephalalgia : an international journal of headache 2018;38(1):1–211. doi:https://doi.org/10.1177/0333102417738202.

2.

•• Finocchi C, Sassos D. Headache and arterial hypertension. Neurol Sci : official journal of the Italian Neurological Society and of the Italian Society of Clinical Neurophysiology. 2017;38(Suppl 1):67–72. https://doi.org/10.1007/s10072-017-2893-x Only other narrative review on this subject in recent literature.

3.

Lagman-Bartolome AM, Gladstone J. Metabolic headaches. Neurol Clin. 2014;32(2):451–69. https://doi.org/10.1016/j.ncl.2013.11.011.

4.

Pourian M, Mostafazadeh DB, Soltani A. Does this patient have pheochromocytoma? A systematic review of clinical signs and symptoms. J Diab Metab Disord. 2016;15(1):11. https://doi.org/10.1186/s40200-016-0230-1.

5.

Tsirlin A, Oo Y, Sharma R, Kansara A, Gliwa A, Banerji MA. Pheochromocytoma: a review. Maturitas. 2014;77(3):229–38. https://doi.org/10.1016/j.maturitas.2013.12.009.

6.

• Han YJ, Ock SY, Kim EJ, Shin HS, Jung YS, Rim H. Thunderclap-like headache triggered by micturition and angina as an initial manifestation of bladder pheochromocytoma. A case report. Sao Paulo Med J = Revista paulista de medicina. 2015;133(2):154–9. https://doi.org/10.1590/1516-3180.2013.6890002 Important to keep these rare entities of hypertension-related thunderclap headache in mind.

7.

Beilan JA, Lawton A, Hajdenberg J, Rosser CJ. Pheochromocytoma of the urinary bladder: a systematic review of the contemporary literature. BMC Urol. 2013;13:22. https://doi.org/10.1186/1471-2490-13-22.

8.

Balasubramanian G, Nellaiappan V. Functional paraganglioma. BMJ case reports. 2014;2014:bcr2013203425. https://doi.org/10.1136/bcr-2013-203425.

9.

Wuyts L, Pouillon M, Huyghe M, Ruyssers N, Goovaerts G, Spaepen M. Palpitations, headache and night sweats caused by a retroperitoneal mass: case report and short review. BJR case reports. 2017;3(4):20170035. https://doi.org/10.1259/bjrcr.20170035.

10.

Pichler R, Heidegger I, Klinglmair G, Kroiss A, Uprimny C, Gasser RW, et al. Unrecognized paraganglioma of the urinary bladder as a cause for basilar-type migraine. Urol Int. 2014;92(4):482–7. https://doi.org/10.1159/000348829.

11.

Berradi S, Hafidi Z, Daoudi R. Phaeochromocytoma revealed by a stellate neuroretinitis. Lancet Diab Endocrinol. 2014;2(8):676. https://doi.org/10.1016/s2213-8587(14)70129-9.

12.

• Furlan JC. Headache attributed to autonomic dysreflexia: an underrecognized clinical entity. Neurology. 2011;77(8):792–8. https://doi.org/10.1212/WNL.0b013e31822afff1 Although not recent, this is one of the most comprehensive narrative reviews of autonomic dysreflexia.

13.

Vaidyanathan S, Soni BM, Hughes PL, Oo T. Fatal cerebral hemorrhage in a tetraplegic patient due to autonomic dysreflexia triggered by delay in emptying urinary bladder after unsuccessful intermittent catheterization by carer: lessons learned. Int Med Case Rep J. 2018;11:53–8. https://doi.org/10.2147/imcrj.s143077.

14.

Naftchi NE, Tuckman J. Hypertensive crises in spinal man. Am Heart J. 1979;97(4):536–8.

15.

Schumacher GA, Guthrie TC. Studies on headache; mechanism of headache and observations on other effects induced by distention of bladder and rectum in subjects with spinal cord injuries. AMA Arch Neurol Psychiatr. 1951;65(5):568–80.

16.

Antonova M. Prostaglandins and prostaglandin receptor antagonism in migraine. Dan Med J. 2013;60(5):B4635.

17.

Krassioukov A, Warburton DE, Teasell R, Eng JJ. A systematic review of the management of autonomic dysreflexia after spinal cord injury. Arch Phys Med Rehabil. 2009;90(4):682–95. https://doi.org/10.1016/j.apmr.2008.10.017.

18.

•• Kirchoff-Torres KF, Bakradze E. Cerebral Hyperperfusion Syndrome After Carotid Revascularization and Acute Ischemic Stroke. Curr Pain Headache Rep. 2018;22(4):24. https://doi.org/10.1007/s11916-018-0678-4 Recent narrative review that outlines cerebral hyperperfusion syndrome and newly proposed criteria for its diagnoses and compares this to other ICHD-3 diagnoses.

19.

Farooq MU, Goshgarian C, Min J, Gorelick PB. Pathophysiology and management of reperfusion injury and hyperperfusion syndrome after carotid endarterectomy and carotid artery stenting. Exp Transl Stroke Med. 2016;8(1):7. https://doi.org/10.1186/s13231-016-0021-2.

20.

Choi KS, Lee JH, Yi HJ, Chun HJ, Lee YJ, Kim DW. Incidence and risk factors of postoperative headache after endovascular coil embolization of unruptured intracranial aneurysms. Acta Neurochir. 2014;156(7):1281–7. https://doi.org/10.1007/s00701-014-2095-8.

21.

Hwang G, Jeong EA, Sohn JH, Park H, Bang JS, Jin SC, et al. The characteristics and risk factors of headache development after the coil embolization of an unruptured aneurysm. AJNR Am J Neuroradiol. 2012;33(9):1676–8. https://doi.org/10.3174/ajnr.A3018.

22.

Ghali MGZ, Srinivasan VM, Hanna E, DeMonte F. Overt and subclinical baroreflex dysfunction after bilateral carotid body tumor resection: pathophysiology, diagnosis, and implications for management. World Neurosurg. 2017;101:559–67. https://doi.org/10.1016/j.wneu.2017.02.073.

23.

Milani GP, Edefonti A, Tardini G, Arturi E, Cinnante CM, Laicini EA, et al. Severe and isolated headache associated with hypertension as unique clinical presentation of posterior reversible encephalopathy syndrome. BMC Pediatr. 2014;14:190. https://doi.org/10.1186/1471-2431-14-190.

24.

Christopoulou F, Rizos EC, Kosta P, Argyropoulou MI, Elisaf M. Does this patient have hypertensive encephalopathy. J Am Soc Hypertens : JASH. 2016;10(5):399–403. https://doi.org/10.1016/j.jash.2016.01.020.

25.

Fischer M, Schmutzhard E. Posterior reversible encephalopathy syndrome. J Neurol. 2017;264(8):1608–16. https://doi.org/10.1007/s00415-016-8377-8.

26.

Alrohimi A, Jassal R. Headache in Guillain-Barre syndrome: diagnostic and management implications. Can J Neurol Sci Le J: canadien des sciences neurologiques. 2018;45(2):240–2. https://doi.org/10.1017/cjn.2017.247.

27.

Raffaelli B, Siebert E, Korner J, Liman T, Reuter U, Neeb L. Characteristics and diagnoses of acute headache in pregnant women - a retrospective cross-sectional study. J Headache Pain. 2017;18(1):114. https://doi.org/10.1186/s10194-017-0823-1.

28.

• Robbins MS, Farmakidis C, Dayal AK, Lipton RB. Acute headache diagnosis in pregnant women: a hospital-based study. Neurology. 2015;85(12):1024–30. https://doi.org/10.1212/wnl.0000000000001954 Important single-center retrospective study that outlines the headache disorders experienced by pregnant women.

29.

• Robbins MS. Headache in pregnancy. Continuum (Minneapolis, Minn). 2018;24(4, Headache):1092–107. https://doi.org/10.1212/con.0000000000000642 Most recent comprehensive review of headache in pregnancy and includes the impact of hypertension during pregnancy and the comorbid risk factor of migraine during pregnancy.

30.

Crovetto F, Somigliana E, Peguero A, Figueras F. Stroke during pregnancy and pre-eclampsia. Curr Opin Obstet Gynecol. 2013;25(6):425–32. https://doi.org/10.1097/gco.0000000000000024.

31.

Facchinetti F, Allais G, Nappi RE, D'Amico R, Marozio L, Bertozzi L, et al. Migraine is a risk factor for hypertensive disorders in pregnancy: a prospective cohort study. Cephalalgia : an international journal of headache. 2009;29(3):286–92. https://doi.org/10.1111/j.1468-2982.2008.01704.x.

32.

Sperling JD, Dahlke JD, Huber WJ, Sibai BM. The role of headache in the classification and management of hypertensive disorders in pregnancy. Obstet Gynecol. 2015;126(2):297–302. https://doi.org/10.1097/aog.0000000000000966.

33.

Banoth P, Chaudhary K. Proteinuria: a presenting manifestation of mirror syndrome in pregnancy. Clin Nephrol. 2018;90(1):60–3. https://doi.org/10.5414/cn109299.

34.

Shanmugalingam R, Reza Pour N, Chuah SC, Vo TM, Beran R, Hennessy A, et al. Vertebral artery dissection in hypertensive disorders of pregnancy: a case series and literature review. BMC Pregnancy and Childbirth. 2016;16(1):164. https://doi.org/10.1186/s12884-016-0953-5.

35.

•• Friedman BW, Mistry B, West JR, Wollowitz A. The association between headache and elevated blood pressure among patients presenting to an ED. Am J Emerg Med. 2014;32(9):976–81. https://doi.org/10.1016/j.ajem.2014.05.017 Retrospective review examining the association and outcomes between hypertension and headache in the emergency department and the subsequent treatment of hypertension, particularly in those with known primary headache disorders (i.e., migraine). An important situation many neurologists and ED providers are faced with to determine if symptomology requires further workup or treatment.

36.

Bigal ME, Kurth T, Santanello N, Buse D, Golden W, Robbins M, et al. Migraine and cardiovascular disease: a population-based study. Neurology. 2010;74(8):628–35. https://doi.org/10.1212/WNL.0b013e3181d0cc8b.

37.

Kandil MR, Hamed SA, Fadel KA, Khalifa HE, Ghanem MK, Mohamed KO. Migraine in Assiut Governorate, Egypt: epidemiology, risk factors, comorbid conditions and predictors of change from episodic to chronic migraine. Neurol Res. 2016;38(3):232–41. https://doi.org/10.1080/01616412.2015.1114232.

38.

Sacco S, Ripa P, Grassi D, Pistoia F, Ornello R, Carolei A, et al. Peripheral vascular dysfunction in migraine: a review. J Headache Pain. 2013;14:80. https://doi.org/10.1186/1129-2377-14-80.

39.

• Gonzalez-Quintanilla V, Toriello M, Palacio E, Gonzalez-Gay MA, Castillo J, Montes S, et al. Systemic and cerebral endothelial dysfunction in chronic migraine. A case-control study with an active comparator. Cephalalgia : an international journal of headache. 2016;36(6):552–60. https://doi.org/10.1177/0333102415607857 Important area of both established and up and coming research into the pathophysiology of migraine.

40.

Rajan R, Khurana D, Lal V. Interictal cerebral and systemic endothelial dysfunction in patients with migraine: a case-control study. J Neurol Neurosurg Psychiatry. 2015;86(11):1253–7. https://doi.org/10.1136/jnnp-2014-309571.

41.

• Butt JH, Franzmann U, Kruuse C. Endothelial function in migraine with aura - a systematic review. Headache. 2015;55(1):35–54. https://doi.org/10.1111/head.12494 Important area of both established and up and coming research into the pathophysiology of migraine.

42.

Courand PY, Serraille M, Girerd N, Demarquay G, Milon H, Lantelme P, et al. The paradoxical significance of headache in hypertension. Am J Hypertens. 2016;29(9):1109–16. https://doi.org/10.1093/ajh/hpw041.

43.

•• Chen L, Zhang Z, Chen W, Whelton PK, Appel LJ. Lower sodium intake and risk of headaches: results from the trial of nonpharmacologic interventions in the elderly. Am J Public Health. 2016;106(7):1270–5. https://doi.org/10.2105/ajph.2016.303143 Study investigating other metabolic connections to headache and hypertension: an important stepping stone for further research.

44.

Cutrer FM. Pathophysiology of migraine. Semin Neurol. 2010;30(2):120–30. https://doi.org/10.1055/s-0030-1249222.

45.

Arca KN, Halker Singh RB. SUNCT and SUNA: an update and review. Curr Pain Headache Rep. 2018;22(8):56. https://doi.org/10.1007/s11916-018-0707-3.

46.

Matei D, Constantinescu V, Corciova C, Ignat B, Matei R, Popescu CD. Autonomic impairment in patients with migraine. Eur Rev Med Pharmacol Sci. 2015;19(20):3922–7.

47.

• Miglis MG. Migraine and autonomic dysfunction: which is the horse and which is the jockey? Curr Pain Headache Rep. 2018;22(3):19. https://doi.org/10.1007/s11916-018-0671-y Another area of research that may help establish the pathophysiologic link between migraine and hypertension and other blood pressure changes.
Ethics declarations
Conflict of Interest
Karissa N. Arca and Rashmi B. Halker Singh declare no conflict of interest.
Human and Animal Rights and Informed Consent
This article does not contain any studies with human or animal subjects performed by any of the authors.
Additional information
Publisher's Note
Springer Nature remains neutral with regard to jurisdictional claims in published maps and institutional affiliations.
This article is part of the Topical Collection on Uncommon and/or Unusual Headaches and Syndromes
About this article
Cite this article
Arca, K.N., Halker Singh, R.B. The Hypertensive Headache: a Review. Curr Pain Headache Rep 23, 30 (2019). https://doi.org/10.1007/s11916-019-0767-z
Keywords
Secondary headache

Headache

Hypertension

Blood pressure

Arterial

Autoregulation