Abstract
The congenital and acquired deformities of the craniovertebral junction (CVJ), such as basilar invagination, basilar impression, or platybasia, can present in the form of slowly progressive or acute neurologic deterioration. In many cases, an insidious headache is the only symptom and can be a diagnostic challenge for the neurologist. Proper imaging studies as well as recognizing often associated neurologic or systemic conditions are required for early diagnosis and effective therapy. In the current report, the primary focus will be on clinical aspects of these CVJ abnormalities; the pathologic and radiologic aspects, such as developmental and pathophysiologic background or radiographic analysis, will be discussed briefly, confined to clinically relevant data.
Access options
Buy single article
Instant access to the full article PDF.
US$ 39.95
Tax calculation will be finalised during checkout.
Subscribe to journal
Immediate online access to all issues from 2019. Subscription will auto renew annually.
US$ 79
Tax calculation will be finalised during checkout.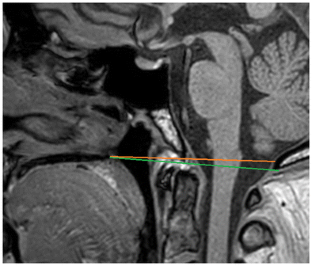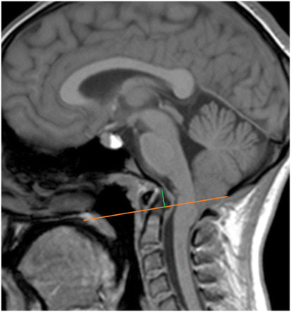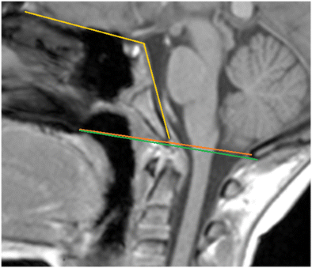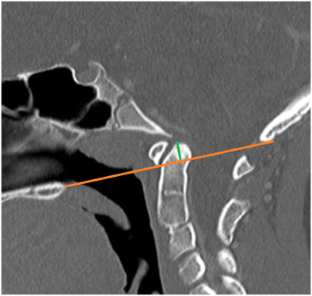 References
Papers of particular interest, published recently, have been highlighted as: • Of importance •• Of major importance
1.

Smith JS. Basilar Invagination. Neurosurgery. 2010;66:A39–47.

2.

Pindrik J. Clinical Presentation of Chiari I Malformation and Syringomyelia in Children. Neurosurg Clin N Am. 2015;509-514.

3.

Klekamp J. Chiari I malformation with and without basilar invagination: a comparative study. Neurosurg Focus. 2015;38(4), E12.

4.

Song D. (2007). Spinal Disorders Associated with Skeletal Dysplasias and Syndromes. Neurosurg Clin N Am. 499-514.

5.••

Smoker W. (2008). Imaging the craniocervical junction. Childs Nerv Syst. 1123-1145. This is a comprehensive review of imaging anatomy, craniometry and most relevant anomalies of the craniovertebral junction.

6.

Smoker WR. Craniovertebral junction- normal anatomy, craniometry, and congenital anomalies, Radiographics. Radiographics. 1994;14:255–77.

7.

Bewereyer H. MR imaging of familial basilar impression. J Comput Assist Tomogr. 1984;8:953–6.

8.

Harwood-Nash D. Anomalies of the craniovertebral junction. In: Epstein F, Hoffman AJ, editors. Disorders of the developing nervous system. Boston: Blackwell; 1986.

9.•

Cronin C.G, Lohan D.G, Mhuircheartigh J. Ni, Meehan C.P, Murphy J.M, Roche C. MRI evaluation and measurement of the normal odontoid peg position. Clin Radiol. (2007) 62. Performing craniometry on MRI images may be a challenge. This study tackles practical aspects, such as how to perform measurements or interpret images, in a more detailed way than usual and provides normal population measurements for the craniovertebral junction.

10.

Kanter. Inflammatory and Dysplastic Lesions Involving the Spine. Neurosurg Clin N Am. 2008;19:93–109.

11.

Chen Y, Liu H. Imaging of Craniovertebral Junction. Neuroimage Clin N Am. 2009;19:483–510.

12.

Cronin CG, Lohan DG, Mhuircheartigh JN, Meehan CP, Murphy J, Roche C. CT evaluation of Chamberlain's, McGregor's, and McRae's skull-base lines. Clin Radiol. 2009;64.

13.

Ross JS. Specialty Imaging: Craniovertebral Junction. Lippincott Williams & Wilkins;2013

14.

Debernardi A, D'Aliberti G, Talamonti G, Villa F, Piparo M, Collice M. The craniovertebral junction area and the role of the ligaments and membranes. Neurosurgery. 2011;68(2):291–30.

15.

Asri A, Akhaddar A, Gazzaz M, Okacha N, Boulhroud O, Baallal H, et al. scan of the craniovertebral junction: a role in the management of os odontoideum. Neurol Neurochir Pol. 2010;44(6):603–8.

16.

Gupta V, MD, Khandelwal N, MD, Dip NBE, Mathuria S, MS, MCh, Singh P, MD, Pathak A, MS, MCh, and Suri S, MD, DABR. Dynamic Magnetic Resonance Imaging Evaluation of Craniovertebral Junction Abnormalities. J Comput Assist Tomogr. 2007;31.

17.

Reijnierse M, Breedveld FC, Kroon HM, Hansen B, Pope TL, Bloem JL. Are magnetic resonance flexion views useful in evaluating the cervical spine of patients with rheumatoid arthritis? Skelet Radiol. 2000;29(2):85–9.

18.

Karhu JO, Parkkola RK, Koskinen SK. Evaluation of Flexion/Extension of the Upper Cervical Spine in Patients with Rheumatoid Arthritis: an MRI Study with a Dedicated Positioning Device Compared to Conventional Radiographs. Acta Radiol. 2005;46:55–66.

19.

Silberstein. Headache in clinical practice. Martin Dunitz Ltd.; 1998.

20.

Pascual J. Cough, exertional, and sexual headaches: An analysis of 72 benign and symptomatic cases, Neurology. Neurology. 1996;46:1520–4.

21.••

Cutrer FM. Cough, Exercise, and Sex Headaches. Neurol Clin. 2014;32:433–50. This article reviews the etiology and manifesations of exertional, cough and sexual headeches and may be a helpful guide in identifying these syndromes in the clinical practice.

22.

Goel A. Basilar invagination- a study based on 190 surgically treated patients. J Neurosurg. 1998;88:962–8.

23.

Souza d. Basilar invagination exertion in headache associated with phy sical exertion and recurrent torticollis. Images Neurol. 2014;902-903.

24.

Eidlitz-Markus T. Occipital and Craniocervical Pain and Brain MRI in Children With Migraine. Pediatr Neurol. 2014;50:347–52.

25.

Sillence. Clinical management of osteogenesis imperfecta. Connect Tissue Res. 1995;31(4):S15–21.

26.

Tosi L. Osteogenesis imperfecta. Curr Opin Pediatr. 1997;9(1):94–9.

27.

Chaudhry NS. Basilar Invagination: Case Report and Literature Review. World Neurosurg. 2015;1180:e7–11.

28.

Menezes A, Vangilder J. Transoral-transpharyngeal approach to the anterior craniocervical junction. J Neurosurg. 1988;69:895–903.
Ethics declarations
Conflict of Interest
Nandor Pinter declares grant funding from the Dent Family Foundation.
Jennifer McVige declares no conflict of interest.
Laszlo Mechtler declares personal fees as speaker honoraria from Teva, Allergan, Depomed, and Pernix.
Human and Animal Rights and Informed Consent
This article does not contain any studies with human or animal subjects performed by any of the authors.
Additional information
This article is part of the Topical Collection on Imaging
About this article
Cite this article
Pinter, N.K., McVige, J. & Mechtler, L. Basilar Invagination, Basilar Impression, and Platybasia: Clinical and Imaging Aspects. Curr Pain Headache Rep 20, 49 (2016). https://doi.org/10.1007/s11916-016-0580-x
Keywords
Basilar impression

Platybasia

MRI

Chiari malformation

Craniovertebral junction

Osteogenesis imperfecta